The Celeb-Approved Makeup Trick That Makes Showing Off Your Freckles Easy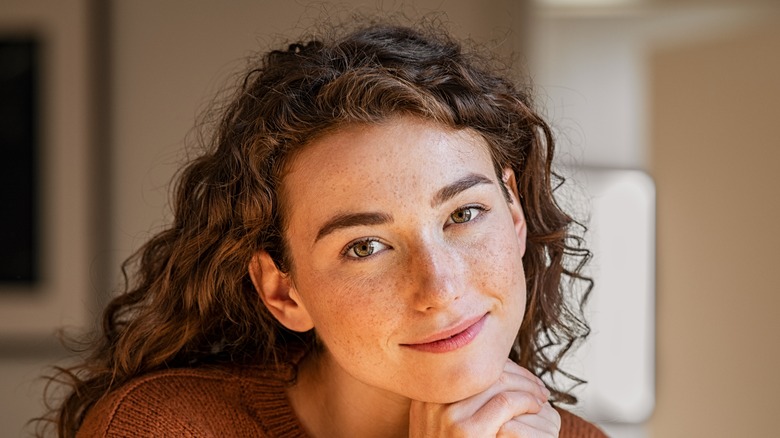 Ground Picture/Shutterstock
There's something about freckles that makes a person look endearingly adorable. Perhaps it's the association with the innocence of childhood, or maybe it makes you think about warm, lazy summer days. Whatever the reason, we think those who are blessed with freckles should wear them proudly. Christina Aguilera, who is known for her fierce stage makeup, displayed a bare freckled face for a 2018 Paper interview. "I'm a performer, that's who I am by nature. But I'm at the place, even musically, where it's a liberating feeling to be able to strip it all back and appreciate who you are and your raw beauty," she stated to the magazine.
Another celeb known for her freckles, Lindsay Lohan, shared in an Instagram Story (via People), "They used to make me uncomfortable as a kid but now I realize how beautiful they are." Sadie Sink of "Stranger Things" also didn't like hers when she was younger, but now she has learned to embrace them and even tailors her foundation to show them off.
Sadie Sink only uses a full-coverage foundation only where needed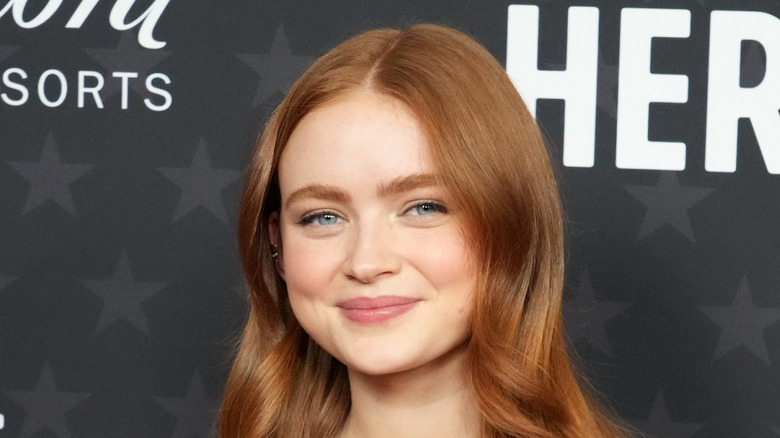 Jeff Kravitz/Getty Images
"Stranger Things" actor Sadie Sink is known for her fresh-faced beauty and doesn't need a ton of coverage. To let her freckles peek through, her makeup artist Nina Park uses a tinted moisturizer to even out Sink's complexion. "It blurs and softly covers unevenness but is sheer enough to let the freckles shine through," Park told InStyle. For areas that need a bit more coverage, the actor applies concealer with a brush and then blends it out with her fingers. "It lets natural skin texture and whatever freckles you have, show through."
If you need more than a tinted moisturizer, there are plenty of sheer foundation options available. You can also turn your favorite concealer into tinted moisturizer by mixing it with your facial lotion. To get even more sheer coverage, wet your foundation brush or makeup sponge with water and use it to apply your tinted moisturizer or foundation. Want to enhance your freckles or even fake them if you don't have any? There are ways to do so with a couple of makeup tricks.
Draw on freckles with a brow pencil
These days, having specks on your face is trendy. Many are purposely making theirs stand out and some are even faking freckles by drawing them on. If you already have some and your foundation has covered them up or you want to be part of the freckle crew, create faux freckles with a simple makeup trick. Take a light brown brow pencil or liquid eyeliner lightly draw some dots over the bridge of your nose and cheeks. Use your ring finger to lightly tap the color in to blend out any harsh edges.
To make them appear as natural as possible, apply your freckles in a random pattern. Remember, real freckles are scattered throughout a person's face with various spaces in between. If you have a small pimple or blemish, faking a freckle is the perfect way to cover it up and no one has to be the wiser! After you've applied your freckles, dust some setting powder over your face and finish your look off with some blush and bronzer for a perfectly sun-kissed look.