Glitter Tips Are The Nail Trend Bringing Sparkle To Your Fall 2023 Manicure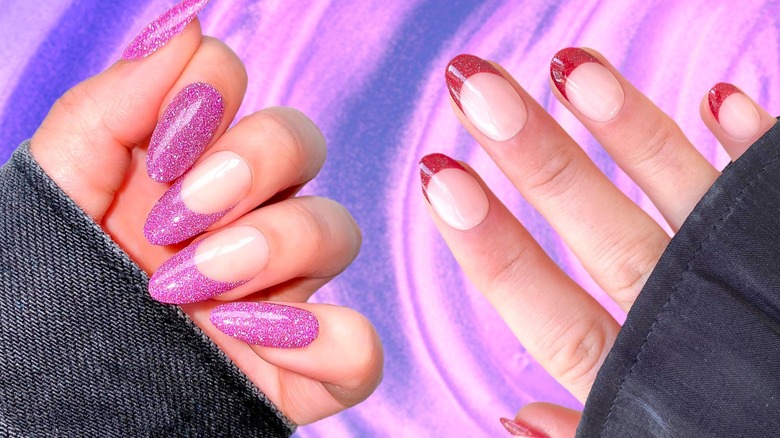 Static Media / Shutterstock
All summer, we've seen some eye-catching nail designs, such as Strawberry Jello nails, that had everyone jumping on board to get the same ones. Now that we're slowly basking in the last rays of sunshine before the cool weather kicks in, it's time to turn to all the fall colors and spooky-themed nail designs. We're already seeing the fall nail trends coming out with the fall French manicure, where you use darker nail colors to add a fun, moody twist to the classic design. While traditional French nails are a staple for every season, this autumn, we're giving our nails some glittery tips.
Advertisement
The fall aesthetic consists of minimalist, dark, neutral colors, so adding glitter might not be something you'd typically reach for when picking out a nail design. However, it's the perfect transitional look from summer to fall (and even winter when you're preparing for the holidays!). For example, glittery tips on a dark brown French manicure still stick to the minimalist side of the autumn lookbook but elevate the look with some sparkle. Although you don't have to stick to simple neutral tones, adding glittery tips to your mani is a fun and playful way to bring sparkle to your fingertips this fall.
Opt for purple French nails with glittery tips
Purple is a prime example of stepping out of the standard neutral fall tones. It's still a darker color that fits the moody and spooky season and is an excellent two-in-one nail design you can wear with any minimalist outfit. Plus, the purple will give you a pop of color if you tend to wear more black, gray, beige, and white clothing. Recreate this look with almond or round-shaped nails if you don't usually wear square tips.
Advertisement
Give your nails a bling look with silver
If you're not one to pick bold colors but love glitter, try silver glittery tips. They still fall under the neutral category, yet the glitter sparkles give them a flashy spin. Add the silver glitter tips to all of your nails, or pick a couple of your nails to contrast other solid-painted nails. The best part? You'll be able to wear them throughout fall and winter. These nails scream a holiday party, and everyone will get in line just to get a glimpse of them.
Advertisement
Stick to a neutral color palette
Why not stick to what you already love? You get the best of both worlds with glittery, neutral nails. If you wear more brown hues and gold jewelry, match your nails to your wardrobe with gold glitter nails. These sparkly gold tips will add extra flare to your fall outfits. Plus, they'll make your gold jewelry pop when you wear them. Ask your nail tech for a pink base instead of nude to soften the transition from your skin tone to the base to the gold glitter.
Advertisement
Black glitter tips are a staple
If you're a spooky season girly through and through, then black glittery nails will be your go-to this fall. While they're more on the basic side, they complement everything, from outfits to makeup to jewelry. You don't have to keep them simple; these glittery black nails have an extra design with tiny stars. To make them feel even more like fall, you can add some leaves, a small ghost, or pumpkins. This nail design also works on square-shaped nails if you prefer that shape. 
Advertisement
Give your red-hot nails some sparkle
Not everyone loves a complete glitter tip, which is why adding glitter lines to the base of a French mani gives a subtle sparkle look. It's an ideal look for those who don't enjoy a super flashy nail design but still want to try something different. These gorgeous red nails with gold glitter lines make them luxurious and unique. You can recreate this look with any fall color, like orange, brown, green, or yellow. Switch up the glitter to match the color you end up choosing.  
Advertisement
Let your French nail peak through the glitter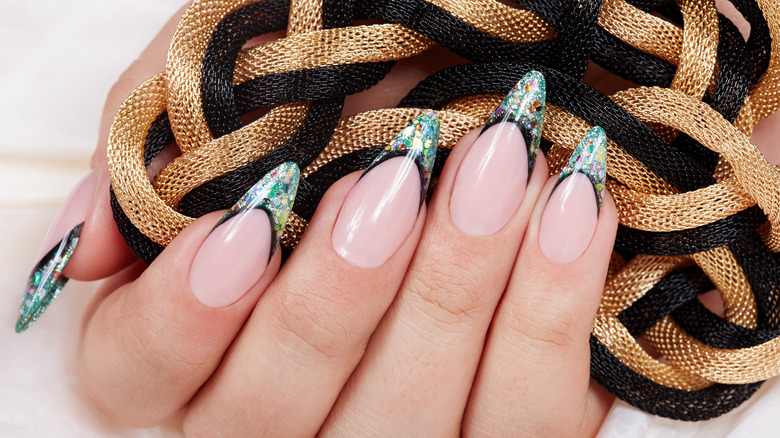 Natkinzu/Getty Images
Instead of adding glitter all over your French tips, let the color peak through the base for a bold look. For example, these black nails are topped with a green paint color and various colored sparkles, but the black base outlines the glitter. It gives the nails a contrasting look with a moody feel. They're perfect if you're looking to add a bit of spookiness to your fall nails. Black nails complement any glitter hues, so swap the green for red or orange glitter. 
Advertisement