'Caramel Macchiato Makeup' Is The Rich Fall Evolution Of Latte Glam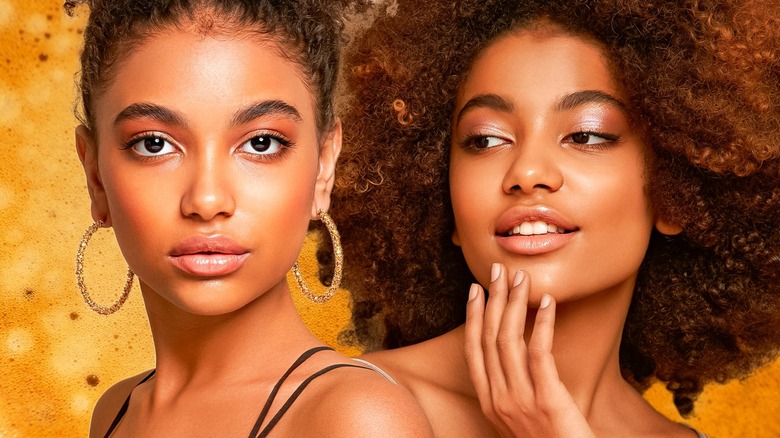 Static Media / Shutterstock
Anyone looking to update their makeup routine for fall has likely heard of the new brown-toned trend popping up everywhere. Enter Latte makeup, which has everyone loving luscious brown hues in their beauty routines. While latte makeup isn't heading anywhere this fall, it is getting some upgrades for those looking for a little extra spice. Caramel macchiato makeup is a branch of the latte makeup trend about embracing the different hues of everyone's go-to coffee order.
Caramel macchiato makeup mashes up a popular Starbucks drink — we'll take extra caramel drizzle, please — with latte makeup through a blend of browns, golds, and dashes of lighter hues, making it more ethereal than the simpler latte makeup. Like its namesake drink, this makeup look is a delicious blend of various flavors/factors that come together for a stunning look. This blend of colors is no stranger to the trendy scene, either, with the caramel macchiato trend previously popping off in hair salons. These hues contrast for an ultra-dynamic look, and the best part is that any drink can be applied. Want a subtle dash of red? Rose latte makeup. Extra warmth? Chai latte makeup. Still, let's start with the ever-classic caramel macchiato. 
Reach for more than one shade of brown eyeshadow
The easiest way to achieve the caramel macchiato makeup look of your dreams is by opting for the right eyeshadow colors. While browns are a no-brainer for this trend, you also want to employ a variety of hues. Unlike the latte makeup trend, this look plays with various tones within the same warm-toned family. Opt for beiges or light brown paired with darker colors to help create an exciting contrast.
Black eyeliner? No thank you
You can't forget your eyeliner since you want a look with contrast and definition. A brown-toned eyeliner on the bottom and top lash lines will help create striking emphasis around your eyes while staying on the theme of warm touches. Unlike a typical black eyeliner, the brown hue will help warm up the eye area and give you a cozier appearance, too. Mixed with brown eyeshadows, you'll look like a caramel macchiato dream in no time.
Caramel drizzle via shimmery shadow
No caramel macchiato look would be complete without a fun caramel drizzle. This drizzle will come in the form of shimmery eyeshadows that will top off your matte brown base. More specifically, copper and gold shimmers will keep you in the caramel realm and are found in most drugstore palettes, making this trend really accessible. Shimmer and glitter eyeshadows on the lid will help add some glamorous hints to your otherwise muted look, meaning it can take you from day to night all season long.
Espresso shades across the eyes
Adding a darker hue to your crease, including as a cut crease, is the best way to add some dimension to your eyes. Going with a burnt sienna or dark brown shade will help contrast against a lighter color and pop against glittery eyeshadow. Adding a second color to your crease helps create a more complex look without extra work, though it's not entirely necessary. (But we love being extra.)
Hints of warm shades abound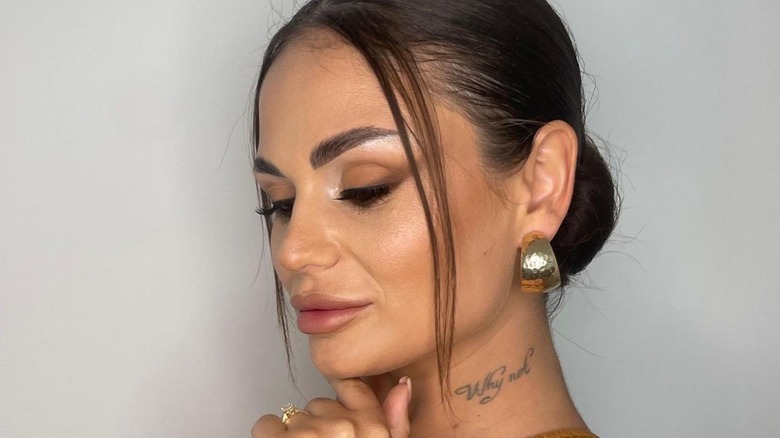 Instagram
The caramel macchiato isn't just about your eyeshadow; it's also about the rest of your face. A bronzed face is vital for fulfilling this trend, so opt for a subtle brown contour to offer a hint of warmth without overwhelming your look. Just don't forget to add pops of brown throughout your makeup look to create a cohesive blend, including with your nose contour and even your lips.
Shimmer lips for perfect macchiato sips
With your eyes covered, it's time to add some shimmer to your lips. While matte lips are famously fall, glossy lips add more shine to your look. For the caramel macchiato trend, you can realistically use either matte or glossy lips to achieve your look, though we believe glossy, brown lips are the perfect finishing touch for macchiato glam. You can also opt for a shade close to your skin tone for a more natural approach to the trend.
Fall shades make macchiato dreams come true
While brown hues are must-haves for this trend, they're not the only colors for which to reach. Naturally, you'll want to look at copper and burnt shades to add contrast to your look, as well as other fall-adjacent colors, like deep oranges and deep yellows. These will help create the sweet, warming effect that defines the trend.