Our Best Style Tips For Rocking High Neck & Halter Tops For Fall 2023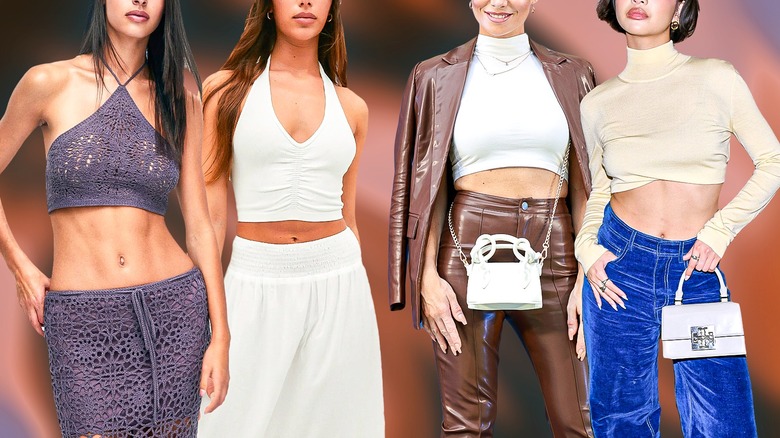 Static Media/Shutterstock/Getty
Welcome fall! As the weather changes, we are seeking ways to seamlessly blend fashion and comfort, opting for ensembles that can be easily layered with a cardigan or leather jacket if needed. Embracing the halter neck and high-neck top trend enables you to navigate colder weather and offers a wide range of versatile styles to choose from. Chic and sophisticated or bold and playful? When it comes to these tops, anything is possible!
Elevate your wardrobe and make a bold statement this season with fall 2023 fashion trends to know. Socialites and influencers are leading the way in reviving the iconic halter neck and statement high-neck top, transforming them into the latest fashion must-have. Strike the perfect balance between staying cozy and looking effortlessly stylish by utilizing these versatile tops to help you stand out. Whether you're aiming for a casual day out or a night on the town, the halter-neck and high-neck tops will become your go-to options for attire.
The killer turtle neck and sleeveless jacket combo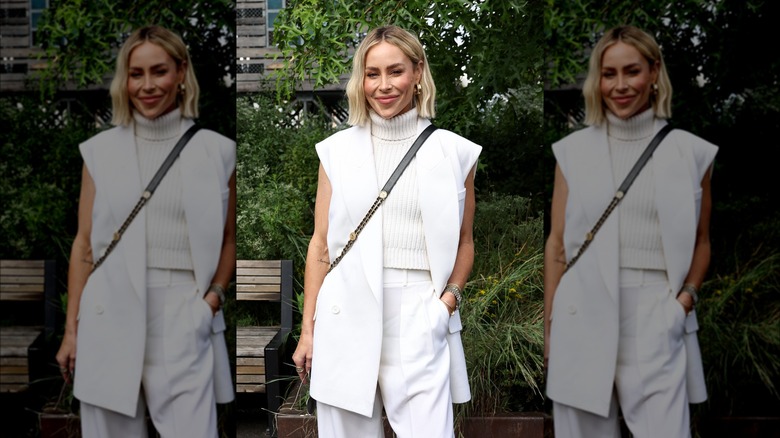 Jamie Mccarthy/Getty Images
Mary Lawless Lee made a fashion statement in New York with her impeccable style, wearing a striking all-white ensemble. During autumn, the weather transitions to a period that is neither warm nor cold, which encourages fashion enthusiasts to experiment with unconventional pairings and embrace the art of layering. Combining a high-neck top with a sleeveless vest jacket is a perfect way to embrace the versatility of this season. It allows you to blend unexpected elements for a fabulous look while showcasing the color trends that are set to dominate our wardrobes in fall 2023.
Crop top and high neck? Oh, yes!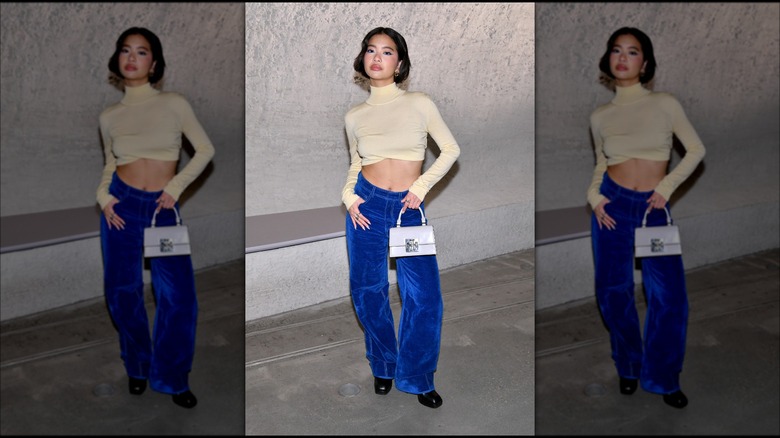 Craig Barritt/Getty Images
Dare to bare with a chic crop top transformed into a high-neck top for an added touch of allure and pizzazz. Pair it with high-waisted wide-leg pants for a casual look, or a pencil midi skirt for a sexy outfit that accentuates your natural curves. However, make sure to go monochrome to highlight the features of the top and draw attention to your waistline. Opting for a floral or patterned top may result in an excessive amount of fluff, which can overpower this otherwise trendy cropped high-neck top.
The iconic halter-neck dress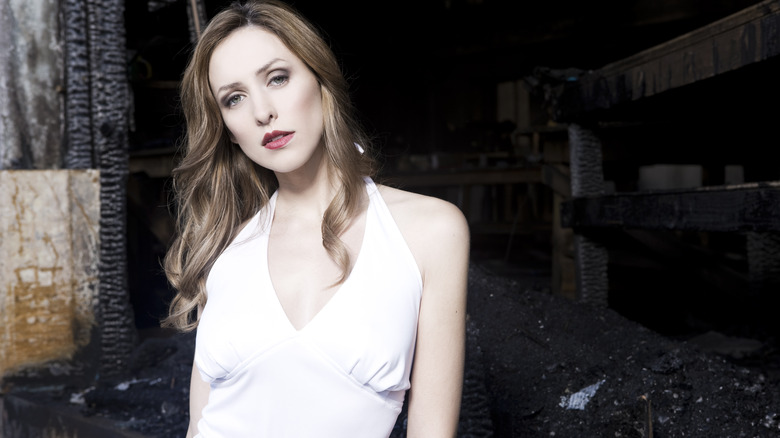 Quavondo/Getty Images
When we think of halter-neck dresses, the iconic image of Marilyn Monroe wearing the white dress that flowed as she stood over a subway grate immediately comes to mind. Embrace the same timeless allure and glamour by adding halter-neck dresses (or tops with a flowy skirt) to your fall wardrobe. Elevate your look by pairing one with a sleek leather slim-line jacket and high-heeled boots for a chic, sophisticated ensemble. Alternatively, you can keep it casual by dressing it down with sneakers and a denim jacket, effortlessly combining comfort and style for the autumn season.
Bold ensembles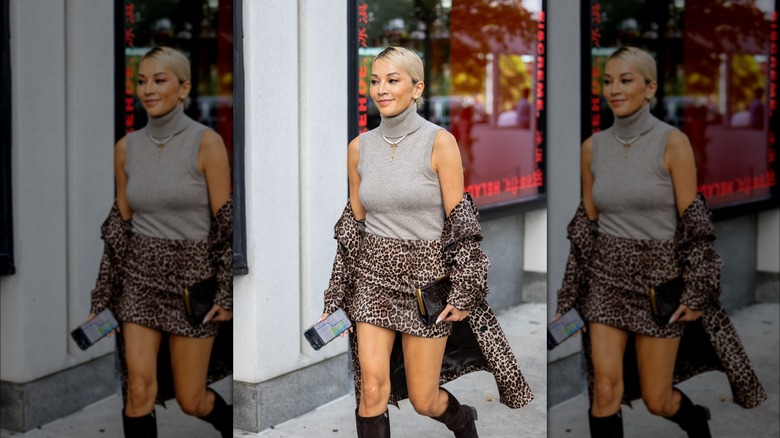 Christian Vierig/Getty Images
This fall calls for bold ensembles. A basic gray high-neck sleeveless top is a must. It is versatile and can serve as the perfect foundation for your outfit, around which you can play with styles, colors, and patterns. For a daring and distinctive look, pair the gray top with an animal print skirt and jacket, and complete the statement with knee-high boots. For a more laid-back yet stylish appearance, consider pairing the high-neck top with distressed jeans and ankle boots. Layer it with a cozy cardigan to stay warm or a tailored blazer for added sophistication.
Endless possibilities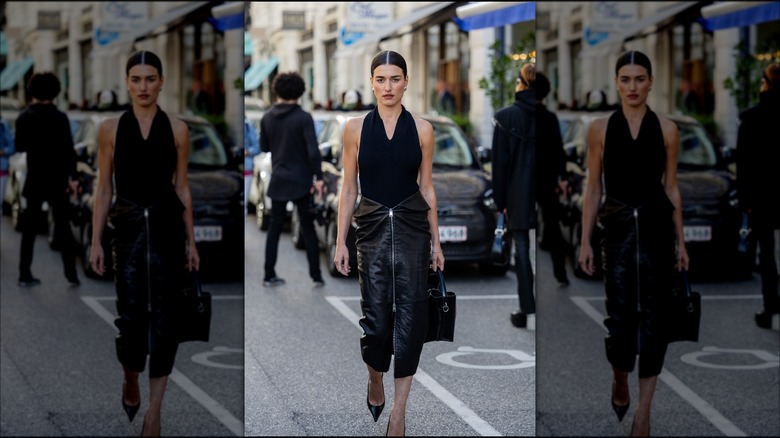 Christian Vierig/Getty Images
During Copenhagen Fashion Week, Ilirida Krasniqi stood out in a basic black halter-neck top paired perfectly with a black leather zipper skirt, catching everyone's attention. You can recreate this style with a similar black halter-neck top and wear it according to your preference. Pair it with high heels and a pencil black skirt for a sexy allure, or opt for slim office pants for an elegant and classy look. For a more playful approach, you can wear it with a floral gypsy skirt or wide-legged low-rise jeans. This top embodies contemporary fashion and offers endless possibilities to showcase your unique style.