Monarch-Inspired Nails Are Bringing The Y2K Butterfly Trend To Your Manicure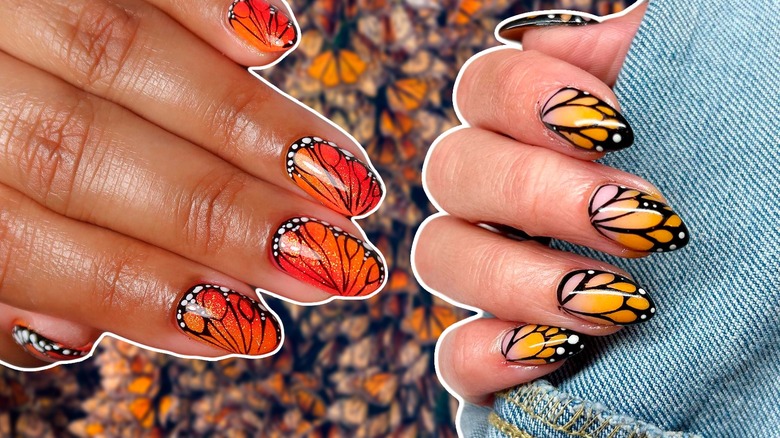 Static Media / Shutterstock
If you tend to notice a fair share of beautiful monarch butterflies flitting and fluttering around your neighborhood when September arrives, it's because that happens to be the month when they start their annual migration. That's also why the beginning of the fall season is the perfect time to indulge in a fabulous monarch-inspired manicure. Anastasia Totty, an educator with LeChat Nails, told Byrdie, "The butterfly nail art trend is one of my favorites. These beautiful creatures are an inspiration for me as a nail artist. The multitude of colors and shapes can keep you discovering new looks with each manicure."
There's surely no doubt that monarchs are among the most well-known and beloved butterflies, in part, thanks to their gorgeous wings. With a bright orange color that is accentuated by black lines, they also boast tiny white dots that are the perfect final touch of fabulousness. That's not to mention their cute little bodies and antennae. All of these attributes are why these creatures are both stunning and easily recognizable. Of course, that doesn't mean that all monarch manicures are the same. In fact, you might be surprised by the different ways that you can make your monarch-inspired nail art both eye-catching and unique. Ready for an update on this Y2K trend, when butterfly clips, colorful shades, and bedazzled everything were all the rage? There are so many awesome options that you might want to try them all.
Realistic monarch-inspired nails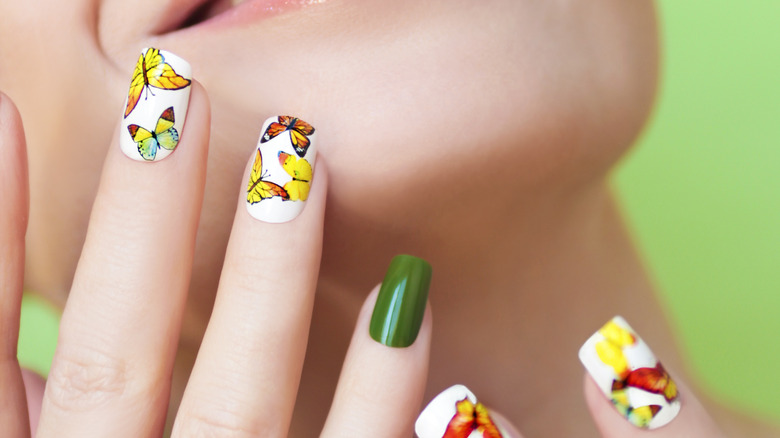 marigo20/Shutterstock
Monarch butterflies are so striking that they make the perfect adornments for your nails just as they are. That's why you might want to opt for a realistic monarch manicure. Featuring itty-bitty images of the stunning creatures, you can add just one to each nail or design a mini-collage with all monarchs or with other butterflies on each one. If you don't have the artistic skill to create these yourself and don't have time to get a pro to handle it, then you can simply purchase nail stickers, stamps, or stencils to help you out.
Split monarch nails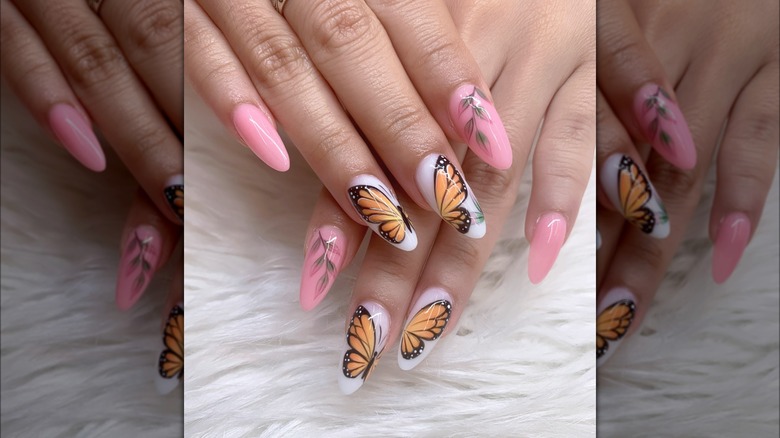 Huan N. Phan/Shutterstock
Monarchs are such eye-catching creatures that you might not want to limit the manicure art based on their likeness to tiny images on your nails. Instead, you can make them a little bigger by splitting the image. Simply place one side of the butterfly's body and wings on one nail and the other wing on the nail beside it. If you want to leave this effect for your two middle nails, then you can stick with a solid shade on your other nails along with a few floral accents if you'd like to continue the seasonal aesthetic.
Monarch-inspired wing nails
Although mini monarch bodies are cute, you may want your manicure to focus on the wings. Like natural pieces of art, the butterfly's patterned wings don't need to be tweaked. Instead, fill each nail with a wing just as they are IRL. If you find having a wing on every nail is too much visually, or you simply don't want to freehand any more than necessary, then you can put the wings on just a few nails. Cover the others in a solid color that complements the design such as orange, white, or black.
Glitter monarch nails
A glitter manicure is the perfect way to take your monarch nails to the next level. The shimmery effect only enhances the already whimsical nature of this particular nail art. There is also more than one way to add that extra glint to your design. For instance, you could add full images of monarchs made up of glittery orange, black, and white nail polish. Or, you might want to use normal black and white polish, plus a glittery orange to make the vibrant shade stand out as much as possible.
Rainbow monarch butterfly nails
Monarch butterflies may be orange, but that doesn't mean you can't get a little creative with the colors that you use for your manicure. For instance, why not try a monarch design that's filled with a rainbow's worth of colors? All you need to do is create whatever monarch pattern catches your eye. However, in the spots where you would put orange polish, replace it with blue, green, yellow, and pink, as well as other bright shades. You might even want to add a few faux gems to bring a little extra flair to your butterfly manicure, which fits this Y2K trend redux perfectly.