This TikTok Hack Gives You Braids Without The Hair Tie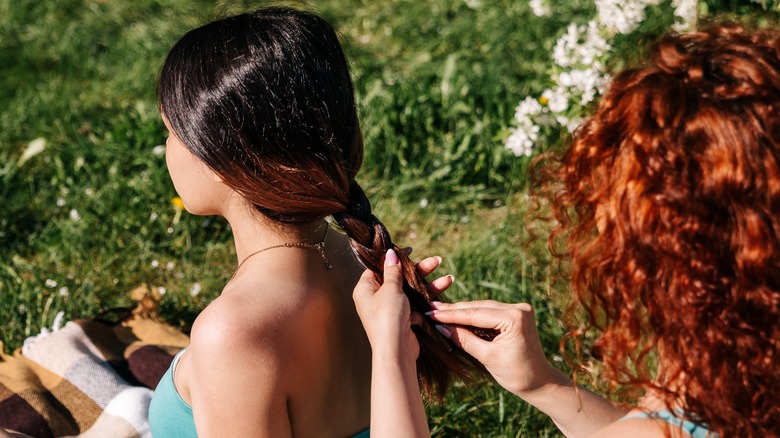 masterpiece creator/Shutterstock
When styling your hair for the day, changing up your hairstyle can be fun. Trying a new up-do frames your face differently and gives you a chance to experiment with hairstyles you see online. For example, slicked hair with braids is a style everyone loves for the summer. It's perfect to keep your hair out of your face, especially on hot days. However, too many hair ties can make your hair look messy and crowded. Instead of using elastics to keep your braids in place, use TikTok's hack that gives you braids without using a hair tie. In Kennedy Lyons's TikTok video, she demonstrates how she creates three braids in her hair without using a hair tie to keep them perfectly in place — and it doesn't take long to style. The only hair tie you'll need will be for the ponytail, as she showcases in her clip.
Advertisement
This hack is also perfect if you don't like using hair ties because they leave an indent in your hair when you take them out. You might use scrunchies to prevent the dent, but sometimes scrunchies look weird with a braided style. After all, the end of the braid gets thinner, and you're left with a fluffy scrunchie at the tail end that can easily fall out at any moment. Luckily, with this TikTok hack, you'll just be using your own hair to secure the braid in place.
How to get braids without using hair ties
While there are a few different ways to braid your hair without a hair tie, using your hair as its own hair tie is the easiest way to prevent knotting in your hair while ensuring it stays secure. TikToker Kennedy Lyons started her hair look tutorial by putting all her hair in a ponytail. She uses a styling cream to create a sleek, slicked-back ponytail. You can make a high or low ponytail, depending on your preference. After making your initial ponytail, section your hair into three parts to create three different braids. Take one section and start normally braiding your hair, but don't detangle the strands at the bottom because a second braid should start forming. Once the second braid gets close to the end of the hair, loop the end through the hole in the middle of the braid and tighten it. Repeat the steps with the other two sections of your hair, and you're done.
Advertisement
Recreating the hairstyle can be a little challenging at first, but it's effortless when you get the hang of it. If you don't want three braids in your ponytail, change the number of braids to two or four. You don't have to put your hair into a ponytail to achieve this look, either. The hack will work on loose hair if you want two straight braids, too.
Braid types that work with the TikTok hack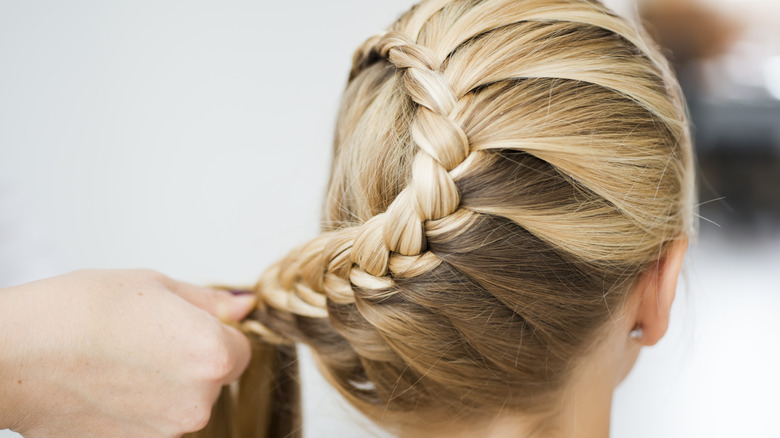 Vesnaandjic/Getty Images
During Kennedy Lyons's video, she showed her hack of tying her braids without elastics, but she demonstrated it on a regular three-strand braid. A few other braid styles work well with this hack if you don't want a standard braid, such as a four-strand, five-strand, and a French braid. You could even use this hack to make baby braids, which are small, thin braids. Essentially, you would use some of the hair from your bangs to create baby braids; they're excellent for face framing. Baby braids make any hairstyle look chic, whether your hair is curly or straight.
Advertisement
Generally, braids are an excellent go-to hairstyle you can create anywhere that takes minutes. However, if you have more time to do your hair at home, take time styling your hair with products to tame frizz and keep your braids in place. For example, use a styling cream or hair gel to eliminate the look of baby hairs and flyaways. You can also incorporate braids into any hairstyle you do. For example, if you do a half-up ponytail, add a couple of baby braids to the tail using a few strands of hair. All in all, try having fun doing your hair and find different ways to add braids to every hairstyle you create to give you some practice in tying them without hair ties.