Bubble Jewelry Is The Latest Accessory Trend For Fall 2023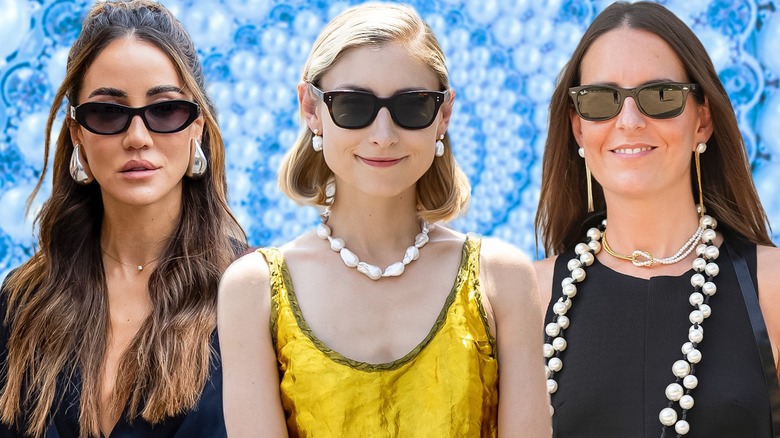 Static Media / Shutterstock / Getty
While the fall season has already arrived, fashion trends are still making their way into our closets. One trend that is ready to reappear in our jewelry collections this autumn is bubble jewelry. This movement follows the previous oversized, chunky jewelry trend and provides an alternative for those looking to upgrade their pearl accessories. Bubble jewelry pieces are more modern than the classic pearl necklace or bracelet and can create a statement look. By mixing materials and colors, the bubble trend can add a bohemian touch to all of your looks in fall 2023.
Although classics like tennis bracelets and diamond earrings will always remain in style, bubble jewelry is a fresher take that adds volume and fun to a traditional collection. Bottega Veneta even incorporated bubble jewelry to add a playful element to its 2023 spring/summer collection. Since accessories are just one part of your overall look, don't be afraid to experiment with different sizes and colors of bubble pieces. This will only make your ensemble stand out even more.
Layered looks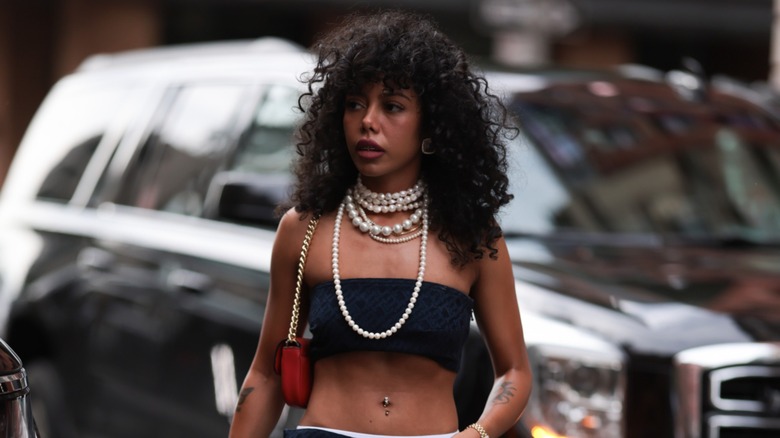 Jeremy Moeller/Getty Images
Layering isn't just for your clothing, and the bubble trend is here to show you why. Bubble necklaces are perfect for creating layered looks, combining the elegance of pearl necklaces with the playful bubble shape. When it comes to mastering this style, one brand stands out: Chanel. This iconic brand has successfully incorporated bubble jewelry into layered looks, resulting in a unique and elevated retro vibe.
Embellished bubbles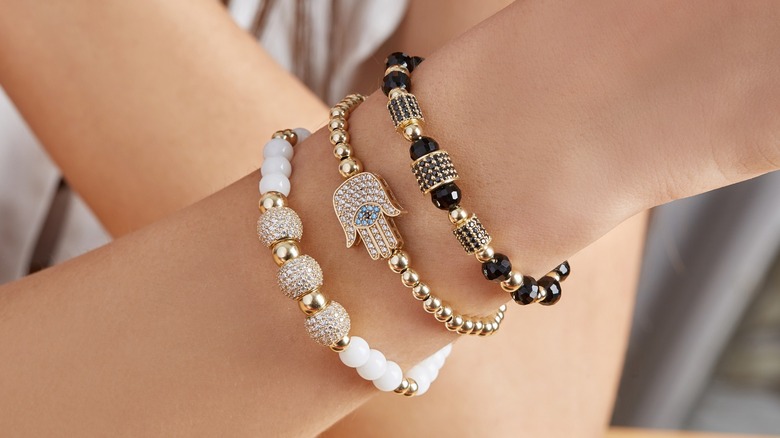 feedbackstudio/Shutterstock
When it comes to bubble jewelry, there are numerous options available in terms of sizes and colors. If you're seeking a more glamorous choice for fall 2023, consider embellished bubbles to add some sparkle to your collection. Crystallized bubble jewelry offers an elegant yet modern touch. Brands like Versace have utilized this variation to enhance the allure of their iconic designs.
Wooden pieces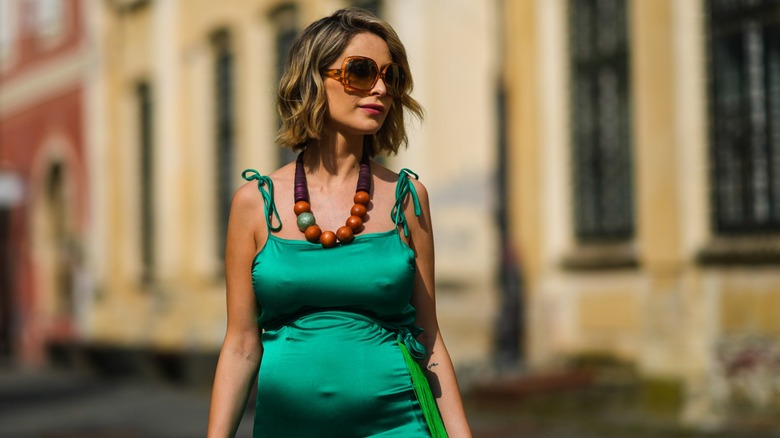 Edward Berthelot/Getty Images
If you're aiming to add a bohemian touch to your outfits, consider incorporating wooden bubble jewelry. These wooden beads strike the perfect balance between sophistication and a carefree vibe. In recent fashion shows, such as Ralph Lauren, wooden bubble beads were combined with other materials to create a relaxed and casual look. Embracing the craftcore trend, wood and mixed material bubble jewelry can bring a vintage retro feel to your collection.
Oversized jewelry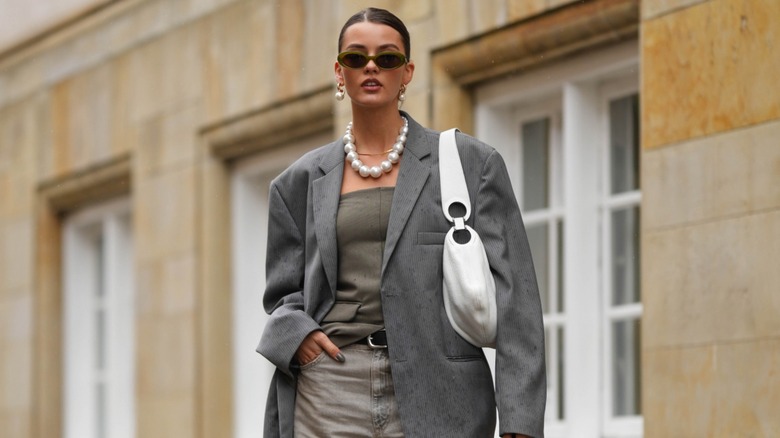 Edward Berthelot/Getty Images
The bubble jewelry trend is known for its whimsical and fun nature, allowing for the addition of more dramatic details to make it truly shine. Opting for oversized bubble jewelry can make your pieces appear bolder and stand out from the rest of your look. A great example of this is Givenchy's giant bubble rings, which demonstrate how playing with the size of your accessories can make a significant difference.
Bubble rings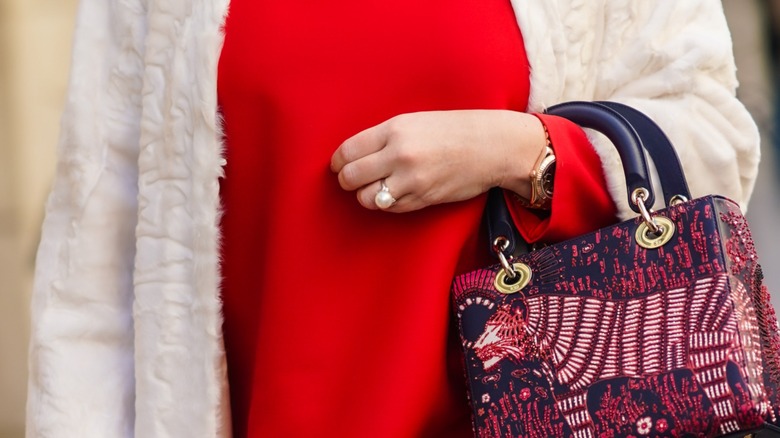 Edward Berthelot/Getty Images
When it comes to rings, the bubble ring is a trendy option that allows you to make a statement without overpowering your overall look. Whether you choose a multi-ring style or opt for a bold, oversized bubble ring like the one showcased during the Saint Laurent show, this ring is impossible to ignore. Adding a haute couture detail in a compact form still exudes a high-fashion vibe, minus the hassle of intricate styling.
Bubble earrings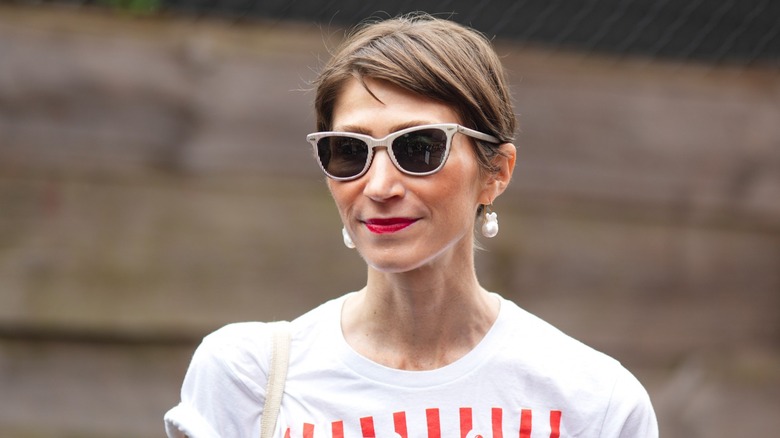 Edward Berthelot/Getty Images
Earrings have recently become a prominent fashion accessory, with multiple trends aiming to enhance their role in your overall look. The bubble trend allows you to embrace the oversized earring trend while maintaining an elegant and polished appearance. Consider opting for drop earrings like those offered by Erdem, or opt for a more understated pearl-inspired stud.