The Simple Hack That'll Make Your Headband So Much More Comfortable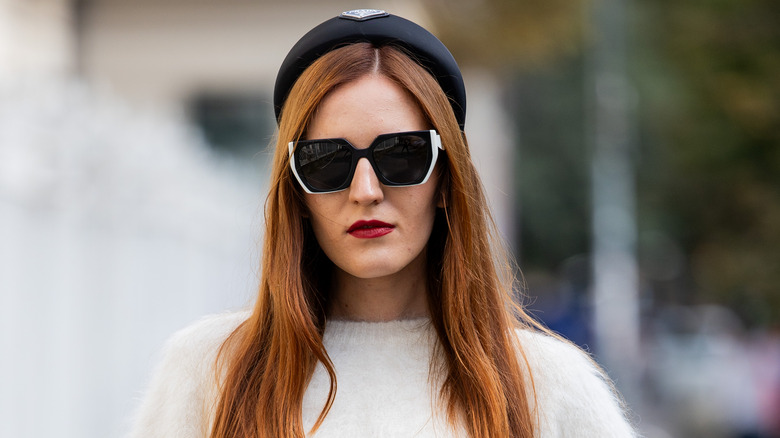 Christian Vierig/Getty Images
We may receive a commission on purchases made from links.
Headbands aren't going anywhere, and we enjoy seeing these luxury hair accessories shine in 2023 with neutral, designer, colorful, and embellished options. If you're anything like us, you grew up admiring — and envying — Blair Waldorf's seemingly endless supply of glamorous, chic headbands in "Gossip Girl." The iconic preppy TV show character's collection of headbands, including wide headbands, made her stand out, almost serving as her armor through all the scheming and betrayals — her one signature constant through every unpredictable event. 
But a more realistic truth "Gossip Girl" never shows is the not-so-glamorous head pain that comes with wearing most headbands. As stylish as headbands look, wearing them can cause much discomfort, as the headbands' ends unpleasantly rub against our heads, behind our ears.
Luckily for you, there's no need to suffer through the pain for the sake of glamour — as we imagine the fictional Waldorf doing — or even to stop wearing headbands altogether. Instead, you can use stick-on shoe cushions to lessen the pain. As silly as the hack sounds, if it takes the pain away from wearing headbands, why not try it?
Shoe cushions can also provide comfort for your head
Many people save their feet from discomfort by purchasing subtle stick-on shoe cushions to prevent their footwear from rubbing, as this can be painful. So, why not stick these cushions to the ends of your headband — the parts that rub against your head — for the same relief? Style blogger Lindsay Stedman showcased this brilliant idea in a TikTok video, applying small clear press-on shoe cushions to the ends of her headband to alleviate the discomfort headbands cause, and many of her viewers were impressed and inspired.
Looking closely at the video, we believe the specific stick-on shoe cushions the TikToker uses are the Fab Feet Women's by Foot Petals Gel Spot Dots Shoe Cushions Clear, available at Target for $6.99. Another option is the 60 Pcs Blister Shoe Pads by Crazy Cart, which sells for $13.99 on Amazon. Moreover, if you want to test out the hack with a super affordable choice, the Eease 6Pcs Blister Shoe Pad Silicone Gel Spot Shoes Pad Sticker Clear Heel Grips are available at Walmart for only $2.94 at the time of writing.
Don't have shoe cushions? Try these hacks instead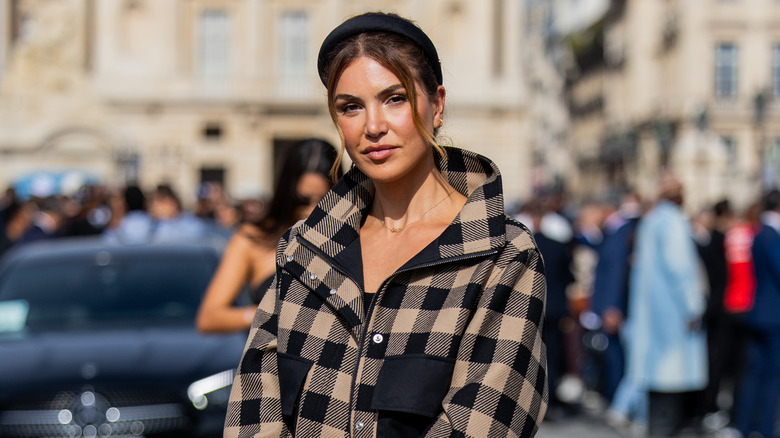 Christian Vierig/Getty Images
Inserting petite clear shoe cushions under the ends of your headbands is an excellent way to reduce the discomfort that comes from wearing headbands, but if you don't have them, you have a couple of other clever options. As Chelsie Baker, a professional makeup artist, explained in an @ehowbeauty YouTube video, applying a small cotton ball under the ends of the headband that causes the pain — and tucking those cotton piece sections under your hair — will make your headband feel significantly more comfortable, preventing the rubbing from causing as much pain.
According to Reddit, felt pads are another option, as, back in 2014, one user wrote, "I have 2 [headbands] that are large enough for me to wear. I attached felt pads to the ends, so the force is spread around more than just the tiny edge." For felt pads, check out the Playfully Ever After White Craft Felt Circles, selling for $6.59 on Amazon.