Luxury Hair Accessories Are Poised To Have Their Time To Shine In 2023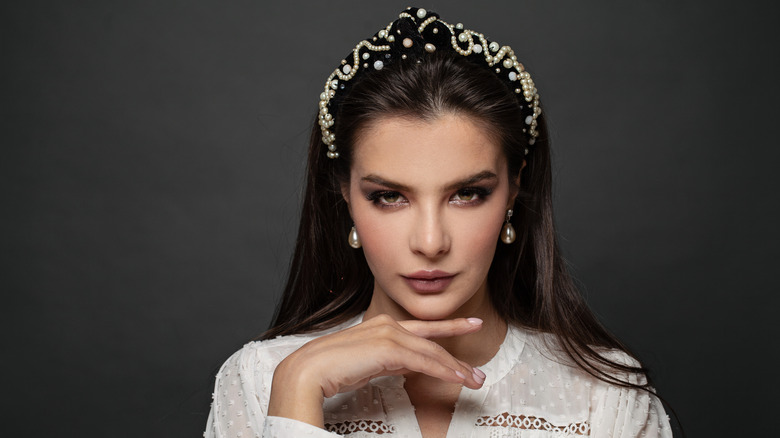 MillaF/Shutterstock
As we enter 2023, it's not too surprising that there are plenty of exciting new trends popping up just about everywhere. Hair accessories might not be the first type of accessory that comes to mind when you think about the latest fashion trends, but that seems very likely to change in the coming year. Why? Luxury hair accessories are about to have their time in the sun, and you'll definitely want to hop on the upcoming trend.
Adopting the luxury hair accessory trend also doesn't mean that you have to break the bank. As stylist Glen Coco Oropeza told InStyle, "I love to see [hair] interwoven with fabric from whatever you might be wearing, or in a color that ties together the whole look."
How else is this trend poised to be the next big thing for 2023? We've found some of the key accessories you won't want to miss.
Luxury brands are increasing their hair accessory offerings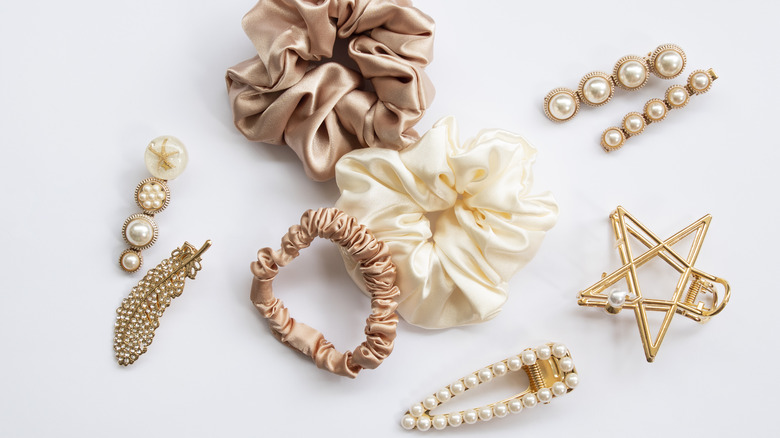 Hazal Ak/Getty Images
There are a wide variety of hair accessories available, and the great news is that almost all of them have a luxury counterpart of some sort. Headbands were an on-trend accessory for fall, for example, and they're a great way to remain on-trend with your hair accessories into 2023. From the headbands of Lele Sadoughi to Lelet New York, you can easily upgrade your look with a statement piece.
If you're a fan of the many Y2K hairstyles making a comeback, there are plenty of options for you to combine the luxury hair accessory and Y2K throwback trends in one go. Emi Jay offers claw clips galore (including those in butterfly shapes), for example. Even haute couture labels such as Prada and Versace have gotten on board with the trend and are making their own scrunchies.
Those high-end designers haven't forgotten that you might just want to show off your favorite label, either. One hair clip from Prada features its logo front and center, just in case you need the reminder.
Get the look for less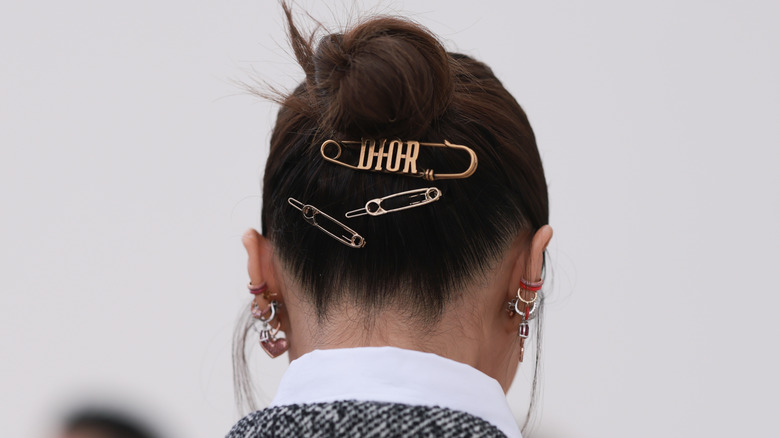 Jeremy Moeller/Getty Images
Can't afford the higher prices attached to luxury hair accessories? Don't worry; many brands are making dupes of similar styles to those being made by luxury labels, so you can get the same look without the cost. Whether you're shopping online or in person, using keywords related to your favorite designer items is likely to turn up similar styles in a price range you can afford.
If you want to follow Glen Coco Oropeza's previously mentioned advice to InStyle about adding fabric from your look to your hair without needing to chop off a piece of your designer garments in the process, you're also in luck. There are many fabric stores that offer designer fabrics online at a much lower cost than you would need to pay for a completed garment (or even a designer scrunchie, to be frank). One good example of this is New York City's Mood Designer Fabrics, which is also known for its appearances on the reality television series "Project Runway."
Embellished headbands call to mind 16th century royalty
A bow headband can instantly draw attention to your head and add a touch of youthful extravagance to your look. This classic hair accessory goes well with almost any hairstyle and any occasion. Headbands are available in a variety of shapes and patterns, but for a next-level touch of elegance and an opulent feel — wide headbands embellished with sparkling jewel appliques are your best bet.
The shape and texture of an embellished headband recall the dressing style of the 16th-century upper class. During the Elizabethan era, crescent-shaped headbands embroidered with pearls and jewels — a variation of the French hood — were heavily popularized by Queen Elizabeth I's mother, Anne Boleyn, and quickly became a staple headgear among the elites, per Redheads And Royalty. To rock this royalty-appropriate look, wear your locks down or add curls with a curling iron to accentuate the headband and add volume to your hair. Or, you can take a leaf out of Rita Ora's book and crown your diamante-encrusted headband over slicked-back hair (via Daily Mail). No matter how you wear your hair, a maximalist headband can help you make a statement easily.
Plaid is the new luxury preppy
Nothing says goody-two-shoes like Blair Waldorf's wardrobe. If you're a fan of the "Gossip Girl" aesthetics or the preppy style in general, add a touch of princessy glamor to your polished everyday ensemble with a padded plaid headband. Stylist and fashion editor Audree Kate Lopez tells Today: "Plaid is a really versatile pattern — unlike some [other] trendy items — and most people have a plaid item in their closet and can integrate the print to match their individual style." 
The plaid patterns — characterized by crisscross and check designs in multiple colors — are usually featured on wool and cotton textiles, making them a staple style for colder seasons. Whether you're leaning into minimalist, feminine, preppy, punk, or maximalist, plaid can enhance your outfit. For instance, you can pair a red plaid headband with your tweed uniform à la Blair Waldorf or with a denim jacket or oversized striped shirt for a dressier look. Alternatively, a checkered flannel headband is also an elegant holiday accessory and helps you come across as fashion-conscious. 
Skinny scarf adds instant glamour
Who says floss-thin scarves are useless? If you have a bunch of slim scarves stashed away in a corner since the early aughts and have no idea how to incorporate them into your 2020s everyday look, use them as headbands. Slim scarves — when used on the hair instead of around the neck — lend an instant touch of casual glamor and summer vibes to your look while sparing you the need to fold and roll your ultra-wide silk scarf into a straight line. 
One great way to style your head in the warmer weather is to tie your scarf around your ponytail or braid — it looks cute on you and makes your hairstyle slightly dressier. Another easy styling method is to let your hair down, and put the scarf over your head, and tie the ends together at the back of your head. You can either slick all your hair back behind the headband or leave a few face-framing strands in front for a feminine look. If you have a square scarf and don't know how to tie it into a skinny headscarf, check out THE MILK CLUB for step-by-step instructions.
Hair bows are ever stylish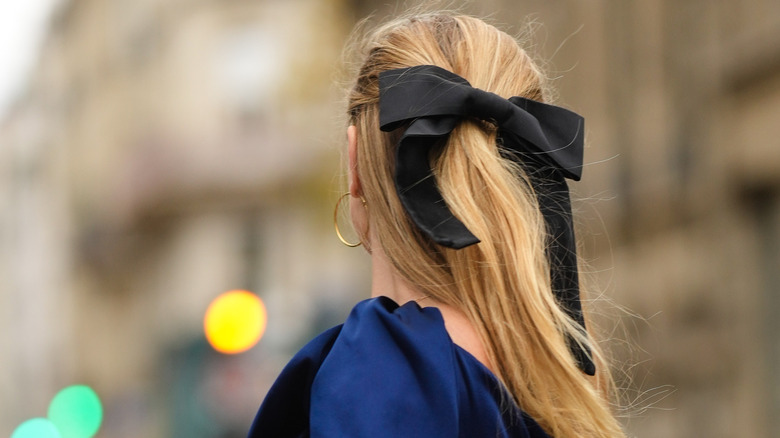 Edward Berthelot/Getty Images
Ribbons and bows are a perfect addition to beachy waves, feminine half-updos, and even slick ponytails. It seems that hair ribbons — typically made of fine silk and in gorgeous colors — are always portrayed as an expensive accessory in books and movies. That's why their charm is timeless. Hair stylist and colorist Tylor Johnson tells Ipsy: "I have been seeing a lot of really sleek skinny ribbons as well as the classic oversized bows, but typically a lot of textured fabrics — like satin, velvet, or tulle."
Styling-wise, you can tie your low ponytail with a skinny satin ribbon for a minimalist look, or you can make a statement with a super-sized tulle bow tied around your bun. To keep your hair in place, secure your lock with a skinny hair tie before incorporating a hair bow. If you don't have time to tie a ribbon into a bow, you can buy a ready-to-wear bow barrette or bow scrunchie. To look luxe for less, opt for accessories of monochromatic colors and avoid patterns. Big bows of darker shades make your look more polished and high-fashion.
Y2K's stretch-comb headbands are making a comeback
The Y2K fashion is making a comeback, demonstrated by the strong resurgence of era-defining designs such as chunky heels, crystal-embellished denim jackets, slinky minidresses — and stretch-comb headbands. Also known as accordion headbands, these understated accessories are a great way to keep the hair away from the eyes while highlighting voluminous tresses.  
Leading the pack of this hair accessory-revival trend is Maddy from the series "Euphoria." In season two's opening episode, the character — played by Alexa Demie — showed up with her hair pulled back with a stretch-comb headband — an iconic accessory of the early aughts. Thanks to Maddy, the item has taken the Internet by storm. On TikTok, the search for #euphoriamaddyheadband has racked in 83.6 million views at the time of writing. Bella Hadid is another celebrity who rocked this nostalgic hair look when attending her sister Gigi Hadid's 27th birthday earlier this year (via Daily Mail). This early 2000s hairstyle — as we can see from Maddy and Hadid — looks great when paired with hoop earrings. 
Sparkling hair combs and ton sur ton hair clips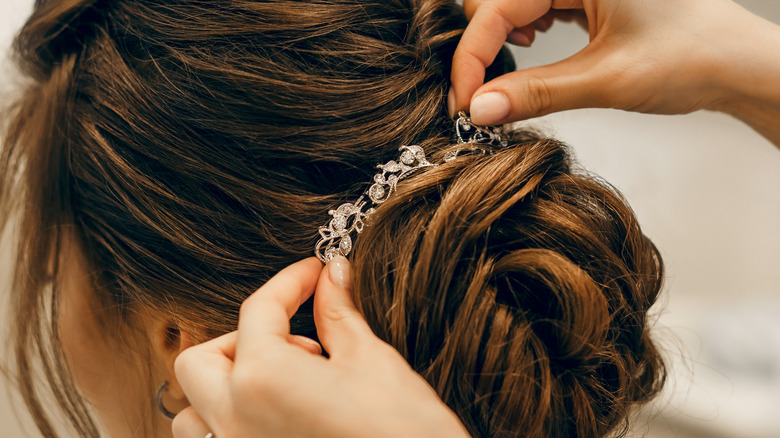 Artem Sokolov/Shutterstock
Decorative French hair combs — a staple of bridal hair accessories — add a retro glitz to your hairstyle and pull your look together. Not only do these combs help keep your hair in place, but they also add a flourish to your hairstyle. Hair combs are available in all shapes and sizes, but if you want both functionality and style — go for luminous hair combs encrusted with pearls, crystals, or floral flourishes. The more decorative, the more luxurious. This classic accessory looks great on many hairstyles, such as French pleats, side-swept hairstyles, and half updos. This embellished look is great for a romantic date night, a state dinner, and even your own wedding. 
Adorning your deep-side part with a display of color-coordinated hair clips and pins is another way to liven up your hair. For instance, if you're going for the glam look, secure your locks with hair pins, clips, and a small-size side comb of the same monochromatic color and illuminating appliqués for added sophisticated dazzle. If you're leaning into the grunge aesthetics, consider slicking your hair back with a cluster of chunky color-matching snap clips.