London Fog Latte Nails Are The Perfect Fall 2023 Manicure For Gentle Dramatics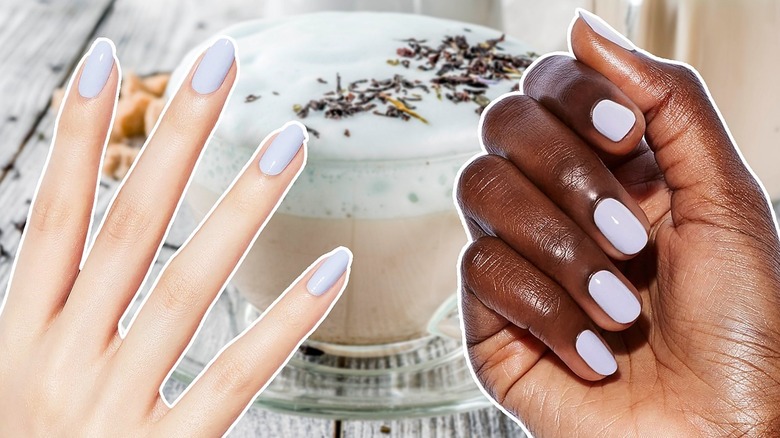 Static Media / Shutterstock
Moody babes, rejoice; fall has arrived! Time to pack away your summery pink and coral nail colors and replace with the deep foreboding tones of the spooky, chilly season. While it may be tempting to reach for your standard black or burgundy manicure, there's a new moody nail color in town for your fall 2023 mani: London fog latte. If you're not a tea drinker, a London Fog latte is a drink made from Earl gray tea, sweetener, vanilla, and foamed milk on top.
As you can imagine, London fog nails showcase rich, creamy, gently dramatic tones of gray and taupe. The deliciously moody vibe can easily be adjusted to flatter your skin tone by choosing your gray shade based on its degree of warmth or coolness. If you're ready to welcome fall with open arms and softly moody nails, check out these London fog looks for inspiration, then head to the salon, the store, or your nail polish stash to get the look. 
Five shades of gray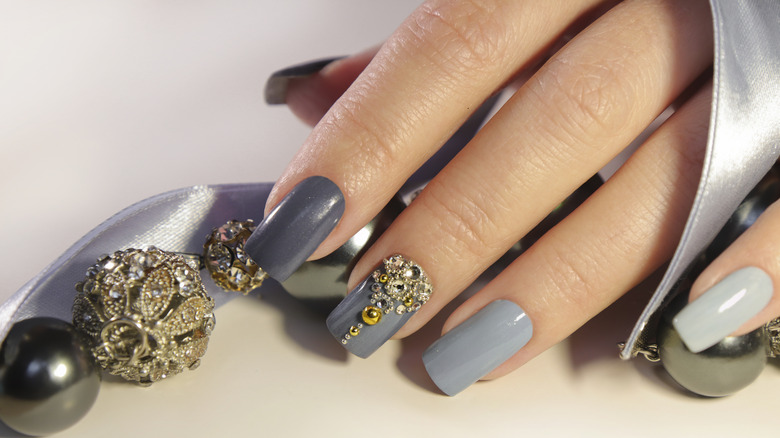 Marigo20/Getty Images
Can't decide which foggy shade of gray is best for welcoming the fall season? You can try out five at once by painting your fingernails in a gradient style, starting with the darkest shade on your thumb and ending with the lightest on your pinky. Not only is it a look on its own, but it can also help you work out which shade is your favorite. 
Light and creamy gray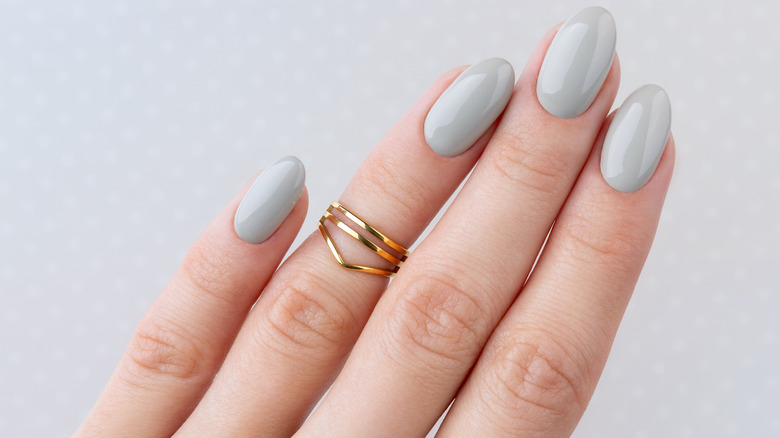 Darya Lavinskaya/Shutterstock
Gray doesn't have to be dark, scary, goth, or dreary. If you're a nail purist, simply swap your usual white or nude polish with a light shade of gray for the fall. The result? Instant subtle drama while still looking chic, classic, and respectable everywhere you go. 
Mid-tone classic gray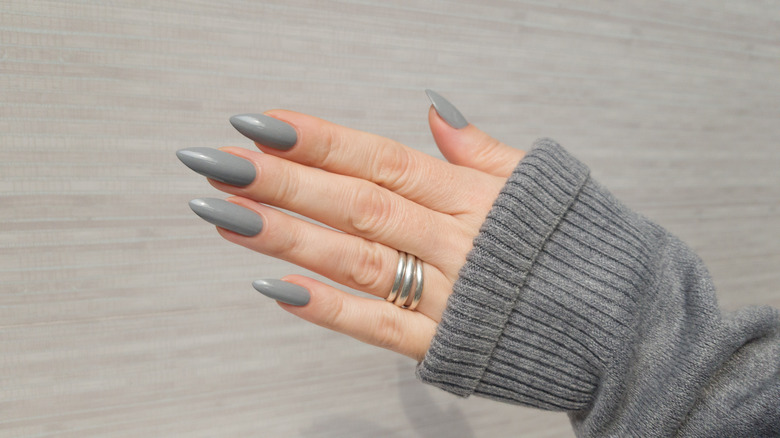 TanitaKo/Shutterstock
Not sure if you like your London fog latte nails with extra foam or just a splash of steamed milk? Opt for a solid mid-tone gray. Sticking with a medium tone is a good way to observe the color against your skin tone and assess whether you'd like to go a few shades darker or lighter — or stay right in the middle — for your next mani. 
Cool-toned gray
If you know your skin leans more toward cool-toned, keep an eye out for gray shades that are blue or purple-based. These icy shades will complement your skin tone instead of creating a contrast that makes your skin look gray, purple, or blue in comparison to your nails. 
Warm gray glitter
Babes with a warm skin tone should look for a taupe (brown-based gray) shade to keep their skin from appearing yellow or sallow next to a contrasting cool-toned gray. Add back just a bit of chill to honor the fall season with a silvery glitter on top. 
Dark moody gray
Ready to go all in on spooky season? Skip the milky latte and go straight earl gray with a charcoal tone that manages to feel reminiscent of black while still standing on its own. If you're looking to make a dark statement with just a splash of softness, this is the option for you.