Gray Jeans Are One Of Our Favorite Fall Trends - Here's How To Wear Them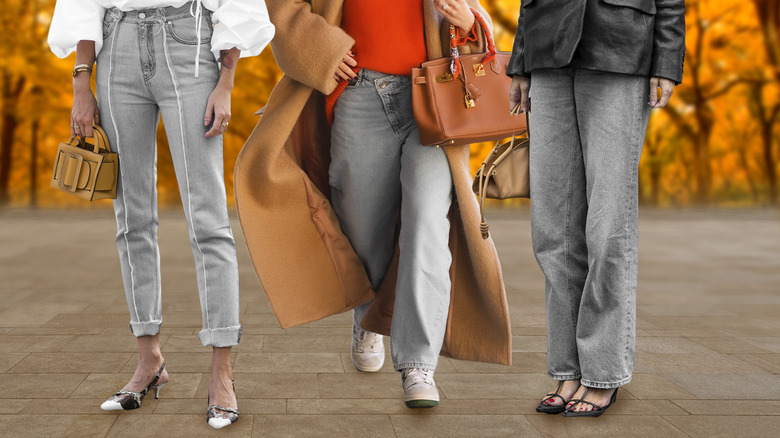 Static Media / Shutterstock / Getty
If you're looking for a cohesive and chic fall wardrobe, you must have a pair of well-fitting jeans. Whether skinny or baggy denim, jeans are a wardrobe fundamental. However, while everyone knows that blue denim is a classic buy, you need another color denim in your fall wardrobe. While it may not seem as versatile, gray jeans are a flexible piece that can easily replace your favorite blue jeans. Darker than white denim — which you can wear after Labor Day — but lighter than black jeans, gray jeans can be worn with many pieces in your closet and offer a slightly different look than your typical denim colors.
Advertisement
Gray jeans are edgy, modern, and fresh. Style influencers like Bella Hadid (via Steal Her Style) have repeatedly worn gray jeans to elevate simpler pieces apart from the usual blue jeans and basic tee. For a chic, street-style vibe, get an edgy pair of gray jeans that will take your fall wardrobe to the next level.
Coordinate with fall basics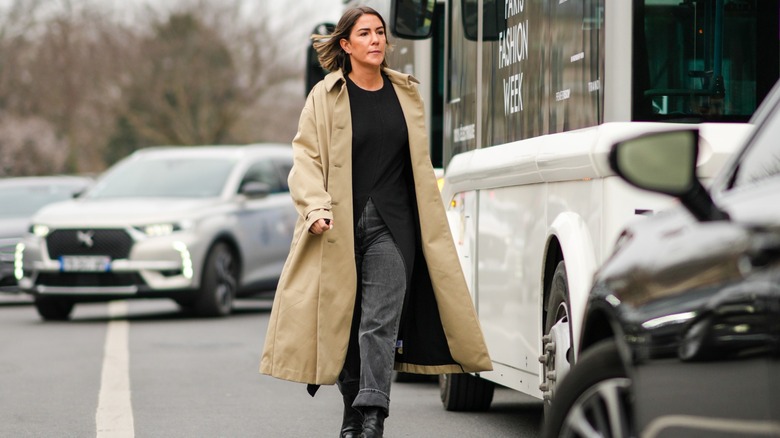 Edward Berthelot/Getty Images
Like blue jeans, gray denim can easily elevate your fall basics. Simple looks such as a white or black tee with white sneakers can benefit from that extra pop  for added sophistication. Take a cue from actress and singer Selena Gomez (via Steal Her Style), who once sported gray skinny jeans for a chic casual ensemble.
Advertisement
Go for light gray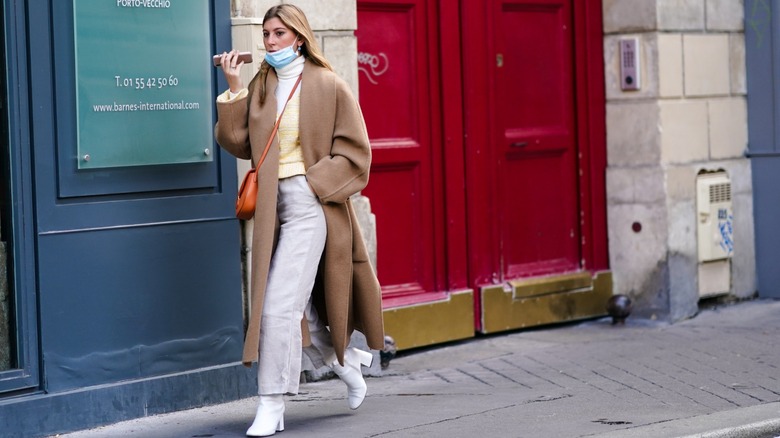 Edward Berthelot/Getty Images
Gray, like blue or brown, is available in various tones to suit your style needs. A lighter gray can mimic the vibe of white denim but with added tint to make your look appear more modern and less polished. To give your outfits a lighter, yet edgier, pop of color, gray jeans in a more delicate wash serve as the perfect finishing touch. So, rock those light-wash jeans for fall.
Advertisement
Get matchy-matchy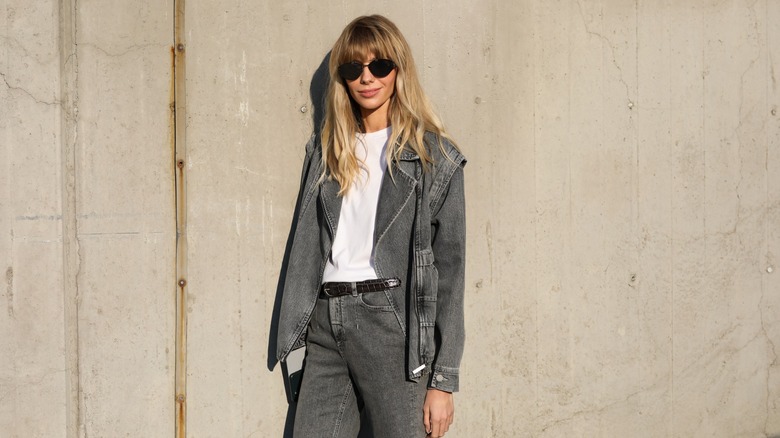 Jeremy Moeller/Getty Images
No color matches gray jeans better than gray itself. An all-gray monochromatic look is fun and mimics the elegance of an all-black or all-white outfit. Incorporating it into an all-gray ensemble helps keep your outfit looking less stuffy but still polished. Gauchere Fall/Winter 2023 is the perfect place to find your inspiration. As pictured, wear a soft knit top to break up gray denim pieces — a certified way to tackle this trend for fall 2023.
Advertisement
Why not go dark?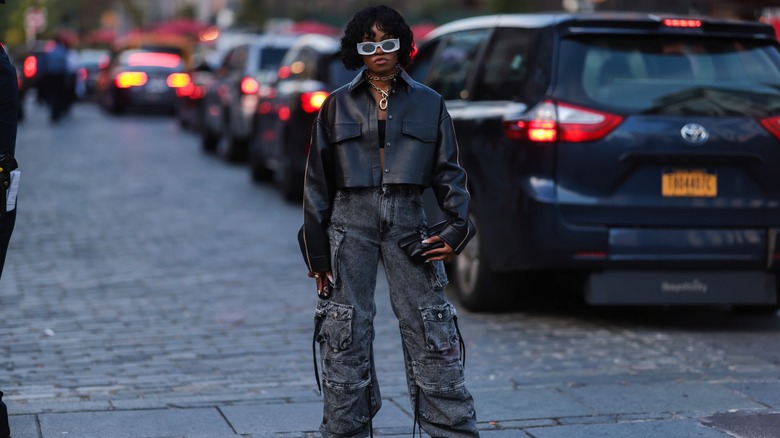 Jeremy Moeller/Getty Images
Just as light gray jeans offer a different vibe, moody dark gray denim can give your ensemble an even edgier look, as seen above. Offering a similar tone to black, dark gray jeans can be the ideal base to keep within the moody aesthetic of your look. They can also provide the perfect contrast against a white tee or blouse.
Advertisement
Wear with street-style 'fits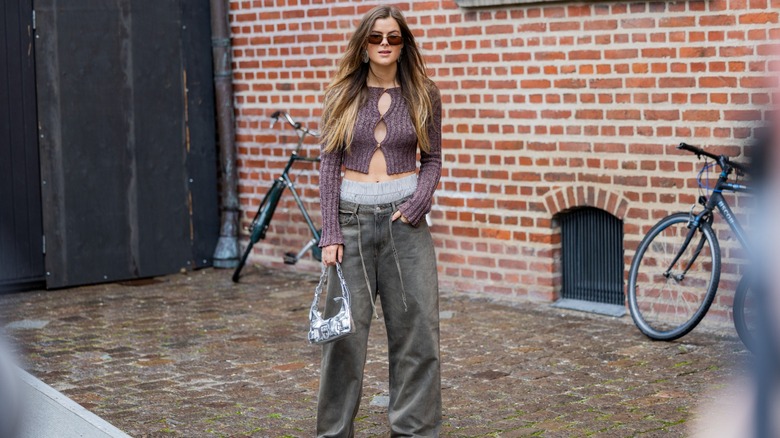 Christian Vierig/Getty Images
Gray jeans come in multiple styles, not just your typical straight or skinny. Fall 2023 pants trends such as cargo pants or baggy jeans are perfect ways to feature the color gray by updating your ensemble with a different style than you typically see. Everyone gravitates toward blue baggy jeans, so why not mix it up with gray instead?
Advertisement
Don alongside metallics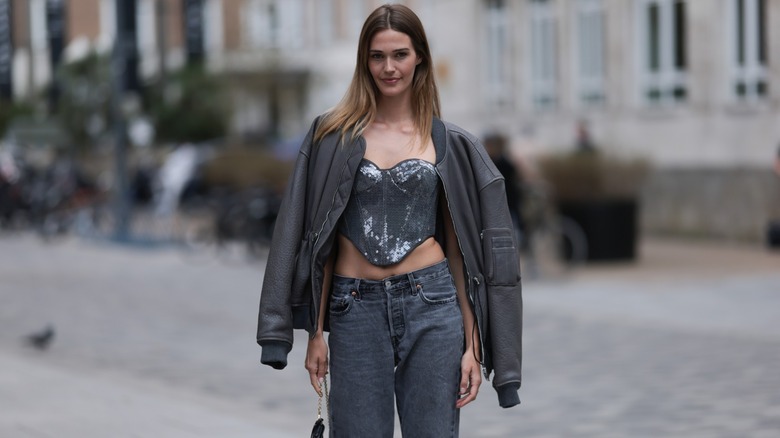 Jeremy Moeller/Getty Images
As with any neutral-colored bottom, gray jeans emphasize your statement tops and make them pop. Trendy, armor-inspired metallics continue to shine for fall, and, with gray, they make the perfect pairing. A silver metallic top and gray jeans can help you stand out while staying within the same tones, creating a cohesive outfit. Combine these two fall fashion trends for a modern and chic look.
Advertisement
Style with leather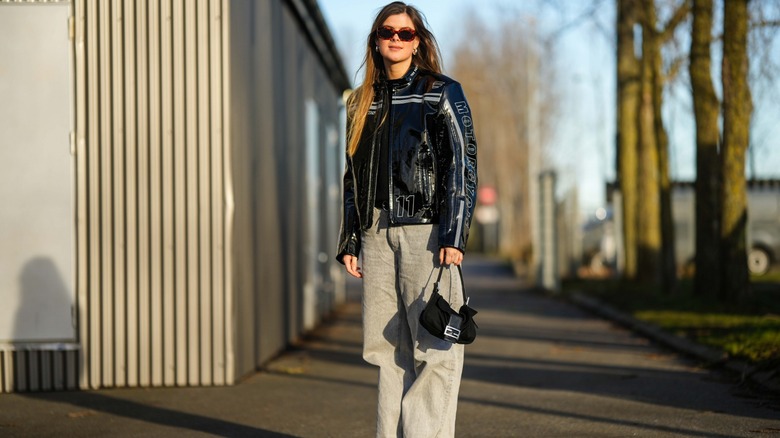 Edward Berthelot/Getty Images
It's hard to find a piece that doesn't go well with leather, and, thankfully, gray jeans work with it perfectly. The edginess of a leather piece combined with the cold tone of gray jeans creates a stylish and powerful look. With the raw vibe of leather, your gray jeans will coordinate perfectly for a timeless, grunge-inspired style.
Advertisement