Nordstrom Has A Free Styling Service, And It's Going Viral On TikTok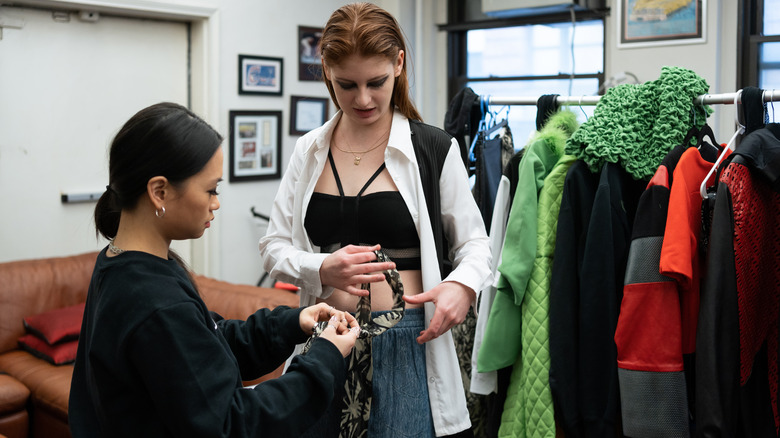 Michele Pevide/Getty Images
It's no secret that TikTok is the one place you can rely on to give you the inside scoop on everything. Even if you aren't looking for a hack to use, somehow, those hacks find you when you're scrolling . When TikTok videos go viral, you know they're worth saving, like the viral TikTok video that shows you how to crop your oversized button-downs. One recent viral video was TikToker Andrea Masenda's video, where she talked about Nordstrom's free styling service. Masenda didn't want to spend hours browsing the racks, so she used Nordstrom's styling service to help pick out a black dress for a wedding she was o
The styling service isn't something many folks know about since it isn't highly advertised. In fact, you won't easily find the styling service tab unless you're actively exploring Nordstrom's website. Most folks browse websites to find clothes they need or walk into the store to shop around, hoping to find something they love. However, some retail stores, like Nordstrom, offer more than what's expected if you look closely through every tab they have on their websites. 
How Nordstrom's styling service works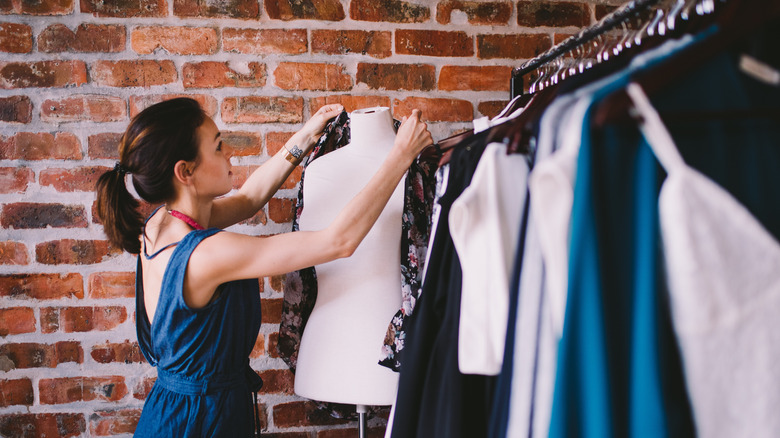 Criene/Getty Images
Nordstrom's styling service is quick and easy to use. It has six different styling services for men, women, babies, gifts, and friends. One way to get styled is by going inside the store, which is how TikToker @andreas_journey's video went viral. You can book an appointment through Nordstrom's website. The appointments range between 30 minutes to 1 hour. If you're looking for styling help, where stylists gather a few pieces of clothing you're specifically looking for, then the session is an hour long.
When you're making your appointment, you tell them your size and budget so that stylists can pick clothing based on your preferences. In addition, your stylist will help with tailoring needs and recommend additional items based on what the clothes they chose. The styling sessions are free, and the stylists earn commission from assisting you and on any purchase you make — you don't have to tip them. However, you're not pressured to buy anything if you don't love the choices. Nonetheless, it's an excellent way to get some help when you don't know what to wear to an event or have limited time to find something.
Other styling services Nordstrom offers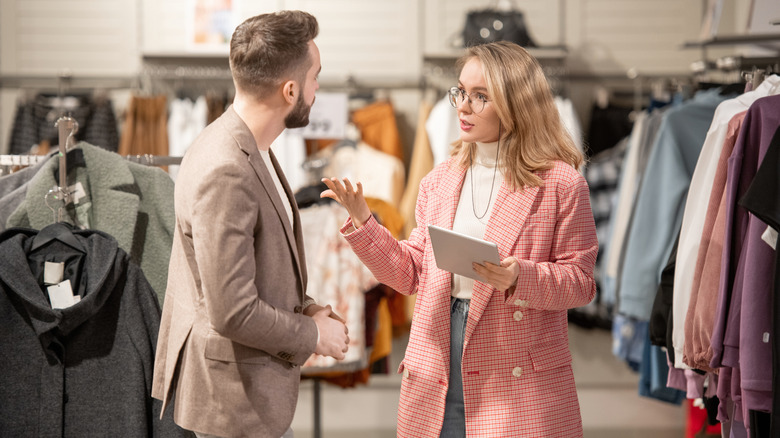 Pressmaster/Shutterstock
The other two services include virtual sessions and stylists meeting you in person wherever you are. If you want a wardrobe refresh, you can request stylists to email you a list of clothing recommendations to switch up your style. Nordstrom has a form you fill out with style preferences that they send to their stylists, who then email you various looks they created for free. The stylists will make different outfits, including pants, tops, shoes, and accessories, to give you an entirely new look. This can be helpful, especially if you're looking to revamp your style for every season, like autumn. It will help give you an idea of how to style your new products together or separately, even if you don't buy everything they send you. The outfits are saved on your stylist tab in your Nordstrom account, so you can refer to them whenever you feel like buying something new.
On the other hand, if you're in a different city and forgot to pack a specific outfit, Nordstrom stylists can put together many outfits and show up at your hotel with them. Plus, they arrive at your hotel, office, home, etc., with a tailor to help make any adjustments. You do have to pay for this service, and stylists will only visit locations within a 15-mile radius. However, the $50 fee you pay goes toward the purchase or alteration you make if you decide to buy something they chose for you.