We're Cuffing Our Jeans Again - Our Best Styling Tips For The Throwback Trend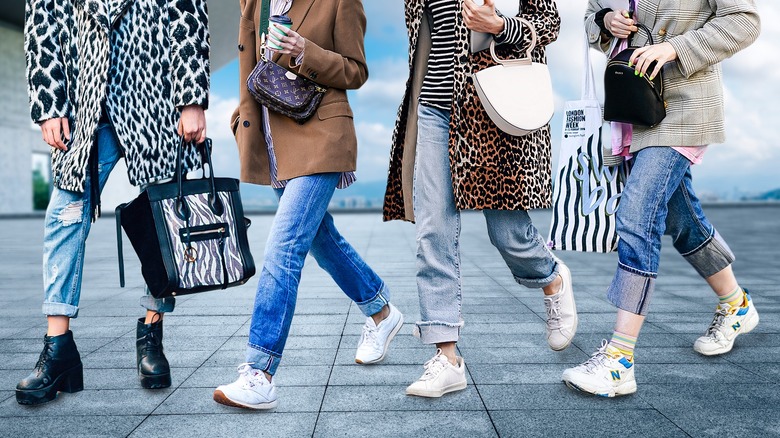 Static Media / Shutterstock / Getty
People have been cuffing their jeans for ages now for practical and fashion purposes. Originally done because the hems were simply too long, cuffing the bottoms of jeans became a trend for stylish reasons. Back in the '80s, it was the in-thing to taper the hems of jeans and roll them up to your ankles. When skinny jeans had their time, it was fashionable to cuff the ends to show off your shoes or to make the pants more summer-friendly.
Lately, with the resurgence of big, baggy styles, cuffing jeans took a backseat, but it's trending once again. This time around, it not only looks good on skinny silhouettes but also on straight-leg jeans and even wider cuts. Spotted in People, Kim Cattrall was seen sporting cuffed jeans in July with a blue button-down shirt and chic white loafers for a super casual take on the trend. While a cuffed hem isn't exactly high fashion, you can elevate this style by putting together the right outfit. Or, lean into the relaxed style with comfy sneakers or flats. Make your cuffs super tiny or extra large if your jeans are on the long side. With a trend this versatile, we predict you'll be cuffing all your fave denim.
Give your wide-leg jeans an update with cuffs
Christian Vierig/Getty Images
Prevent your wide-leg jeans from dragging on the ground by incorporating a cuff into your hem. This style is reminiscent of the '80s trend but keep the cuffs wide and loose so that you don't end up looking like MC Hammer. To keep this look from appearing sloppy, pair your denim with a crisp fitted button-down shirt. Slip on a pair of high-heeled all-purpose mules and your street style will be on point.
Flared jeans with wide cuffs create a different silhouette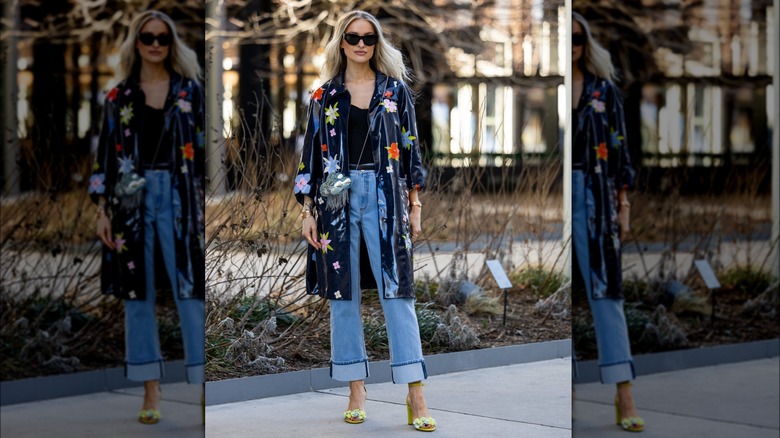 Christian Vierig/Getty Images
Flared jeans are a popular style as they elongate your legs while making your waist look cinched. For a fun, warm-weather look, create wide cuffs for a cropped version. While some jeans come with the cuffs already sewn on, you can also DIY with some double-stick tape. Just make sure the hems are perfectly even or it'll be noticeable. A pair of colorful heels and a long duster or blazer are the perfect finishing touches.
Thin cuffs on slim-fitting jeans show off your shoes
If you're running errands or meeting friends for a casual lunch, you'll probably reach for your favorite jeans. While skinny jeans are considered out for now, slim cuts are still stylish. To make yours cropped, roll the hems up once to create a thin cuff. Adorn your ankle with a cute bracelet and slip on a pair of loafers for a fun, carefree look.
Channel your main character energy with cuffed boyfriend jeans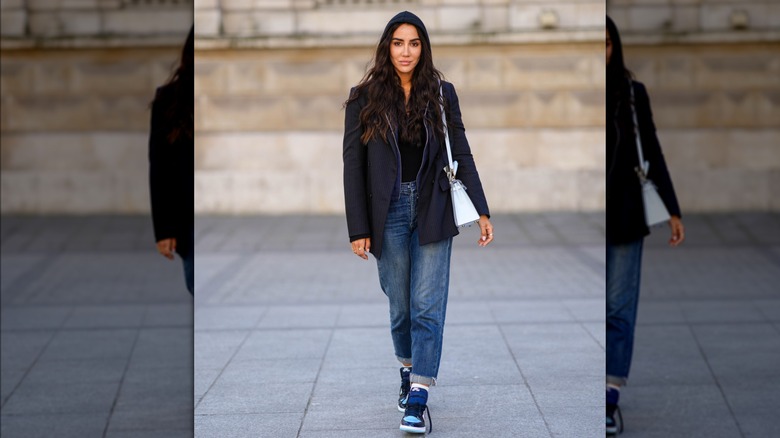 Edward Berthelot/Getty Images
Around the mid-2000s, boyfriend jeans became wildly popular when Katie Holmes was spotted wearing the baggy style. It turned out that the jeans were actually her then-husband, Tom Cruise's. Since then, many have recreated the look and you can style boyfriend jeans for any occasion – but for this season, you guessed it, we think you should cuff them. This is all about looking like you actually borrowed your boyfriend's jeans so choose a relaxed fit and style it with an oversized blazer and casual shoes.
Cuffed jeans and ankle boots are a stylish fall combo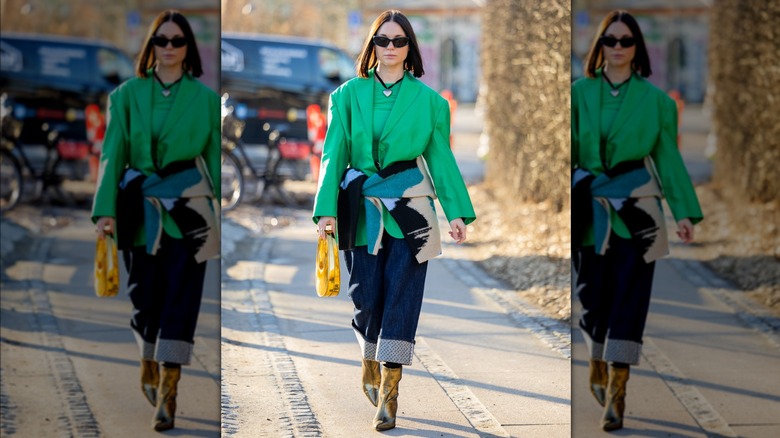 Christian Vierig/Getty Images
Cuffing your jeans is a great way to show off any fun patterns or interesting stitching in the lining of your denim. You can also display your super cute fall boots by strategically rolling up your hems and creating an almost culotte silhouette. A bright blazer and an extra sweater tied around your waist will ensure you stay warm in the crisp weather.
Cuffed black jeans are an alternative to dress pants
Have no clue what to wear for a date night of drinks? Easy. Opt for your comfiest pair of black denim jeans and show off your strappy sandals by rolling up the hems, but stick with tight cuffs so the pants don't look too bulky. A cute midriff-baring crop top is great for summer concerts or drinks by the beach. This 'fit has us dreaming about warm nights with our favorite boo.