Fall 2023 Is All About The Shadow Bang - Here's How To Get The Look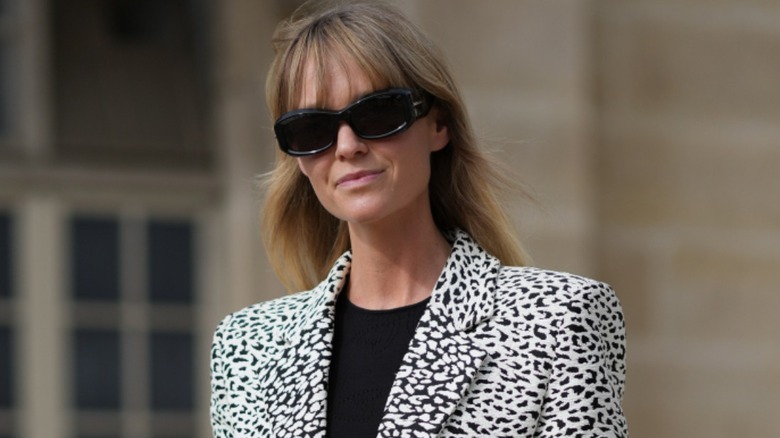 Edward Berthelot/Getty Images
While it's a long-standing joke that one only gets bangs when life goes downhill, the cut has grown in popularity in recent years. The rise in popularity of curtain bangs has made it the go-to hairstyle for celebrities, influencers, and even royals. The Princess of Wales, Kate Middleton, showcased her new curtain bangs for fall 2023, giving the style a royal seal of approval. Although curtain bangs remain a chic option, another variation called shadow bangs may entice those who are on the fence about making the commitment. Shadow bangs, a sultrier version of long bangs that stylishly frame the eyes, have a similar silhouette but produce different results.
Advertisement
Bangs are versatile, and there are plenty of variations that can complement any face shape. However, it is always beneficial to seek a professional opinion on whether shadow bangs will help emphasize the right areas of the face. @yourhairmom, founder of BOMANE Salone + Line One Extensions, suggests via TikTok to ask your hairstylist to start by cutting your front bangs into a wispy length up to your nose. This allows for a gradual trimming of the fringe above the eyes. The outside of the bangs should be longer than the middle, creating a soft cascading effect. While you can choose blunt ends, shadow bangs typically come with a wispier finish. Tapered ends provide the same wispy feel but with a longer length.
Advertisement
Wispy bangs
The difference between shadow bangs and blunt bangs lies in the maintenance of the wispiness seen in curtain bangs. Shadow bangs, with their feathered ends, create a softer face-framing appearance that can complement your fall look. If you wish to refresh your existing curtain bangs, it should be relatively simple to transform them into shadow bangs, which provide a fuller appearance while still framing your face.
Advertisement
Medium hair, long bangs
While longer bangs are often associated with longer hair, it is possible to achieve this look with shorter styles. Instead of waiting for your hair to grow out, consider opting for a longer fringe with shoulder-length hair. This will help frame the rest of your face. The key is to incorporate short and long layers to create a continuous frame from the fringe to the rest of your hair. Once you have achieved this, you can decide on the length that suits you best.
Advertisement
Shadow bang updo
One of the benefits of all the bang variations is the ability to create statement hair updos. By having shadow bangs, any updo you choose will give the impression that you put a lot of effort into your hairstyle. A fuller shadow bang allows you to look polished and put-together, even with limited time or products. Simply throw your hair up and let the shadow bangs work their magic.
Advertisement
Full fringe
While shadow bangs call for a wispier fringe than blunt bangs, they can still be full enough to cover most of your forehead. When getting your hair cut, ask your hairstylist to create a fuller fringe. Fuller and longer bangs will cover more of your forehead, making it a great option for those who want to visually shorten their face. Additionally, with extended side sections, your bangs will still frame your face and give you a structured hairstyle.
Advertisement
Ombré shadow bangs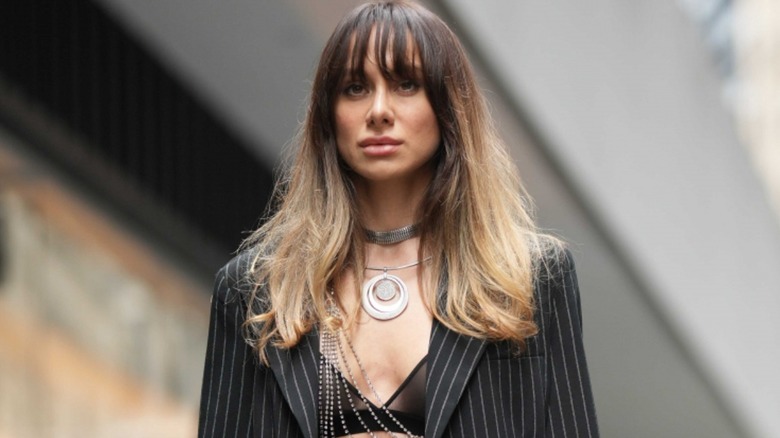 Edward Berthelot/Getty Images
A longer length on your fringe gives you more space to create a dynamic look. Utilize the extra room to achieve an eye-catching ombré effect that will further enhance your bangs. Typically, the ombré on your fringe should match the color progression of the rest of your hair, resulting in a cohesive and stylish appearance. By utilizing an ombré effect with your bangs, you can create a more pronounced contrast in the area near your eyes, drawing full attention to them.
Advertisement