Blake Lively's Favorite Perfume Is A Floral And Citrus Dream Scent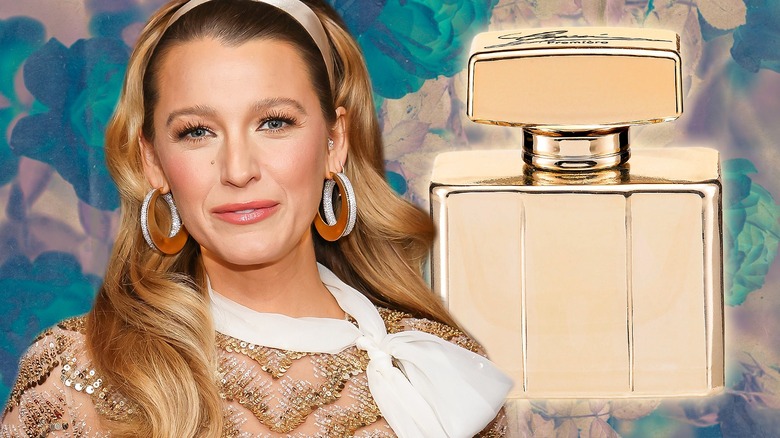 Static Media / Shutterstock / Getty
We may receive a commission on purchases made from links.
Between Blake Lively's iconic Met Gala looks and her beloved glamorous long hair, the star consistently blows fans away with her fashion and beauty. While we might not know all the secrets that go into her fashion, makeup, and hair, we can all smell like Lively. As it turns out, she adores Gucci Premiére Eau de Parfum, which features a medley of alluring floral and citrus scents with hints of wood and leather.
Advertisement
"My whole life I would wear a different fragrance for different seasons and occasions. ... The thing that I missed about always changing my fragrance—because I'm very picky, as well—is that I was lacking that power fragrance has—like the smell of my mom when I haven't been around her, or my sister," Lively told Harper's Bazaar back in 2013. "Gucci Premiére really does have that. It has the bergamot, the citrus, the floral, the wood, and the leather."
The actor has genuinely enjoyed wearing it, and that's enough for us to consider looking into it, too. While the fragrance came out in 2012 and is discontinued at the time of writing, it can still be purchased online, or you can shop for similar options if you want to add a still-in-production floral and citrusy scent to your fragrance collection.
Advertisement
Like Blake Lively, people online love Gucci Premiére
Gucci Premiére is a dream come true for anyone who wants to smell like Blake Lively and craves variety in their fragrances. Although the perfume is unavailable in retail stores at the time of writing, you can still purchase it online. The Gucci Premiére Eau de Parfum sells for $270 on Amazon and has 4.6 out of five stars, so many folks must agree with Lively. In fact, one pleased reviewer wrote, "Once I find a perfume fragrance that I love, it becomes my signature fragrance. I get so disappointed when they discontinue. I get so many compliments on how nice I smell."
Advertisement
Lively's favorite perfume isn't too sweet or spicy, and the actor even admitted to previously mixing perfume with cologne to achieve such balance — and this scent has a similar effect. "I wanted to feel like an empowered woman, like a force to be reckoned with but I still wanted to maintain that power of femininity and sensuality... It's everything that I've tried to do when I mix a cologne with a perfume," the actor told Glamour back in 2012.
People online love this scent, too. Fashion TikToker Stephanie Barreca, who has around 50,000 followers on the platform, posted a video expressing her love for the fragrance, noting that it's beautifully dainty rather than too bold. It's therefore ideal for people who typically avoid overpowering scents, is an excellent balance of timeless and contemporary, and features lovely white floral notes.
Advertisement
Floral and citrus alternatives to explore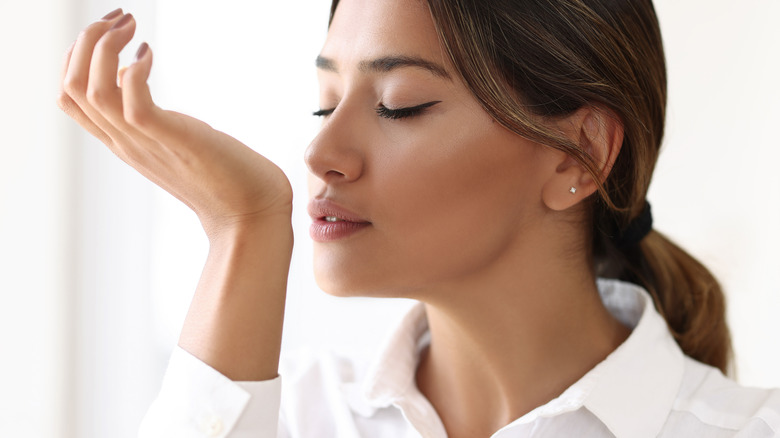 Bymuratdeniz/Getty Images
If you like the idea of Blake Lively's beloved Gucci Premiére perfume but don't want to wear a discontinued scent or pay Gucci prices, you have other options. Unlike gourmand scents that will leave you smelling sweet like desserts, Lively's favorite perfume is all about embracing floral, citrusy vibes with hints of leather and wood, so these are all notes to look for when finding alternatives. For example, the Myself Flower scent sells for under $30 at Zara and provides a lovely balance of floral and citrus notes.
Advertisement
Another option is the Sephora Philosophy Pure Grace Fragrance, which is available for less than $30 at Kohl's and features floral scents with a touch of musk. The fragrance has 4.5 stars with an 85% recommendation rate, earning praise for its quality, style, and value. In a long, glowing review, one customer wrote, "I have been using Pure Grace for over ten years and I love it... I get compliments from everyone including strangers... I will only wear Pure Grace."
Finally, the Armani Beauty My Way Eau de Parfum is comparable but leans back into the luxury end of the scale, retailing for $155. The floral fragrance features orange blossom notes for that citrusy vibe, as well as a wood-inspired twist. While this perfume is a splurge, it has 4.5 stars and a 91% recommendation rate. An impressed reviewer even wrote, "Gorgeous scent. I've been looking for a new everyday scent, this is the one!"
Advertisement