The 14 Best Gourmand Scents That Will Have You Smelling Sweet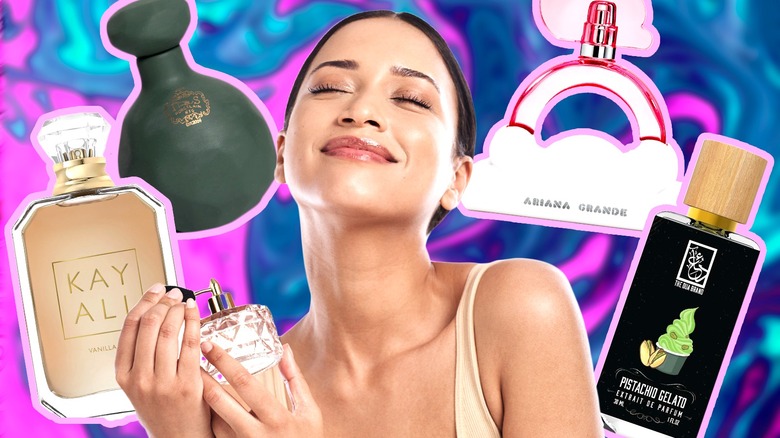 Static Media/Shutterstock
We may receive a commission on purchases made from links.
Considering the strong ties between fragrance and memory, it's easy to see why gourmand scents have so much sway in the perfume world. Some of our fondest memories are linked to the smell of our favorite foods, from just-picked blueberries to warm, fluffy French bread. For the unfamiliar, gourmand fragrances take everything we love about food and translate them into perfume notes. Some scents remain fairly unexplored, like savory or bitter ingredients, but sweet and fruity notes are often at the forefront of popular gourmand perfumes.
Although many of us find it hard to separate the idea of gourmand perfume from the syrupy scent trends of the early aughts — Bath & Body Works Warm Vanilla Sugar, anyone? — there's much more to love about this fragrance category. From niche fragrances designed to mimic the aroma of vine-ripe red tomatoes to citrusy compositions with a certain je ne sais quoi, the realm of gourmand perfume is breathtaking to behold. 
Not sure what to look for in your next signature fragrance? For some, the perfect gourmand projects sugary sweetness from across the room, while others prefer subtle sillage. Naturally, cost is another significant factor in the decision-making process, but there are fabulous fragrances to peruse at every price range. No matter what type of appetizing aroma you're after, we're certain there's a gourmand out there waiting just for you. Are you prepared to set hearts racing and mouths watering? Let's explore some of the best gourmand scents on the market today.
How we selected the best gourmand fragrances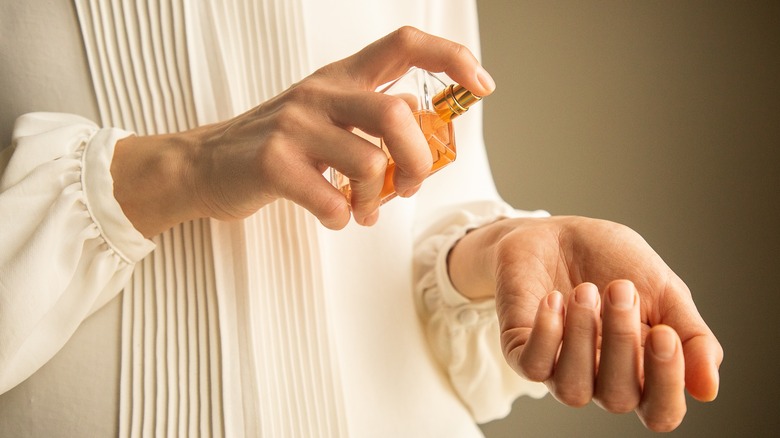 SVEPET/Shutterstock
Everyone approaches gourmand fragrances a bit differently, and we strove to include a variety of products in our roundup, from the super-sweet to the slightly savory. Whether you prefer sugary fragrances filled with notes like vanilla and cream or sharper scents with crisp botanical extracts, you're sure to find something to love on our list. Plus, there are even a few unexpected releases in the mix, like fluffy rice and bread-based perfumes.
In order to select the highest quality fragrances you can buy, we relied on several factors. First, we drew on our own experience with these gourmands, including several perfumes that we've personally worn and loved over the years. From there, we also considered reviews and public opinion, making sure to highlight products with impressive testimonials from long-term wearers. After reviewing dozens of perfumes and reading over product descriptions, we worked out which fragrances best represented their categories, from seasonal scents to daily drivers.
Best Overall: Kilian Paris Princess
While not everyone may agree on what constitutes the perfect gourmand, we'd have to say that Kilian Paris Princess deserves the top spot on our list. Crafted by French perfumer Kilian Hennessy, Princess is both playfully sweet and refined, revealing many different notes depending on its wearer. According to Kilian's website, Princess "is like sipping on a green tea mocha with a tip of ginger on the nose." At first spray, you might notice the sparkling top note of lemon, followed by a bouquet of green tea, ginger, and jasmine. As the heart notes, like apple and peach, settle down, you're left with the delicious aroma of marshmallow and vanilla."This is literally heaven and love in a bottle," writes one Princess fan on Sephora. "It smells sweet, expensive and sexy all in one spritz."
Purchase Kilian Paris Princess at Sephora starting at $30.
Best Spring Gourmand: Joya Foxglove
Even if a greener scent isn't your typical go-to, it makes perfect sense to have one on hand for spring. Inspired by the striking flower of the same name, Foxglove delivers the charms of early spring using fresh, dewy notes like hyacinth leaves and jonquil (a flower similar to daffodil) alongside the clean, crisp fragrance of blood orange. Underneath it all lies a grounding base of treaty oak, white cedar, and wild musk — woodsy ingredients that remind us of walking along a damp, rain-soaked path. But it doesn't stop there. Beyond smelling divine, this unique gourmand's handmade porcelain and gold bottle is beautiful enough to serve as a conversation piece anywhere you choose to display it.
Purchase Foxglove from Joya for $135.
Best Summer Gourmand: Ariana Grande Cloud Pink
Whether you're a diehard Arianator or not, you can't deny this multi-talented star's contributions to the world of perfume. Ariana Grande is well-known for her prowess in the fragrance sector, from iconic scents like Cloud and Mod Vanilla to the hard-to-find Frankie, an olfactory ode to her brother, Frankie Grande. Cloud Pink is a twist on Grande's original fragrance, Cloud, with sweet notes of pineapple, vanilla orchid, and praline. Fans adore its staying power, and many state that it's a warmer, fruitier version of the original Cloud fragrance, perfect for summer outings. "Between the dragonfruit, florals, and hint of musk in the base, it pulls together a really beautiful scent. The packaging is definitely a plus, too," says one reviewer on Ulta. 
Purchase Ariana Grande Cloud Pink at Ulta for $68.
Best Fall Gourmand: Etat Libre d'Orange La Fin du Monde
This eccentric, sweet, and spicy scent derives inspiration from a most unusual source: The apocalypse. But don't let its violent origin story deter you. Etat Libre d'Orange La Fin du Monde is the best fall scent for gourmand lovers with a witty sense of humor. "Where can we experience the end of the world? At the movies! So how does it smell? Like popcorn, of course," reads Etat Libre d'Orange La Fin du Monde's official description. After the emergence of top notes like black pepper and popcorn — the perfect snack for observing end times — come the inviting aromas of roasted sesame, sandalwood, and ambrette seeds. It's "surprisingly pleasant and at the same time very intriguing," writes one fan of the fragrance on Parfumo.
Purchase La Fin du Monde from Etat Libre d'Orange starting at $105.
Best Winter Gourmand: Pearfat Bread & Roses
Is there anyone in this world who can resist the allure of freshly baked bread? If bakeries are your happy place, you'll want to give Pearfat's Bread & Roses a try. The indie fragrance manufacturer absolutely nails realistic gourmands, and this mouthwatering perfume is no exception. Per Pearfat, Bread & Roses smells just like "cracking into a warm, fresh, baguette" in addition to notes like nutmeg, sweet orange, and cocoa. The comforting scent is perfectly suited to fall and winter wear, but it's just as delicious for year-round use.
Purchase Bread & Roses from Pearfat starting at $45.
Best Tomato Girl Scent: Demeter Tomato
We're major fans of Demeter, the ambitious fragrance brand that's managed to bottle over 300 unique scents, from Scottish Shortbread to Sushi. After masterfully crafting interpretations of Dirt and Rain, it only seems right that the company would release a scent like Tomato. Can you truly embody the 'tomato girl' aesthetic if you don't have the fragrance to match? We can't imagine a better way to complement that vacation-ready ensemble than with a perfectly on-point scent like this one. Of course, there's the juicy, tangy aroma we all associate with the fruit itself, but there are also green notes from the plant's stem and leaves to round things out. So don't hesitate to try Tomato on for size — unless you'd prefer to rock the far more specific scent of Tomato Seeds, another applause-worthy Demeter creation.
Purchase Tomato from Demeter starting at $6.
Best Vanilla Girl Scent: Kayali Vanilla 28
Few gourmand notes are quite as popular as vanilla, but not all perfumes under the vanilla umbrella are created equally. True vanilla connoisseurs won't want to miss out on Kayali Vanilla 28, an elegant perfume that lets this soft and sweet spice truly shine. Fans of this vanilla girl fragrance love its sophisticated composition, from its spicy patchouli essence to its warm amber and tonka bean notes. Still, there's one thing to keep in mind if you add Vanilla 28 to your fragrance wardrobe — due to its naturally sourced ingredients, its purple hue may stain light fabrics and clothes. As such, spritz responsibly around your favorite vintage pieces, scarves, and delicates.
Purchase Kayali Vanilla 28 at Sephora starting at $25.
Best Pistachio Perfume: The Dua Brand Pistachio Gelato
Why should nutty notes like almonds get all the attention while pistachio lies green with envy? Lucky for us, perfumers have given this verdant nut extra attention in recent years, and The Dua Brand's handcrafted Pistachio Gelato is a prime example of this sweet-scented phenomenon. If you can't get enough of pistachio-infused desserts like spumoni, baklava, or Watergate salad, you'll be doubly in love with this delectable fragrance. In addition to everyone's favorite green nut, Pistachio Gelato boasts notes like vanilla cream, gelato accord, and white musk. "This is what a gourmand pistachio fragrance is supposed to be," writes one Pistachio Gelato lover on The Dua Brand's website. 
Purchase Pistachio Gelato from The Dua Brand for $60.
Best Berry Gourmand: Vilhelm Parfumerie Poets of Berlin
For some of us, it was growing up with softly-scented Strawberry Shortcake dolls. For others, it may have been Grandma's homemade blueberry pie. But no matter what inspired your love of berry fragrances, chances are you'll love this elevated gourmand. Vilhelm Parfumerie's Poets of Berlin is an exquisite take that melds blueberry, vanilla, and lemon notes with the earthy aroma of green wild orris. "It smells like being out for brunch on a crisp morning in a really chic cafe," writes one Poets of Berlin reviewer on Fragrantica. As an added bonus for David Bowie fans, this fragrance is said to be inspired by the legendary artist's Berlin period in the '70s.
Purchase Poets of Berlin from Saks Fifth Avenue for $175.
Best Vintage Gourmand: Hanae Mori Butterfly
When it comes to beautiful fragrances, the legendary offerings of Hanae Mori are in a league of their own. If you're looking for a standout signature scent, look no further than Hanae Mori's 1996 release, Butterfly, also known as Hanae Mori. With a triad of strawberry, blackberry, and blueberry notes, it's bound to make a lovely impression on just about everyone you pass by. "The fruity notes seamlessly blend with delicate floral undertones, particularly jasmine and peony, resulting in a sweet yet sophisticated scent," states a fan of the fragrance on Hanae Mori's website.
Purchase Butterfly from Hanae Mori starting at $116.
Best Unique Gourmand: Osmofolia Oryza
We don't typically think of rice as a sweet in the West, but this starchy grain serves as the base for several international delicacies, from horchata to mochi. In indie brand Osmofolia's Orzya, rice is the star of the show, and you'll be able to observe both steamed and toasted versions in this delightfully unexpected composition. So, how does a perfume inspired by warm, fluffy rice actually smell on the skin? "I get a hint of vanilla and cedar, slightly more of the dried herbs, but overall it's just rice in a bowl. Absolutely obsessed with this," writes one fan of the fragrance on Reddit. Apart from the eau de parfum option, you can also choose a travel-sized, oil-based version of this unique gourmand.
Purchase Oryza from Osmofolia starting at $32.
Best Luxury Gourmand: Tiziana Terenzi Andromeda
While we'd agree that plenty of budget buys are just as good as their luxury counterparts, there's certainly something special about a perfume of Tiziana Terenzi's caliber. The Italian fragrance house produces dozens of gorgeous fragrances, though Andromeda is arguably one of its best gourmand releases. With delicate notes like powdered sugar, peach, and coconut powder, it's an olfactory experience like none other. "I want to smell this every day," one Andromeda fan writes on Fragrantica. "That's how in love I am with this fragrance. It lasts forever and is a projection beast. A staple for me." 
Purchase Tiziana Terenzi Andromeda at Neiman Marcus for $375.
Best Budget Gourmand: Aquolina Pink Sugar
Sure, gourmands can take on more mature roles, but they can also be perfectly fun and simple. If you haven't been fortunate enough to give Italian beauty brand Aquolina's Pink Sugar a whiff by now, you're in for a genuine treat. Its super sugary scent may prove a bit much for some, but there's a reason it's been in production since 2004. Boasting notes like cotton candy, strawberry, and caramel, it's a dream come true for those with a sweet tooth. "This is a classic yet all time favorite. Light and sweet enough to be loved and worn at all ages." says one Pink Sugar devotee on Influenster. "Reminds me of cotton candy!"
Purchase Aquolina Pink Sugar from Macy's for $65.
Best Beachy Gourmand: Our Modern Lives Aquamarine Waves
Some of us just can't get enough of the ocean — but not all of us are fortunate to live within close proximity of the seaside. Finding the right scent, however, can make all the difference. To help beat the blues during the winter season, escape into your own private oasis with Our Modern Lives Aquamarine Waves, a beachy gourmand blend from British perfumer Sarah McCartney that's sure to lift your spirits. This true-to-life marine fragrance contains briny notes such as seaweed and olive atop mouthwatering scents like white grapefruit, derived from real essential oil. "It conjures up ... pouring sparkling mineral water over the lemon slice in your glass before reaching for the olives in the saucer next to it," says one Aquamarine Waves fan on Fragrantica.
Purchase Our Modern Lives Aquamarine Waves from Roullier White for $38.