Our Favorite Kate Middleton Wedding Guest Looks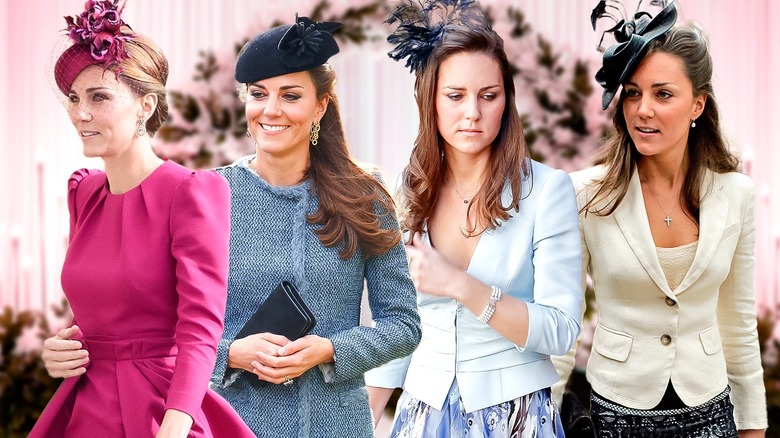 Static Media / Shutterstock / Getty
The Princess of Wales, who's more popularly known by her maiden name of Kate Middleton, has been turning heads ever since she entered the royal family's orbit back in 2001. Since then, she has attended dozens of weddings on the arm of Prince William and has slayed at pretty much all of them. The simple fact is that even when the princess tries to be understated, she still manages to look every bit the part of the queen consort that she's destined to be someday. 
It's no small feat to pull off a fashion win at a wedding, especially one that's high-profile in nature. When selecting a dress, there are many factors to think about, such as the color of the bridesmaids' gowns, the swankiness of the event, and seasonal considerations. For many guests, the dress selection process is even more stressful than the very real possibility of running into an ex or two at the nuptials. Fortunately for the frustrated wedding guests of the world, Kate Middleton is here to set an example and inspire with her immense catalog of regal looks.
More than pretty in pink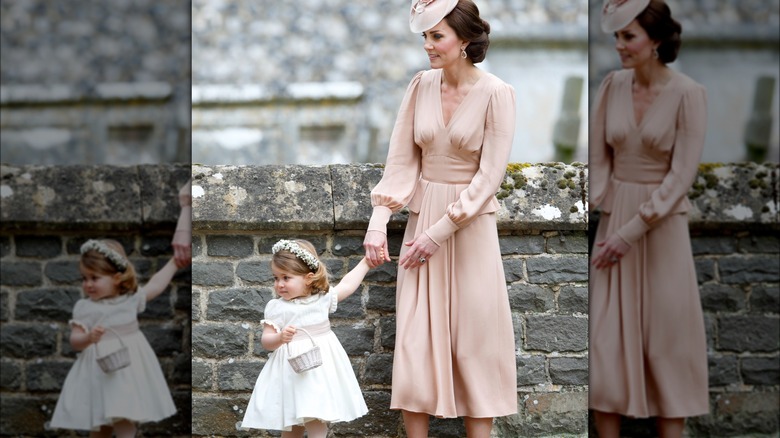 Max Mumby/indigo
Blush can be a tough color to pull off, but Kate Middleton did it with aplomb at her sister Pippa Middleton's wedding in 2017. Pairing the Alexander McQueen frock with a matching fascinator and pumps, understated hair, and tasteful jewelry, Princess Kate made towing a small child to a highfalutin affair look easy and elegant. Incidentally, she wore a different gown in a similar shade of pink to the nuptials of Crown Prince Hussein of Jordan in the summer of 2023. 
Brilliant and bright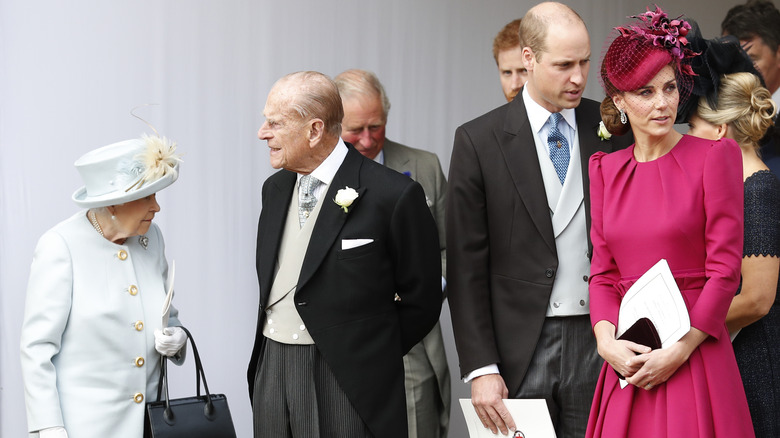 Wpa Pool/Getty Images
The Princess of Wales once again donned Alexander McQueen for the wedding of Prince William's cousin, Princess Eugenie of York, in 2018. She coordinated the vibrant pink dress with a Philip Treacy hat and her signature elegant earrings. Generally, she has worn more muted tones, so this particular look helped her to stand out from the pack at this event (even in the company of some pretty impressive people, like Her Majesty the Queen).
Understated and elegant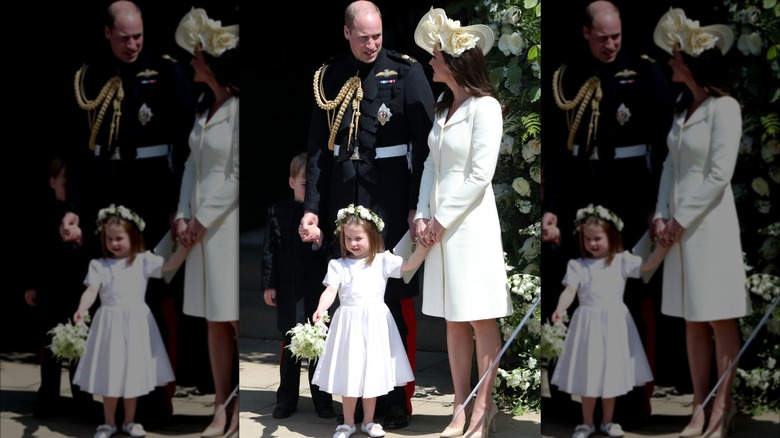 Wpa Pool/Getty Images
The wedding of Prince Harry to Meghan Markle was likely not one where Kate Middleton wanted to even remotely risk upstaging the bride, so she opted for a pale yellow tailored coat dress by — you guessed it — Alexander McQueen. Despite her efforts to blend in with the crowd, she was nonetheless accused of wearing white to upstage the bride, according to Newsweek. However, the dress simply photographed lighter in the bright sun outside St. George's Chapel, where the ceremony was held. We think she looked like a million bucks.
Beautiful in blue brocade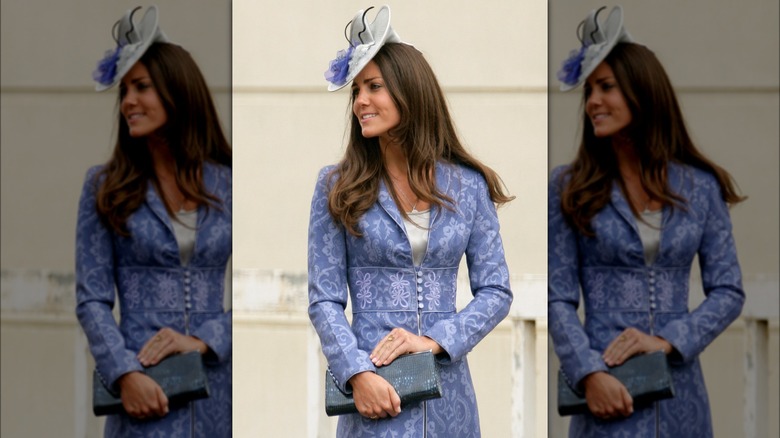 Max Mumby/indigo
Back in 2009, well before she acquired any titles, Kate Middleton attended the wedding of Nicholas van Cutsem and Alice Hadden-Paton in London. For the event, she wore a brocade coat designed by Jane Troughton in a lovely shade of blue. Her fascinator tied it all together with embellishments in the same blue hue.
Warm and wonderful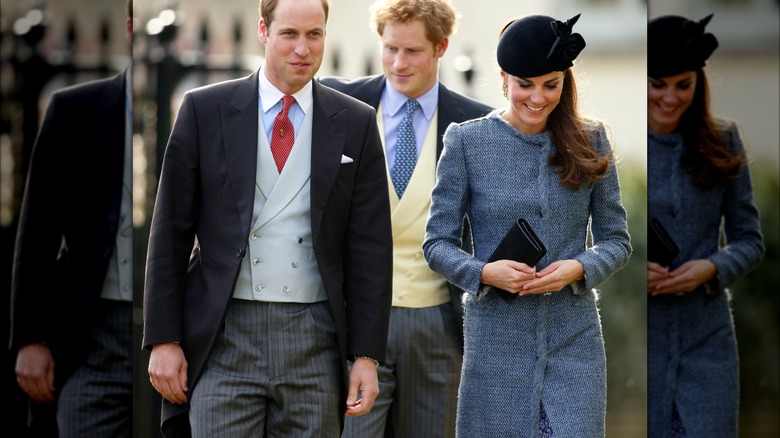 Max Mumby/indigo
It was another coat dress for the future queen consort Kate Middleton when she attended the nuptials of Lucy Meade and Charlie Budgett in 2014 alongside Princes William and Harry. The ensemble was certainly seasonally appropriate, as the Missoni coat was designed for cooler temperatures (the wedding was held in England in March). Funnily enough, Kate looked fab right alongside another attendee wearing the same coat, but we're sure she handled it graciously, as one would expect. 
Fun, flirty, and feathered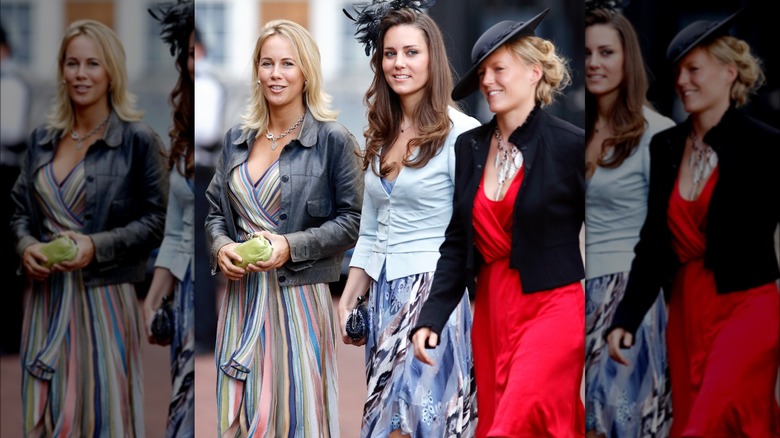 Max Mumby/indigo
Well before she married into the British royal family, Kate Middleton attended the 2008 wedding of Lady Rose Windsor to George Gilman. This look undoubtedly channeled her style at the time, which trended toward more youthful patterns and layering. She topped it off with simple jewelry and a feathered fascinator that delighted onlookers. 
Polka dot perfection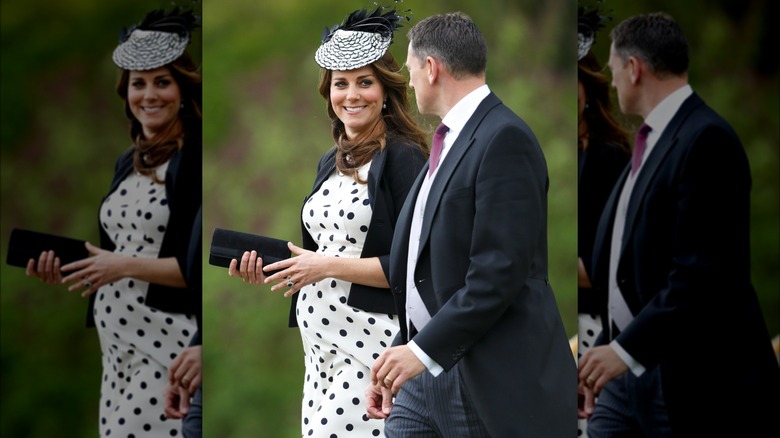 Max Mumby/indigo
Polka dots are one of Kate Middleton's favorite prints, as evidenced by many gorgeous dresses she's worn over the years. In particular, she wore this maternity frock in 2013 (while pregnant with Prince George) to the nuptials of Rosie Ruck Keene and William van Cutsem. There, she proved that pregnant people can be every bit as elegant as any other guest. She paired the dress with a coordinating fascinator, perfect for the spring wedding. Fans love that she repurposed this dress but styled it differently for other events as well!