Beyoncé's Favorite Perfume Brings Spice To The Gourmand Trend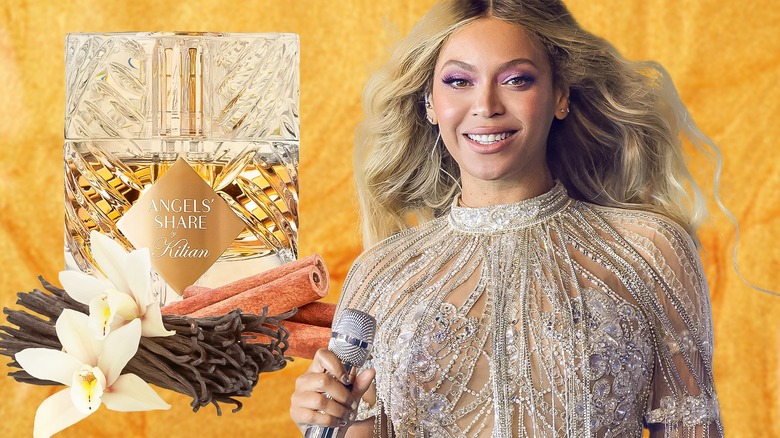 Static Media / Shutterstock / Getty
We may receive a commission on purchases made from links.
We probably sound like a broken record, but we're fascinated by Beyoncé and maybe a bit obsessed. There's so much we want to know — what her after-performance routine is like, what setting spray she uses to keep her makeup in check while on stage, and what her hugs feel like. But while we may never get close enough to fulfill all our curiosities, we do know what she smells like, and it's nothing but decadent spice.
Advertisement
During the recently concluded "Renaissance" tour, Harper's Bazaar writes that Beyoncé was spotted at luxury department store Harrods, shopping for her beauty must-haves. Among those favorites was Angels' Share by Kilian Paris, a scent made in collaboration with perfumer Benoist Lapouza and inspired by Kilian Hennessy's cognac-distilling roots. The perfume, which features a mixture of sweet and boozy notes, is available in refills of 50ml and a larger 250ml glass flask, with the former retailing for $245 and the latter going for $855.
Angels' Share by Kilian Paris might have Beyoncé's seal of approval, but its cellar-inspired note mix is also one for the books.
What does Angels' Share smell like?
Inspired by the rich taste of cognac and the sweet spiciness of cinnamon, Angels' Share is a captivating mix of two diverse yet cohesive scent profiles, and we can see — or smell — why Queen Bey snuck out to get it. At the top of the perfume's note profile is cognac, which gives it its heady scent. Cinnamon, oak, and tonka bean are this decadent concoction's sweet yet woody middle notes. And at its base are sandalwood, praline, and vanilla, all of which combine to transform this full-bodied perfume into something gourmand and spicy enough to be unisex.
Advertisement
With a scent profile like that, Angels' Share is as intoxicating as it is interesting, and Beyoncé's not the only one who thinks so. One Angels' Share by Kiian Paris reviewer loved the perfume so much that they said, "This fragrance smells so good, very classic yet different from so many scents that are out there. Lasts a very long time, and a little goes a long way." Other reviewers complimented the perfume's sillage (how long the scent lingers) and projection (how far the scent travels), and praised its longevity. 
However, not everyone's a fan, as some reviewers have mentioned that the scent doesn't exactly strike the right note with their nose. As one reviewer wrote: "kind of what I would describe as wood and ashes, maybe a little sour." 
Advertisement
Layering Angels' Share by Kilian Paris and alternatives
Angels' Share is one of those perfumes with a lot of body and personality. With its mix of woody, spicy, and cognac notes, there are several acceptable ways to layer the perfume. It all depends on which side of the scent you'd like to emphasize — whether you want to complement the spicy notes or amplify the sweet ones. Per a guide by TikTok creator @Fragranca, you can layer your Angels' Share with super sweet perfumes like Sol de Janeiro's Brazilian Crush Cheirosa '62 Perfume Mist or with a fruity and floral scent like Libre from Yves Saint Laurent.
Advertisement
As much as we love Beyoncé's rarely-given recommendations, budgets are tightening, and $245 for a 50ml refill doesn't sound very pocket-friendly. Sometimes it's hard to find a good reason to splurge on your favorite perfume. If you're like us and you're in the market for something with a similar vibe to Angels' Share but more affordable, Khamrah by Lattafa Perfumes retails at $39.95 for 100 ml of product and features cinnamon, praline, vanilla, and tonka bean. You can also try Maison Alhambra's Kismet Angel, which retails at $50 for 100ml and features most of the notes in Kilian Paris' Angels' Share, but with a base of dark chocolate.