Meghan Markle's Cape Jacket Is The Underrated Accessory Your Closet Needs In Fall 2023
While Meghan Markle is no longer a senior royal in the British monarchy, she's still ruling the fashion trends. Since Prince Harry's and Meghan Markle's departure from the royal family, we rarely see their style sense displayed at events and galas. However, when they show up to events and galas, there's no doubt there will be plenty of talk about Markle's style choices. In fact, most recently, Markle sent all fall fashion lovers into a frenzy with a new fall item that'll complete most fall wardrobes. Markle's outerwear choice at a charity event was an understated but textured jacket piece with a cape design that gave every ounce of quiet luxury for the fall season.
Although this isn't the first time that one of Markle's pieces caused fury online, it does mark the start of her fall transition. Previously, Markle sported a J.Crew sweater blazer that made for the perfect transitional piece into the cold weather. That piece quickly sold out and caused the J.Crew website to be down temporarily while they worked to restock it. While not everyone will find the same practicality in this cape jacket, it's undoubtedly the one quiet luxury piece that'll make a bold statement in the colder months.
The cape jacket
@backgrid

Prince Harry and Meghan Markle join Kevin Costner on stage at his $26million polo field for the Hollywood star's 'One805 Live!' event to raise money for local first responders. The Duke and Duchess were spotted backstage soon after arriving chatting to Kevin and the VIP guests, mainly senior figures from local police and firefighting services. They were introduced onstage as special guests and Meghan presented Kevin with an honorary award. Making their way afterwards to the VIP area they were stopped by Katy Perry's mom and dad and poses for a selfie. Later Harry was spotted dancing while Meghan chatted to other attendees. The couple also did a mini Royal-style walkabout, happily chatting to the well-heeled guests. CREDIT: ©Backgrid #backgrid #kevincostner #princeharry #meghanmarkle #one805live For licensing inquiries, please email us at usasales@backgrid.com

♬ som original - backgrid
Meghan Markle's cape jacket isn't just the perfect layering piece; it can help you stay warm during the intense colder months. By wearing it over longer sleeves, a cape jacket can become a cozy blanket you can wear. Markle's cape jacket is the perfect example, as it combines practicality and style. Markle showcased her latest fall trend piece during a fundraiser held by Kevin Costner's One805's fall fundraiser event in Santa Barbara, California. With chilly oceanside weather, it's no wonder Markle opted for something with more coverage and warmth.
The cape jacket in question is by CH Carolina Herrera and is no longer in stock as it is a previous-season item. Although it's a previous-season piece, the oversized fit and tweed texture is perfect for modern fashion trends. Markle opted for classic gold hoops and dark pants to finish her look for a sleek and subtle ensemble. As for her hair and makeup, Markle went for a slicked-back bun and a 'no-makeup' makeup look, highlighting the duchess' natural beauty to match the understated vibe.
How to wear your cape jacket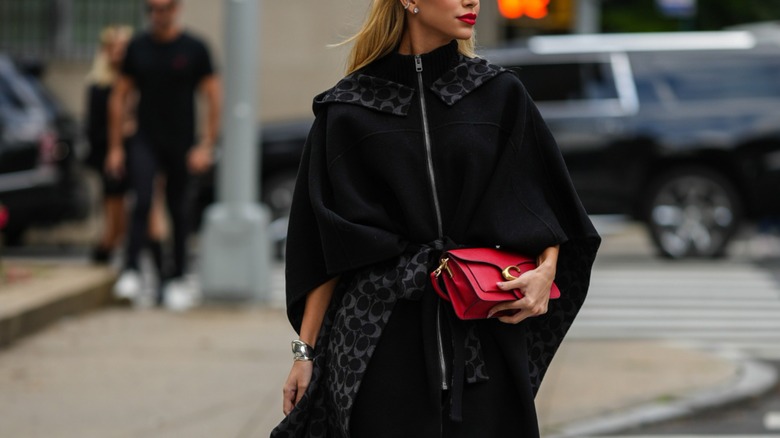 Edward Berthelot/Getty Images
While Meghan Markle's cape jacket is the perfect item for your fall wardrobe, there are plenty of other options you can easily find in your favorite stores. Cape blazers, for example, are another variation of the cape jacket with the body of a blazer and cape sleeves that hand over the arms. This option is perfect for those who still want to wear their favorite blazer outfits with a more dramatic flair.
That being said, styling your cape jacket or caped item is as easy as any classic outerwear piece. Style it with neutral pieces if you wish to keep on the quiet luxury theme, which we often see on royals like Meghan Markle and Kate Middleton. In other words,  pair it with more straightforward items that won't draw attention from your selection. You also want to be mindful of the fit of your cape jacket. An oversized coat like Markle's will require more form-fitting pieces alongside it to avoid being overwhelmed by too many baggy details.