25 Times Meghan Markle And Kate Middleton's Fashion Choices Had Us Seeing Double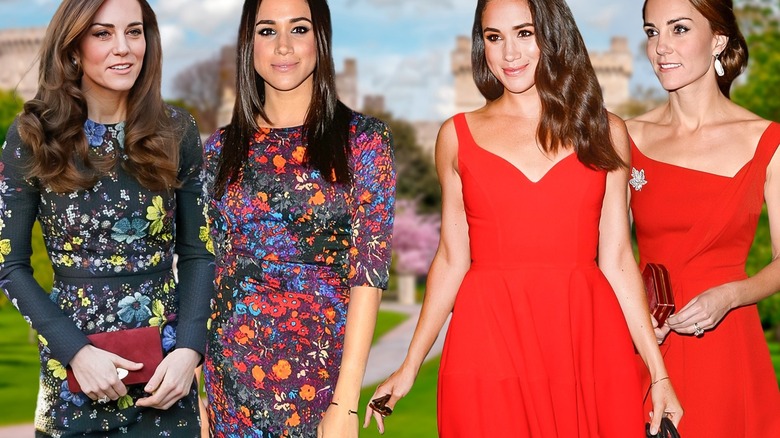 Static Media/Shutterstock/Getty
Both Meghan Markle and Kate Middleton were style icons before becoming princesses of the same kingdom. While their style choices may have evolved to adhere to royal customs, they continue to be regarded as timeless fashion examples by women worldwide — a reality that remains true even in Markle's post-royal period. It's not surprising, then, to discover that these two sisters-in-law often mirror each other's style choices since marrying their respective Prince Charmings.
From casual outfits to royal appearances, Markle and Middleton have worn enough similar ensembles that a casual observer would think they share the same closet! That's not the case, of course, as the two now live thousands of miles apart, but they sure do share a passion for many of the same designers, styles, and even colors. It appears that, even though the sisters-in-law might not always see eye to eye on various matters, they can at least bond over their love of filling their wardrobes with quintessential fashion pieces.
Off-shoulder white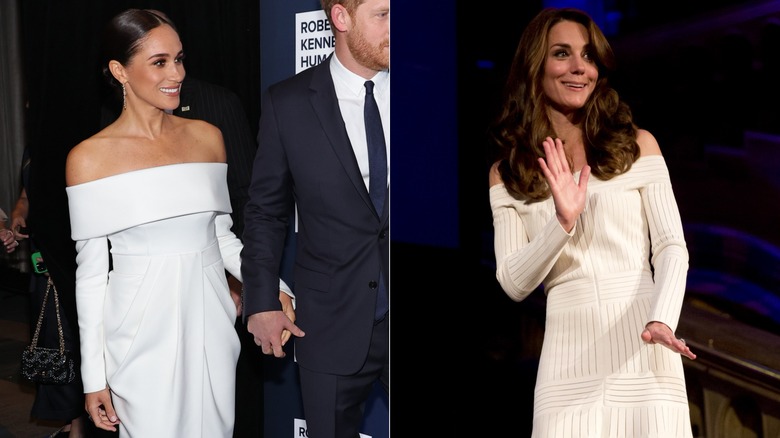 Wpa Pool & Mike Coppola/Getty
The similarities between the two outfits here are quite striking. Both ladies opted for white maxi dresses that exposed their shoulders, and both dresses also had long sleeves. Kate Middleton's Barbara Casasola dress was accentuated by thin gold lines, and she chose to leave her hair down when she went to present the award for the Art Fund Museum of the Year in 2016. Meghan Markle kept her hair up in a tight bun, giving her custom Louis Vuitton outfit a more modern look while attending the 2022 Robert F. Kennedy Human Rights Ripple of Hope Gala at the New York Hilton.
Knee-length dark florals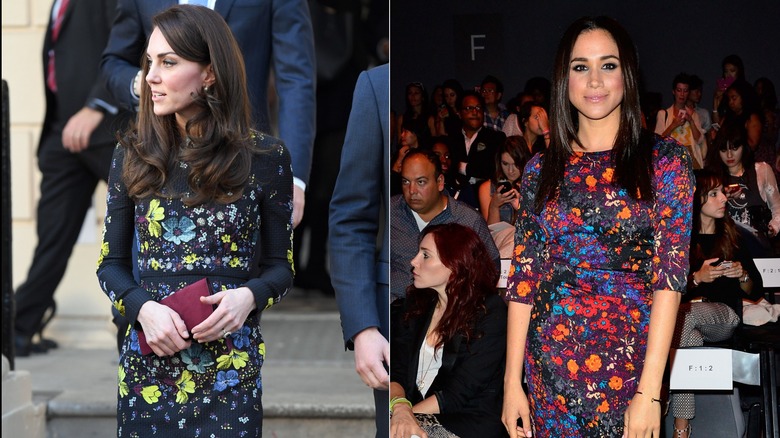 Karwai Tang & Brian Killian/Getty
Vibrant patterns are not usually the norm for the royal family, so it was quite different to see Kate Middleton step out in 2017 wearing a knee-length sheath dress. The dress featured a bold flower pattern on a dark background. Interestingly, Meghan Markle had already showcased her flower style back in 2013 at a Tracy Reese fashion show. This time, it was Middleton who seemed to be drawing inspiration from her sister-in-law. It is worth noting that Prince Harry and Markle had only been dating for a few months when Middleton wore her flower dress.
Full monochrome brown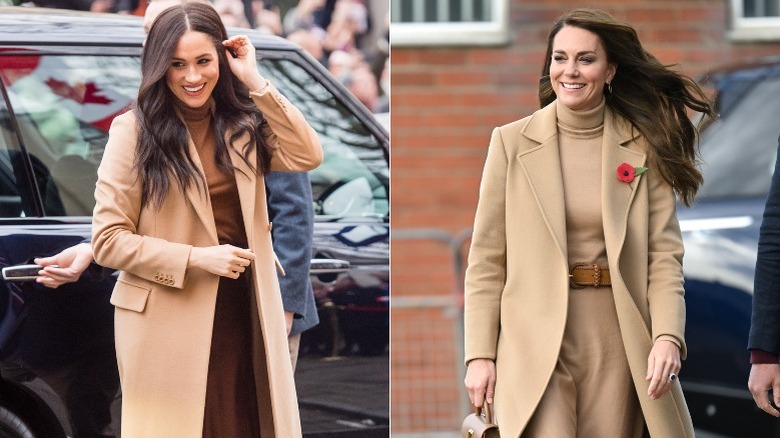 Samir Hussein & Karwai Tang/Getty
Dressing in a single color seems to be somewhat of a tradition for royals. Meghan Markle embraced this tradition when she wore a full brown and tan ensemble in 2020 during her arrival at Canada House in London. Two years later, in 2022, Kate Middleton also opted for a monochrome tan outfit during her and Prince William's official visit to Scarborough, England. It's worth mentioning that both of them have worn their tan coats on multiple occasions, which only makes us love them even more for embracing the trend of re-wearing outfits.
Pretty in plaid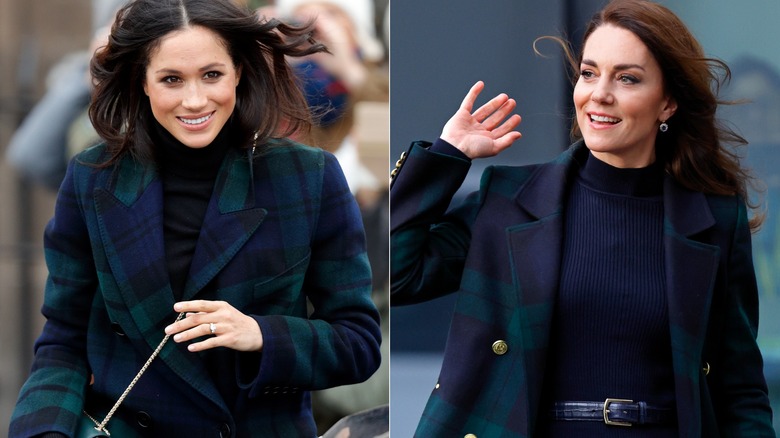 Max Mumby/indigo/Getty
On blustery winter days, both Meghan Markle and Kate Middleton were seen wearing almost identical long overcoats. The coats featured plaid patterns in blue and green, differing only in their buttons and collar shapes. Markle wore her coat during a visit to Edinburgh Castle a few months before her wedding in 2018. In January of 2023, Middleton wore her own plaid coat to a royal engagement at the Royal Liverpool University Hospital to express gratitude to the workers for their commitment during the long winter season. Both women accessorized their outfits with dark green purses and wore all-black ensembles underneath their coats.
Strappy red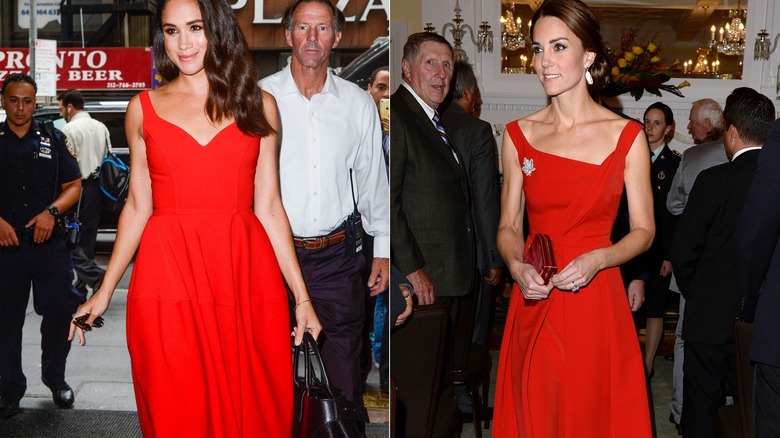 Ray Tamarra & Pool/samir Hussein/Getty
In the same year, before they even knew each other personally, both Meghan Markle and Kate Middleton dressed to impress for engagements — and they weren't even on opposite sides of the ocean! In July 2016, Markle wore a stunning red dress to a taping of the "Today Show" in New York City. Just a few short months later, in September, Middleton also flaunted her toned arms and physique in a red hot dress while attending a Government of British Columbia reception at Government House in Victoria, Canada. Both of their dresses had simple wide straps.
Cozy in purple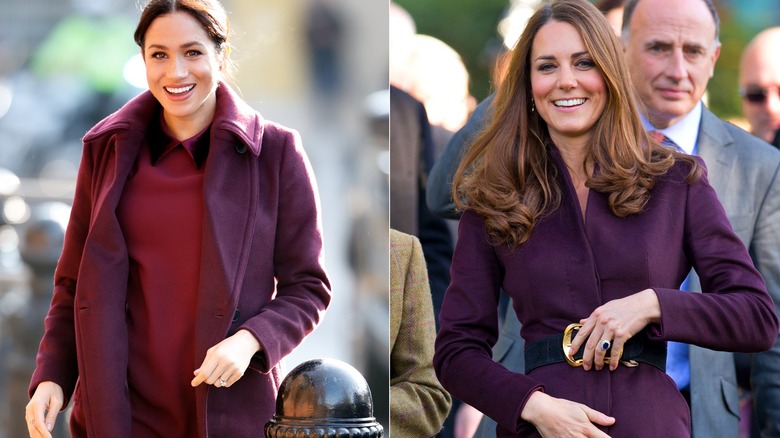 Max Mumby/indigo & Max Mumby/indigo/Getty & undefined
When it comes to visiting community projects, it appears that there is a common trend of wearing purple coats. This was evident when both Meghan Markle and Kate Middleton made their respective visits to the Hubb Community Kitchen in 2018 and the community garden project at Elswick Park in 2012. Markle decided to leave her coat open, while Middleton opted to belt and button up her coat in public. It is worth noting that although there was a slight variation in the collar design, the two coats shared striking similarities in terms of color, length, and overall style.
Little black half-sleeves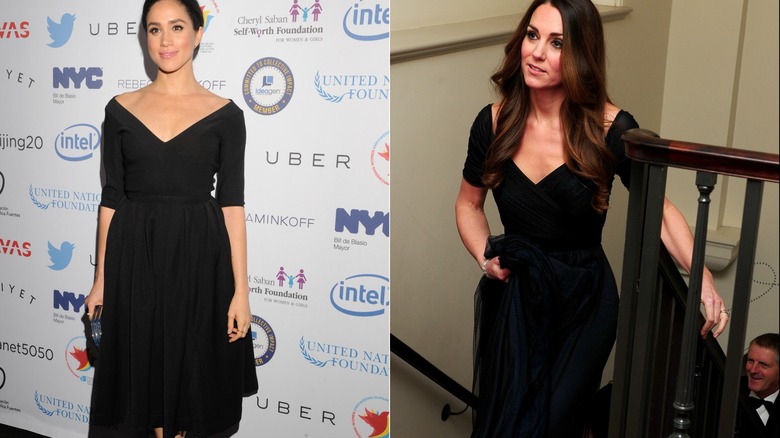 Esther Horvath & Wpa Pool/Getty & undefined
When it was time to celebrate achievements made by women, both Meghan Markle and Kate Middleton opted for a classy and timeless little black dress. Middleton wore hers to a gala dinner for Action on Addiction hosted by the 100 Women in Hedge Funds Philanthropic Initiatives in 2013, while Markle donned hers for the 20th Anniversary Of The Fourth World Conference On Women In Beijing in 2015. Both dresses featured half sleeves and V-necklines that elegantly skimmed their shoulders. Additionally, each dress was cinched at the waist and had a flowing bottom. Middleton's dress was floor-length, while Markle's was a midi length.
Maximum sparkle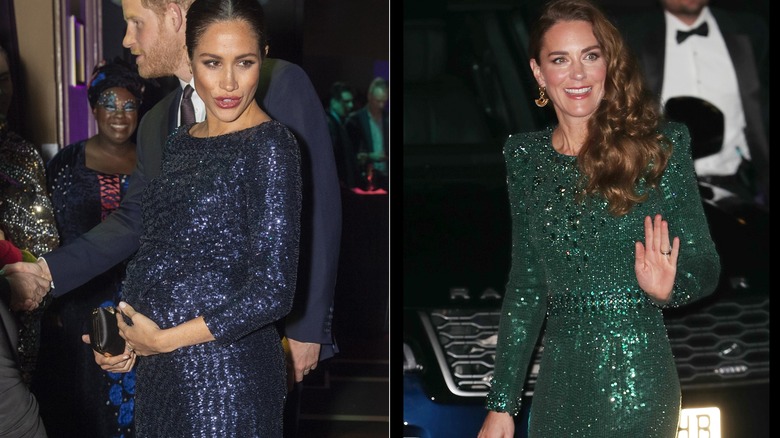 Wpa Pool & Neil Mockford/Getty
Nothing embodies the essence of a "princess" quite like some sparkle, and both of these royals truly embraced that potential. Meghan Markle and Kate Middleton brought out their fully sequined maxi dresses from the depths of their closets for premieres and receptions. In 2019, Markle attended the premiere of "TOTEM" by The Cirque du Soleil at the Royal Albert Hall, all while pregnant with her first child, Archie. Similarly, Middleton donned her green sequined maxi dress during a royal tour of Pakistan, where she wore it to a dinner hosted by the British High Commissioner to Pakistan. Both dresses boasted long sleeves, rounded necklines, and an elegant floor-length design.
Total whiteout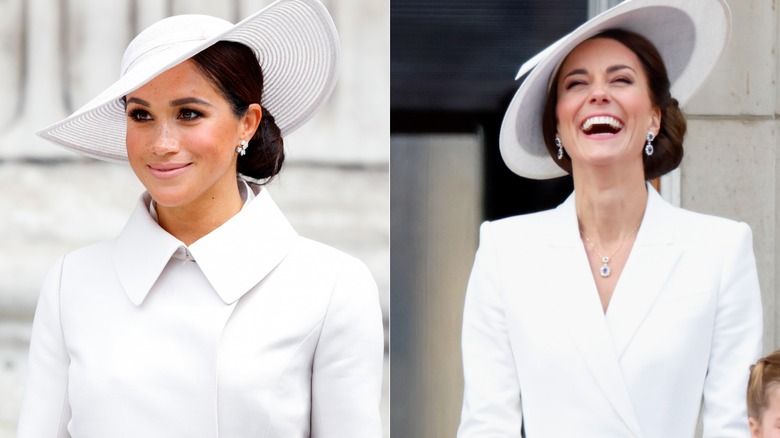 Max Mumby/indigo & Max Mumby/indigo/Getty
Both Meghan Markle and Kate Middleton paid tribute to the late Queen Elizabeth II by donning exquisite all-white ensembles in 2022. Markle opted for a stunning white coat, hat, gloves, shoes, and purse during the Platinum Jubilee on June 3. On the other hand, Kate Middleton chose a white jacket and hat for the Trooping of the Color ceremony on June 2, complementing her outfit with captivating pops of mesmerizing blue through a purse and jewelry set. Their white attires exuded elegance and served as a beautiful homage to the Queen.
Casual jeans with white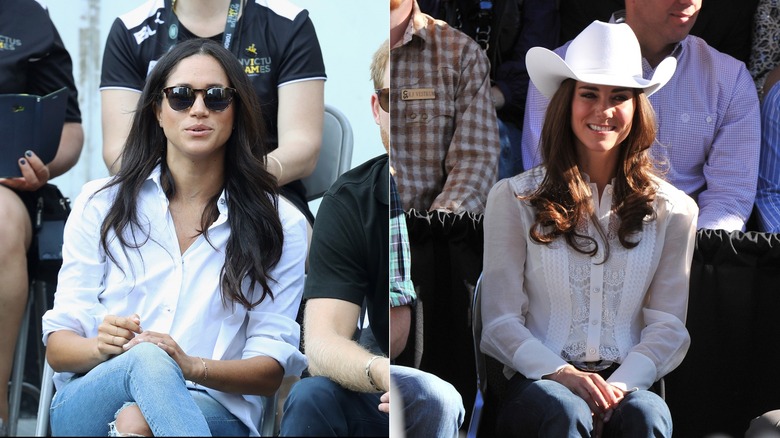 Chris Jackson & George Pimentel/Getty & undefined
Royals rarely wear jeans, but when it comes to sporting events, they are more likely to opt for more casual, commoner attire. Meghan Markle has been seen wearing jeans in public on multiple occasions, even as an active royal. On the other hand, Kate Middleton has worn jeans only a few times. In this instance, Markle wore jeans and a casual white button-up shirt while attending the Invictus Games with her then-boyfriend Prince Harry in 2017, when she had no royal duties. Middleton opted for a more casual look just three months after her wedding in 2011, during her Canada tour with Prince William.
Shoulder-barring black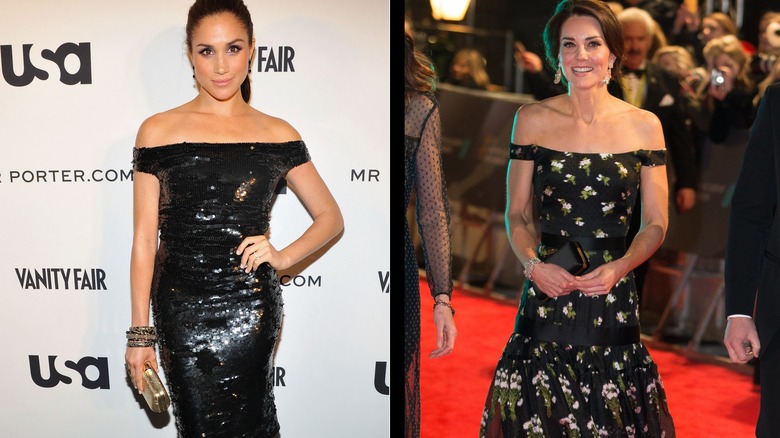 Theo Wargo & Wpa Pool/Getty
Stepping out on the red carpet calls for absolute beauty, and both Kate Middleton and Meghan Markle delivered. In 2012, before she knew she would be a princess's sister-in-law, Markle wore a sparkly, maxi, off-the-shoulder dress to a "Suits" Story fashion show. She accessorized with a clutch, dangly earrings, and a thick bracelet. In 2017, the year after Markle met her future husband, Middleton attended the BAFTA British Academy Film Awards in London wearing a similar dress – maxi, black, and off-the-shoulder. She also accessorized like Markle, with a clutch, dangly earrings, and a thick bracelet.
Twice the yellow power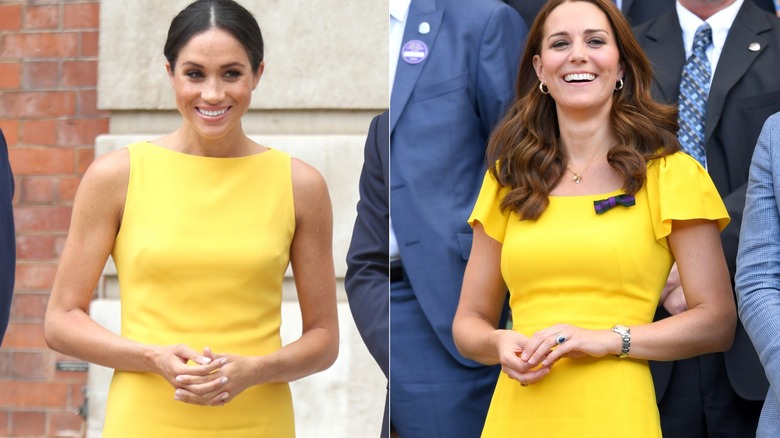 Wpa Pool & Karwai Tang/Getty
In July, we wear yellow. In the same month of 2018, both of the prince's wives wore sunny yellow dresses. They kept their outfits simple, with minimal accessories and bright smiles. Kate Middleton wore her simple sheath dress with adorable flutter sleeves and a small black-and-purple bow during day thirteen of the Wimbledon Tennis Championships. Meghan Markle, on the other hand, wore her dress a few days earlier when she joined her husband to greet youth at the Your Commonwealth Youth Challenge reception at Marlborough House.
Trench coat times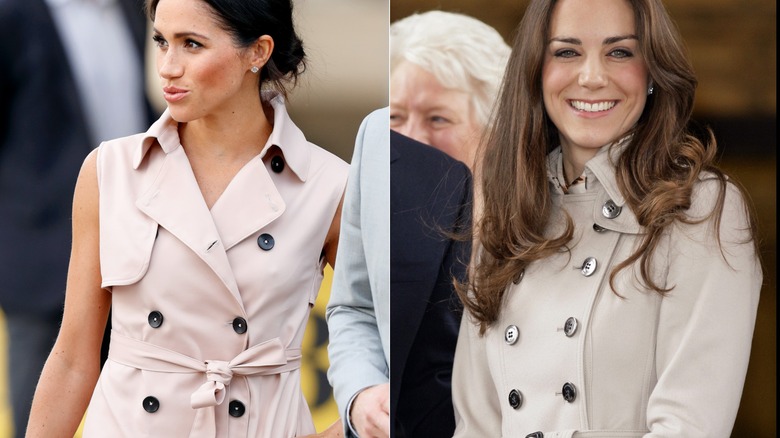 Max Mumby/indigo & Max Mumby/indigo/Getty & undefined
In July 2018, just a few days after her wedding to Prince Harry, Meghan Markle wore a sleeveless trench coat dress that was elegant, sporty, and modern. The coat was belted with two rows of black buttons and reached mid-calf length. Interestingly, it bore a resemblance to a trench coat Kate Middleton had worn a few weeks prior to her own wedding. During a visit to Belfast in 2011, Middleton also wore a belted cream trench coat with two rows of black buttons. While Middleton's garment was shorter and had sleeves, both women looked equally beautiful in their trench coats.
Neutral stripes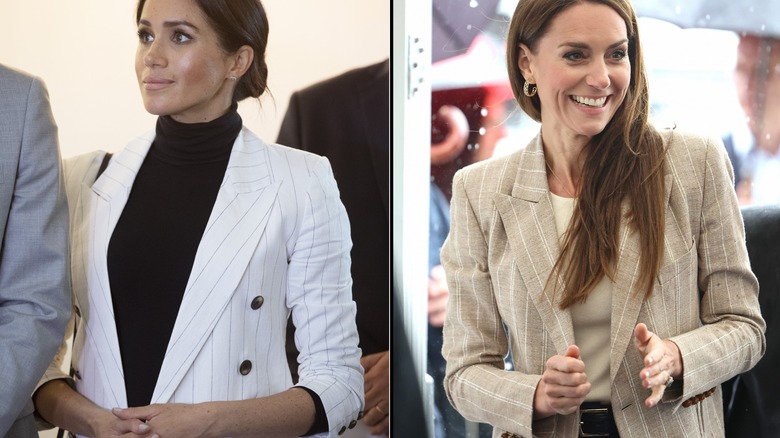 Pool & Chris Jackson/Getty
On different continents, and five years apart, Kate Middleton and Meghan Markle wore similar outfits when they stepped out for royal duties. In 2018, just a few months after their wedding, Markle and Prince Harry completed a 16-day tour of Australia, Fiji, Tonga, and New Zealand as part of their official duties. On day six, Markle wore a striped blazer to attend a reception hosted by the Prime Minister of Australia. Middleton sported a similar look in 2023 when she came to support young innovators involved in a competition for creating sustainable aircraft of the future.
In-charge pantsuits
Samir Hussein & Chris Jackson/Getty & undefined
Kate Middleton kept her airplane attire casual with a dark pantsuit and cozy turtleneck. Despite being less formal than her husband's two-piece suit, her outfit was equally commanding. She wore this particular outfit when she arrived in Boston in November 2022 to attend the second annual Earthshot Prize Awards Ceremony with Prince William. Markle also attended an awards event with her partner in 2018, where she wore a structured but ladylike pantsuit. Markle paired her pantsuit with a satin top, in contrast to Middleton's turtleneck. However, both women had the ability to command a room full of dignitaries effortlessly.
Glamourous capes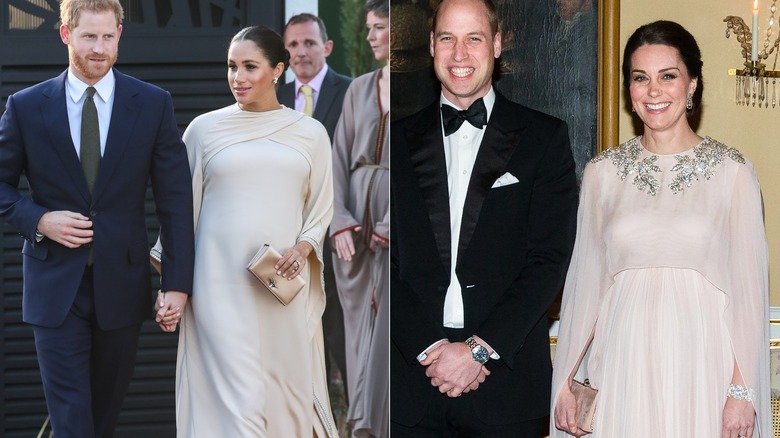 Pool/samir Hussein & Pool/samir Hussein/Getty
Meghan Markle and Kate Middleton wore remarkably similar nude maxi dresses during their visits to other countries. In 2019, Markle attended a reception hosted by the British ambassador to Morocco on the second day of their country tour. Her stunning dress featured a cape that covered her arms, complemented with a nude clutch and small earrings. Middleton accessorized similarly during her visit to Norway and Sweden in 2018. While Middleton's cape had some extra visible bling, if you look closely, you can also see a line of crystals along Markle's cape that added sparkle to her dress as well.
Wrapped in olive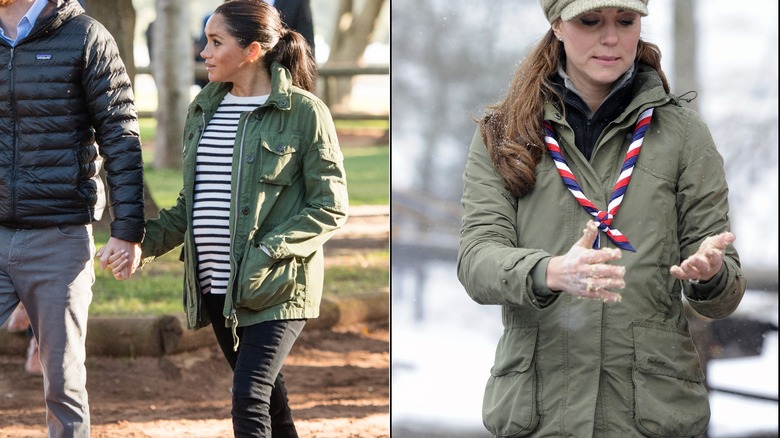 Samir Hussein & Wpa Pool/Getty & undefined
Okay, there's no way the sisters-in-law will convince us they're NOT sharing closets after this. Meghan Markle and Kate Middleton were spotted wearing almost identical coats on different occasions. In 2019, Markle layered her striped top with an olive cargo jacket during her visit to Morocco and tour of the Moroccan Royal Federation of Equestrian Sports in Rabat. Interestingly, six years earlier in 2013, Markle wore the same jacket, and Middleton was also seen wearing an olive cargo jacket while visiting the Great Tower Scout Camp and attending a volunteer training day.
Belted shirt dress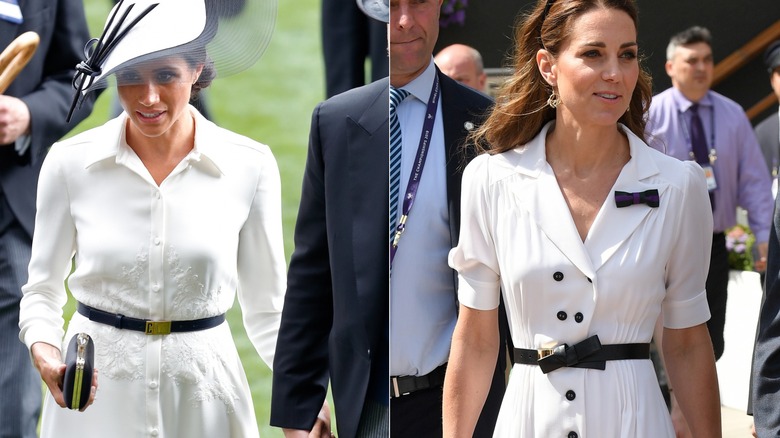 Max Mumby/indigo & Karwai Tang/Getty & undefined
The British sure know how to dress up for a sporting event, especially the princesses. Kate Middleton wore a white shirt dress with a black belt on day two of the Wimbledon Tennis Championships in 2019. Meghan Markle's dress won style awards at the Royal Ascot at the Ascot Racehorse in June of 2018. Both women carried black clutches and wore thin black belts with gold buckles. Middleton even tied her belt in a bow to match her lapel bow. Additionally, each dress was midi length and featured simple white details: embroidered flowers on Markle's dress and pleats along the front of Middleton's dress.
Sparkling collar lines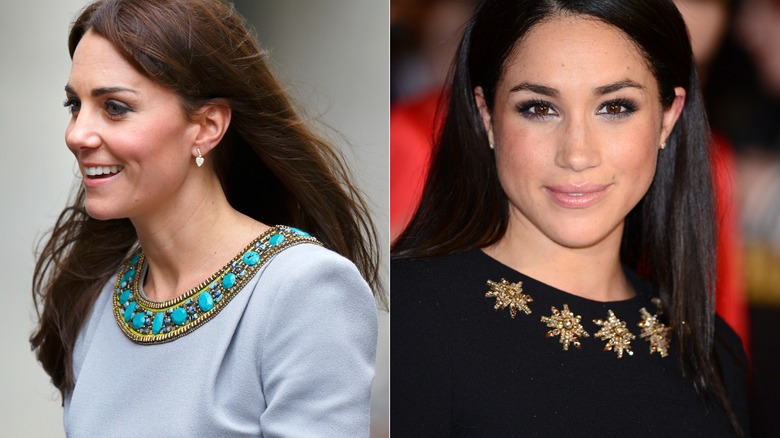 Max Mumby/indigo & Karwai Tang/Getty
Sometimes, all you need is a little bling. Meghan Markle and Kate Middleton wore simple yet elegant dresses with embellished and sparkly collar lines. Markle wore her little black dress to the premiere of "The Hunger Games: Catching Fire" in 2013. Her dress had a very short hem and long sleeves. Middleton's knee-length dress was less dark but had an equally impressive collar lined with turquoise-like stones. She wore it to a charity event for the Place2Be Headteacher Conference at Bank of America Merrill Lynch in 2015.
Gauzy formal gowns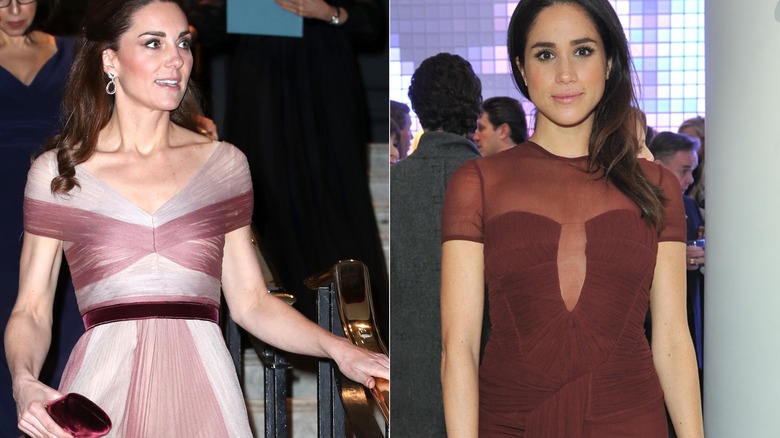 Chris Jackson & George Pimentel/Getty
Gala dinners and fashion shows require something special, and both Meghan Markle and Kate Middleton pulled out the sheer glamour from their closets to attend these events. In 2014, Markle went to the Hudson's Bay And The Isabella Blow Foundation Present Fashion Blows at The Hudson's Bay. She wore a floor-length dark red dress with short sheer sleeves, featuring folds and pleats along the front. In 2019, Middleton was a guest of honor at a gala dinner supporting the 100 Women in Finance's Philanthropic Initiatives, of which Middleton is a patron. Her dress, also in red, had a pleated skirt.
Tropical in pink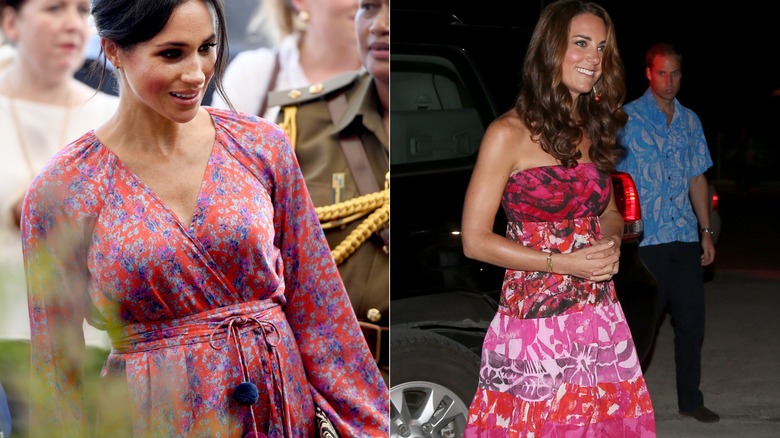 Samir Hussein & Chris Jackson/Getty
For visits to tropical islands, both Meghan Markle and Kate Middleton chose pink, vibrant dresses with intense patterns. In 2018, Markle wore a long-sleeved maxi dress during a royal visit to Fiji. She was photographed visiting vendor stands at Suva Market. Middleton, in 2012, was seen wearing a strapless dress with an empire waist in Honiara, Guadalcanal Island, during a Diamond Jubilee tour on behalf of the Queen. The couple was visiting Governor General Frank Kabui's house at the time.
Pink all around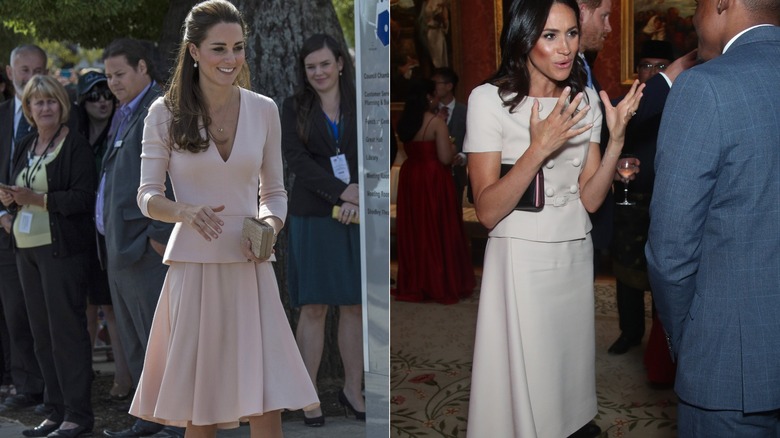 Wpa Pool & Pool/Getty & undefined
Kate Middleton donned this pink skirt suit on multiple occasions. She wore it in 2014 during a tour of Australia, and again in 2016 when visiting the National Portrait Gallery. Meghan Markle must have taken note of Middleton's soft pink skirt suit because she chose to emulate the look with her own light pink suit in 2018. Markle wore the suit during a visit to Buckingham Palace to meet a group of young leaders and attend the Queen's Young Leaders Awards Ceremony with Prince Harry. The skirt suits were almost identical in color and caught our attention, despite slight differences in sleeve length and a double-breasted top.
Elegant lace sleeves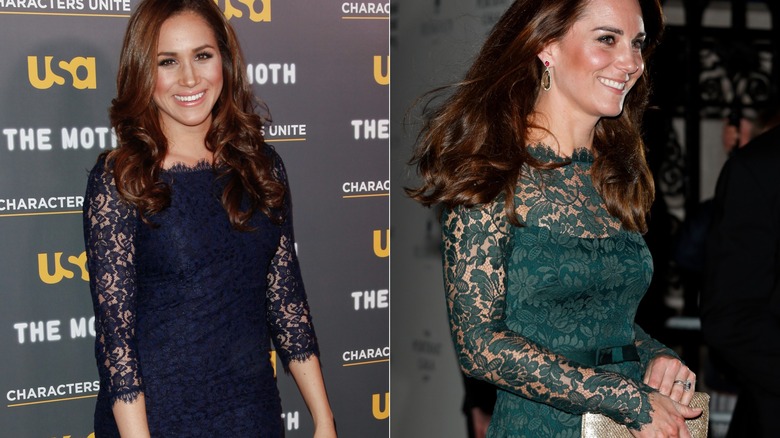 Paul Archuleta & Max Mumby/indigo/Getty
Long lace sleeves, lace covering the entire dress, and a bateau neckline are the common features of these two dresses. The only differences between them are the color and hemline. Meghan Markle wore a shorter version of the dress to a presentation of "A More Perfect Union: Stories Of Prejudice And Power" hosted by the USA Network and The Moth in 2012, while Kate Middleton looked regal in a floor-length version at the National Portrait Gallery's Portrait Gala in 2017. Both ladies left their hair down in flowing curls and wore the same smile, making them look even more sisterly.
Wrapped up in black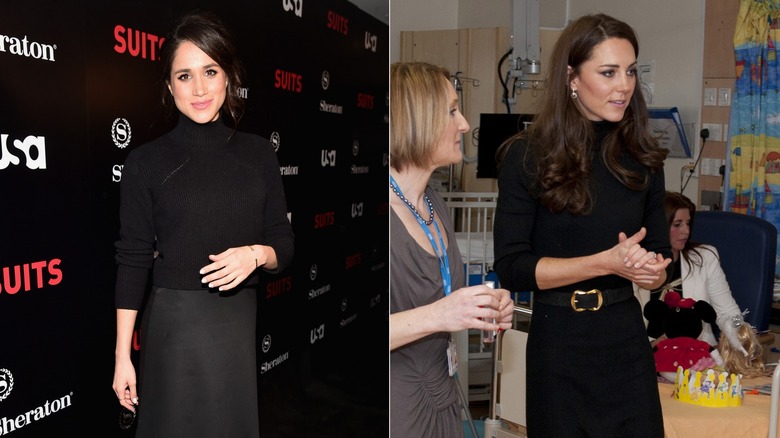 Wpa Pool & Alberto E. Rodriguez/Getty
Casual yet classy: no color embodies this statement more than black, and both Meghan Markle and Kate Middleton fully embraced it by putting together outfits that epitomized it. Middleton visited the Alder Hey Children's Hospital in 2012, while Markle attended a premiere of "Suits" Season 5. Both women opted for a turtleneck and skirt combination, but Middleton chose to tuck in her top and cinch her waist with a belt, creating a focal point.
Peacefully purple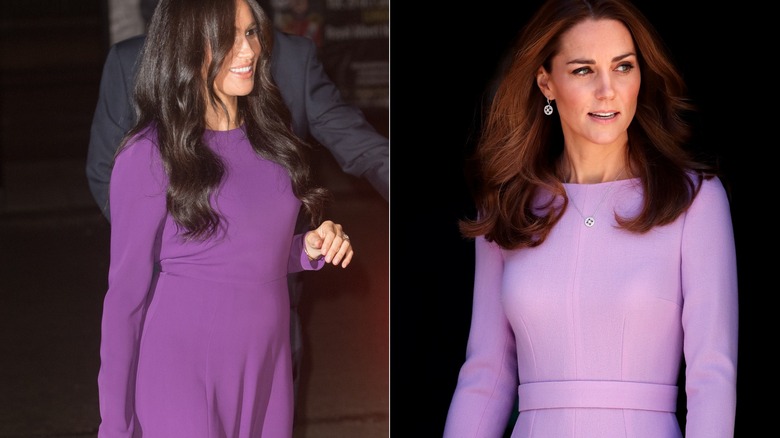 Samir Hussein & Max Mumby/indigo/Getty
Is purple becoming the new color symbolizing global togetherness? This could potentially be the case, as both Meghan Markle and Kate Middleton deliberately chose to wear purple dresses when attending global summits in 2019 and 2018, respectively. Notably, both of them opted for simple shift dresses without extravagant decorations, and they even left their hair down and loose. These purple dresses, of similar length and featuring long sleeves, were a fitting choice of color as they represented the royal family at these important summits.