20 Times Celebrities Weren't Afraid To Be Outfit Repeaters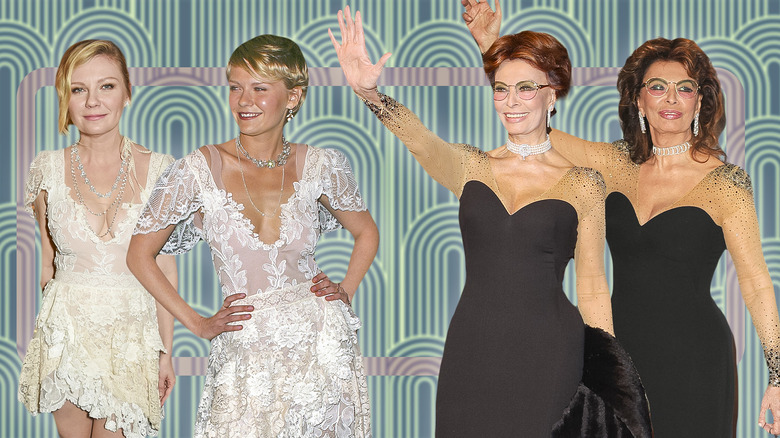 Static Media/Shutterstock/Getty
In the world of fashion and fame, where every outfit is carefully chosen and harshly scrutinized, the idea of wearing the same look more than once used to be considered a cardinal sin. But times have changed, and what was once taboo is now celebrated. In an era where climate change and environmental consciousness are at the forefront of global concerns, the fashion industry's excessive consumption has faced criticism for its harmful impact. This shift in perspective has started a new era of style — one where sustainability trends like traceable fashion take center stage. Celebrities, known for their influence on trends, have begun a new approach to fashion in Hollywood: outfit repeating.
Stars like Victoria Beckham, Kim Kardashian, and Anna Wintour (all major forces in shaping the fashion industry) have stepped out in the same outfits, not once but multiple times. Today, these celebrities are leading by example, reminding us that fashion is not only about what you wear but also about how you wear it—with intention and commitment to a better, more sustainable future.
Cate Blanchett's iconic black lace revival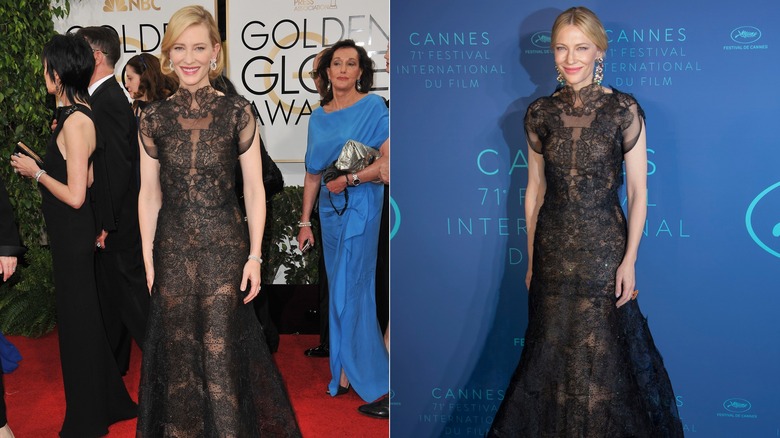 Featureflash Photo Agency & BAKOUNINE/Shutterstock
In 2014, at the Golden Globe Awards, the actor Cate Blanchett graced the red carpet in a mesmerizing black lace gown. The classiness of the dress was accentuated even more by pairing it with statement earrings and simple yet elegant makeup. In 2018, at the Cannes Film Festival, Blanchett once again rocked the same look. It certainly takes confidence to revisit a red carpet style, and Blanchett definitely had it. The star brought the gown back to life, pairing it with statement earrings once more. If it ain't broke, why fix it?
Kirsten Dunst's white lace encore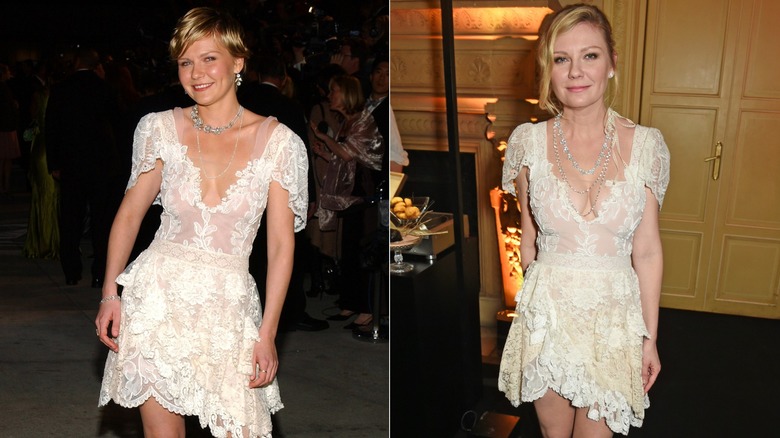 Jean-paul Aussenard & David M. Benett/Getty
At the 2004 Vanity Fair Oscar Party, Kirsten Dunst showed up in a white lace minidress that turned heads and left a lasting impression. Little did we know that this look would make a glorious comeback 13 years later at the Chopard Presents The Garden Of Kalahari event in 2017. With this outfit, Dunst effortlessly proved that some fashion pieces are timeless and ageless, as the white lace garment looked just as fabulous on her in 2017 as it did back in 2004.
Mindy Kaling shows major love to a LBD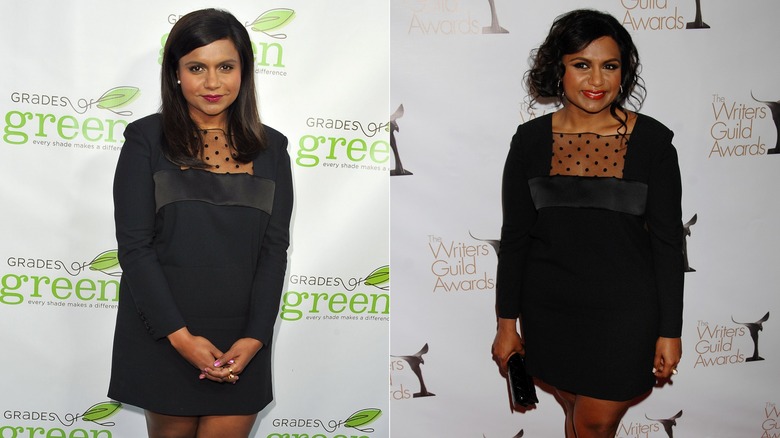 Ga Fullner/Shutterstock & Angela Weiss/Getty
In 2013, Mindy Kaling showed us how to make the most of a fabulous little black dress by wearing it not once but twice in the same year! First, she graced the Writers Guild Awards with her presence. And just when we thought she couldn't top that, she wowed us again at the Verte Grades Of Green's Annual Fundraising Event sporting the very same dress. While some might shy away from outfit repeating, the star confidently proved that you can flaunt a beloved piece of clothing as many times as your heart desires, even if you are in the spotlight.
Gwyneth Paltrow brings back the red pantsuit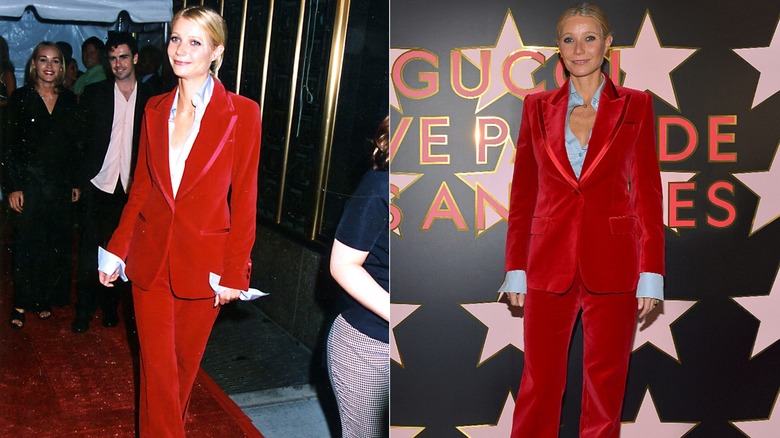 Jeff Kravitz & Donato Sardella/Getty
Gwyneth Paltrow graced the MTV Video Music Awards in a striking red pantsuit that turned heads back in 1996. Fast forward 25 years to 2021, and she did it again, this time at the Gucci Love Parade. The remarkable part? She wore the exact same red pantsuit, reminding us all that some looks simply deserve an encore. The red pantsuit looked just as stunning on her in 2021 as it did back in the '90s, proving that she is truly a timeless fashion icon.
Laura Dern's daring déjà vu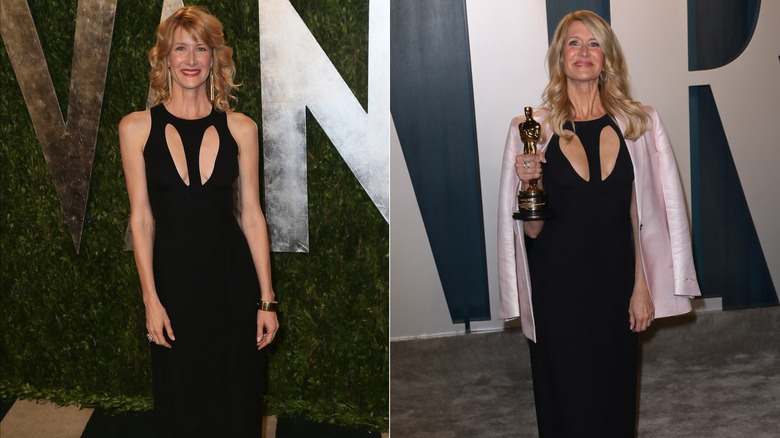 David Livingston & Toni Anne Barson/Getty
In the world of celebrity fashion, Laura Dern proved that you absolutely can re-wear an outfit to the same event, especially when it's as bold as her black gown with captivating cutouts. In 2013, the actor stole the spotlight at the Vanity Fair Oscar Party in this edgy ensemble, but that wasn't the end of the dress's story. In 2020, Dern had a fashion déjà vu moment at that year's Vanity Fair Oscar Party. Rather than opting for something entirely new, she confidently attended the event in the very same gown, something not many would be able to pull off.
Wearing white twice: Tiffany Haddish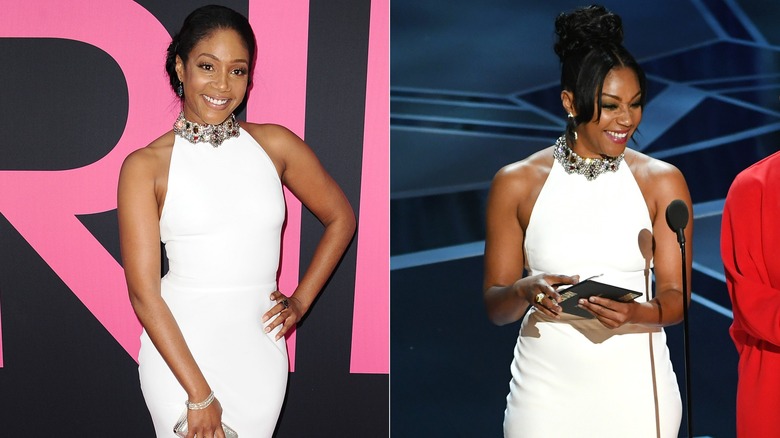 Jason Laveris & Kevin Winter/Getty
Tiffany Haddish dazzled us in the same sleek white gown not once but twice: first at the premiere of "Girls Trip" in 2017, and then in 2018 when she decided that her Academy Awards appearance deserved the same fabulous look. The dress, with its striking embellished halter neck, was a showstopper both times.
Meryl Streep redefines patriotism in style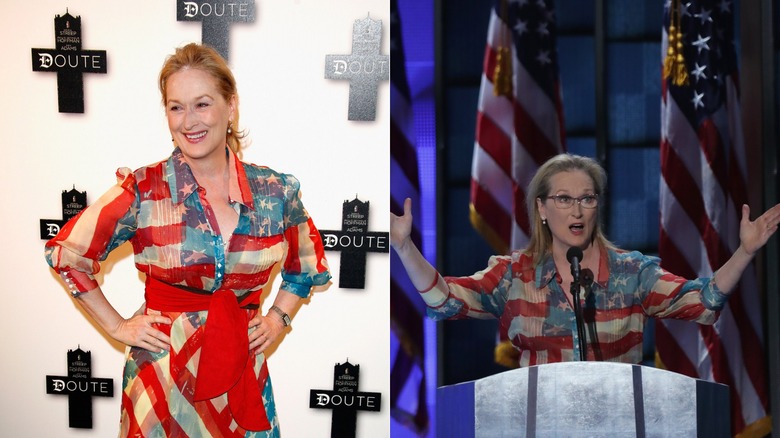 Julien Hekimian & Alex Wong/Getty
Meryl Streep, the queen of Hollywood, is not only known for her incredible acting talent but also for her ability to rock the same piece of clothing more than once. In 2009, at a photocall for "Doubt," she graced us with her presence in a button-up dress with an American flag print. In 2016, Streep decided to show off her love for the stars and stripes once again, this time at the Democratic National Convention. While delivering a powerful speech, her outfit spoke volumes too.
Kim Kardashian's dress transformation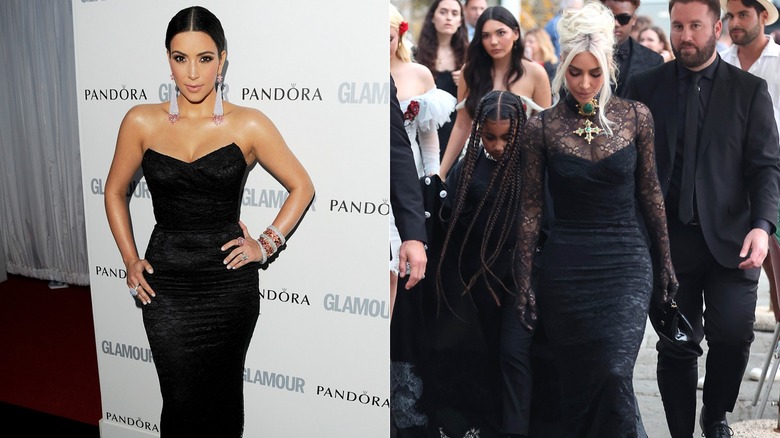 Dave M. Benett & Nino/Getty
When it comes to fashion, Kim Kardashian is a well-known name. In 2011, the reality star attended the Glamour Women Of The Year Awards in a sleek black dress, which she pulled out of her closet again in 2022. For her sister Kourtney's wedding in Portofino, Italy, Kim gave the dress a fresh twist by pairing it with a see-through lace top, creating a completely new and unforgettable look. Her ability to transform a classic dress into something entirely different is proof that with a little creativity, even the most timeless pieces can be repurposed and made fresh again.
Princess Diana: A royal icon not afraid to recycle fashion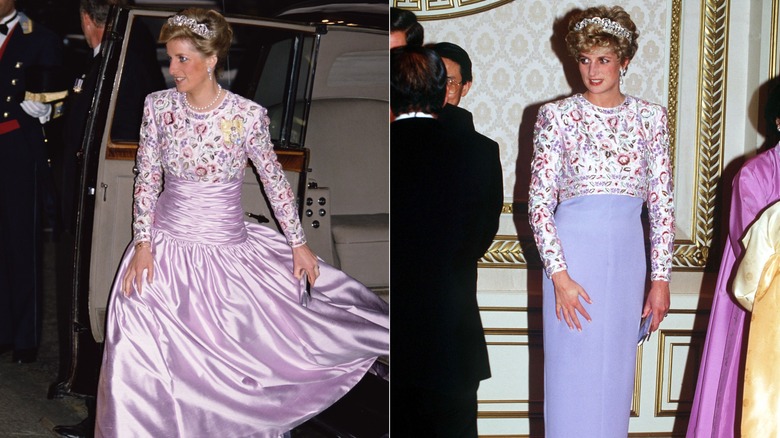 Princess Diana Archive & Princess Diana Archive/Getty
Even in the world of royalty, Princess Diana proved that recycling can not only be sustainable but also incredibly stylish. The late Princess of Wales, known for her impeccable fashion sense, demonstrated her eco-conscious side by re-wearing a stunning lavender piece. In 1989, she attended a Nigerian state banquet in London wearing a bedazzled long-sleeved top paired with a flowing floor-length satin skirt. In 1992, during a banquet in Seoul, South Korea, Diana rekindled her love for the lavender piece. This time, she chose to pair it with a structured and sleek maxi skirt in a slightly different shade of purple.
Kate Middleton's red coat on repeat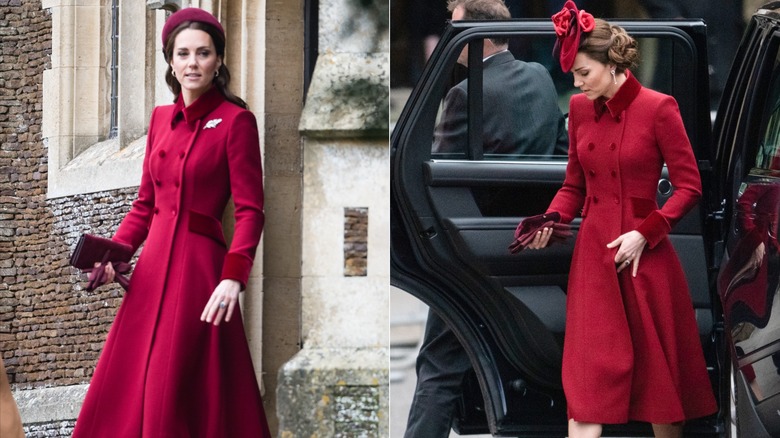 Samir Hussein & Gareth Cattermole/Getty & undefined
The Duchess of Cambridge is no stranger to getting a lot of wear out of her favorite fashion pieces. In 2018, she made an appearance at the Church of St Mary Magdalene on Christmas Day in a red statement coat. The elegant waist-sinching design caught the eye of many fashion enthusiasts. Princess Catherine decided to re-wear the same coat in 2020 during the Commonwealth Day Service. And yes, while most might not consider wearing the same coat twice a significant fashion moment, in the world of royals, such decisions are always subject to attention and scrutiny.
Kate Moss and her faded feathers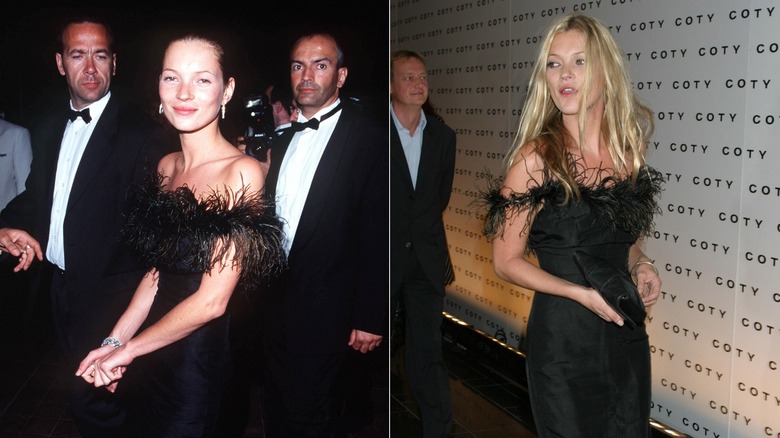 Steve Granitz & M. Von Holden/Getty
In 1998, supermodel Kate Moss stole the spotlight in a chic black minidress with feather detailing at the Cannes Film Festival. In 2004, Moss once again opted for the black minidress with feathery accents, this time at Coty's 100th Anniversary celebration. However, we can't help but notice that the feathers don't look quite as lush six years later.
A tale of two premieres: Susan Sarandon's timeless black dress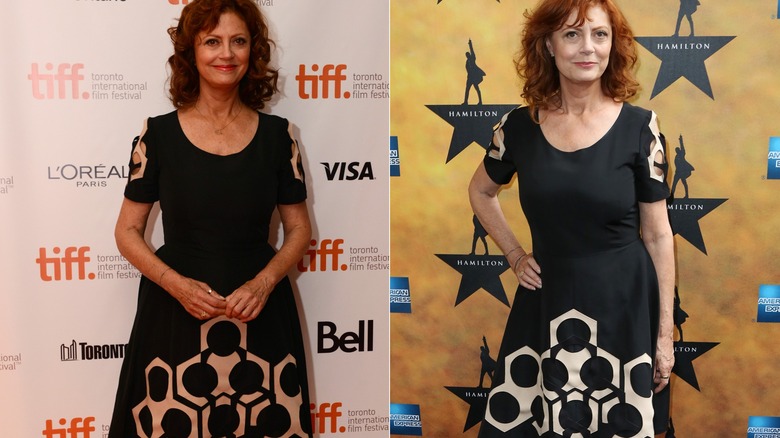 Peter Bregg & Walter Mcbride/Getty
Susan Sarandon isn't your typical A-lister, which is why it might not surprise some to see her rock the same look at two red carpet events. In 2013, she graced the premiere of "The Last of Robin Hood" in a funky black dress with geometric detailing. Two years later, at the "Hamilton" Broadway opening night, she wore the same dress again, and her hairstyle was also strikingly similar. If we didn't know better, we might assume these two photos were captured on the same evening.
Meghan Markle's sustainable trench dress moments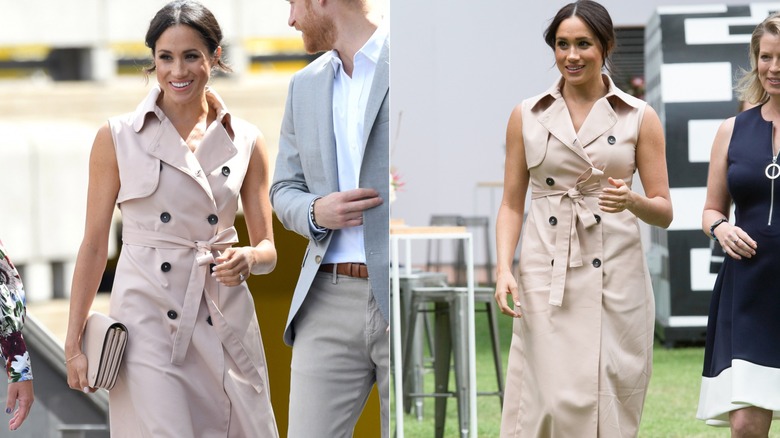 Karwai Tang & Pool/samir Hussein/Getty
In 2018, Meghan Markle made a stylish appearance at the Nelson Mandela Centenary Exhibition at the Southbank Centre. The Duchess of Sussex wore a sleeveless trench dress that felt both modern and casual. However, this was not the last time we would see this look. In 2019, during the Royal tour of South Africa, Meghan chose to wear the same stunning dress again.
Sophia Loren's black gown chronicles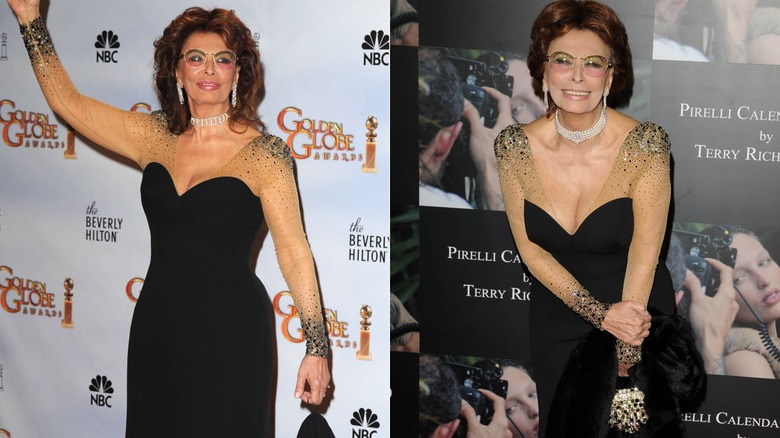 landmarkmedia/Shutterstock & Steve Granitz/Getty Images
In late 2009, the iconic actress Sophia Loren graced the 2010 Pirelli Calendar launch with her presence. Then, in early 2010, she attended the Golden Globe Awards. What stood out? Her unwavering confidence in rocking a striking black gown twice within a couple of months. Both times, Loren added a touch of timeless charm with a classy choker necklace.
Victoria Beckham starts a fashion revolution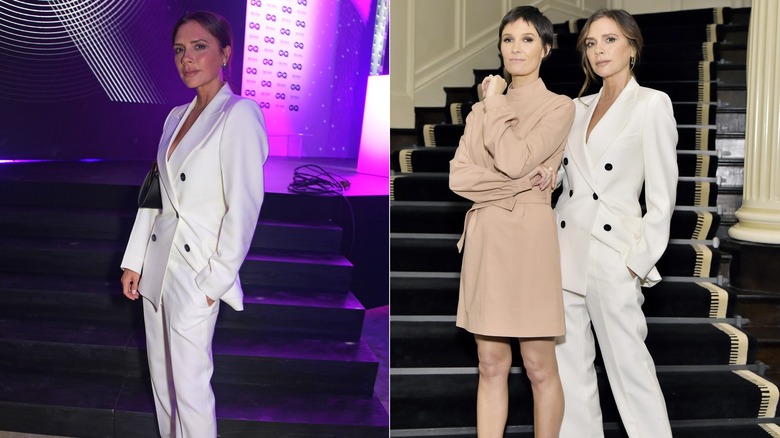 David M. Benett & Stefanie Keenan/Getty
In 2019, fashion icon Victoria Beckham made a statement in the industry: repeating outfits is not only acceptable but also incredibly chic. At the GQ Men of the Year Awards and the Violet Grey x Victoria Beckham Beauty LA Dinner, she wore the same sophisticated white pantsuit. This bold move challenges the fashion world's obsession with constant novelty – and Beckham, as a designer herself, proved that fashion is more than just that.
Timeless florals: Helen Mirren's favored dress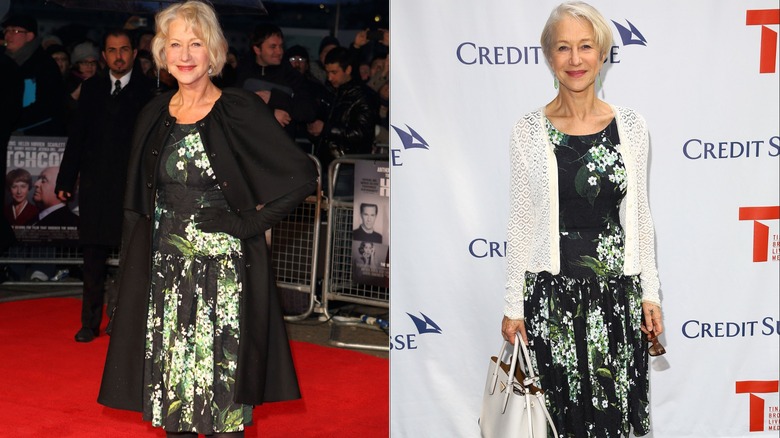 Mike Marsland & Astrid Stawiarz/Getty
In 2012, Dame Helen Mirren showed up at the UK premiere of "Hitchcock" in a delightful floral-patterned dress, which she paired with a black coat. In 2015, she once again showed off her love for the garment at Stephen Daldry's Tony Nomination Celebration, wearing the same dress, but this time with a white crochet cardigan.
Fashion's fearless leader: Anna Wintour repeats outfits too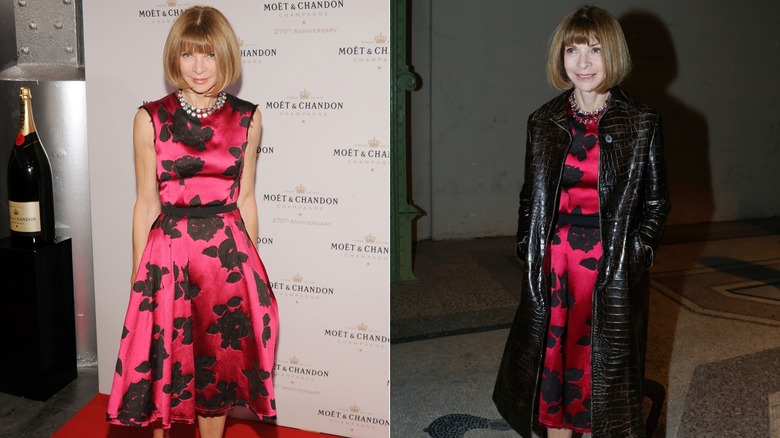 Bryan Bedder & Bertrand Rindoff Petroff/Getty
In 2013, Anna Wintour, the editor-in-chief of "Vogue," made a bold fashion move, proving that even the most influential figures in the industry can embrace the art of outfit repeating. She wore the same red and black floral dress not once but twice in the same year — first to the Moët & Chandon anniversary celebration and then to the Saint Laurent show at Paris Fashion Week.
Elizabeth Banks' jaw-dropping red gown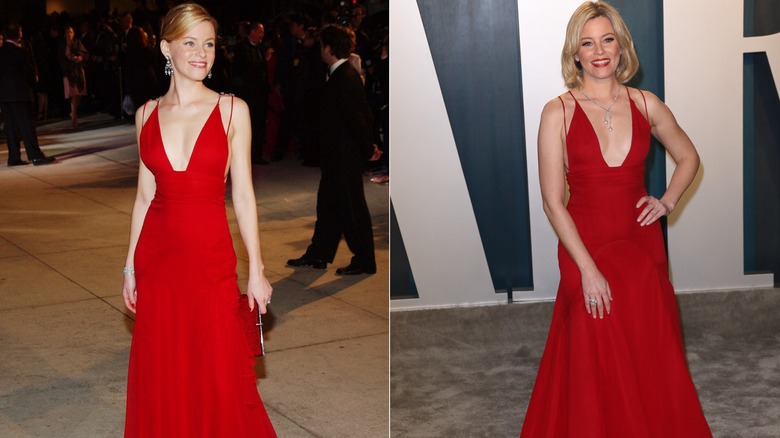 Jon Kopaloff & Toni Anne Barson/Getty
Elizabeth Banks graced the Vanity Fair Oscar Party in 2004 wearing a deep-plunging red gown that left everyone in awe. 16 years later, in 2020, she recreated the moment by wearing the same dress to the same event, showing that some things only get better with time.
Selena Gomez shows the power of accessories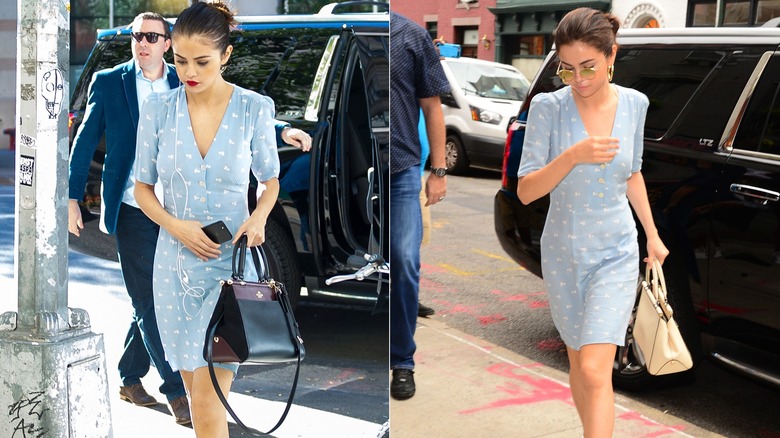 Gotham & Raymond Hall/Getty
In 2017, Selena Gomez showcased her style by confidently wearing the same vintage-inspired baby blue summer dress in New York City. What's remarkable is how she effortlessly transformed the look on two separate occasions in SoHo. Gomez's ability to use accessories to keep a repeat outfit fresh demonstrates just how fun fashion can be.
Jane Fonda's fight against consumerism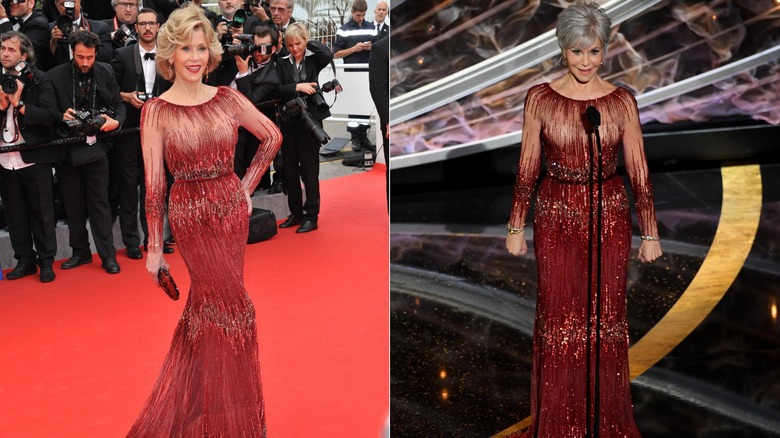 Kevin Winter/Getty & Featureflash Photo Agency/Shutterstock
Jane Fonda graced the 2014 Cannes Film Festival red carpet in a dazzling, sparkly red gown that looked stunning on her. Six years later, she proved that true elegance is timeless when she wore the same showstopping ensemble to the Academy Awards. What makes this fashion choice even more remarkable is Fonda's strong stance against consumerism, which she openly discussed on "The Ellen DeGeneres Show" in 2021. "I vowed a couple of years ago I would never buy any new clothes again. We spend too much money, we buy too many things, and then we get rid of them. We try to develop our identity by shopping, right? We gotta stop that. Stop all this consumerism," the star said (via People).