Lightweight Knits Are 2023's Trendiest Transitional Piece - How To Style Them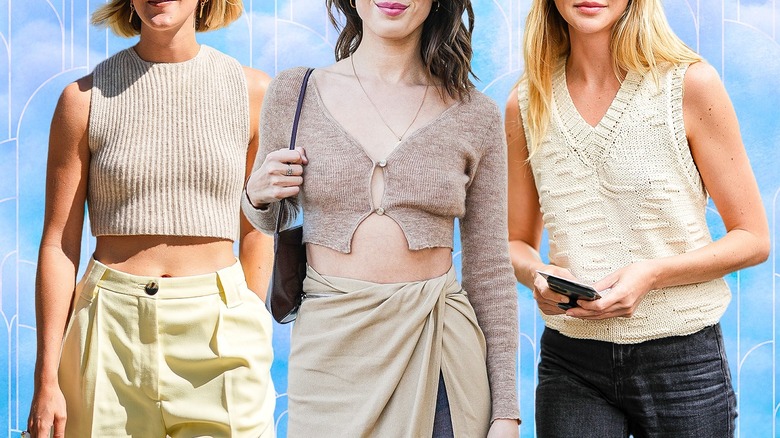 Static Media / Shutterstock / Getty
Knits are the must-have piece for all fall and winter seasons, but what does one do when the weather doesn't cooperate? Thankfully, lightweight knits exist and are helping to transition our wardrobes from summer to fall in a chic way. In other words, there is no need to overheat in chunky knits anymore because light knitted pieces can bring all the autumn vibes and help you remain fresh enough to last all day. There are plenty of ways to incorporate lightweight knits into your wardrobe to help mimic fall trends without bringing out heavy wool sweaters.
The suitable lightweight knits appear like the classic fall pieces we all know but with a few alterations that'll make them easier to wear on warm days. From sleeveless options to open-knit pieces, they help give your transitional ensembles some fall texture. What's more, these lightweight knits can pair flawlessly with more traditional fall pieces like full-length pants or cardigans to provide you with more of an autumnal look.
Sleeveless knits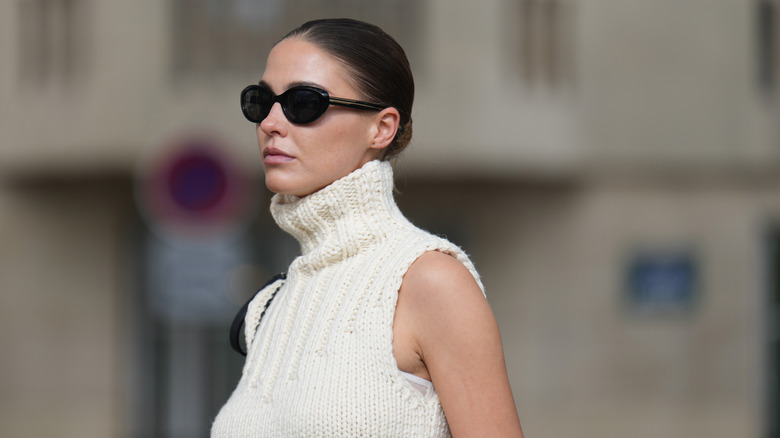 Edward Berthelot/Getty Images
The easiest way to add knits to your transitional closet is by chopping off the sleeves. Sleeveless pieces are chic and add the same textured vibe without overwhelming you with warmth. For the past few seasons, retail stores like Mango have doubled down on their sweater vest selections in their fall lineups, which has trendsetters like Kendall Jenner (via PopSugar) as fans. To style these pieces, wear them over other lightweight tops for fall-ready layered outfits.
Open-knit sweaters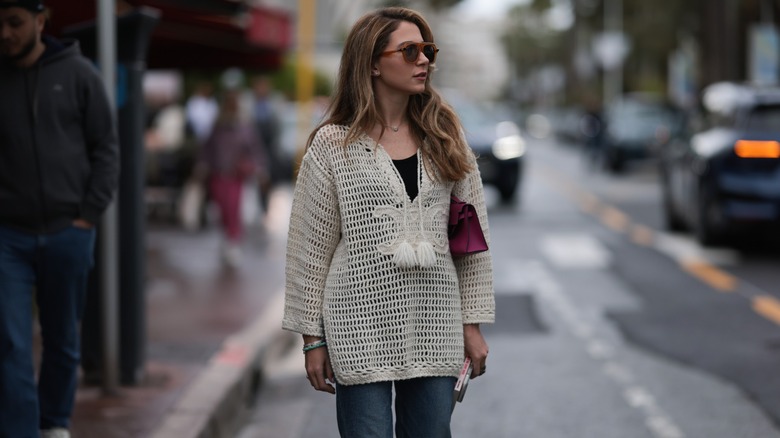 Jeremy Moeller/Getty Images
Even if you're keen on a longer sleeve, open-knit sweaters allow you to get the texture with airy holes that give you room to breathe. The best way to wear these open knits is by layering them over essential tanks or tops, which gives you the fall look without the extra warmth. You can also utilize this design via open-knit dresses that give you a chicer option for a more formal transitional day.
Ribbed knit sets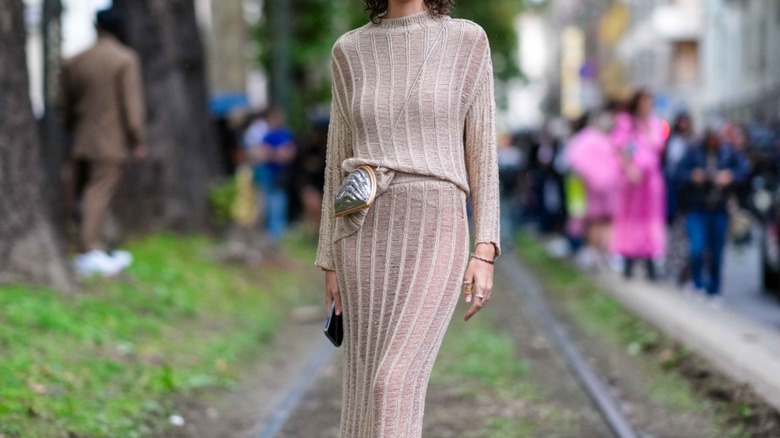 Edward Berthelot/Getty Images
Ribbed knit pieces allow you to participate in two trends simultaneously. Many ribbed knits are see-through, meaning you can enjoy the lightweight knit trend while showing off your sheer clothing. These see-through ribbed knit pieces are ideal since they let you remain cool during the transitional weather while staying stylish. For a more fall-inspired touch, opt for ribbed knit sets that are cohesive and easy to wear.
Crochet dresses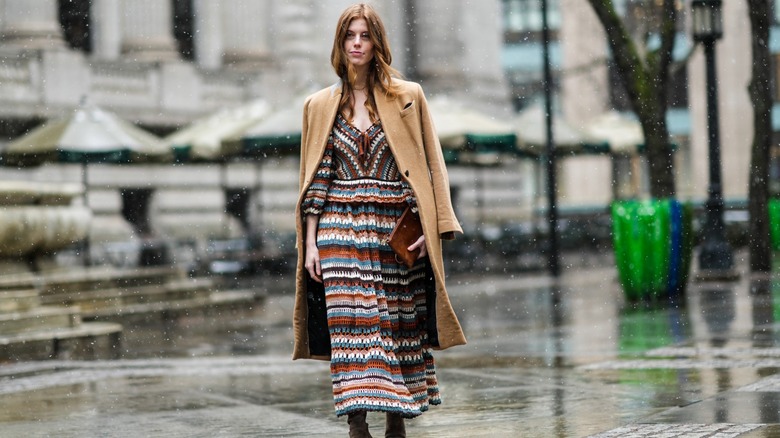 Edward Berthelot/Getty Images
Crochet might be the must-have summer fabric, but it's also perfect for your transitional looks. Crochet dresses in neutral or dark tones can be the ideal piece to complete your look without getting overheated, or throw in colors for a maximalist approach. Opt for longer midi dresses for a more polished look, and avoid making your piece look like resortwear. Crochet dresses are a boho look that's always in style.
Mixed-media pieces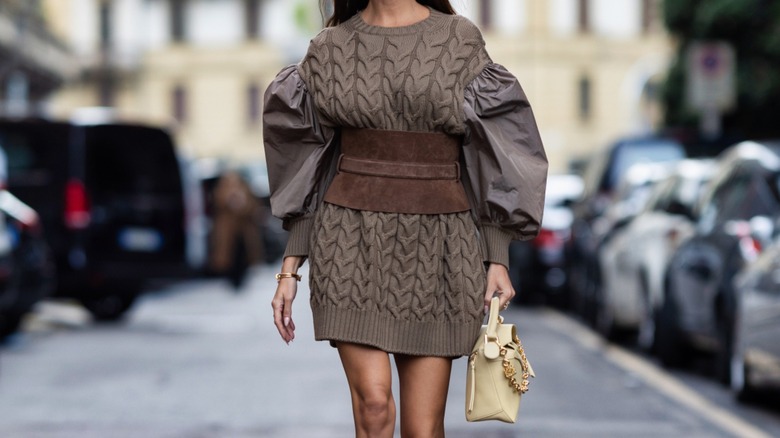 Valentina Frugiuele/Getty Images
Lightweight knits can also include other fabrics and materials that give your item a fresher approach. Mixing materials is also a great way to drum up visual interest in your piece, making it an all-around safe bet. Mix your knitted pieces with cotton sleeves or accents for a transitional look, but start implementing fall details. Having multiple fabrics in one piece also makes it ideal to carry into the fall season.
Cropped knitted tops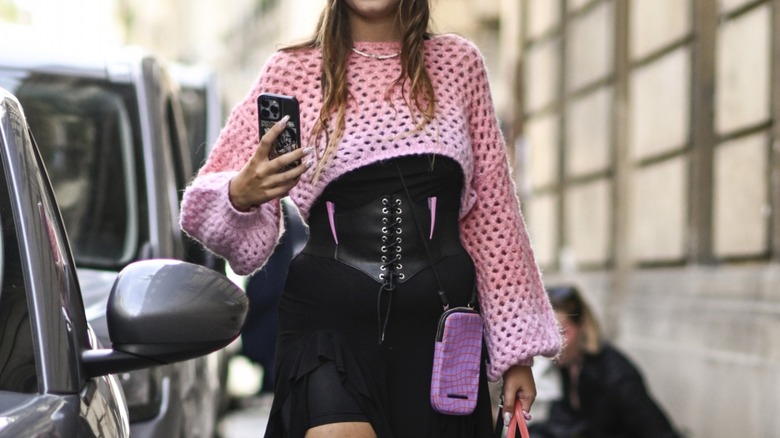 Daniel Zuchnik/Getty Images
Just like with your sleeves, you can crop the length of your knitted piece for a more transitional piece. Use cropped knitted sweaters as a layering piece that you can quickly throw on over tank tops or short-sleeved tops to keep you cool during the day and warm at night. Cropped items also give your look a street-style edge that looks more natural and carefree.