Meghan Markle's Favorite Perfume Is The Sweetest Sun-Kissed Scent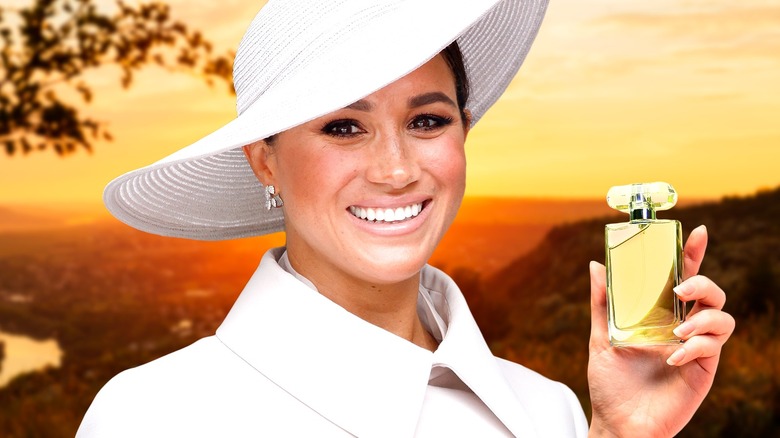 Static Media /Shutterstock /Getty
We may receive a commission on purchases made from links.
Meghan Markle often inspires fashion and beauty enthusiasts with stylish yet approachable-looking choices, such as her underrated cape jacket. And don't forget about Markle's affordable, go-to body lotion! Her favorite fragrances maintain this trend. According to Markle's former online publication, The Tig, her go-to scent is the Jo Malone London Wild Bluebell Cologne, available for $110. So, for slightly over $100, you can smell like the actor-turned-royal every day of the week!
Like many other fragrance lovers, Markle has another beloved option she uses when she's going for a fancier vibe. While she wears the Jo Malone London Wild Bluebell Cologne daily, she dons the Bvlgari Blv II perfume for more formal settings. The Bvlgari BLV II perfume now sells for $358.99 at Walmart, so it's more of an investment, but how could any royal's fancier scent option not be a splurge for most people? Some good news is that each of Markle's favorite scents smells delightful and has alluring alternatives.
The Jo Malone London Wild Bluebell Cologne is spring sunshine in a bottle
While it might initially be surprising that Meghan Markle's go-to fragrance features the word "cologne" rather than "perfume," don't rule it out. The Jo Malone London Wild Bluebell Cologne is ideal for everyone, providing a sweet aroma with notes of bluebell, delicious persimmon, and fresh white musk. So, anyone who enjoys light floral scents will likely appreciate this cologne.
The fragrance has a rating of 4.6 out of five stars, and a happy reviewer wrote, "This fragrance is simply lovely. It has a subtle floral and musky scent that is highly feminine without being overpowering. I have seen reviews about how it doesn't last but when I spray it on my neck (front and back), I can smell it most of the day. It's like a fresh spring day. Worth every penny. It's my first Jo Malone purchase but I am hooked."
If you enjoy the idea of a sweet and dainty floral fragrance but don't want to buy Markle's exact scent, there are similar options. For instance, the Floral Street Sweet Almond Blossom Eau de Parfum is another highly-rated floral scent for all genders. Available for $89 at Sephora, the fragrance is vegan and cruelty-free and features notes of pink pomelo, apple blossom, and vanilla. The product has a rating of 4.7 stars with a 96% recommendation rate, and in a review, a pleased customer even wrote, "Amazing. Light, floral scent that is not overwhelming."
Bvlgari BLV II Eau de Parfum draws you in with unique notes
Meghan Markle's choice for fancier occasions, the Bvlgari BLV II perfume, is unfortunately no longer being produced. However, you can still find it at Walmart. The Bvlgari BLV II Eau De Parfum features notes of mandarin, violet, star anise, licorice, iris, jasmine, lily of the valley, patchouli flower, cedarwood, and vetiver, so this is another floral scent, but a bit more intense than the celebrity's daily go-to option.
The Bvlgari BLV II Eau De Parfum has 4.74 stars on Influenster, and someone wrote, "Sadly this was discontinued. It is light, airy violets and star anise. It's really different from anything else I have smelled. It sits close to skin so does not have big silage but it gives you a beautiful bubble of softness around you. If someone detects this scent on you they will want to get closer."
A luxurious alternative to that sweet floral scent is the Dolce & Gabbana Dolce Violet Eau de Toilette, available for $93 at Sephora. The perfume offers notes of blackcurrant, violet, and Madagascar vanilla and has 4.1 stars with a 79% recommendation rate. A satisfied reviewer even wrote, "Love this scent. It contains a strong floral note with hints of sweet which is perfect for my liking. Would definitely be a future purchase!"