Hydrate Your Skin With Meghan Markle's Affordable, Go-To Body Lotion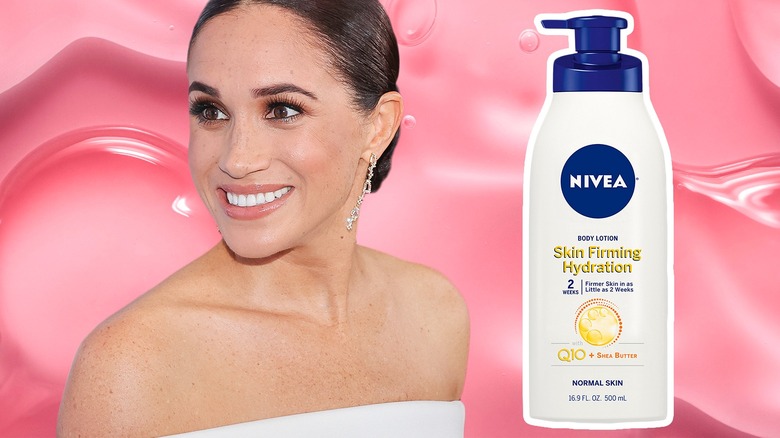 Static Media/Shutterstock/Getty
We may receive a commission on purchases made from links.
Our mood board includes several beauty icons we can always turn to for inspiration while on our next shopping haul. Beyoncé's sunwashed blond hair, Hailey Bieber's glazed nails, and Selena Gomez's beloved makeup hacks for a natural glow are just a few examples of trends and ideas we never knew we needed, though the options are nearly endless. However, on that same mood board are less predictable but incredibly valuable go-tos, including one from Meghan Markle, the Duchess of Sussex.
Markle isn't a gatekeeper, either. From her beloved scents to her favorite concealer, she never hesitates to share what beauty products she uses and loves. In the same spirit, we know how she keeps her great skin hydrated and firm. In an interview with Beauty Banter, Markle expressed that the Nivea Skin Firming Hydration Lotion is her favorite on the market and that she would buy an entire case of the product if she could. She went as far as to say that she uses the product "religiously." Enriched with shea butter and coenzyme Q10, this product is a deeply moisturizing body lotion that promises firmer, smoother, and softer skin in about two weeks.
What's so special about this lotion anyway?
While we have doubts about how effective firming products can be, we cannot deny that a good number of them offer a world of good for your skin, especially Nivea's Skin Firming Hydration Lotion. Included in the lotion's formulation is coenzyme Q10, or ubiquinone — an antioxidant that, according to Sanova Dermatology, can rejuvenate and "repair skin damage," even out one's skin tone, and increase collagen and elastin production in the deeper layers of the skin. By boosting collagen and elastin production, coenzyme Q10 (or COQ10 for short) helps reduce the appearance of fine lines and wrinkles while tightening the skin.
The lotion also contains shea butter, an anti-inflammatory emollient chock full of antioxidants and moisturizing fatty acids like stearic, oleic, and linoleic acids. Together with coenzyme Q10, shea butter's antioxidant action can also help your skin stay hydrated and protect your moisture barrier while improving your skin tone. However, it's wise to manage expectations of how fast and well firming creams work. While several reviewers on Nivea's website noted that the product absorbs into the skin quickly and firms the skin after consistent use, others stated that it did nothing for them or left a heavy, oily finish on their skin. One such reviewer wrote, "I used this product twice daily for 6 weeks on my upper arms. There was absolutely no difference in the appearance of the skin." Worth noting, though, is that skincare products work differently on everyone, so research and testing are always necessary.
How to use Nivea's Skin Firming Hydration Lotion
With an excellent ingredient list and Meghan Markle's stamp of approval, we see why you might be sold on this lotion. But to reap the full benefits of the Nivea Skin Firming Hydration Lotion, you'll need to apply it correctly, and by correctly, we mean using the product on damp skin.
Applying your lotion on damp skin allows it to properly seal in moisture and keep your skin hydrated for longer, per research published in the Indian Journal of Dermatology. However, you don't need to be dripping wet from your shower or bath. Just ensure your skin is still damp with a few drops of water, and apply the lotion liberally. Nivea also recommends using the product twice daily for excellent results.
Nivea's Skin Firming Hydration Lotion retails for $14 for 500 ml. of product and is available at drugstores such as Ulta and Walgreens, as well as on Amazon. The brand's dermatologically tested and approved COQ10-and-shea butter combo is also available in a range of products, including an antiwrinkle cream for your neck and chest and a toning gel cream.