The Lip Colors That Pair Perfectly With A White Dress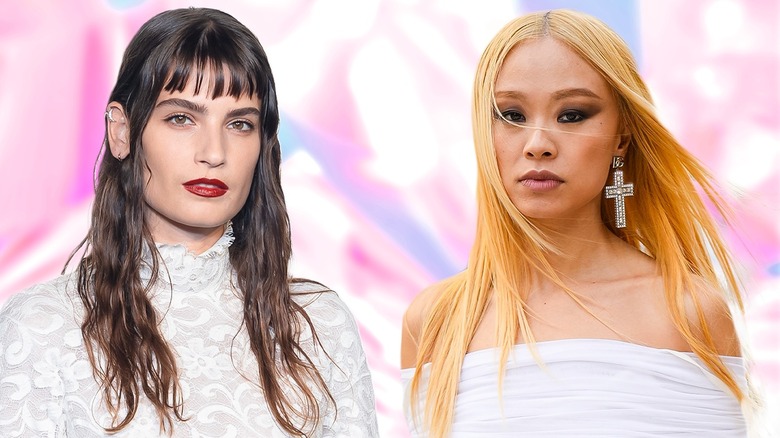 Static Media / Shutterstock
We love a LBD, but little white dresses can be just as compelling. From stark elegance to dreamy romance, they fit effortlessly into any aesthetic. And forget the defunct no-white-after-Labor-Day rule — white dresses can be styled year-round. But when trying to accent such a neutral palette, what kind of lipstick should you wear?
Good news for color fans: Because white is a neutral, you can pair it with most lipsticks. Whether you want to keep it classic with a red lipstick, embrace a moody, '90s-inspired look with an earthy brown lipstick, or be daring with a bold blue lipstick, white dresses provide a perfect backdrop. So feel free to experiment with different shades and even get a little funky. To create an extra harmonious match, keep two rules in mind. One: Make sure the lipstick complements your skin tone. You don't want to pick a lippie shade that washes you out or makes you look jaundiced. Second: The warmth of your white fabric should inform the warmth of your lipstick. For instance, ice-cold white gowns will pair better with lipsticks that feature a cool blue undertone. But if your white frock veers ever so slightly toward cream or beige, then it will probably vibe better with a warm-toned lip color.
Ultimately, white dresses are extremely versatile, giving you free rein to try a range of lip hues. But if you want to start with a few foolproof shades, certain lipsticks always look stunning with a white ensemble.
Rich reds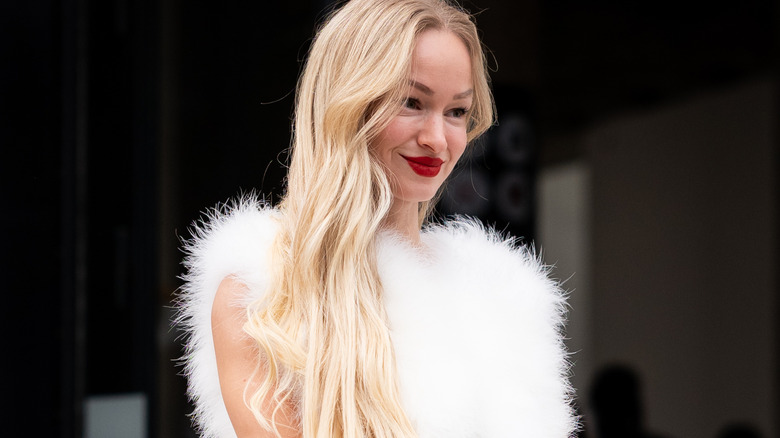 Claudio Lavenia/Getty Images
First, let's talk about the most classic of all lip colors: red. A saturated red lip is a surefire choice to accent most outfits, and white dresses are no exception. The contrast between bright white and rich red is super glamorous, evoking timeless Hollywood looks. Iconically stylish, a red lippie is a quick way to elevate even a casual shift dress. Pair a bold red lip with anything from a flouncy white skater dress to a formal floor-length gown. It will be the pop of color that sets off your white dress and gives your overall outfit a polished air. Just be sure to identify your perfect red shade that will beautifully offset both your dress and your natural coloring.
Luscious berries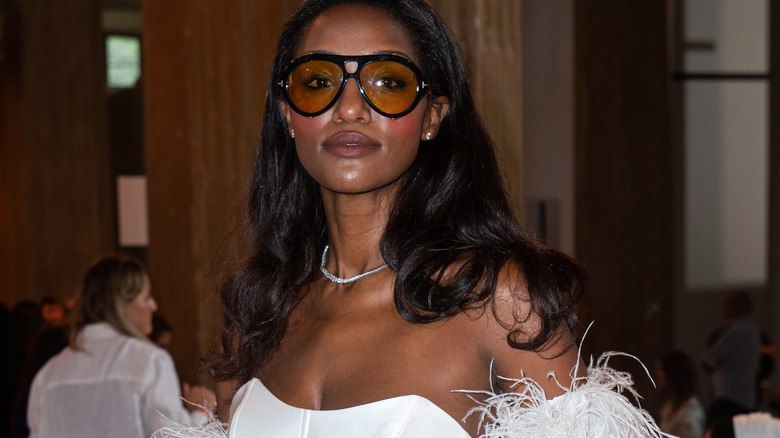 Alessandro Levati/Getty Images
Here's what we love about berry lipsticks: You can opt to go subtle with a shade that veers toward an earthy, sangria-like color, or you can turn up the volume with a jammy, eye-catching hue like raspberry. Either way, these tasty colors look incredible paired with a white dress. Choosing a deeper, more understated tone adds a soft touch of drama to your natural look, putting a refined spin on your white ensemble and providing a great partner for more formal occasions. Meanwhile, a brighter berry will come across as young and playful. Try a vivid berry lip with your favorite white shirtdress or peasant-style frock.
Chic nudes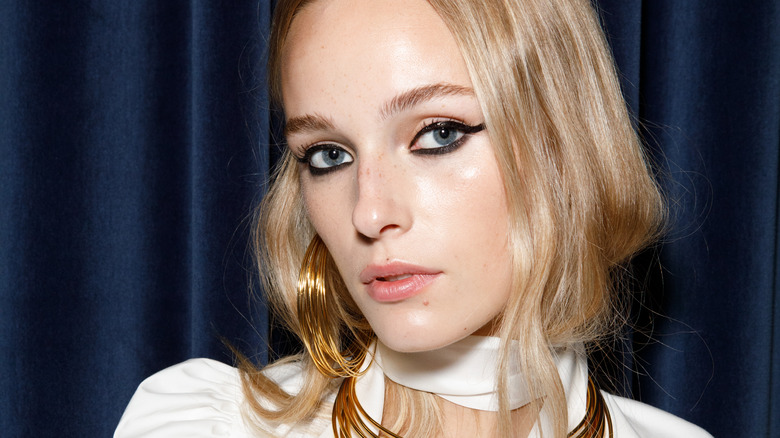 Rosdiana Ciaravolo/Getty Images
Sometimes, less is more. And when you want to play up the elegance of a crisp white dress, the quiet glamour of a nude lip is a subtle way to do it. A white dress already carries a clean, fresh aesthetic, which you can mimic with a barely-there makeup look that will let your dress take center stage.
Those with fairer skin can achieve the effect with lipstick in light pink or rosy shades. Mid-toned complexions should consider peach and tan, while deeper skin tones should try earthy colors like cinnamon or chocolate. Take a cue from your lips' natural color. It may take a little time and experimentation to find the best nude lippie for your complexion, but the results will be worth it.
Sultry mauves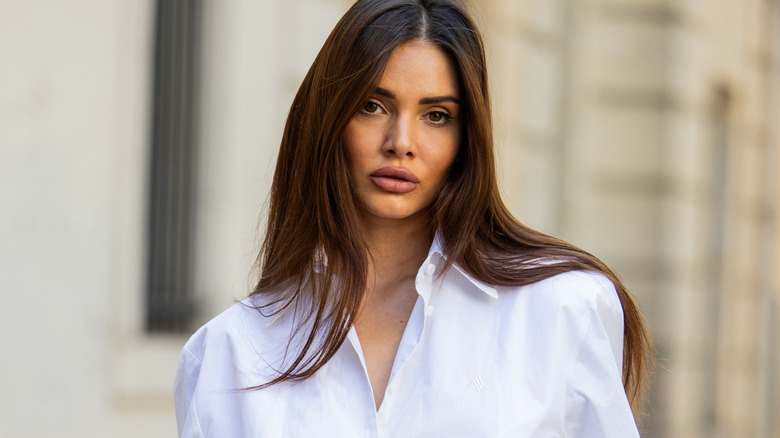 Christian Vierig/Getty Images
There's something inherently sensual about a dusky mauve lip. So when you want to add a touch of tasteful sexiness to your white dress, this family of colors has the solution you're looking for. Already brimming with sultry energy, a matte mauve can look especially lush and velvety against the bright canvas of a white dress. Better yet, the combo of white and mauve keeps the overall aesthetic alluring but classy. It can be easy to take a glam makeup look over the edge, but the sophistication of a fresh white dress will bring it back down to earth. Stealth wealth and quiet luxury girlies, take note.
Cute corals and warm pinks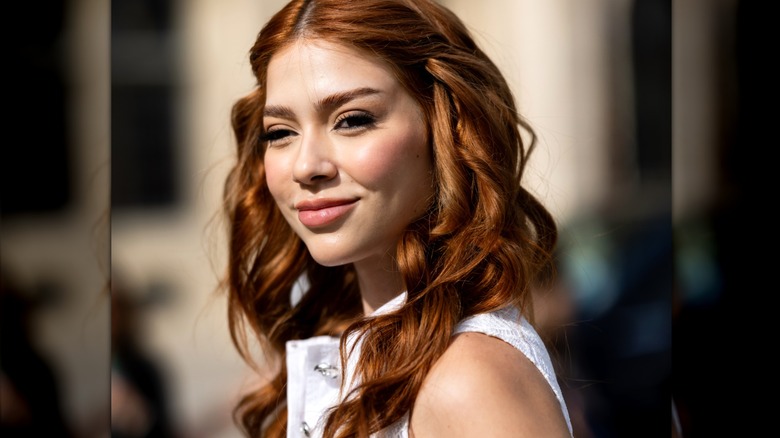 Valentina Frugiuele/Getty Images
Shades like coral, with their orange undertones, are ideal for sun-kissed complexions and dresses in warm-skewing whites. For instance, the coral-adjacent pink pictured here has just enough gentle warmth to set off coppery hair and rosy cheeks. Meanwhile, the pure white dress provides a fresh background that contributes to the overall youthfulness of the look. This inviting pink lip color would also look fantastic with the soft, vintage energy of creamier whites, which would bring a warmth of their own to the total ensemble. Try a coral lip with lacy, off-white sundresses in the summertime or the natural tones of a cozy cable-knit sweater dress in cooler weather.