The Trendy Sneakers That Both Kate Middleton & Meghan Markle Consider Faves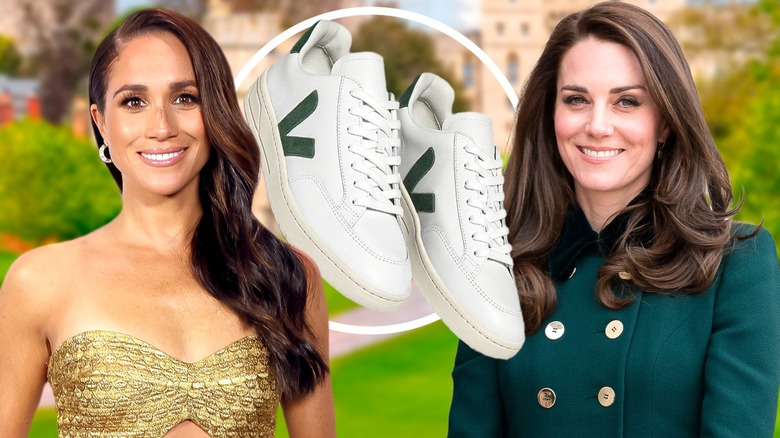 Static Media / Shutterstock / Getty
When it comes to the royal family's wardrobe, there's no shortage of elegant and sophisticated options. You can always count on them to bring out all the stops for dressy ensembles, whether it's ballgowns or tiaras — or both. However, one casual piece seems to be a favorite among the two most fashionable royals. For a few years, Kate Middleton and Meghan Markle have sported their favorite sneakers from the Brazilian company Veja. Known for their more sustainable approach to footwear, this sneaker company has become a staple in both the royal women's casual wardrobe.
While the princess and duchess are known for picking up these white sneakers, they are favorites for many other celebs and style trendsetters as well. Celebrities like Emily Ratajkowski have favored the sneaker and are often spotted wearing one of their many styles. Although they're sneakers, they are sleek and modern shoes that can help elevate your more casual looks. With their many color combinations and designs, it's no wonder Middleton and Markle are fans.
The royal sneaker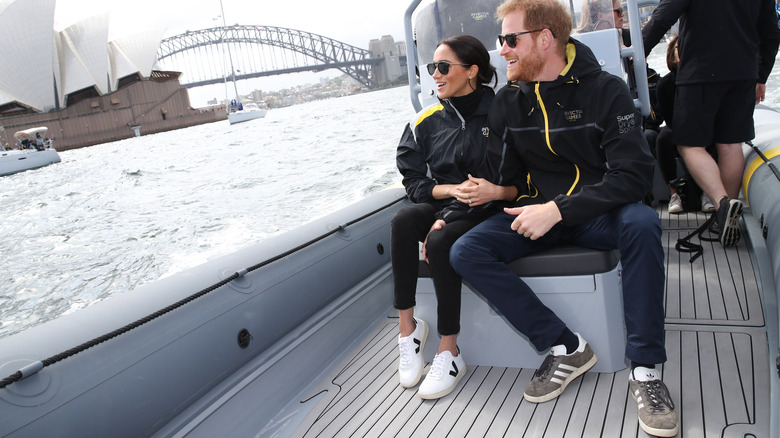 Chris Jackson/Getty Images
Although the rumor mill constantly has Kate Middleton and Meghan Markle at odds, it's safe to say that they do share a common love for their Veja sneakers. On separate occasions, both royals rocked their favorite variation of the shoe, showcasing how versatile and sleek the sneaker is. On one hand, Kate Middleton seems taken by the company's white and gold combination. The future queen consort has rocked this pair on multiple occasions, most recently on her trip to Wales to signify the first anniversary of Queen Elizabeth II's death in September 2023.
On the other hand, Meghan Markle has sported a classic version of the sneaker, opting for the black and white combination. While they are the same style, the Esplar sneaker, the black and white version takes a more traditional approach. Markle has worn this sneaker for a few years, having sported it during her trip to the 2018 Invictus Games in Sydney, Australia. Although it's been several years since that sighting, the Veja sneaker still holds up and is considered a classic choice for those looking for an everyday sneaker.
Styling your Vejas like a royal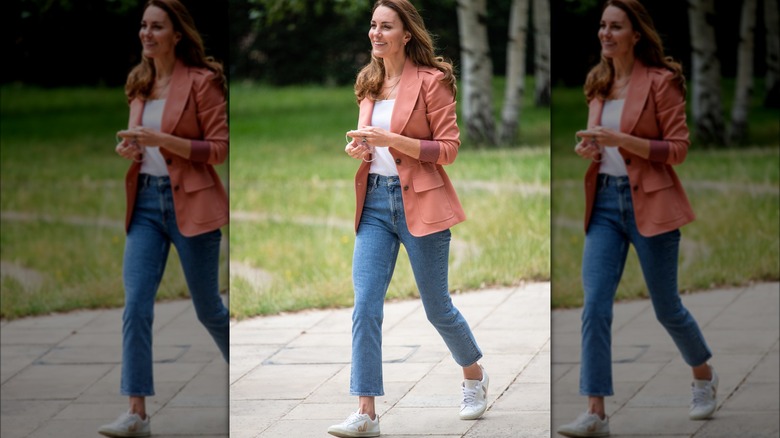 Samir Hussein/Getty Images
While not everyone can achieve royal status, you can still get the royal look by rocking your Veja sneakers with sleek and elegant ensembles. If you're looking to dress up a sneaker look, opt for an outfit combination close to that of Kate Middleton. On various occasions, Middleton has decided to wear her Veja sneakers with trousers and a matching blazer. In 2021, Middleton rocked her pair with this ensemble while visiting Scotland. With a sleek and modern pairing, you can add a casual touch to your dressier 'fits.
You can also dress down your sneakers by opting to style them with other casual pieces. On another occasion, Kate Middleton wore her Veja sneakers with classic blue jeans, a basic tee, and a colorful pink blazer. While this was a more casual style, the overall 'fit was still polished. You can also opt for Meghan Markle's approach of rocking it during more sporty activities, as she did sailing during her 2018 trip. In this case, opt for a darker monochrome look, with the contrasting white leather Veja sneakers adding more visual interest.