Ribbons And Ties Are The Trendiest Fashion Details For Fall 2023 - Our Tips To Pull Them Off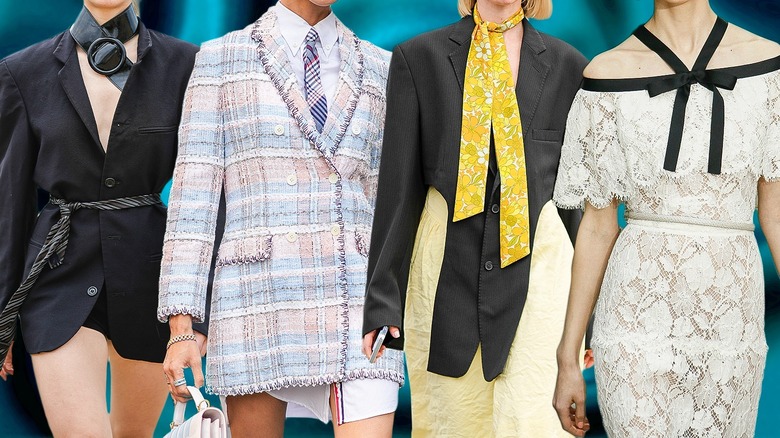 Static Media / Shutterstock / Getty
While we began hearing about balletcore a few seasons ago, its impact will grow strong in fall 2023. Instead of tulle and pink, ribbons and ties are two of the season's must-have accessories and accents to add a unique, feminine touch to our fall looks. Ribbons and ties are great for a statement piece and add a romantic touch to make our fall wardrobes even more magical. Although many will automatically use ribbons as part of a hair accessory, there are plenty more ways to use this detail to create a unique, one-of-a-kind look. Take it from designer Sandy Liang, who demonstrates using ribbons and tie motifs for her clothing and accessory designs on the runway in various ways.
While it's inevitable that ribbons and ties as well as baby doll dresses give off youthful feminine energy, they are practical for just about any style. Even neutral lovers and minimalists can enjoy adding a few of these accents to add some flair to their looks without compromising their original intent. From understated to over-the-top placements, ribbons and ties are accessories you can't miss for the fall season.
Wear as a necktie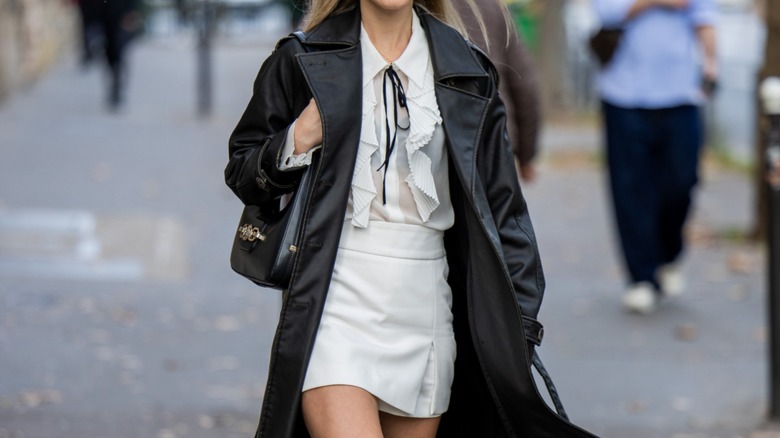 Christian Vierig/Getty Images
While there are a lot of pieces you could borrow from menswear, such as trousers or blazers, a tie is the one that can genuinely give you a statement moment. Instead of a typical necktie, give your accessory a feminine touch with a simple ribbon tie — just a tiny piece of string tied to form a necktie. While dainty and thin, this small tie can give the illusion of a chic necktie that pulls each of your fall looks together.
Or in your hair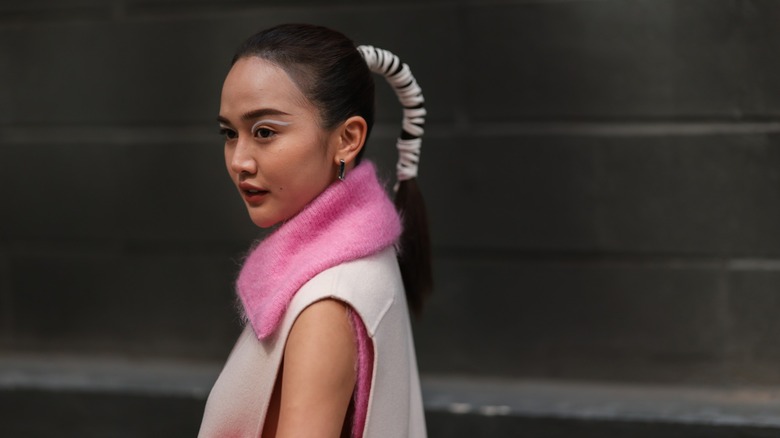 Jeremy Moeller/Getty Images
Use your favorite ribbons by creating an avant-garde hairstyle with them for a true hairstyle statement. As we saw demonstrated by Mirror Palais (via WWD), ribbons are the perfect hair accessory to give your fall hairstyles an extra feminine touch. There are countless ways to incorporate a ribbon in your hair, from wearing ribbon hair clips to tying them inside a braid.
Style as a belt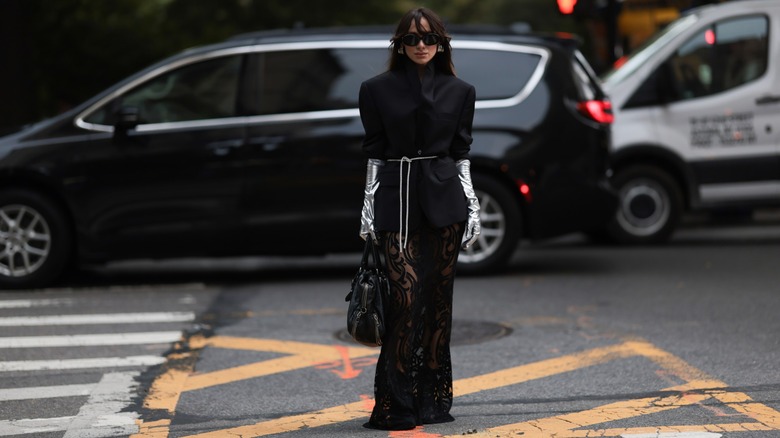 Jeremy Moeller/Getty Images
Just because a piece of ribbon is narrow and thin doesn't mean it can't function as a belt. While there are plenty of options for a belt, ribbons can give your fall looks an exciting touch. Add a ribbon belt on top of your coat to cinch it, or wear it like a regular belt for a tiny feminine hint. Either way, a ribbon or tie belt allows you to spice up your looks without altering your overall style.
How about as a chic skinny scarf?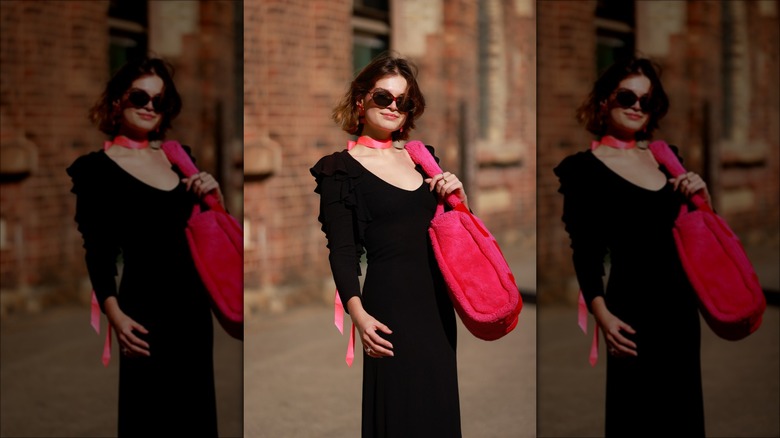 Hanna Lassen/Getty Images
Fall is the time to bring out your favorite scarves for some extra texture and warmth. While chunky scarves are much better suited for heat, a ribbon scarf is more fashion-forward. To get this look, place your ribbon scarf around your neck like you would any skinny scarf. Tie a bow on the back for a cute hidden detail highlighting any open-back blouse or dress. Once again, Mirror Palais (via WWD) showcased this trend during the brand's Spring/Summer 2024 collection, showing how ribbons make for an easy alternative for neck accessories.
Opt for balletcore details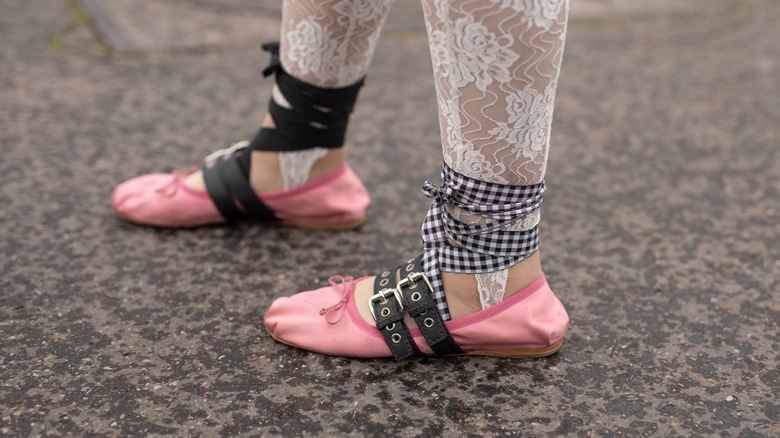 Matthew Sperzel/Getty Images
Taking a cue from ballerinas, another way to showcase your ribbons is to use them as a continuation of your shoe. Since ballet flats have become more prevalent in recent seasons, it's a great time to add ribbons around your foot for a tie-up option. You can also purchase flats with this detail, making for an easy way to add that ballerina touch to your fall looks.
Use as an accent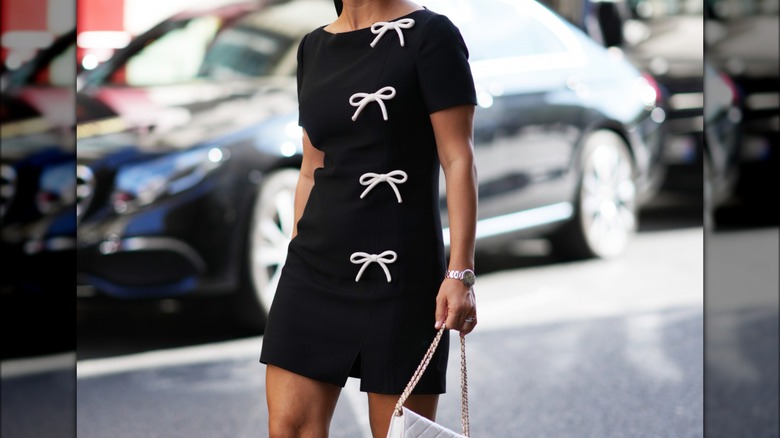 Edward Berthelot/Getty Images
Forget sequins or embellishments; ribbons are the stellar accent piece for any look. While ribbons and ties are perfect for hair and neck accessories, they also can help give your outfits an added statement. Opt for pieces that incorporate ribbons throughout for a feminine fall look. You can also DIY it by merely sewing a few pieces of ribbon into an existing piece that needs some spice.