Vertical Contouring: The TikTok-Approved Hack For Round Face Shapes
shurkin_son/Shutterstock
TikTok is the place to find every type of hack and tip possible. From cleaning hacks to organizational tips, there is something for everyone. Unfortunately, some of these hacks can be dangerous or just not work. However, once in a while, a good TikTok tip can make your life easier. One of the most recent makeup hacks is a lifesaver for those with round faces looking to have the appearance of more chiseled cheekbones.
Face contouring isn't a new thing. Done right, it typically adds a darker shade to the hollows of your face to create shadows. These shadows can give your face defined angles. Most tutorials show people using horizontal lines on the face to achieve a successful contour. For those with round face shapes, typical contouring can be an unsuccessful process that doesn't achieve your intended look, but with this hack, you can create the flawless look you want. TikTok users are showing that perhaps all you needed was to switch up the direction of your contour to get a more defined application.
How to vertically contour
Getting a vertical contour is easy and doesn't take many more steps more than you probably already do when contouring. With over 5.3 billion views on #verticalcontour on TikTok, plenty of tutorials show how to achieve this chiseled look. Start by making three or four lines right below your cheekbone, depending on your face width. This area is the same place where you typically do a horizontal contour. Blend the lines thoroughly to avoid any streaks.
Once the product is completely blended, apply any excess product on the jawline area. This way, the lines don't abruptly end on your cheek, making for a smoother, natural-looking transition. If you're using a powdered bronzer or contour, avoid putting too much product onto the jawline, as this can end up looking more like a beard. The key to getting the best contoured look is using fewer products and picking the right colors. While we are used to going in with our contour until we reach our desired look, it's easier to apply more than remove excess.
Choosing the right contour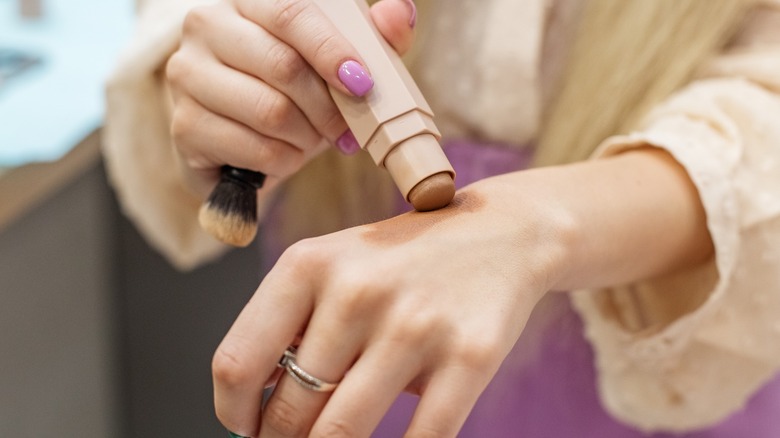 Olha Romaniuk/Getty Images
Not only is your blending ability crucial for a flawless contour, but you also need to be mindful of the characteristics of your makeup product. You'll need to pick a contour shade that isn't too dark or light, as it will be more obvious than with horizontal contouring. The key is to pick a shade that is very close to your natural color, as this will diminish any stark contrast and won't give you a muddy look. As makeup artist Taylor Chanel points out to Bustle: "You'll want to use a cool-toned contour to truly mimic a natural depth, but it can't be too dark, or else it'll look like a 5 o'clock shadow." 
As for your contour formula, any type is acceptable if it works well with your skin type. Dry to combination skin types can use creamy producgts for a dewier finish. Those with oilier skin should reach for powder contour to keep the application matte and avoid having it move throughout the day.