Adding Fall Layers To Your Jeans And T-Shirt Can Change The Vibe Of Your Outfit - Here's How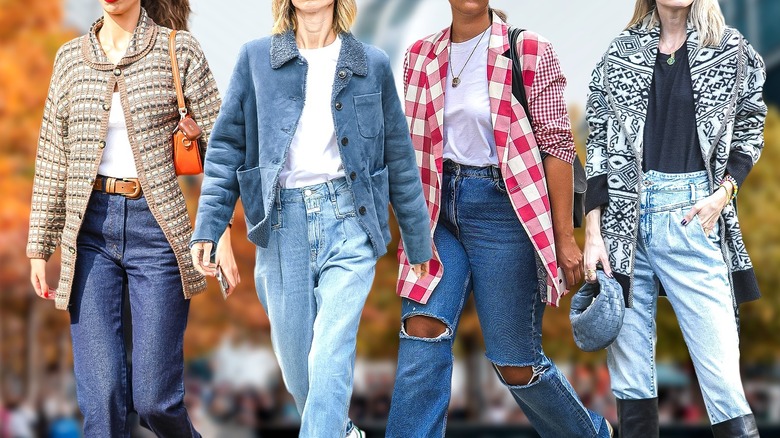 Static Media / Shuttersock / Getty
Fall is officially here and winter is fast approaching. The arrival of these colder weather seasons ushers in the holiday season, the opportunity to slow down and turn inward, but above all, it gives you the perfect excuse to dress up your favorite comfy jeans and t-shirt ensembles with layers. You can create an endless number of entirely different styles out of the same outfit simply by swapping out the outermost layer. 
Jackets, flannels, blazers, coats, and sweaters are all available to you when you're looking to add an element of glam, edginess, elegance, professionalism, or sex appeal to your basic jeans and T-shirt 'fit — the options are endless. If you struggle to put together layered outfits, take a peek at this curated list of layered looks that all feature jeans and a T-shirt as a base for inspiration. Before you know it, you'll be putting together fall combos like a pro.
Classic leather jacket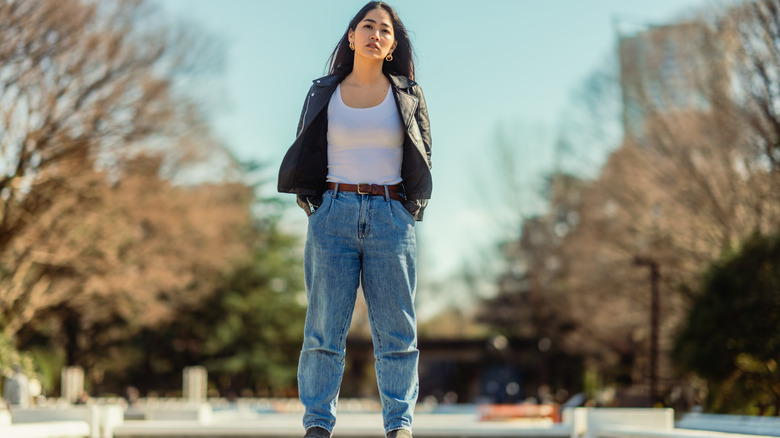 Recep-bg/Getty Images
For peak effortlessly cool vibes, you really can't go wrong with a pair of jeans, a white T-shirt, and a classic black leather jacket. If you're one to go against the grain a bit, look to mix up your neutral 'fit by wearing a brown belt or nude shoes.
Cozy flannel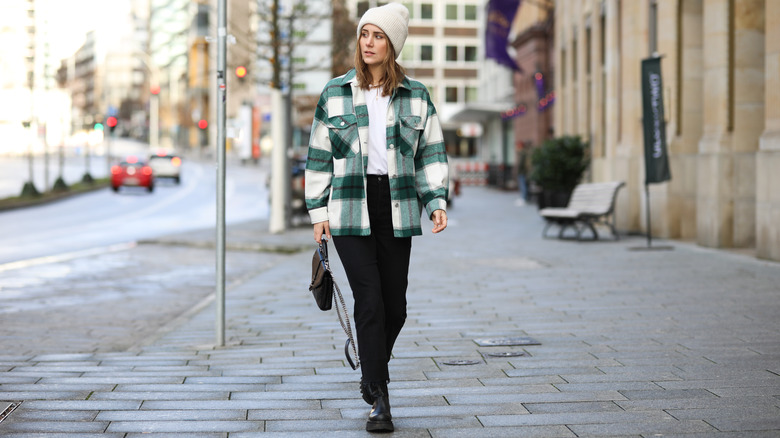 Jeremy Moeller/Getty Images
Fall is the official season of flannel. Find a flannel shirt or jacket that fits your desired color palette and pair it with the jeans and T-shirt of your choice for a style that's as cozy as it is cute. Add a combat boot for an edgier aesthetic or Ugg boots for a throwback — but no less comfy — look.
Classy blazer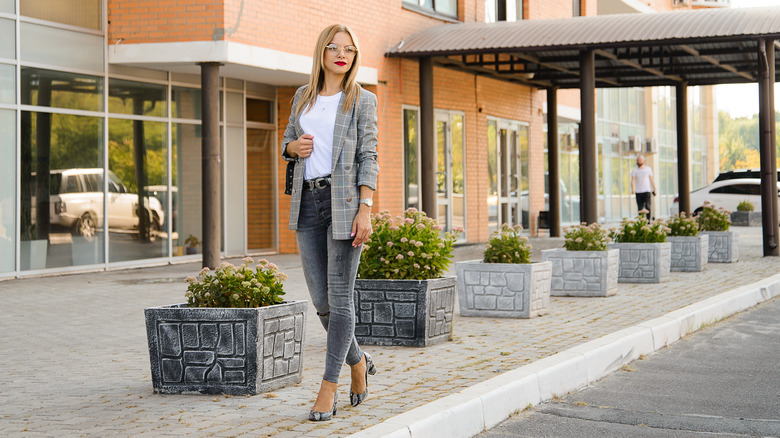 Vitort_a/Getty Images
In love with your jeans and T-shirt but facing an event that requires a more elevated, professional look? Simply reach for a blazer. Like magic, your outfit will transform from ultra-casual to ready for just about anything. Pair with pumps for the ultimate boost in class and confidence.
Multi-layered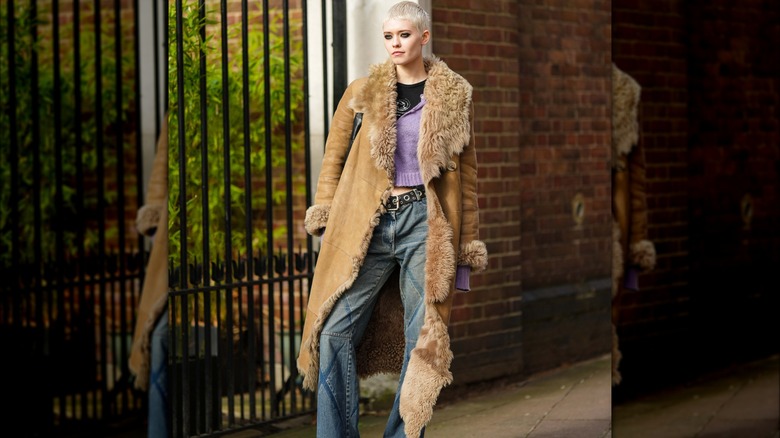 Edward Berthelot/Getty Images
Going for a '90s grunge aesthetic? Add more than one layer to your fall 'fit. A T-shirt under a cardigan, under a vintage suede coat? Yes, please. A T-shirt under a flannel, under a leather jacket? Absolutely. Play around with mixing different colors, textures, and patterns until you land on a combination that represents your personal style. 
Double denim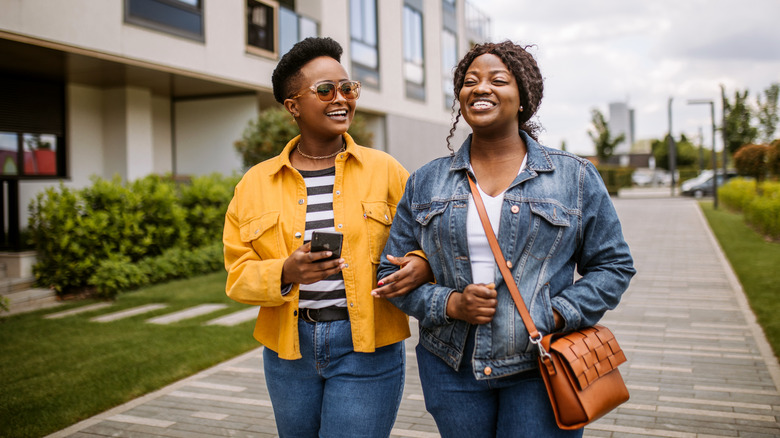 Hobo_018/Getty Images
Too stressed out by the thought of finding matching pieces for your layered outfit? Double denim is always a win. Start with your favorite jeans and T-shirt combo, then simply add a denim jacket. You can match the wash of your jeans for a monochromatic look, opt for a slightly different wash to add some contrast, or pick your favorite color in denim for extra pizazz. 
Timeless tweed jacket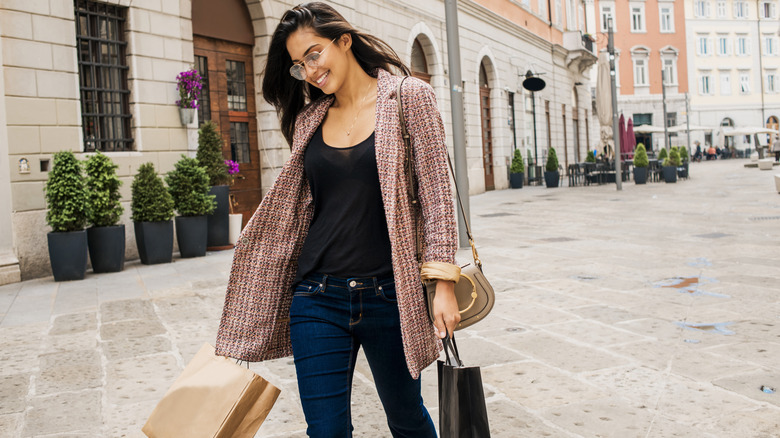 Daniloandjus/Getty Images
When you have the urge to look a little extra put together but can't fathom taking off your comfy jeans and T-shirt, a tweed jacket is exactly what you need. Are you a college professor running late to class? An artist headed into the studio to create your latest masterpiece? On your way to grab a second breakfast? That's for the rest of the world to wonder.