Latex Lips Are About To Be Everywhere - Here's How To Get The Look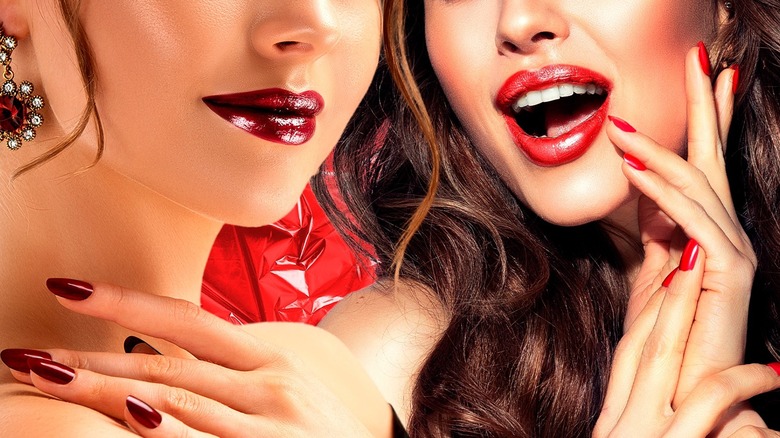 Static Media / Shutterstock
We may receive a commission on purchases made from links.
Dry-lipped babes, it's time to rejoice. Matte lips' time in the sun is finally ending and just in time for the colder, drier weather to arrive. Taking its place is, basically, the polar opposite — latex lips. Latex lips are so glossy and high-shine they take on an appearance reminiscent of latex. High-shine lips have been at the center of attention before — most notably, in the '70s, '80s, and late '90s — and we're happy to see them shine once more.
If you've been firmly in the matte lip camp for years, the idea of changing your entire lipstick game can feel a little intimidating at first. Never fear — we've got your back with tips on how to create the perfect latex lip look along with photos of all kinds of high-gloss aesthetics for your personal inspiration. With our help, your lips will be shining bright like a diamond in no time. 
Exfoliate lips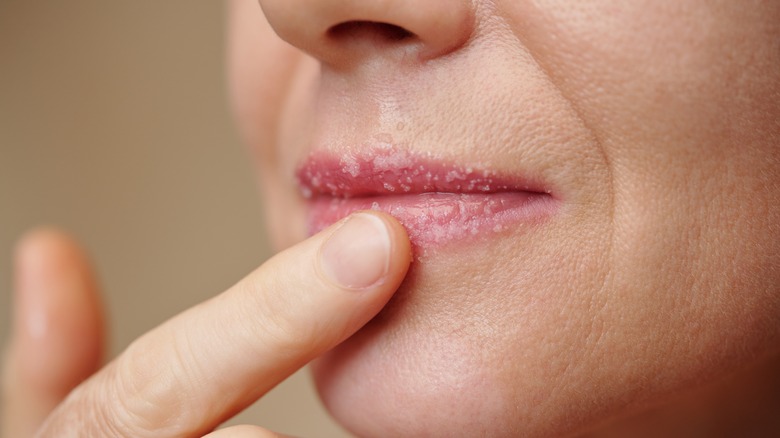 Dragon Images/Shutterstock
When you think of lipstick, your mind probably jumps to color choices. Choosing your color, however, actually isn't the first step to creating a latex lip look. First, you'll need to exfoliate your lips so you don't magnify their imperfections with shine. Massage your lips with a lip-safe scrub or warm washcloth to remove dead skin. 
Moisturize lips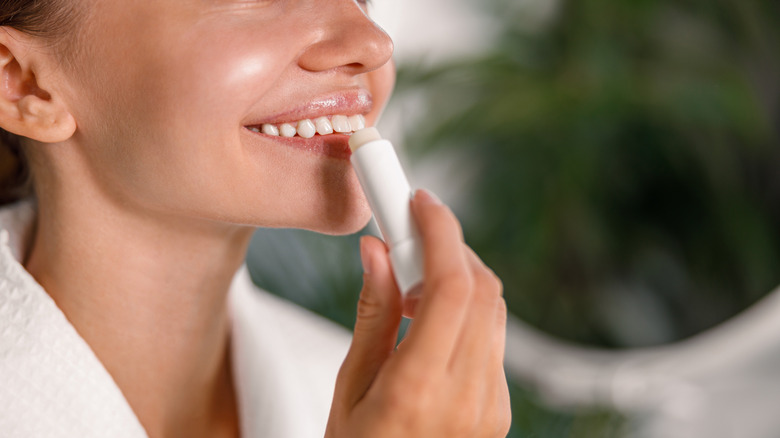 Yaroslav Astakhov/Getty Images
After you've removed any dead skin or unwanted texture from your lips, it's time to moisturize. Apply a small amount of lip balm, allow your lips a few minutes to absorb as much hydration as possible, and then blot away any excess moisture so it won't interfere with the adhesion of your lipstick. 
Line lips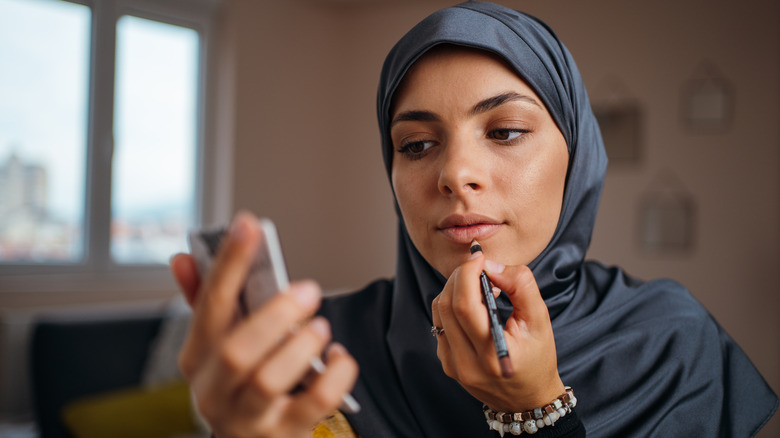 Johnce/Getty Images
Every type of lipstick has its potential downfalls. Matte lipsticks tend to dry out your lips; high-gloss lipsticks tend to migrate beyond the lips. To prevent your glossy lipstick from bleeding or feathering, apply lip liner before putting on your lipstick to create a barrier. You can match your liner to your lipstick, go a shade darker for more definition, or choose a clear liner for function only. 
Apply high-gloss lipstick
The easiest way to achieve a true latex lip is to get your hands on a product designed to deliver a high-shine, high-pigment look. By now, many makeup brands have jumped on the bandwagon, including designer brands like Urban Decay and drugstore brands like Wet n Wild. 
Make your own shine
If you can't fathom buying a new lipstick when you've already invested in so many, don't worry; there is an alternate route to latex lips. Simply apply your usual matte lipstick and allow it to dry. Then, just apply a high-shine gloss on top to transform it. 
Touch up lips
The tradeoff for switching to a more moisturizing lipstick formula is accepting the fact that it just won't last all day the way some matte formulas can. Be sure to bring your lipstick and/or gloss with you so you can touch up your latex lips once or twice throughout the day.