We Already Know What The Hottest Color Of Spring 2024 Will Be
Static Media / Shutterstock / Getty
It's no secret that red is the "it" color of the fall. However, there is a new hue on the horizon looking to take over. Black cherry, the darker cousin of fiery red, will dominate everything from high-fashion to day-to-day looks in spring 2024. This color is no stranger to the spotlight, as we have already seen black cherry nail trends that exude a luxurious and moody vibe. Although the spring season is still ahead, now is a great time to start embracing this shade.
Since black cherry is essentially a darker version of red, it can be easily incorporated into your existing wardrobe. Brands like Versace and Tom Ford have already started using the black cherry hue to create elegant and lavish looks that will be perfect for spring and summer. Not only is this shade a certified trend, but it'll be the perfect way to take the quiet luxury vibe into the new year. With its rich and sophisticated hue, there's no doubt that black cherry will be even more popular in 2024.
Use black cherry to add a pop of color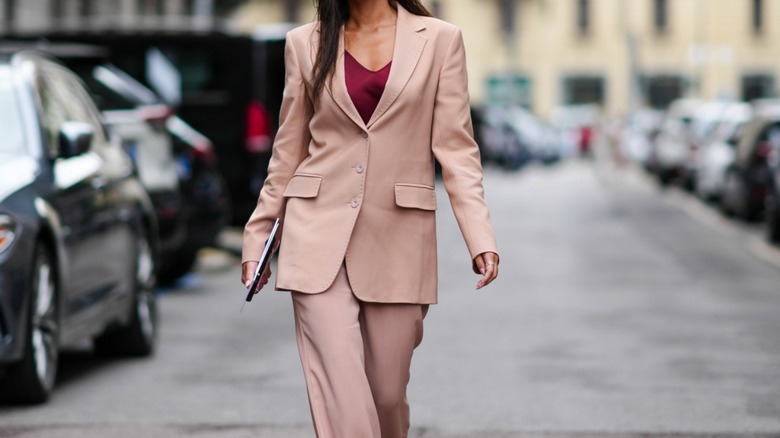 Edward Berthelot/Getty Images
As a powerful shade, black cherry can easily dominate any look. If you want to slowly incorporate this hue into your existing outfit rotation, consider wearing it as an accent color under a blazer or to complete your favorite pantsuit. Don't feel committed to overpowering black cherry pieces that take over your wardrobe, and instead opt for tank tops and bra tops that'll give you the perfect hint of color.
Make a statement with black cherry outerwear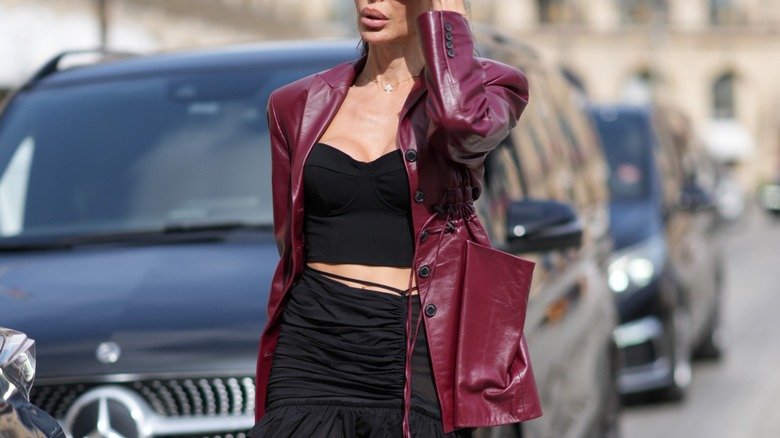 Edward Berthelot/Getty Images
Although we typically shed many of our winter layers when spring bursts onto the scene, outerwear still plays a role in the cooler days leading up to summer. Black cherry jackets, especially in rich faux leather, can help ease the transition from snow to sun and showers. Pair them with darker or lighter shades to achieve different effects. You need not look further than the Saint Laurent RTW Spring 2024 collection for proof of the power and versatility of a black cherry jacket.
Black cherry dresses combine drama and romance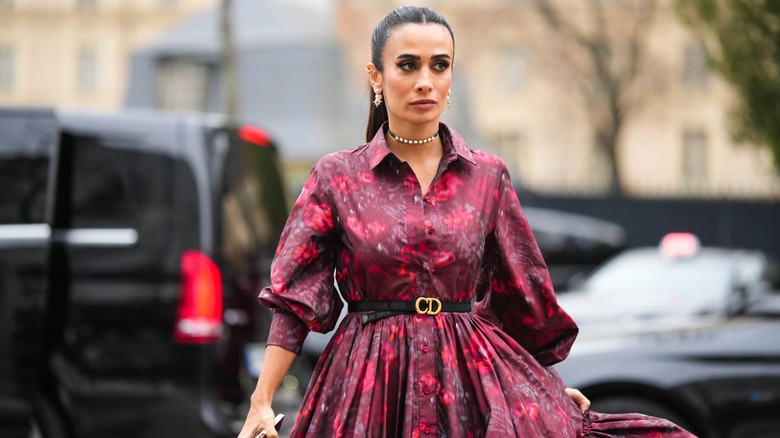 Edward Berthelot/Getty Images
The spring always ushers in the return of sundresses and floral prints. Selecting a black cherry hue will add a luxurious twist to these classic looks as the seasons change. Take it from Ganni, which showcased a long, sheer black cherry dress as one of its standout pieces for the Spring 2024 collection. If you prefer the darker shades of fall and winter to the pastels that emerge when the flowers bloom, then this trend is for you.
It's always the right time for a monochrome moment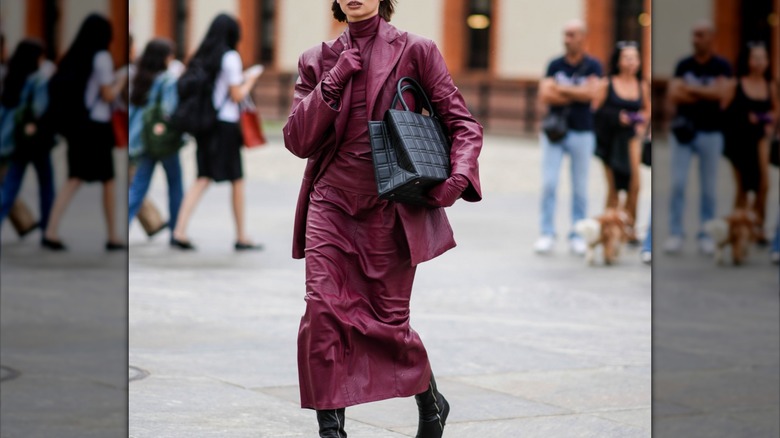 Edward Berthelot/Getty Images
Styling a new color, especially those of a rich and bold variety, can prove challenging. Take the easy route with head-to-toe black cherry to strike an understated yet opulent note. Darker than the popular fiery red of fall, black cherry works beautifully as the foundation of a monochrome 'fit, as it won't overwhelm you and still looks polished. Many designers, such as Valentino, opted for this setup in their high-end collections to showcase the hue's charms.
Dip your toe into the trend with black cherry footwear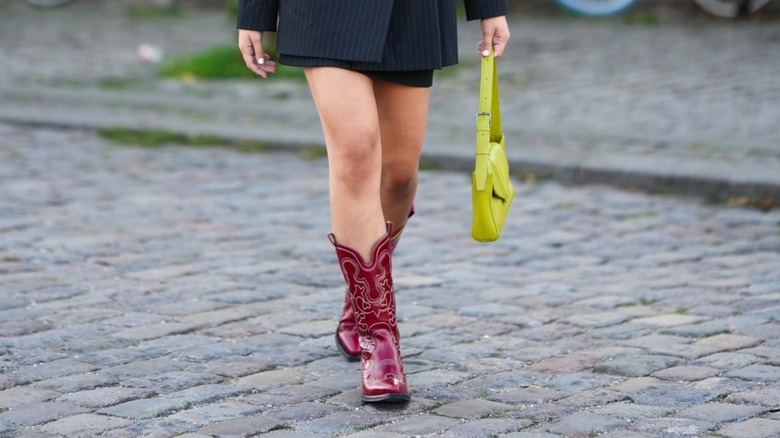 Edward Berthelot/Getty Images
Incorporating black cherry into your footwear will let you ease into this trend without a full commitment. You can easily make the shift from 2023's vibrant red with a pair of boots, pumps, or flats, allowing you to experience the shade and observe how it complements any other hue in your closet. From there, you can decide to go all-in on black cherry or keep it as an accent color.
Utilize black cherry pants to spice up your neutrals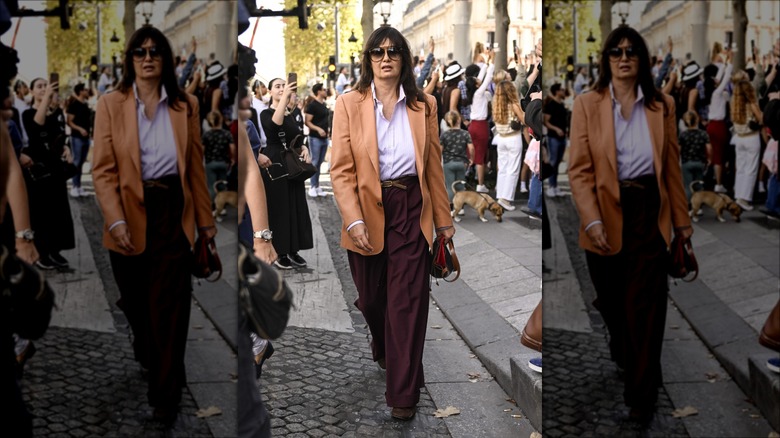 Daniel Zuchnik/Getty Images
Use decadent black cherry bottoms to create an elegant yet vibrant wardrobe for 2024. Tired of donning the same neutrals day after day? Try a pair of trousers in luxurious black cherry to add some visual interest to your tried-and-true looks. The hue can infuse some much-needed energy into your outfits, especially your workwear, while still maintaining a sophisticated theme.
Accessories: the black cherry on top of your look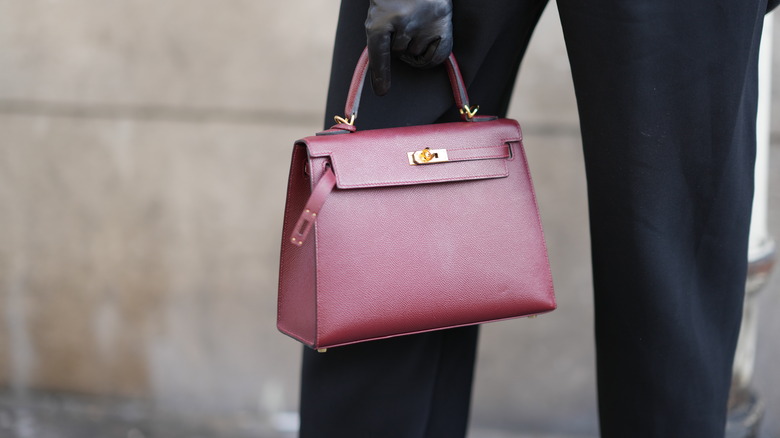 Edward Berthelot/Getty Images
Accessories like hats, belts, or purses serve as a simple way to add color to your wardrobe without having to fill your closet with a bunch of new pieces. These add-ons can revitalize an outfit that has lost its luster after multiple wearings. Or, as Hermes demonstrated in its Women's Spring-Summer 2024 runway show, black cherry bags make the perfect finishing touch for those who have embraced the trend with monochrome 'fits.