Elevate Your Pigtail Hairstyles With These Celeb-Approved Looks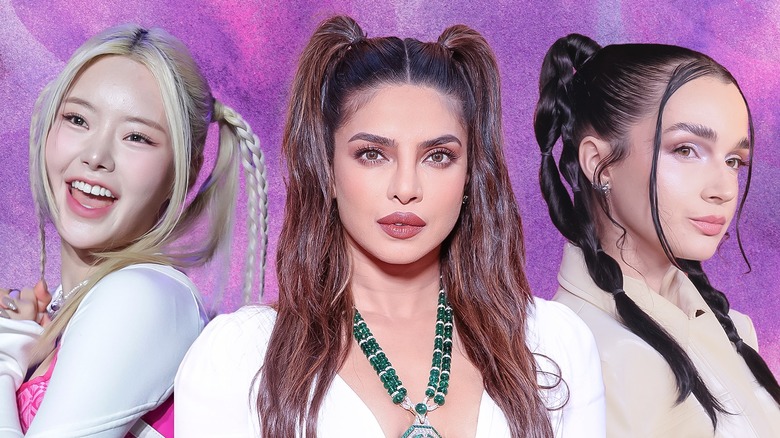 Static Media / Shutterstock / Getty
Pigtails aren't just for kids, but they do add a little fun and innocence to your look. While this cute hairstyle can be as simple as putting two tails in, one on each side, there are all sorts of other ways to wear the 'do. Similar to Wednesday Addams, you can wear your pigtails in braids straight down the front of your shoulders. Like vintage Britney Spears, you can wear them with cutesy scrunchies or go for a more fierce look like Harley Quinn.
Like many, you may be wondering as to why two tails, one on each side of your head, are called pigtails anyway. Pigs surely don't have two tails, so what's the history? According to Wonderopolis, back in the 1600s, when people were twisting tobacco leaves, they thought they resembled the curl of a pig's tail, and the name was born. When people started putting their hair in what we now call pigtails, it's said to have resembled these twisted tobacco leaves. The more you know!
Now that we know why they are called pigtails, let's talk who. If there's anything Wednesday, Britney, and Harley have taught us, it's that celebs rock pigtails, too. Join us as we take a look at some stunning ways to wear them inspired by some of Hollywood's most fashion-forward stars.
America Ferrera wears braided pigtails with style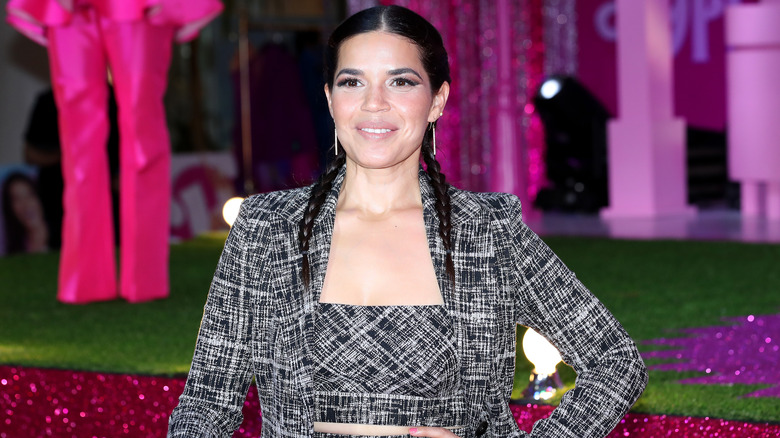 Han Myung-gu/Getty Images
America Ferrera is one of Barbie's best friends, and looking at just how stylish the "Ugly Betty" star looks in braided pigtails makes us want to wear them every day. The slicked-back look with perfectly symmetrical braids on both sides has us wondering who did her hair for this event because it's absolute perfection. This is a pigtail look that goes far beyond the childhood style and all the way into sophisticated.
Get some lift on them like Tina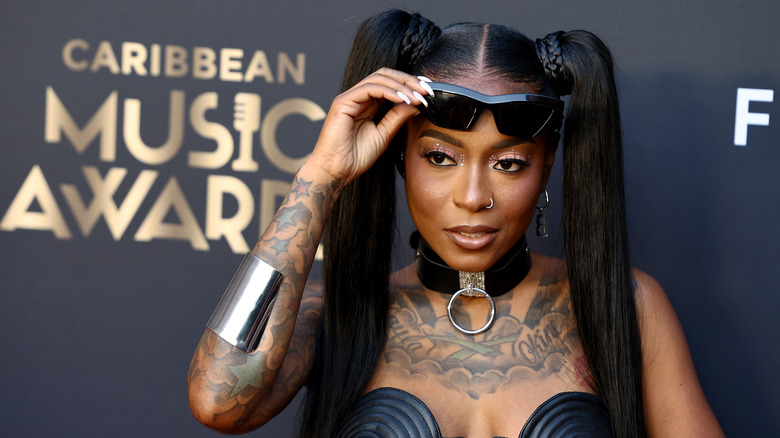 Arturo Holmes/Getty Images
Tina (fka HoodCelebrityy) looks like a glam rockstar in her elevated pigtails. You can see the knot in her hair at the base of the tails — that's the key to getting the most lift from this look. Her straight hair adds a fierce vibe, rather than looking cutesy and fun like a little kid would wearing this 'do.
Poppy looks stunning in bubble braids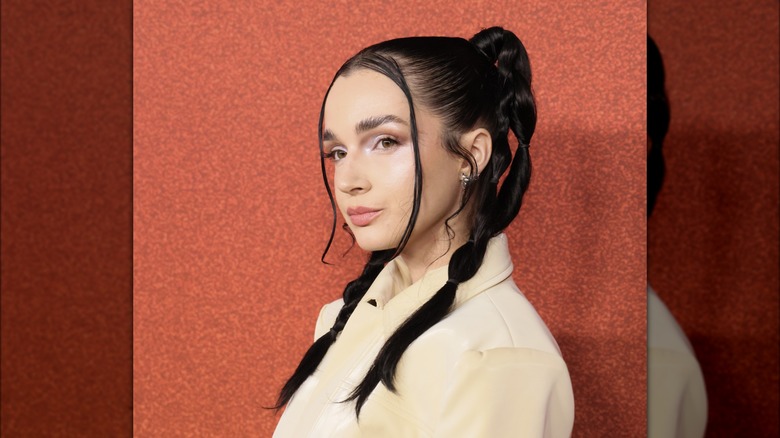 Rodin Eckenroth/Getty Images
Poppy shows another look that could pass in the office but still offers the fun feel of pigtails. What we like the most about these tails is the clean look that bubble braids offer — it has the appearance of braids without needing to actually braid your hair. We also love that Poppy kept some strands in front to frame her face.
Christina Aguilera looks like an anime queen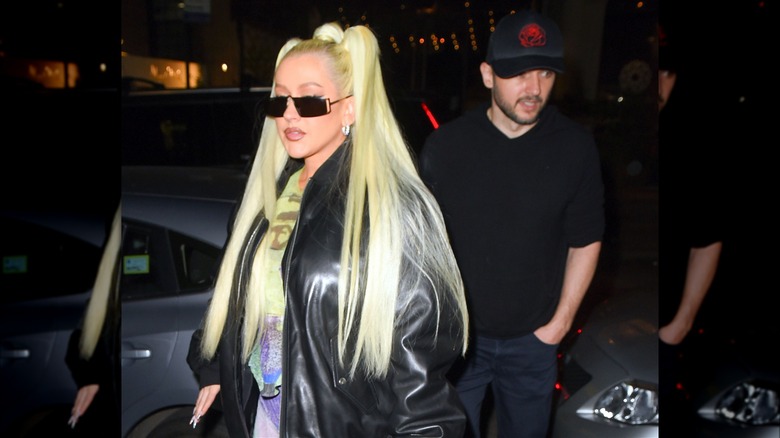 Adrian Edwards/Getty Images
Channel your inner Christina Aguilera with some fun ponytails that give us anime vibes. You can easily see that the singer is donning three pigtails instead of two, which makes it a unique look. If you want something that stands out from the crowd, we suggest trying this look out for something that will definitely get people talking.
Priyanka Chopra Jonas makes messy look great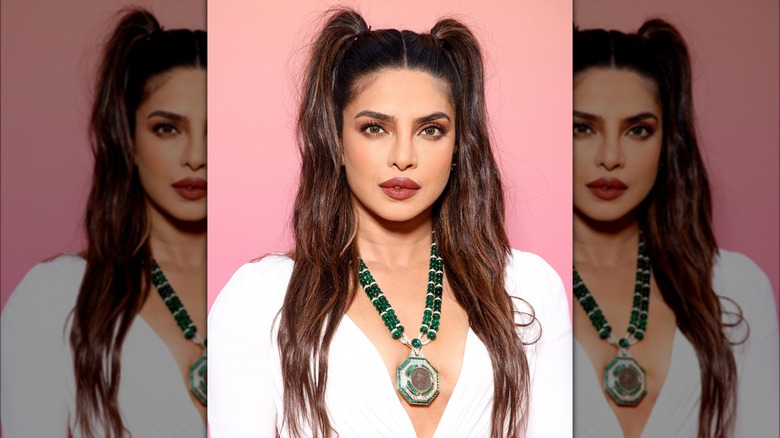 Daniele Venturelli/Getty Images
Priyanka Chopra Jonas makes the basic kid-style pigtails look like a more refined hairdo. Rather than making it look like she's trying to relive her youth, she looks ready to head to the nightclub in absolute style. This is a fantastic look that feels more free-spirited and hippy-like and could go from a day at home cleaning the house to a night on the town with the girls.
Keena shows that braids and ponytails combine well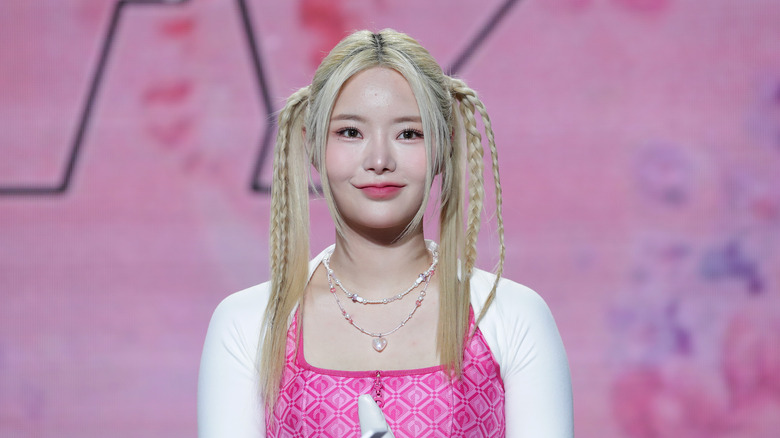 Han Myung-gu/Getty Images
Now, we don't want you to get the wrong idea — we adore the cutesy, kid-like looks that you can score with pigtails. Why act or look your age when you can look younger and have more fun with your hair? We love Keena's youthful pigtail look that combines basic tails with multiple braided tails for a look that will make you want to spend some time hanging out on the swings in your local park. 
Madison Bailey shows how cute little bun pigtails are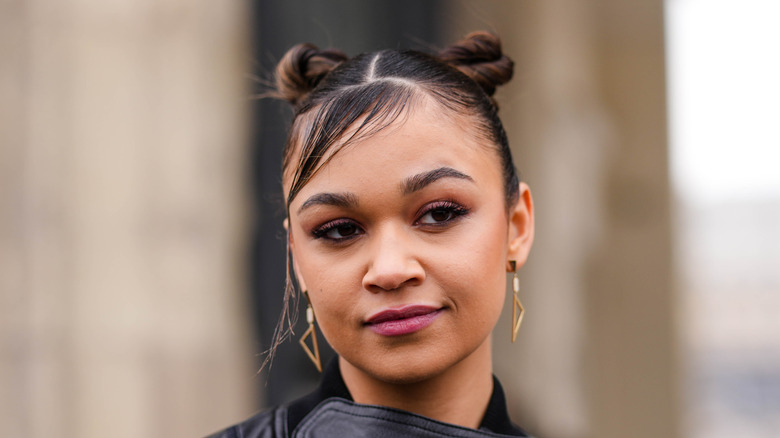 Edward Berthelot/Getty Images
Madison Bailey proves that pigtails work in shorter hairstyles and in buns as well. This style is so fun and makes it look like the wearer has teddy bear ears. While it has a cute connotation, this is still a look that can go from the office to a night out. 
Clara Berry wears them with a twist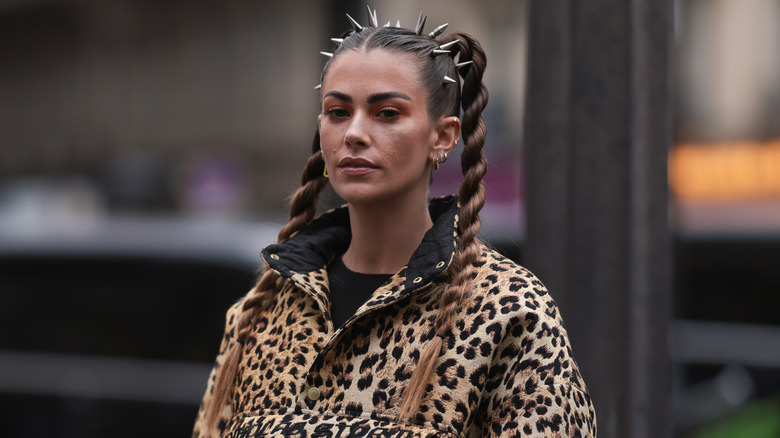 Jeremy Moeller/Getty Images
Fashion model Clara Berry's pigtails don't look the easiest to accomplish, but the funky spirals make us think of a rave night, dancing in neon. Of course, the spikes adorning her hair also add to this edgy vibe. This is most definitely a look you want to save for a day off or some time out and about — unless your place of business loves unique looks, of course!
Madonna's looped pigtails are iconic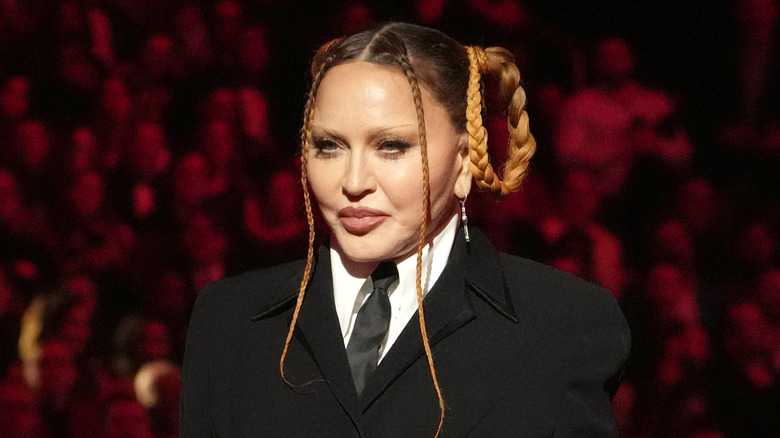 Kevin Mazur/Getty Images
Madonna will always be a style icon, and these braided and looped pigtails are a testament to her ability to always be fashion-forward. Paired with a suit, this look is sure to turn heads and work in lots of settings. We also love that she opted to braid the bangs framing her face. This is proof that there are so many things you can do with braided hairstyles.
Domi shows us how to accessorize the pigtails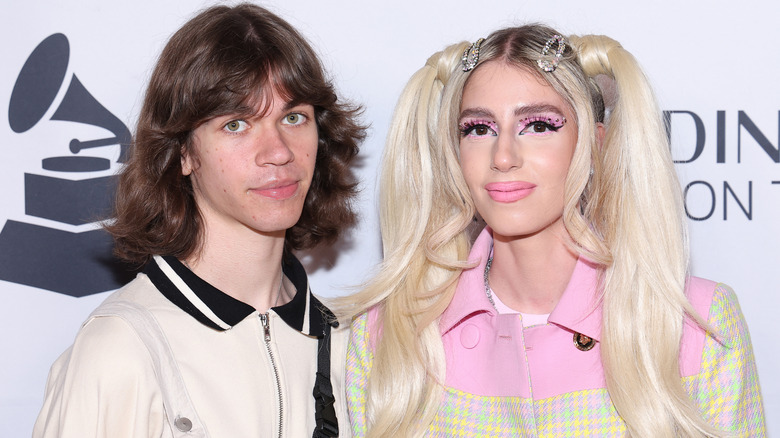 Paul Morigi/Getty Images
Domi gives the Harley Quinn-style pigtails an elevated look with those glittery barrettes. The cute curls in those bangs are to die for as well. This is definitely a pigtail style that will make you look — and probably feel — younger, and we're all for it.
Double up the pigtails like Anna Trevelyan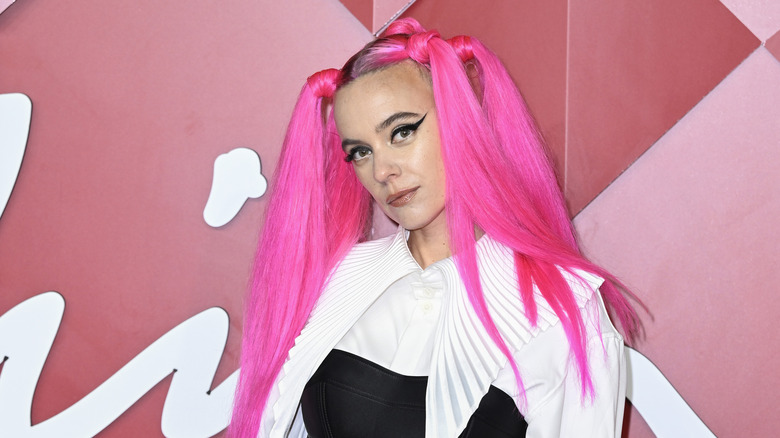 Gareth Cattermole/bfc/Getty Images
Why stop at three pigtails like Christina when you can do four like Anna Trevelyan? We think this ultra anime look is super fun and is one you can rock whenever you're heading out to have some fun. It doesn't appear from the angle of this photo that there is any exact symmetry to the tails, so just divide your hair into four equal parts and put them in tails. Easy!
Anya Taylor-Joy shows off elegant pigtails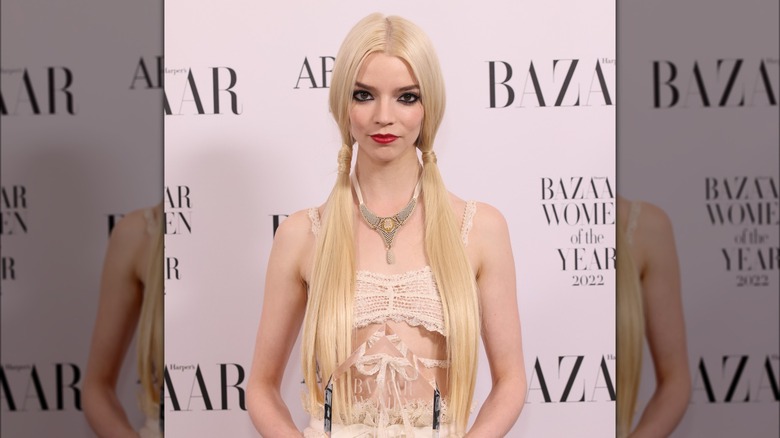 Dave Benett/Getty Images
Anya Taylor-Joy shows how sweet, delicate, and elegant pigtails can look depending on their positioning. She leaves the crown of her hair loose, rather than opting for casual bangs, and then puts the pigtails in a low setting. This angle makes them look far more professional than higher-set pigtails, so you could wear this look literally anywhere without getting any side looks.
Talia Mar's loose wave pigtails are to envy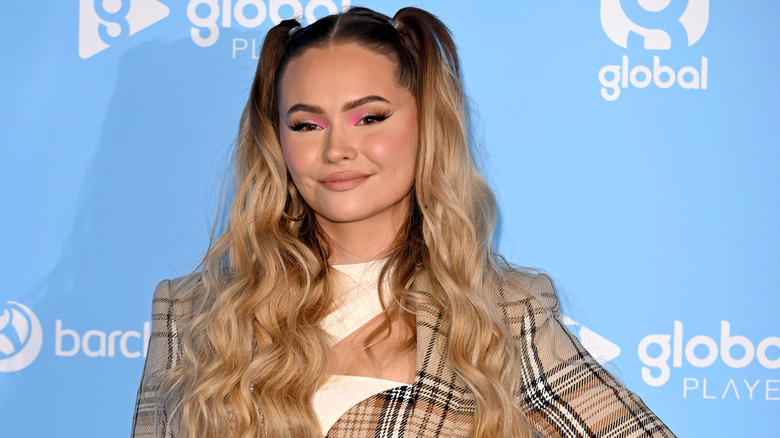 Karwai Tang/Getty Images
Talia Mar's 'do makes us want to get perfect beach waves and put our hair up into pigtails ASAP. The fullness of her hair makes the pigtails far less drastic than they could be, so what is often a cute and youthful look has a bit more poise.
AleXa's pigtails are big, blue, and bold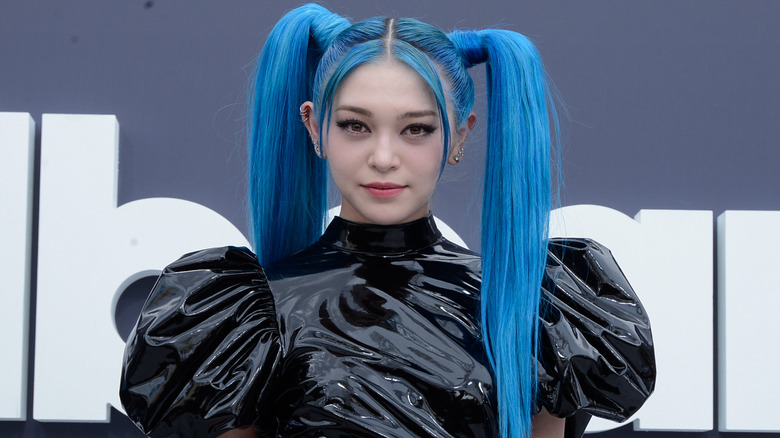 Mindy Small/Getty Images
Everything about AleXa's look makes us want to dance at a goth night. From that shiny poofy-sleeved dress to the electric blue hair, this look is divine. She's on our list because we love the big knots she put in those  pigtails to really give them some volume and make it impossible not to notice them — and yet they don't make her look like a fifth grader. Instead, she looks like a style icon ready to walk the runway.
Harriet Rose makes messy braids look sweet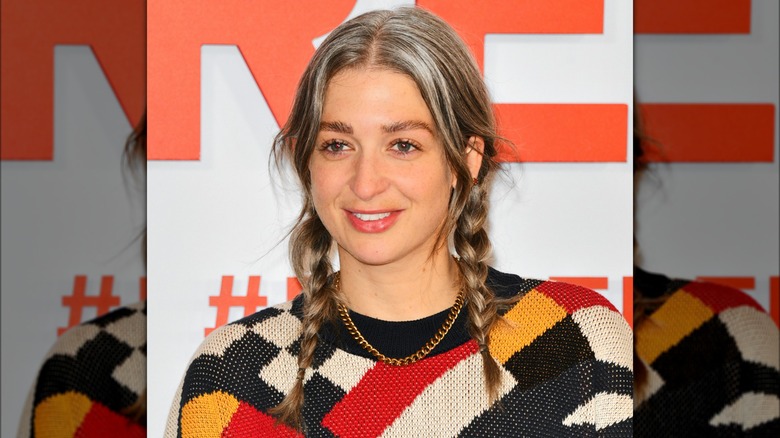 Dave Benett/Getty Images
Your pigtails don't have to be smooth and perfect to look fantastic — take it from Harriet Rose. We love how the loose bangs and messy braids give the ultimate casual look. It makes it feel more doable for those of us who don't have the patience for perfection when it comes to styling our hair.
Xenia Adonts makes skinny pigtails look cool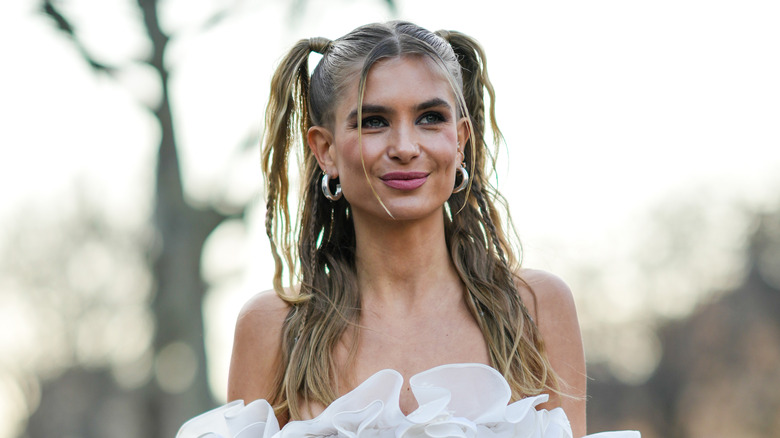 Edward Berthelot/Getty Images
You don't have to put all of your hair up into those pigtails, as we see with Xenia Adonts' fun style here. If you're trying to get used to the pigtail look, why not put a couple of slender tails in on the sides while leaving the back of your hair in place? The influencer also kept her bangs dangling down, so the look has a messy, "I got out of bed looking this good" vibe to it that we love.
Bella Poarch in smooth waves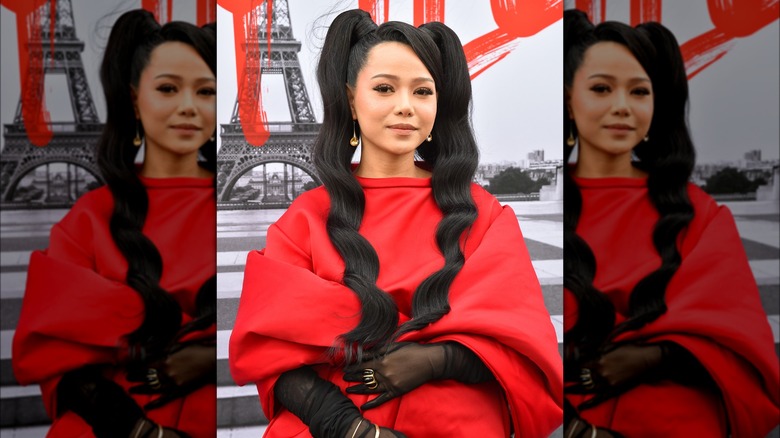 Stephane Cardinale - Corbis/Getty Images
Bella Poarch went for the big, high-set pigtails, but what makes hers stand out from the others on this list are those perfectly polished waves — much like her overall look in this image. We can tell she's not one of those folks who like to run their fingers through their hair, or she'd definitely have some more flyaways!
Victoria Platt shows off her curly pigtails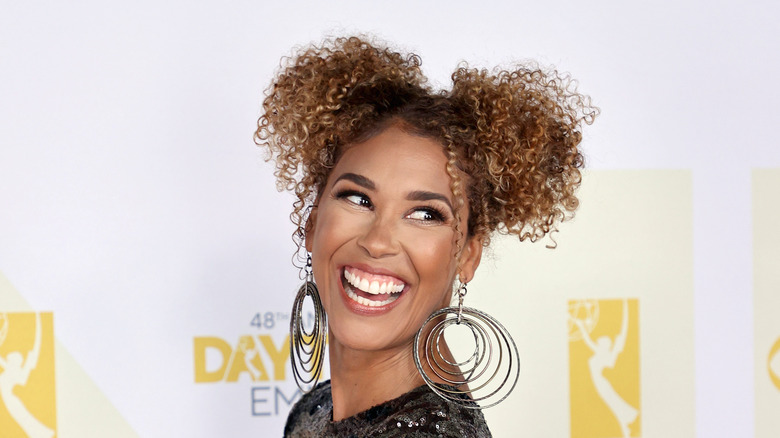 Kevin Winter/Getty Images
It doesn't matter how straight or curly your hair is; pigtails can work for you. Case in point: Victoria Platt's curly locks, which look magnificent in these poofy pigtails. This look makes us think of the teddy bear ears that pigtail buns look like but with a little more life. 
Grace VanderWaal proves that combos look good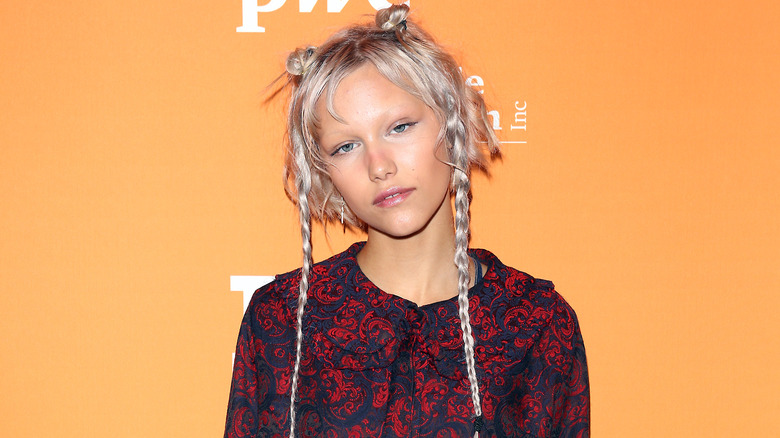 Michael Tran/Getty Images
Not sure if you want buns or braids? Why not try both? Grace VanderWaal shows us that pairing both looks can make for a cool and unique hairstyle that actually looks really fun. Her short hairdo with those long pigtail braids makes us envious of her uncommon style.
Tana Mongeau reminds us that scrunchies are still cool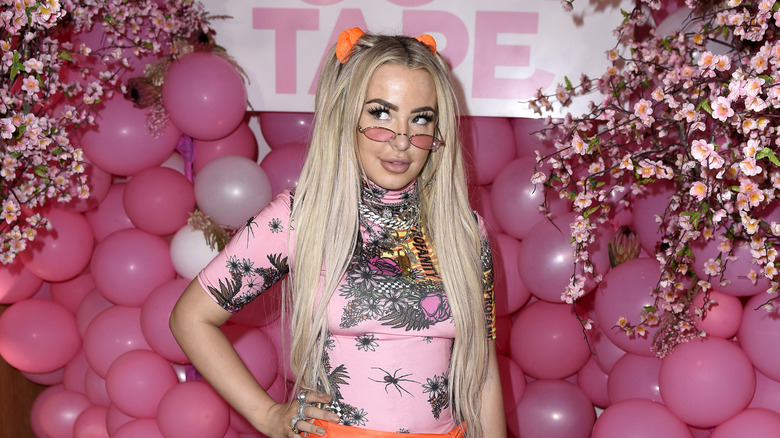 Vivien Killilea/Getty Images
Tana Mongeau was obviously channeling Britney when she went with this look. This look is proof that you can wear scrunchies in your pigtails as an adult and still look like an adult. Don't skip a look just because you think it looks too juvenile — try it out before you judge it. 
Paris Hilton in lower-placed pigtails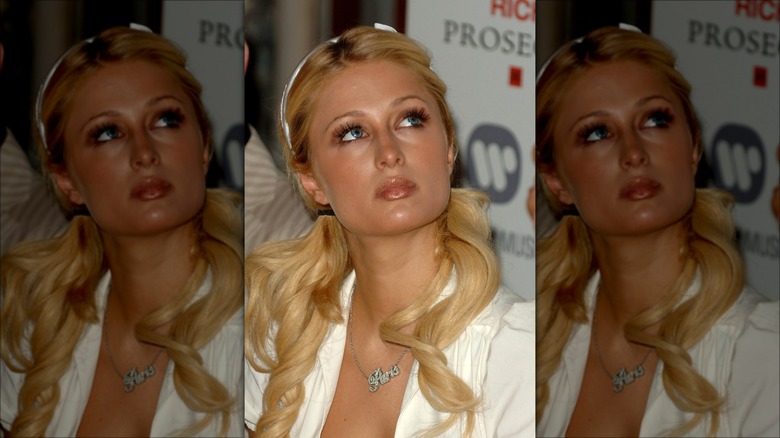 Lalo Yasky/Getty Images
Paris Hilton is a royal icon (as royal as you can get in Hollywood, that is), and this hairstyle makes her look like a true royal. The low pigtails with a cute and simple headband give us Jackie Kennedy vibes. This is an excellent way to wear pigtails for work or even your wedding without coming off too immature.