Bring The Pumpkin Spice Vibes To Your Outfit This Fall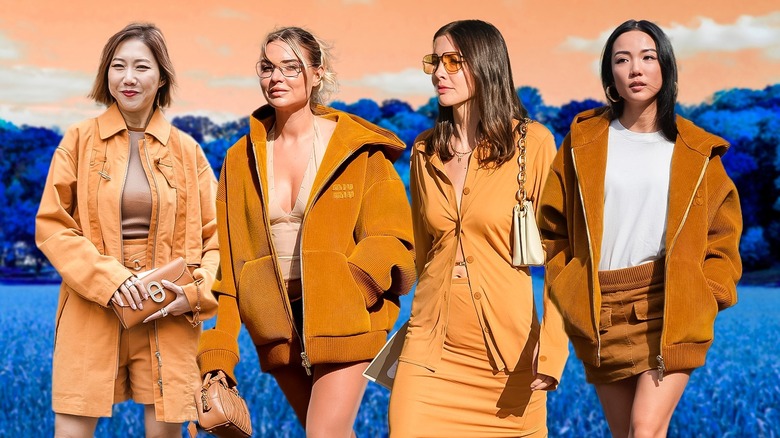 Static Media / Shutterstock / Getty
It's no secret that the pumpkin spice latte has become a cultural touchstone for fall. Ask any PSL girl, and she'll tell you that pumpkin spice lattes are more than just a drink — they're a mood, a vibe, a straight-up aesthetic. And this year, the advent of fall has already brought forth the reemergence of gloriously PSL-inspired beauty trends like glowy pumpkin spice makeup and tempting pumpkin spice nails.
Advertisement
However, beauty trends don't have a monopoly on this autumnal color palette; with a few smart garment choices, you can just as easily translate the pumpkin spice aesthetic into a fashionable and comforting wardrobe for fall. First, let's talk colors. While red and yellow are regular hues for fall foliage, let them take a backseat here. After all, to achieve the true pumpkin spice vibe, it's best to narrow your focus to shades of orange and brown, which can then be paired with neutrals like white, black, or khaki. Pumpkin spice garments will also look great with your favorite denim pieces, which could arguably be considered neutrals.
As for specific articles of clothing, it's surprisingly simple to introduce orange and brown items into your fall fashion rotation. From easy, all-in-one garments like a jumpsuit or maxi dress to versatile separates you can mix and match with the rest of your wardrobe, there are many super stylish ways to cozy up your autumn closet with pumpkin spice vibes.
Advertisement
A warmly spiced blazer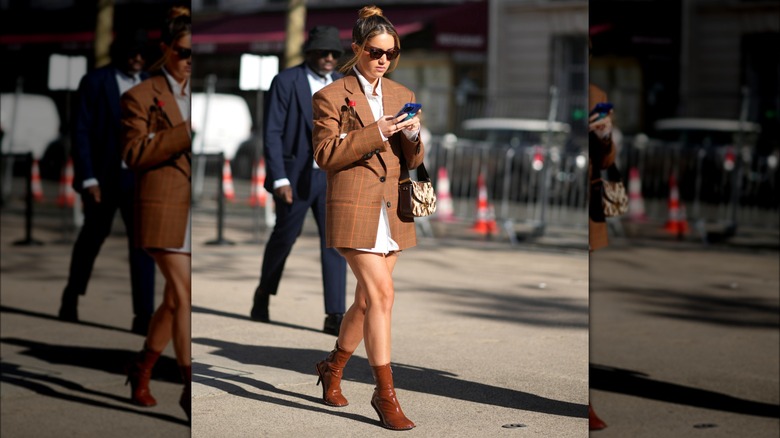 Edward Berthelot/Getty Images
To evoke the wafting spices and falling leaves of PSL season, there's nothing more iconic than a brown plaid blazer. Embodying hints of the ever-so-autumnal academia fashion trend, this adaptable piece is ready to be dressed up or down at your discretion. Wear your brown blazer with a chic white shirt dress and patent brown booties for dressy occasions, pair it with a button-up and trousers for an easy office ensemble, or try it with a pleated skirt and a pair of Mary Janes for a cute, casual take on the fall schoolgirl look.
Advertisement
A delightfully orange cocktail dress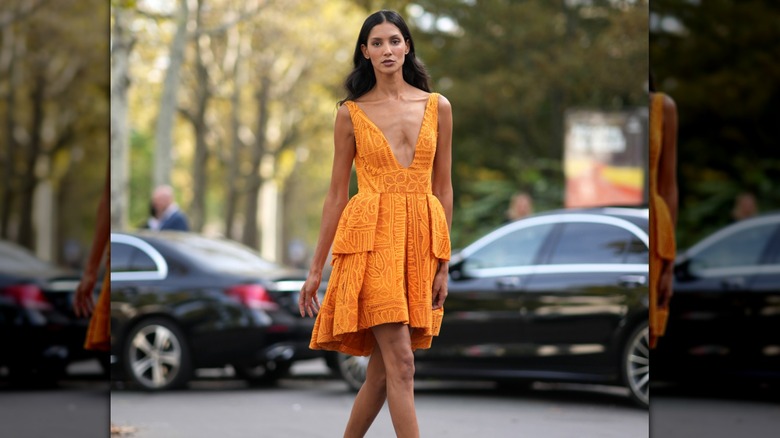 Edward Berthelot/Getty Images
Are you dressing for a night out on the town? Carry fall vibes with you by donning a fun and fashionable orange cocktail dress. Perfect for skin tones with warm or neutral undertones, an orange dress will help you stand out from the crowd. Consider bright orange shades to pop against a tan or melanated complexion or deeper, richer shades of burnt orange to glow against pale skin tones. To balance the vivid hue and keep the ensemble classy, pair your orange dress with nude heels and a simple, understated makeup look.
Advertisement
A sweet cinnamon jumpsuit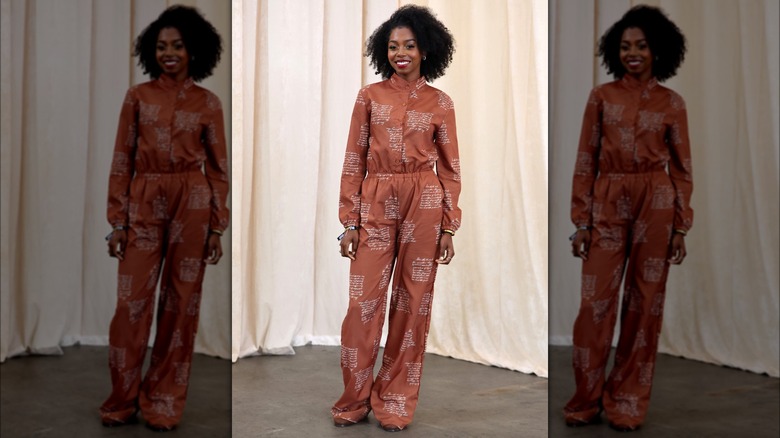 Arturo Holmes/Getty Images
If you want to feel stylish in a jumpsuit this fall, embrace the season by choosing a spicy autumn color like cinnamon or ginger. Emphasize the long silhouette with solid hues, or add some visual interest by selecting a unique brown print. And with the right accessories, your favorite fall jumpsuit can be styled for all sorts of occasions. Wear it with chunky boots or sneakers for a fierce daytime look, or dress your jumpsuit with sharp heels for a slick evening outfit.
Advertisement
A super cozy sweater dress
Valentina Frugiuele/Getty Images
A thick, toasty sweater dress can feel like wearing a hug, which already makes it a fantastic choice for cool fall days. But you can double down on that autumnal spirit by selecting sweater dresses in inviting, earthy tones. A neutral brown sweater dress can be worn anywhere from the office to a pumpkin patch. Style it with tall boots and gold jewelry for a classic fall look, or pair it playfully with sneakers. Rainy day? Simply top your sweater dress with a classy tan trenchcoat to keep dry in drizzly weather.
Advertisement
A perfectly pumpkin maxi dress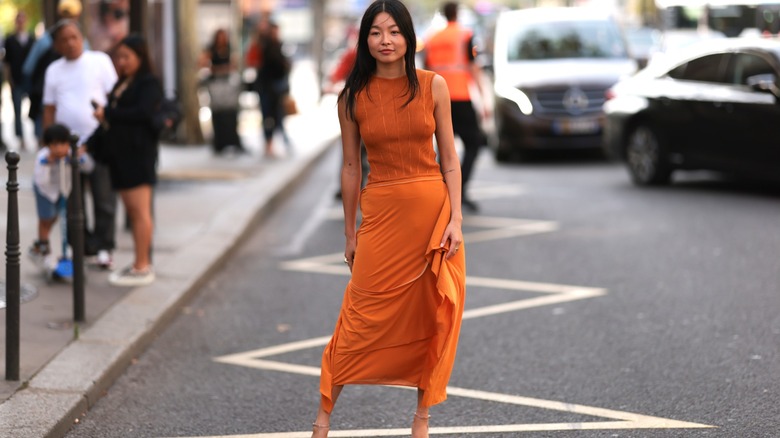 Jeremy Moeller/Getty Images
Orange is a strong color, so we understand the urge to approach it in moderation. But a gorgeous orange maxi dress is one of the easiest ways to achieve an instantly autumnal aesthetic. Tame the effect by choosing a darker pumpkin shade or wearing your orange maxi beneath a longline cardigan in season-appropriate brown or beige. You could even soften the look by adding a sheer or netted dress on top, letting the orange peep through in charming, fall-ready pops of color.
Advertisement
Smooth leather separates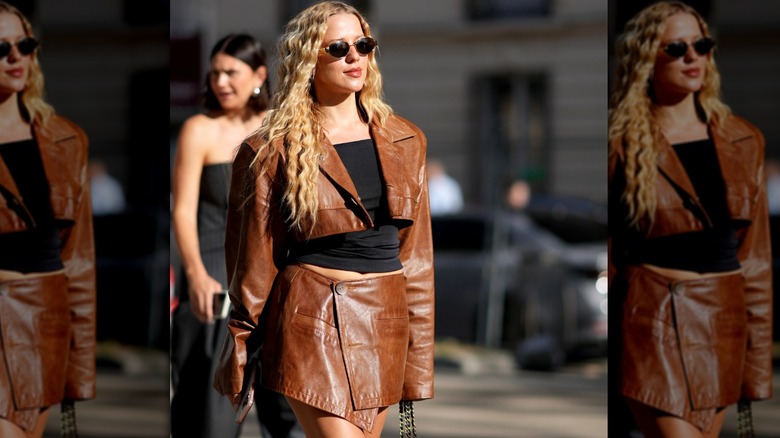 Edward Berthelot/Getty Images
For an edgier take on the PSL-inspired style, leather garments in warm brown shades of caramel or coffee are effortlessly chic. The duo of a leather skirt and jacket look incredible together, plus open doorways to so many other combinations. For example, throw on the jacket with a simple T-shirt and jeans or wear the skirt with a comfy oversized sweater or a classic white button-up. And while we love separates for their flexibility in your autumn wardrobe, you can also consider styling pillar pieces like a stunning brown leather minidress.
Advertisement
Autumnal accessories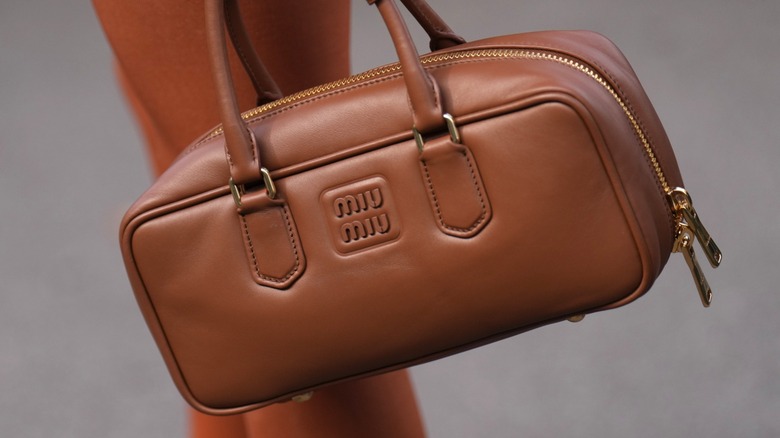 Edward Berthelot/Getty Images
Never underestimate the power of a good accessory. Versatile brown shoes, belts, and handbags are fall classics, not to mention quick ways to add a comforting accent to any fall outfit. But you can also push the accessory envelope with bolder seasonal pieces like rust-colored tights, a felt hat in burnt sienna, or a pumpkin orange scarf. Mix and match these finishing touches over neutral or earth-toned outfits for a cohesive and delightful take on the pumpkin spice color palette.
Advertisement
Bold orange outerwear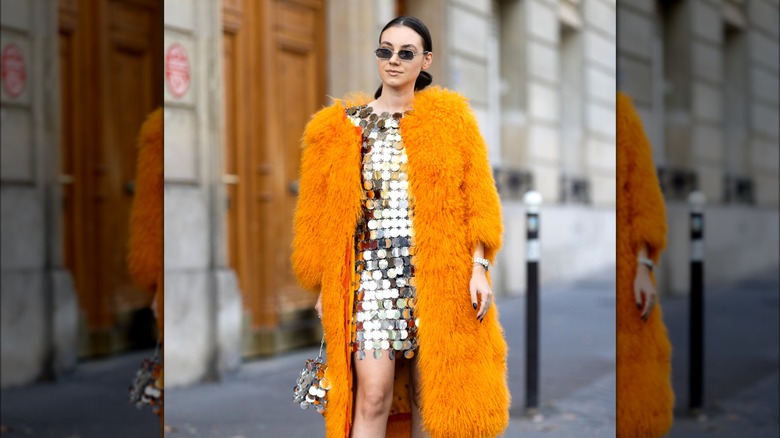 Valentina Frugiuele/Getty Images
Pumpkin spice is almost synonymous with coziness, but that doesn't mean this autumnal theme can't also be glamorous. A larger-than-life, pumpkin-inspired statement piece is ideal for adding pizzazz to couture fall ensembles. To finish off a fashion-forward look, try daring orange outerwear. For instance, we love the wild pairing of this fuzzy orange coat with the glitzy metallic dress underneath. But if that's a bit much for your personal style, you could just as easily wear an eye-catching orange jacket over your favorite little black dress.
Advertisement