A Netted Dress Is For More Than The Beach - Here's How To Make It Work For Any Occasion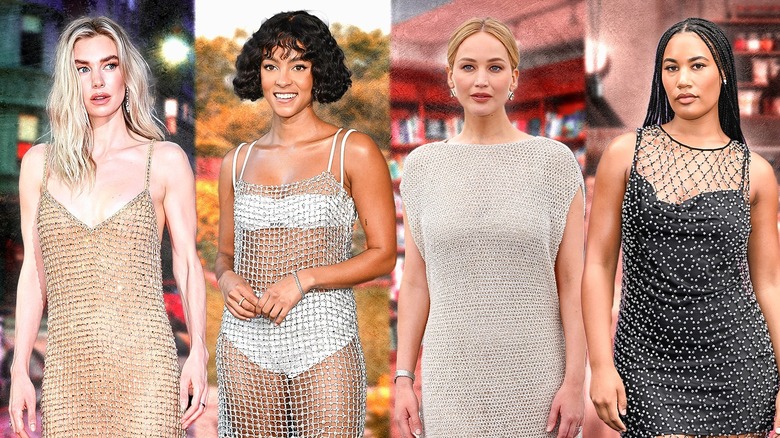 Static Media/Shutterstock/Getty
Look around and you'll likely notice a lot more holey, see-through clothes than usual — and no, they aren't tattered and worn-out garments from the bottom of the donation pile. Sheer clothing is having a moment, from open-thread looks to head-to-toe mesh. If delicate knits and silky organza aren't your thing, netted fashion might be.
Netted styles started to take hold in early 2022 when designers like Chanel and Stella McCartney showcased their own webbed looks. Since then, the trend has gained momentum, combining street style edge (think the punky effect of a pair of fishnet stockings) and shipwrecked mermaidcore.
In dress form, netted fashion is perfect for those hot summer days when you feel like layering but don't want to risk suffering a heatstroke. And, chances are, you've sported this trend before as a beach cover-up. However, a breezy, stringy dress doesn't only belong at the beach — it also works as a sultry party look or an eye-catching piece for running errands, as long as you know how to style it. Follow these tips to rock the netted dress look in a way that looks fashionable, not fishy.
Choose the right undergarments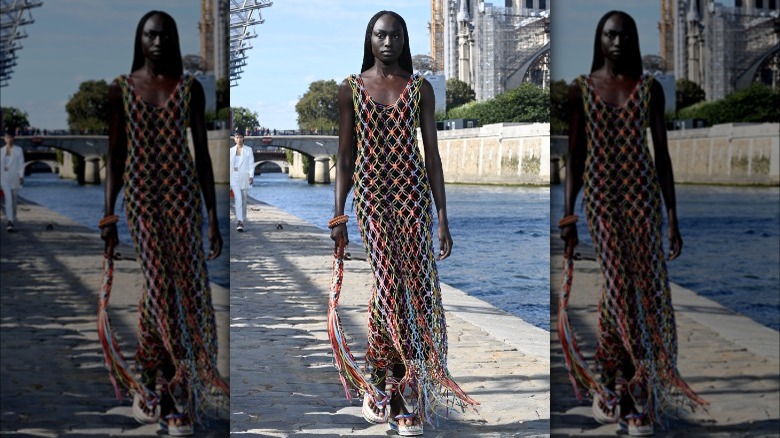 Pascal Le Segretain/Getty Images
In general, a netted dress will bare a lot of skin, unless you grab a style with a tight lace. So clearly, this isn't the time to go commando — this is your chance to hop on the rising underwear-as-outerwear trend and let those cute undergarments shine.
If you take a look at celebrities who have sported sheer dresses in recent years, like Megan Fox in her nude Mugler dress at the 2021 MTV VMAs, you might notice barely-there thongs and G-strings, but these itty-bitty underwear styles might not translate so well to life off the red carpet. "Generally, a high-waisted brief is a common go-to," celebrity fashion stylist Danyul Brown told InStyle. For more coverage, pair your netted dress with a bodysuit that hits at the mid-thigh. "It's a great choice as it will create further excitement, [add] structure to the outfit, and is a more fashion-focused choice," Brown added.
You'll also want to layer up top with a bralette or cropped top that keeps your goods covered. Alternatively, take a cue from Dua Lipa and choose a netted dress that's outfitted with mesh panels that let your skin peek out in all the right places.
Balance sheerness with solids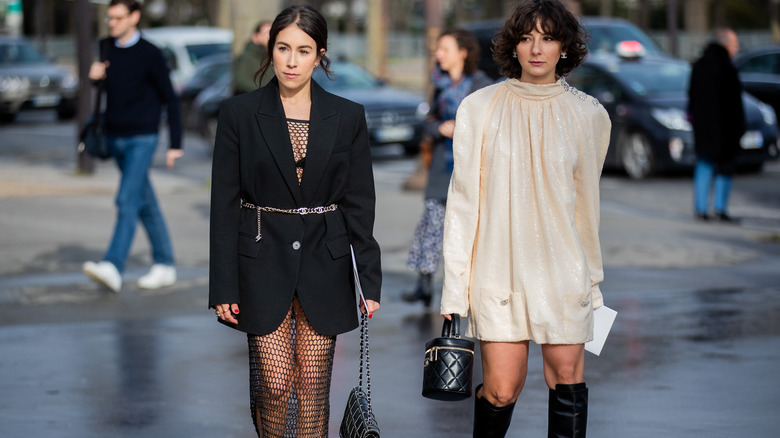 Christian Vierig/Getty Images
Rocking head-to-toe netting might work during your beach vacation, but when you return to your daily life, incorporating solid, full-coverage pieces can help you strike a safe balance. As Sinead Cutts, style director at The Outnet, suggested to Marie Claire Australia, "Level up your look by adding an extra layer of interest to your outfit and don't be afraid to steer away from the designated slip your outfit comes with."
Need inspiration? David Koma sent a model down the Spring/Summer 2023 runway wearing a punchy purple netted dress layered with a mini skirt and thigh-high boots. The combo would fit right in at a nighttime bash or on the dancefloor. For a daytime look, copy Lauren Caruso's blazer outfit (pictured above). Her meshy dress still grabs attention, even as her tailored blazer jacket adds a chic, profesh touch.
Though netted fashion may be most commonly associated with the latest iteration of summery mermaid-inspired wear, a netted dress can work during cool weather months too. Try the Y2K-inspired layered dress trend with your netted dress to keep your legs warm, or slip your favorite catsuit under your dress to stay toasty while looking fierce.