The Viral Bottega Veneta Teardrop Earrings Have A Super Affordable Amazon Dupe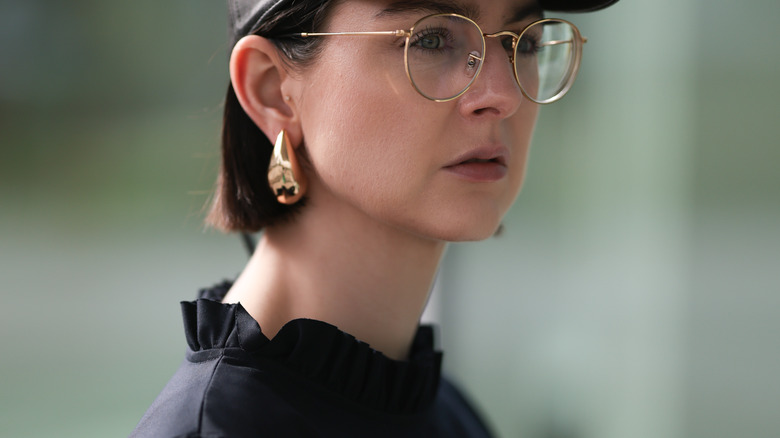 Jeremy Moeller/Getty Images
Many have rocked the Bottega Veneta Drop Earrings, including celebrities such as Dua Lipa, the Jenner sisters, and Rosie Huntington-Whiteley. After all, chunky earrings are an '80s-inspired jewelry trend, and these viral earrings perfectly fit that trend with their bold teardrop structure. Reminiscent of the bubble jewelry trend, the Bottega Veneta teardrop earrings look like giant tears and are made in Italy of sterling silver and plated with 18k gold. The earrings cost $1,350 — a steep price most people won't exactly leap towards.
Luckily, anyone who wants the viral Bottega Veneta teardrop earrings without the hefty price that comes with them will be happy to see an affordable dupe for them. The best-selling Apsvo Chunky Gold Earrings are available for under $15 on Amazon. While these Amazon earrings barely cost a fraction of the celebrity-favorite Bottega Veneta option, the Amazon item has the same shape and color as the viral expensive ones. That said, no one should miss out on this impressive dupe.
The low-price dupe
The $11.19 Apsvo Chunky Gold Earrings consist of copper and are plated with gold. Amazon also notes that the dupe is appropriate for people with sensitive ears, so you don't need to worry about the product causing issues with your skin and ears. Plus, not only do they come in a gold hue like the Bottega Veneta teardrop earrings, but the Amazon earrings offer additional color options if you want something more unique, such as black or purple.
A lawyer, who's also a fashion enthusiast on TikTok, known as Beauty & a Briefcase, posted a video explaining that she appreciates this dupe, as she wouldn't want to spend the $1,350 Bottega Veneta pricetag on the celebrity-favorite teardrop earrings that aren't even fully gold. The TikToker ended the video by saying, "Yeah, I'm happy with this purchase." 
The dupe has 4.5 out of five stars on Amazon with over 2,000 ratings. A happy reviewer even wrote, "These are lightweight and comfortable. They came with two kinds of backs, so you can choose which style you prefer. For the price, they are better than expected and an excellent dupe for the expensive designer brand. I would buy from this brand again. You really can't go wrong with these."
More dupes to check out
If you're looking for a similar product to the Apsvo Chunky Gold Earrings but with an even lower price tag, check out the LAOLASEED Gold Teardrop Bottega Earring Dupes, available for only $4.99 on Amazon. As the product listing says, these earrings are dupes for the celebrity-favorite earrings, but at a price everyone with $5 to spare can afford. These earrings are gold-plated and have 4.4 out of five stars. A happy reviewer even wrote, "[I] love how chick, lightweight, and classy they are," while someone else wrote, "These are beautiful earrings! I ended up buying another set to give as gifts! Fast shipping and great price!"
Anyone who prefers shopping at ASOS over Amazon should look into the ASOS DESIGN 14k Gold Plated Earrings With Molten Stud Design, selling for $15.99. Like the Bottega Veneta earrings, these are gold-plated and feature a chunky teardrop-inspired design. Meanwhile, The Petra Mini Drop Earrings are available for $44 at Anthropologie. Described as "Top Rated" and "TikTok-famous," these gold-plated earrings have a 95% recommendation rate. A pleased customer wrote, "A great dupe for a designer brand!"