The Stunning Style Transformation Of Kristen Stewart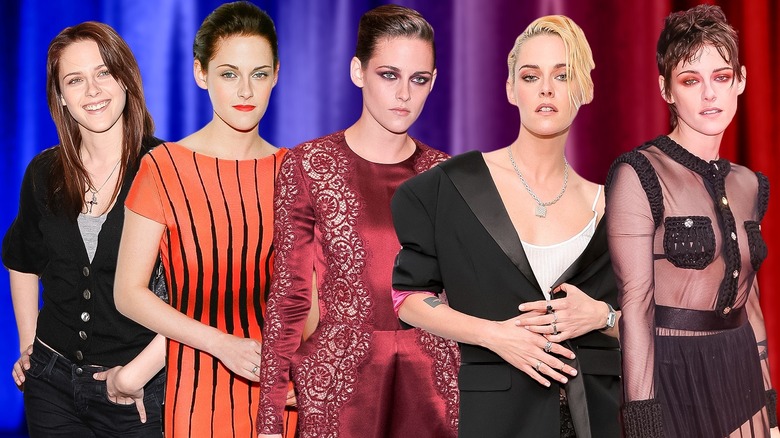 Static Media / Shutterstock / Getty
She may have started out as the teen star of the "Twilight" series, but since then, Kristen Stewart has emerged as not only a talented actor (two words: Princess Diana) but also a major influencer in the fashion industry. Her journey from a young Hollywood actor to a celebrated fashion icon has proven that there is plenty of room for alternative style on the scene. Yes — Stewart definitely isn't your average Hollywood fashionista, as she has expressed her love for the punk and rock aesthetic over and over again.
What further sets Stewart apart from the rest of her peers is the fact that she isn't fashion-obsessed. "Some actors are probably really into designer clothes, but I am not one of them," Stewart revealed in 2012. "Sure, I can like some clothes more than others, and it can be fun to get dressed up for different events, I do appreciate good designers. But I am mostly dressed in the same way" (via Yahoo! News).
In fact, it is most likely this indifference towards style that put Stewart on the fashion map. From her early days of embracing gender-neutral looks to her consistently evolving love for edgier ensembles, Stewart has consistently shown that she isn't the "it girl" of our generation — but instead the "cool girl." Don't believe us? Allow us to convince you.
2002-2006: Kristen Stewart didn't conform to Y2K pop fashion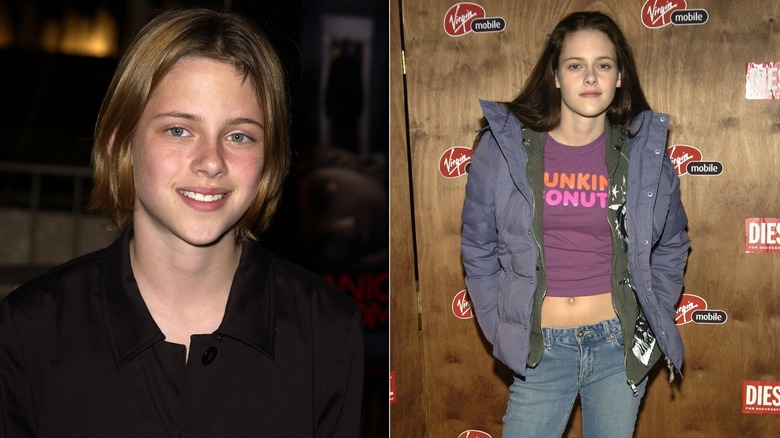 L. Busacca/Getty & Steve Granitz/Getty Images
In the early aughts, Kristen Stewart began her acting journey with roles in movies like "Panic Room," "Speak," and "Into the Wild." During this early phase of her career, Stewart was a young, up-and-coming actress trying to navigate the world of teen stardom — and with that, of course, came fashion. While she dabbled in classic Y2K looks, embracing the trends of the era, Stewart's personal style was always more inclined towards a gender-non-conforming aesthetic.
As she candidly revealed in a 2012 interview with Vanity Fair, "I hated school so much," Stewart admitted, remembering her teens. "Look at a picture of me before I was 15. I am a boy. I wore my brother's clothes, dude! Not like I cared that much, but I remember being made fun of because I wasn't wearing Juicy jeans. I didn't even think about it. I wore my gym clothes."
Stewart's style during this era foreshadowed her future fashion evolution. Early on, Stewart revealed her authenticity and willingness to be true to herself, even in the world of glitz and glamour, where young teen stars are often pressured to conform to predefined molds.
2007: Kristen Stewart's shift from brunette to blond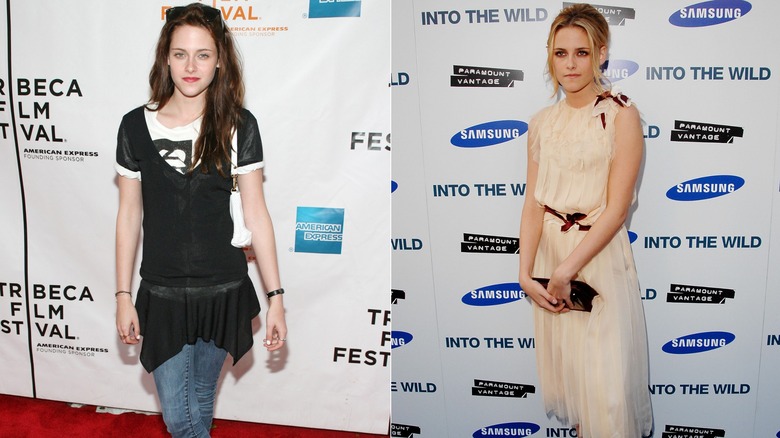 Sylvain Gaboury & Jon Kopaloff/Getty
Kristen Stewart underwent a significant transformation in 2007, transitioning from her youthful teen style to a bolder young woman aesthetic. With this also came hair color experimentation, as Stewart rocked both brown and blond locks in the same year.
During this period, her fashion choices encapsulated the quintessential aesthetic of an emerging actor in the mid-2000s. Stewart effortlessly rocked the classic combination of skinny jeans and dark tops for her casual attire — and yes, those tops often looked like mini dresses. On the red carpet, she gravitated towards chiffon dresses and glitzy accessories, showcasing her versatility in embracing different looks.
While she maintained her trademark casual vibe with jeans and tops, the rising actor also clearly displayed a love for glamorous looks. Of course, we have to keep in mind that Stewart turned 17 in 2007, and she was still very much experimenting with her style, trying to find out what she really liked. However, this duality she often showcased in her clothing choices reflected her multifaceted personality — and it perfectly set the stage for her further evolving fashion journey.
2008: The Twilight breakthrough with messy hair and minidresses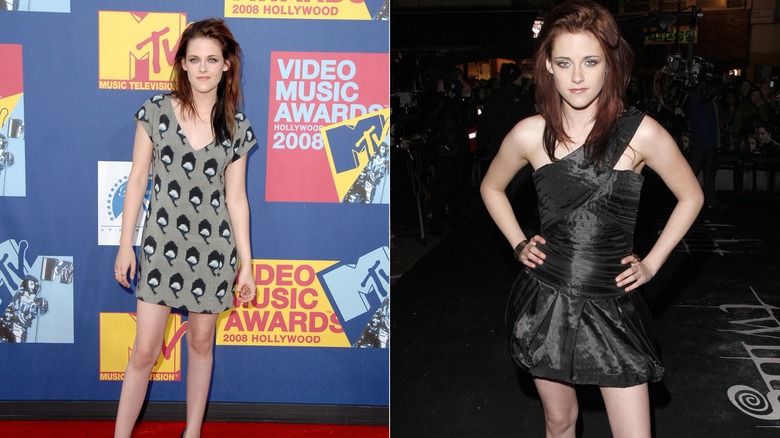 Jon Kopaloff & Jon Furniss/Getty & undefined
Kristen Stewart's style took a remarkable turn with her iconic "Twilight" breakthrough in 2008. As she rocketed to global stardom, her fashion choices also underwent a transformation, mirroring her evolving journey as an actor and style icon. During this era, Stewart embraced a unique blend of edginess and femininity.
One of the key elements of her style in 2008 was her signature messy hair, which added an effortlessly cool and carefree vibe to her overall look. Whether it was at red-carpet events or casual outings, Stewart's relaxed hairstyle became a defining feature of her look, setting her apart from the polished and primed Hollywood norm. Her affinity for minidresses was also a prominent choice during this period. These shorter dresses accentuated her youthfulness while also helping her align with the image of a young Hollywood star.
Stewart's style transformation was not only about experimenting with her clothing but also about adapting to the newfound fame that came with the "Twilight" saga. Nevertheless, this transition into the spotlight was not without its challenges, as she candidly revealed. In a 2015 interview, Stewart acknowledged that her early experiences in the fashion industry were quite daunting. "I started out in situations that were quite foreign to me: photo shoots, famous photographers, having to deal with designers," she told Harper's Bazaar when thinking back to her "Twilight" days. "I felt quite out of place and young. And I remember meeting some of the worst people you could possibly imagine. Just soul-sucking, cut-throat fashion people, the full-on Devil Wears Prada."
2009: Kristen Stewart channeled her inner rockstar with bright colors and a mullet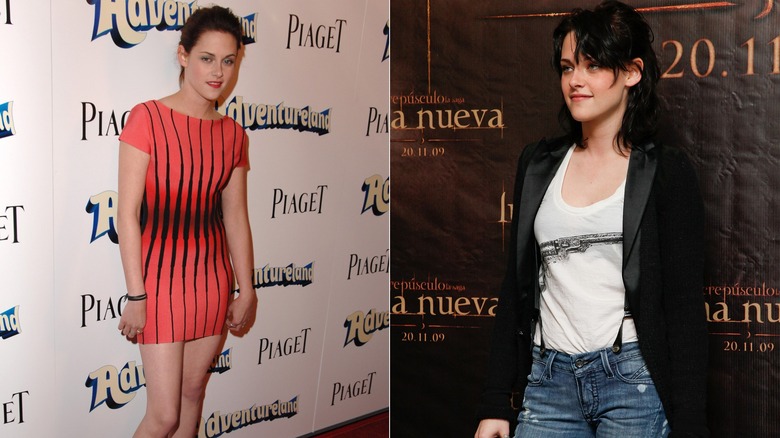 Steve Granitz & Victor Chavez/Getty
In 2009, Kristen Stewart reached an important moment in her fashion journey as she slowly began figuring out her signature style. It was during this year that she embraced the rockstar-inspired aesthetic, paving the way for her edgier and more unconventional looks. Stewart, known for her affinity for alternative fashion, decided to make a bold statement with her choice of clothes and her hairstyle.
Bright colors took center stage in her wardrobe, reflecting her vibrant and rebellious spirit. One of the most iconic aspects of her 2009 transformation was her distinctive mullet haircut. The mullet, characterized by its shorter front and sides and longer back, added an element of unconventional coolness to her overall look. And keep in mind this was over a decade ago, way before the current resurgence of '80s hairstyles. Back then, this was a look that not only defied the norms of Hollywood but also signified her willingness to experiment with her appearance.
2010-2011: Kristen Stewart embraced her chic side with sparkly dresses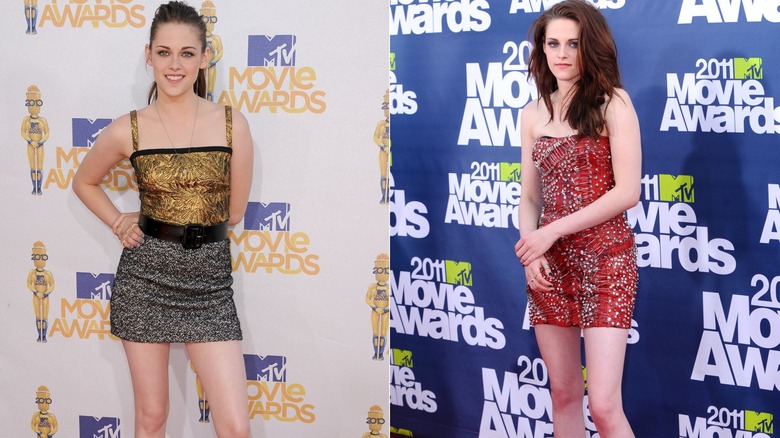 Gregg Deguire & Anthony Harvey/Getty
In 2010, Kristen Stewart began to look at fashion a little differently. "My first fashion show was Burberry A/W 2010," she told StyleCaster in a 2013 interview. "Claire Danes was sitting across from me, which was very exciting. It opened my eyes to the world of fashion. It's so cool to look at a fashion show as a whole because they're like little movies, every single detail is carefully considered," Stewart recalled. This is seen through her fashion choices as she began to embrace glitzier dresses. This surely also marked the fashion industry's acceptance of the star's unique style, which in turn also allowed Stewart to explore what she likes more openly.
During this era, Stewart's red carpet appearances continued to display a perfect blend of elegance and edginess. While she often rocked head-to-toe sparkly looks, the actor also admitted that she loves a casual, laid-back edition on the red carpet. "I wear the same clothes as I do now on the red carpet as well. I don't like heels, so I have been to premieres in Converse sneakers, which some people think is dreadful," Stewart revealed at the time, "I like black, but sometimes I get persuaded to wear brighter colors" (via Yahoo! News).
2012: Goodbye Twilight, hello edgy cut-outs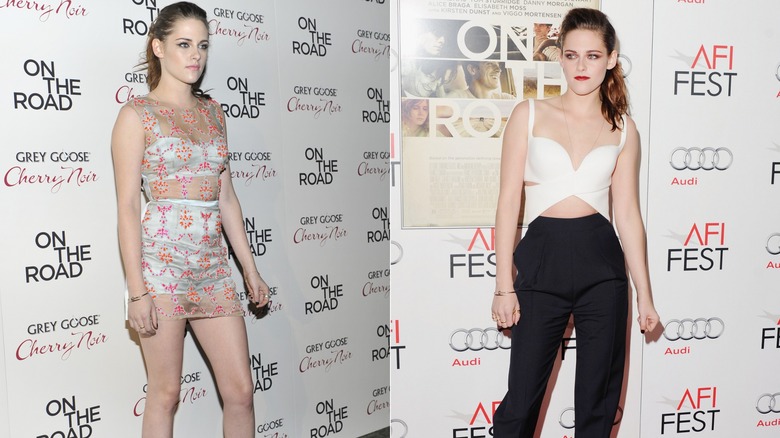 Michael N. Todaro & Jon Kopaloff/Getty
Kristen Stewart's fashion journey took a sharp turn in 2012, as her "Twilight" era was coming to a close. She welcomed a more edgy and skin-baring style, with a notable focus on cut-out designs. Her inspiration for this transformation can be traced back to her role in the 2010 drama movie "Welcome to the Rileys."
Looking back on this period, Stewart openly admitted, "After I'd been playing a stripper [in 'Welcome to the Rileys'], I was definitely not wearing enough clothing. I looked back and thought, 'That's so not me,' but it was fun" (via Marie Claire). This acknowledgment perfectly showcases the actor's willingness to experiment with her style, even if it meant straying away from her typical fashion choices.
In this era, Stewart also emphasized the importance of personal preference in fashion, firmly disagreeing with those who criticize the style of others. In an interview with British Vogue in 2012, she acknowledged that fashion is about personal preference. "I just so wholeheartedly disagree with people who don't like what I wear," she explained. At this stage, Stewart's journey in fashion continues evolving while always reflecting her commitment to staying true to herself, even if that meant experimenting with looks that were outside her "norm."
2013: Kristen Stewart's awakening as a fashionista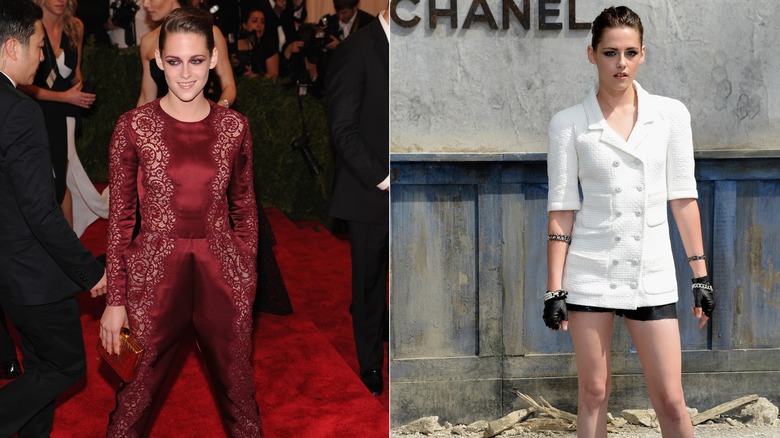 Jamie Mccarthy & Dominique Charriau/Getty & undefined
While it seems as though she always enjoyed expressing herself through fashion, in 2013, Kristen Stewart seemingly discovered her inner fashionista. The star embraced high-fashion pieces and unique clothing, and she even opened up about the difficulties that came with pushing the boundaries of her style.
"I really like extremes. I wear jeans and t-shirts and am a total tomboy, but at the same time, when I pull out all the stops [for an event], I want to f***ing go for it, polarized in the other direction from my reality," Stewart reflected on her style in 2014 (via Into the Gloss). "Everything Balenciaga makes is beautiful; watching their runway shows is like watching a movie. But wearing it is not the easiest thing. It's tough to integrate that type of thing into your life. But when you can do it—wear something unexpected, with your personal style—it's incredibly badass."
Stewart's honesty about the complexity of high fashion only added to her allure as a style icon. As she continued to explore the intersection of her personal style and high fashion, the actor truly came into her own as a trendsetter — boldly embracing her innate sense of style. Plus, we can begin to see how confident and comfortable she is on the red carpet when compared to her other ensembles years prior. 
2014: The actor was all about punk hair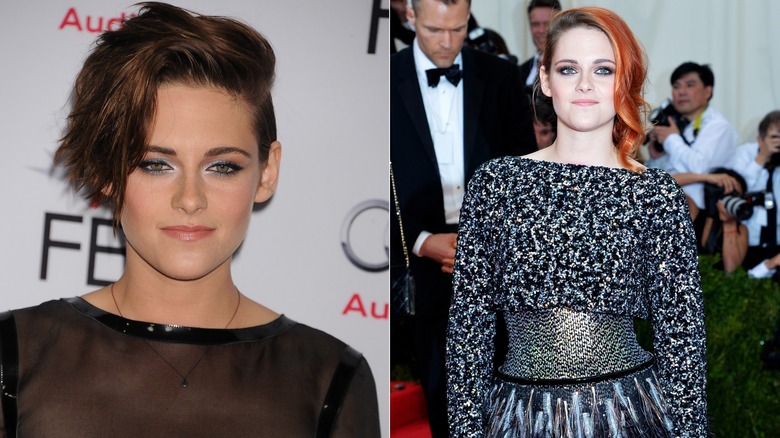 Frank Trapper & Mike Coppola/Getty
In 2014, Kristen Stewart's style evolved with a strong emphasis on punk-inspired hairstyles. As the mid-2010s rolled around, it became increasingly apparent that her hair was not just a part of her appearance but a vital aspect of her self-expression. During this era, Stewart was unapologetically candid about her desire to experiment with different cuts and styles, and she didn't hold back when discussing her hair aspirations.
In an interview from 2014, Stewart revealed that she even planned on getting a buzz cut at some point. "If I wasn't an actor, I would definitely do things to my hair. I would cut it more, I would dye it more," she revealed (via Into the Gloss). "At some point, I want to do a total boy cut, completely—not a pretty, girly version—like a straight-up James Dean haircut. And then, I'm definitely going to shave my head before I die."
Stewart's exploration of punk hairstyles in 2014 showcased her willingness to embrace unconventional beauty while also solidifying her status as an alternative fashion trailblazer in the world of fashion and style.
2015: Kristen Stewart's obsession with bold makeup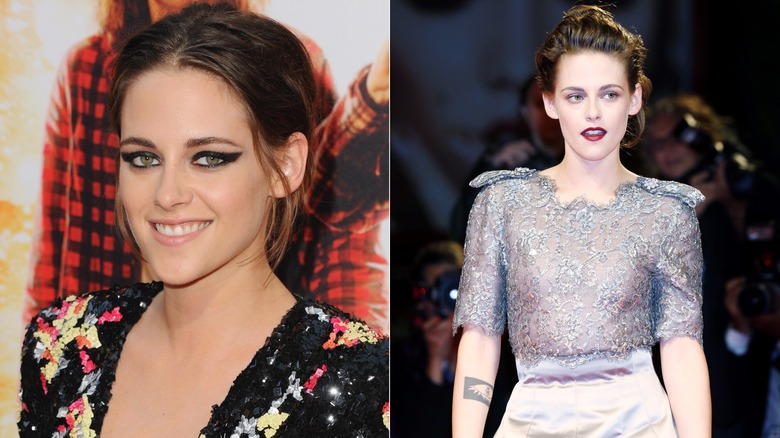 Jon Kopaloff & Kurt Krieger - Corbis/Getty
By the time 2015 rolled around, the actor surprised many with her newfound passion for bold makeup. During this time, Kristen Stewart explored makeup with a fearless attitude, embracing a wide spectrum of looks. Dark and edgy eye makeup became a prominent feature of her style, and when we say dark — we mean ultra-dramatic winged eyeliner. The actor also explored the vivid world of bright and eye-catching lip colors, showing that she's not afraid of makeup experimentation.
Stewart's bold makeup choices sent a clear message: Makeup is an art form, a medium through which she expresses herself fearlessly. And when it came to eye makeup? The messier, the better. "Kristen and I will use our knuckles and smudge on her mascara and around the lash line because we don't want it to look like a perfectly set eye," Jillian Dempsey, Stewart's makeup artist, revealed to The Cut in 2017.
This "not-so-perfect" makeup look also perfectly matches her now well-known alternative punk-inspired style, showcasing how her bold approach to makeup has evolved into an important element of her appearance.
2016: Stewart leaned into gender-neutral fashion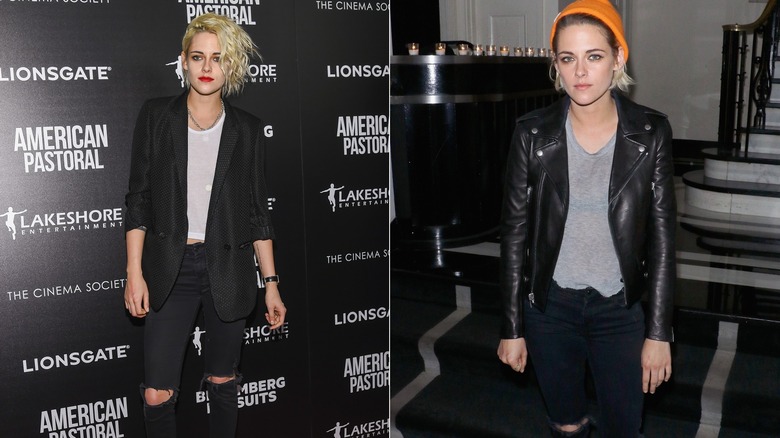 Ben Gabbe & Jim Spellman/Getty
All throughout the 2010s, Kristen Stewart danced on the fine line between traditionally feminine and masculine fashion. By 2016, she fully embraced the concept of gender-neutral, androgynous fashion, and with that, she played (and still plays) a significant role in breaking traditional fashion norms. For Stewart, who already favored a gender-neutral style in her youth, adopting a more masculine style in 2016 marked a compelling full-circle moment in her fashion journey.
Her stylist Tara Swennen also revealed a fascinating aspect of Stewart's fashion choices at the time — her minimalism when it came to jewelry. "Kristen doesn't wear tons of jewelry. Most of the time, she wears sentimental pieces. Each piece has meaning for her, and that's why she wears it," Swennen shared with People in 2016.
By 2016, it's clear that Stewart's fashion evolution didn't just emphasize her unique style but also reflected a fundamental belief — that fashion shouldn't be painful. Her stylist aptly sums it up, stating, "If there's one thing I could say about Kristen and I, it's that comfort is key."
2017: The star bared it all with a buzz cut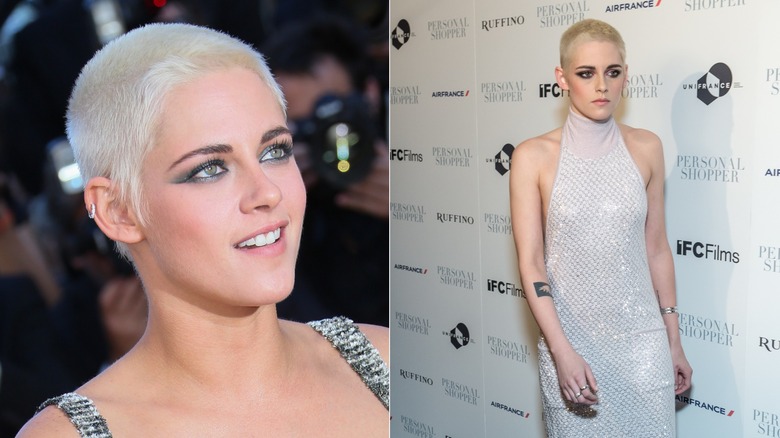 Toni Anne Barson & Mark Sagliocco/Getty
In 2014, Kristen Stewart expressed her desire for a buzz cut, and by 2017, she took a leap and went for it. To prepare for an upcoming role, Stewart decided to part ways with her hair. "I'm doing a movie in a couple of weeks called 'Underwater,' and I play a mechanical engineer that's working in an oil rig that's on the bottom of the ocean floor," she explained in an interview with Today in 2017. "For me, it was like, it's practical. I mean, I'm not gonna be able to have touch-ups once I have the helmet on. I must shave my head! I've been wanting to do this, just for [novelty's] sake. Just because at some point in your life, you want to be able to do that."
Stewart's decision to embrace a buzz cut marked perhaps her boldest departure from traditional Hollywood beauty standards. As a look, it wasn't just about practicality; it was a powerful statement of femininity and self-identity. Not to mention that the bleach blond buzz cut accentuated her stunning features while allowing her to redefine beauty on her own terms. With her buzz cut, the actor proved that sometimes, a dramatic transformation can be the most liberating and beautiful choice of all.
2018: Kristen Stewart found her signature style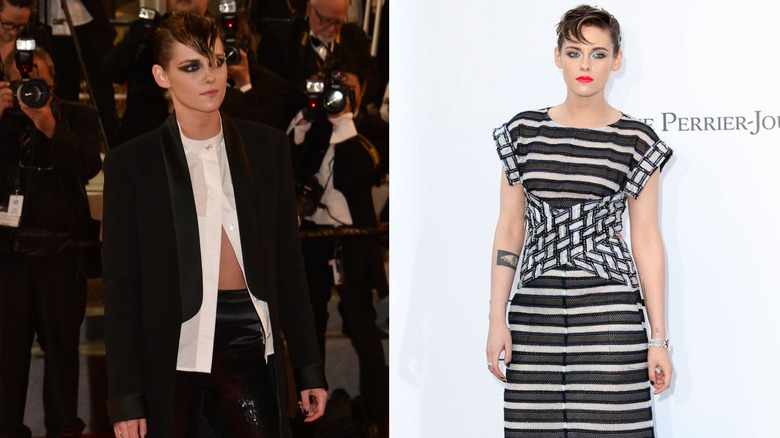 Foc Kan & Mike Marsland/Getty
Back in 2012, Kristen Stewart revealed that she cares more about coolness than being a fashionista. "It's about being on the edge of something – about not taking the easy route," she told Marie Claire. "To be cool is not crippled by yourself." And by 2018, she had undoubtedly established herself as one of the coolest people in the industry, evolving from her Y2K teen roots to become a notable fashion trailblazer — one who is known for always pushing boundaries and redefining traditional norms in any sense.
Stewart's unique blend of elegance, edginess, and androgyny set her apart from the crowd, and her authenticity became a symbol of empowerment for those who admired her style. This was showcased through the matching suits and edgy dresses she donned on the red carpet, often paired with bold makeup and perfectly styled short haircuts. While Stewart may not have aspired to be a fashionista, by the late 2010s, she undeniably emerged as one, with her fashion sense earning admiration from fans and the fashion industry worldwide.
2019-2020: Kristen Stewart became the punk rock fashionista we didn't know we needed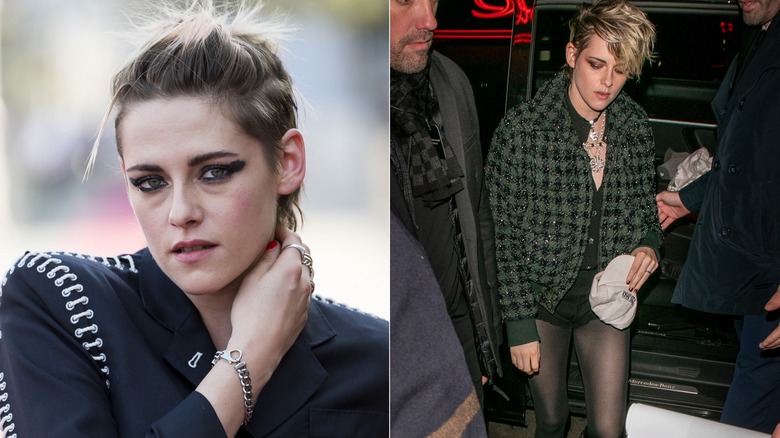 Juan Naharro Gimenez & Marc Piasecki/Getty
By 2019, Kristen Stewart was well-known as a punk rock fashionista. Her evolution into this edgier style had its roots in her portrayal of iconic rockstar Joan Jett in the 2010 biopic "The Runaways" — a role that significantly impacted her fashion choices.
She openly acknowledged how the character's rock 'n' roll style left an indelible mark on her own. "I liked her rocknroll style so much that it really influenced me. I already liked jeans and leather jackets before playing in this movie, though, but my rock-n-roll style developed thanks to playing Joan," the star revealed (via Yahoo! News).
What set Stewart's style apart from other industry names leaning into the punk rock aesthetic is that the actor's fashion choices always gave us that air of nonchalance and authenticity. Stewart achieved this primarily by not pursuing perfection, embracing elements like intentionally messy hair or slightly smudged eyeliner.
2021-2022: Kristen Stewart gave us post-lockdown fierceness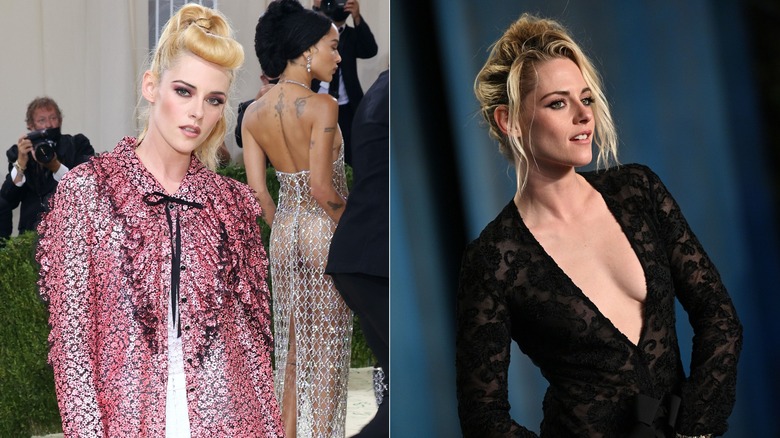 Lionel Hahn & Taylor Hill/Getty
Once we got to see glimpses of celebrities again after the coronavirus lockdown, Kristen Stewart showcased through her ensembles that, for her, fashion is all about how she feels and not what others expect of her. Attending the 2021 Met Gala in a pin-up look complete with a pink Chanel jacket, white trousers, and a '50s inspired 'do, Stewart proved that you don't have to wear an over-the-top gown to the Met and still look fierce. And if there's one thing we know about fashion, it's that half of it is confidence: If you wear it like you love it, chances are others will love it too.
When asked about Stewart's hair evolution, her longtime hairstylist Adir Abergel gushed about the star to British Vogue in 2021. "Kristen is fearless when it comes to self-expression. She is a true individual; she also has an incredible knowledge of references," he revealed. Abergel also pointed out that Stewart didn't shy away from experimenting with different aesthetics and surprising us, noting that influences from the "early '40s and '50s pin-up girls" played a significant role during this era of her hairstyle evolution, especially the 2021 Met Gala. 
2023-present: Kristen Stewart shows that her style is always outside of the box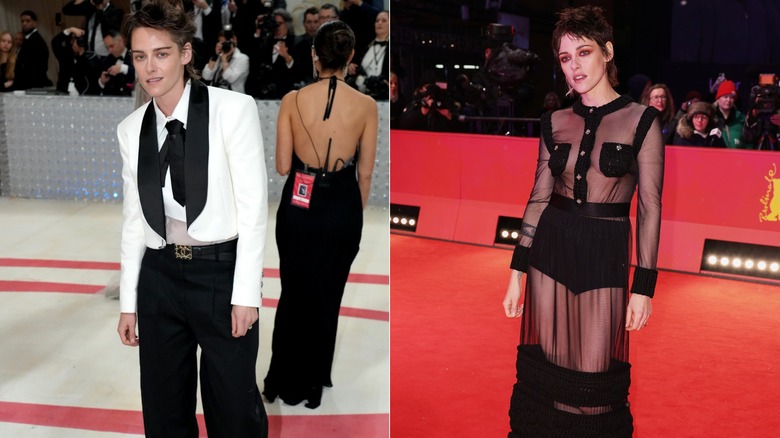 Jeff Kravitz & Andreas Rentz/Getty
Today, Kristen Stewart is undoubtedly a true fashion trendsetter with a genuinely authentic outlook on what style is. One of her most memorable recent fashion moments was her homage to Karl Lagerfeld at the 2023 Met Gala, where she wore a classic Chanel suit, minimal makeup, and signature messy mullet. Back in 2015, Stewart shared her love for Chanel and Lagerfeld in particular. "Everyone I ever met from Chanel was wonderful, and working with them has been amazing," she told Harper's Bazaar. "As an outsider, I thought, '[Karl Lagerfeld] is probably insanely pretentious'; but he's the opposite of what you'd assume. He's funny and quick and can talk to you about anything."
In the world of the rich and famous, there is no doubt that pulling off a look like the one Stewart donned at the Met is far more challenging than rocking a classic red carpet gown. Yet, Stewart executes it with effortless perfection. As we eagerly await Stewart's new style era, we leave you with the words of her stylist Tara Swennen when speaking to People magazine: "There's always a little bit of edge mixed in with Kristen's elegant and chic pieces, but it's not overtly punk — it's unexpected. She's innately cool."