Tips For Styling Fall 2023's White Ballet Flat Trend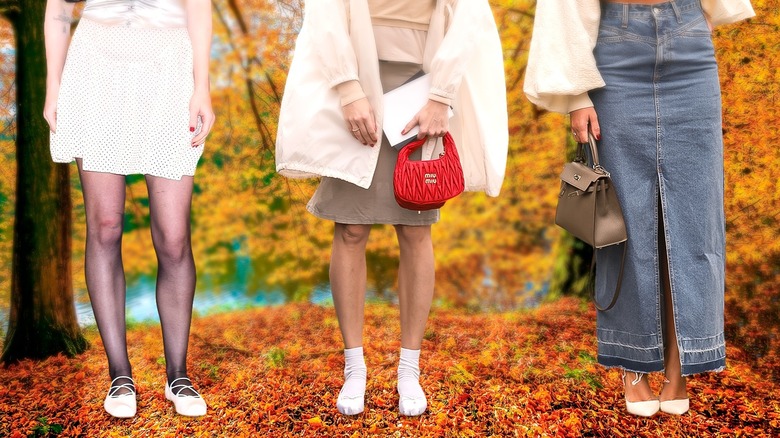 Static Media / Shutterstock / Getty
If you haven't noticed yet, ballet flats are probably the only shoes you need for fall 2023. Although boots are inevitable during the season, the ballet flat has stolen our attention this year. Between the different variations of ballerinas, there are plenty of options to make your fall wardrobe stand out even more. While ballet flats might not work for all events and locations, they make for a great base upon which to build your outfit.
One of the hues that'll make for a standout moment is white. Since they're a neutral shade, there's no need to worry about what you'll wear with these shoes; they'll work with almost any outfit and color scheme.
Some might be put off by wearing white shoes since they can be a chore to keep clean, but they are a worthwhile investment that'll add a bright shade to your footwear. Taking inspiration from brands like Miu Miu, styling a pair of white ballet flats is about matching your footwear to your persona with specific pieces that'll let your ensemble shine.
Match with dark and lights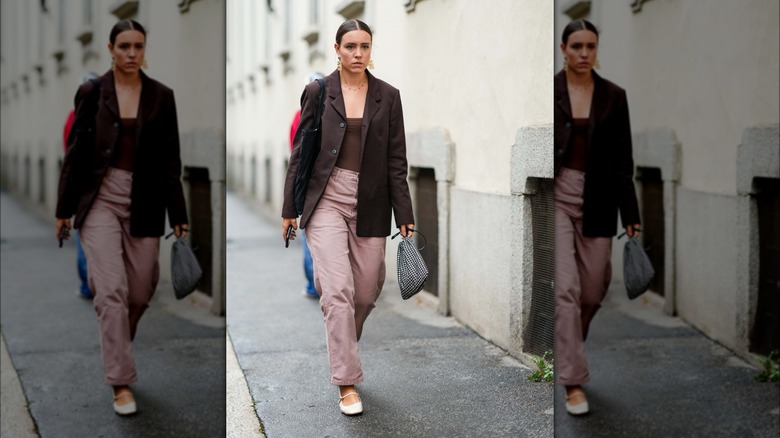 Edward Berthelot /Getty Images
White ballet flats are flexible with their ability to match various pieces. Infusing your ensemble with light and dark items is perfect when you want to finish off with white ballet flats because they can go with either shade. If you want to rock a complex ensemble with various colors and prints, white ballet flats are a great neutral shade to balance your look and keep it cohesive.
Professional 'fits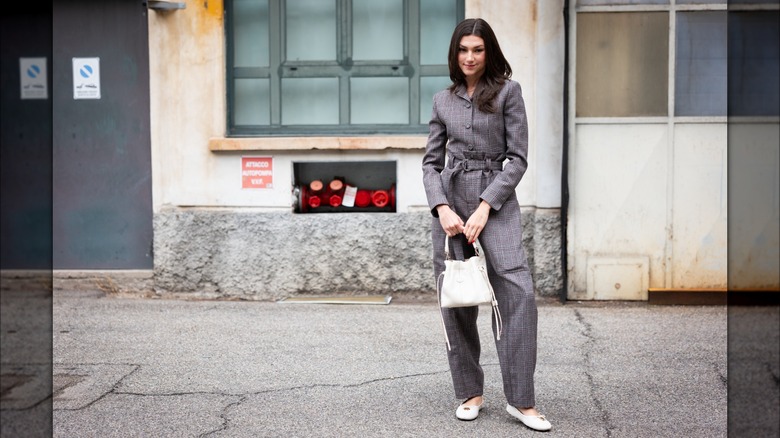 Claudio Lavenia/Getty Images
Besides being great everyday pieces, white ballet flats pair perfectly with your more professional garments for the fall. While some workplaces will allow more relaxed dress codes, you may not always be able to rock your favorite fall boots. White flats are the perfect shoe to replace boots for a statement look that still seems sophisticated and put-together. Pair with your favorite plaid patterns or officewear items for a chic fall office outfit.
Style with denim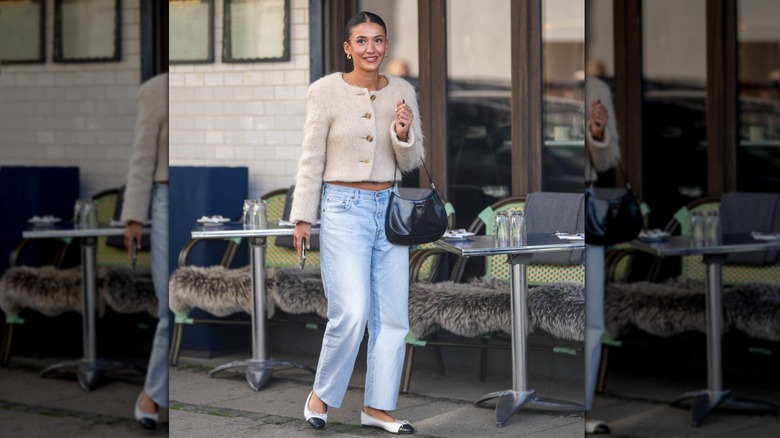 Edward Berthelot/Getty Images
Like other ballet flats, white flats are perfect for a casual day. Use this flexibility to dress up your day-to-day outfits by styling them with your favorite pair of jeans. No matter the type of jeans, white ballet flats will help elevate your look by providing a more sophisticated and feminine touch. And white flats with a black toe cap paired with denim are the ultimate nod to '90s preppy fashion. 
Black and white
White ballet flats are the ultimate complement to a black-and-white ensemble. Bring together the look, especially if it's mostly black, with a pair of all-white flats that creates a high-fashion statement moment and draws all the attention to your shoes. Pro tip: Black flats will work just as well if your outfit is mostly white!
Pair with ankle socks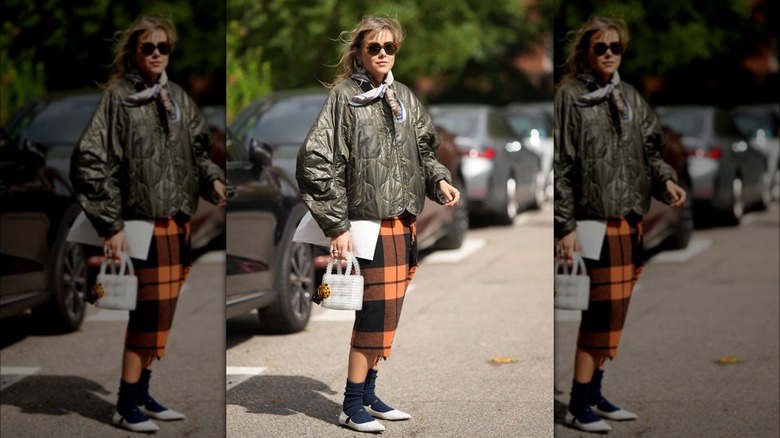 Edward Berthelot/Getty Images
We've already seen designers like Prada using socks with their footwear to create a preppy and academic feel, and white ballet flats are no exception. Since ballet flats are already feminine and soft, pairing them with socks is a no-brainer for a more feminine look. You can use your favorite plain socks or frilly details for a more thematic aesthetic.
Fall outerwear
Although ballet flats are replacing our classic boots, there's nothing that can take the place of fall outerwear. To provide some balance to your look, pair your feminine white ballet flats with heavier pieces like leather jackets or cardigans to create enough visual contrast within your look. Mixing these outerwear items with your softer footwear makes a distinction you often see on the runway, giving you an easy-to-follow formula for creating fashionable looks.
Off-white options
Keeping white shoes clean isn't fun, but that doesn't mean you can't pull off the ballet flats trend at all. Off-white ballet flats are one way to get a similar vibe to white flats without worrying about marks and stains. Still within the neutral shades, these off-white flats can easily fit with any of your everyday looks.