Contrast-Color Outfits Will Be All The Rage Spring 2024 - How To Put Together The Perfect Look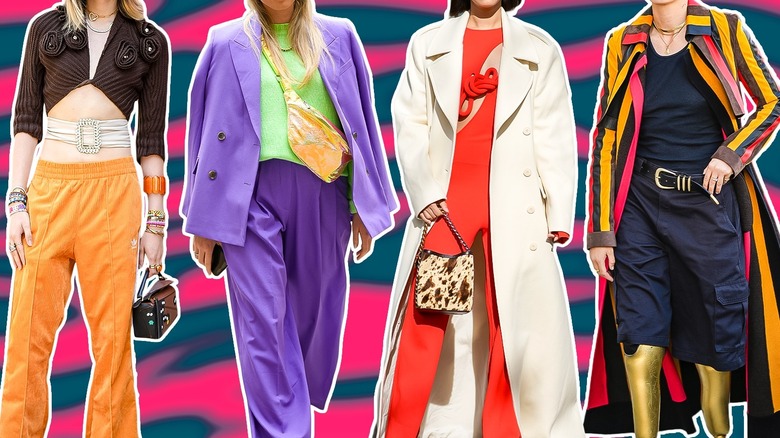 Static Media / Shutterstock / Getty
We may receive a commission on purchases made from links.
For fans of the quiet luxury trend, opting for monochromatic options is a no-brainer. Monochrome outfits have been the key to elegant looks without splurging on expensive pieces for many years. However, if we learned anything from the spring/summer 2024 collections, color-contrasting outfits will deliver an even bigger statement than single-toned aesthetics. Brands like Fendi and Tory Burch have utilized the power of contrasting colors to create unique and high-end looks.
Just as monochromatic ensembles appear sophisticated and polished, contrast-color outfits can look chic and intentional. Staying within the same color palette will help create a cohesive but safe outfit, but breaking the mold with high-contrast colors will let you experiment and come up with something much more interestng. Playing with different contrasts can help develop a specific look for you, depending on the combination you pick. Since contrasts of all kinds are in, you can have fun with this trend by mixing and matching prints, patterns, and textures along with colors and palettes. 
Contrasting prints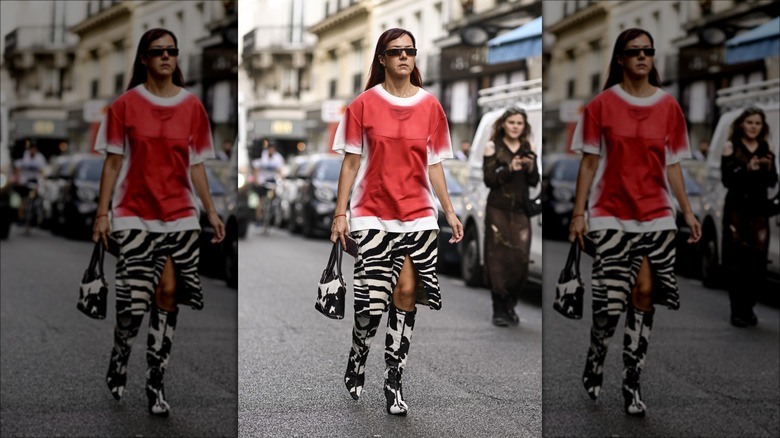 Daniel Zuchnik/Getty Images
Any maximalist fashion lover already knows the importance of prints in creating an eccentric wardrobe. However, pairing them against each other can be a contrast-color outfit formula that'll have everyone's attention. Opting for prints in different hues and shades can create this high-contrast feel that'll make you look like you stepped right off the runway. Take it from Vivienne Westwood, who has never avoided a good mix of prints.
Contrasting footwear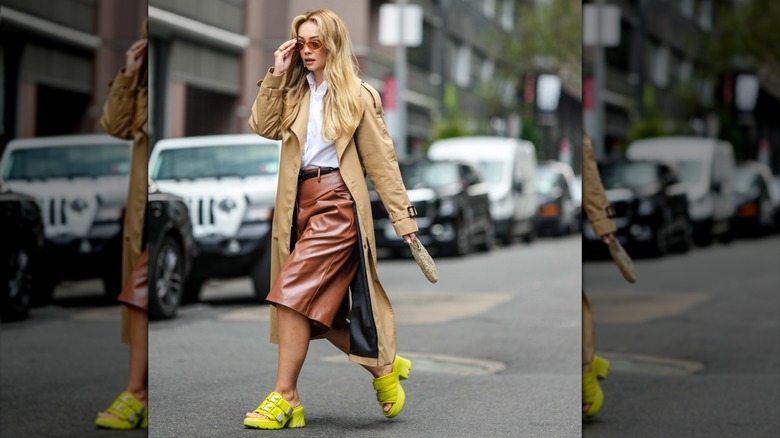 Edward Berthelot/Getty Images
If you're new to contrast-color styling, the easiest way to start is taking a regular outfit and finishing it with bold contrasting footwear. You can bring another dimension to the "opposites attract" vibe by pairing unusual garments together. Wearing a fall trench? Throw on some chunky summer sandals. A good example comes from Gucci, who styled a casual gray sweatshirt with a sleek burgundy midi skirt that created a contrast on multiple fronts. 
Neutrals and bold hues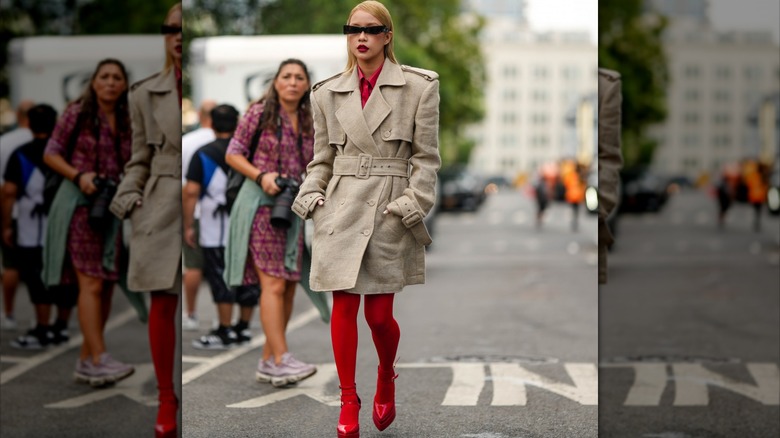 Edward Berthelot/Getty Images
If you're conflicted about what colors to use for your contrast-color outfits, there is one combination that'll be a surefire hit. Pairing neutrals with a vivid hue is the best way to create an attention-grabbing look that will always work. Opt for lighter neutrals against highly saturated tones to stand out even more.
Neon vs. dark shades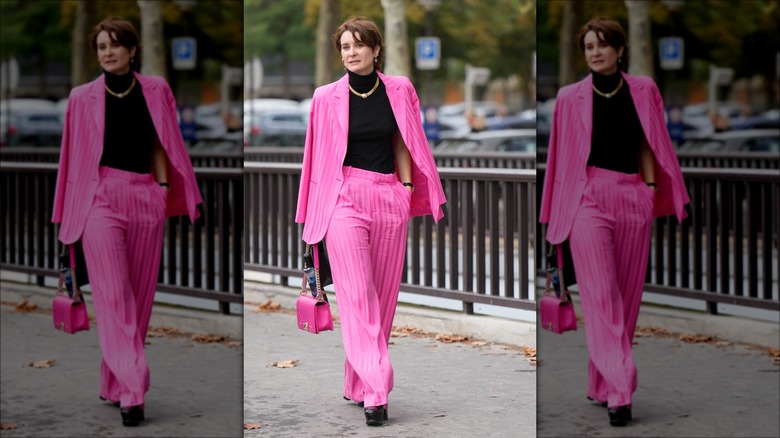 Edward Berthelot/Getty Images
Neon colors are the easiest route if you're looking to create a high-impact look. Pairing any neon shade with a darker hue creates a disparity that will help your neon color to have its moment (as if it needed any help on that front!). Because neon is overwhelming, a dark pairing will also tone down your look and create a balanced outfit.
Contrasting neon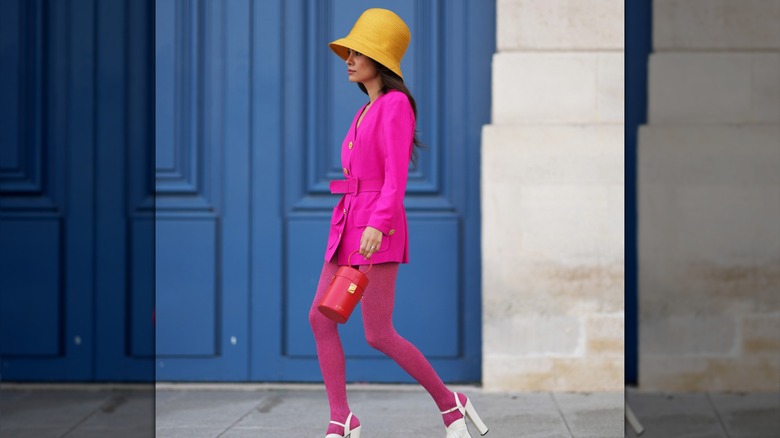 Edward Berthelot/Getty Images
Low-contrast looks are a safe way to pull off this trend of divergence. Pairing several neon shades together will have less of a stark difference than pairing them with black, but can still result in a creative, runway-inspired look. When everything is neon, you can wear as many different shades in the same outfit as you like — just make sure you have the confidence to pull it off. 
Bring together feminine and masculine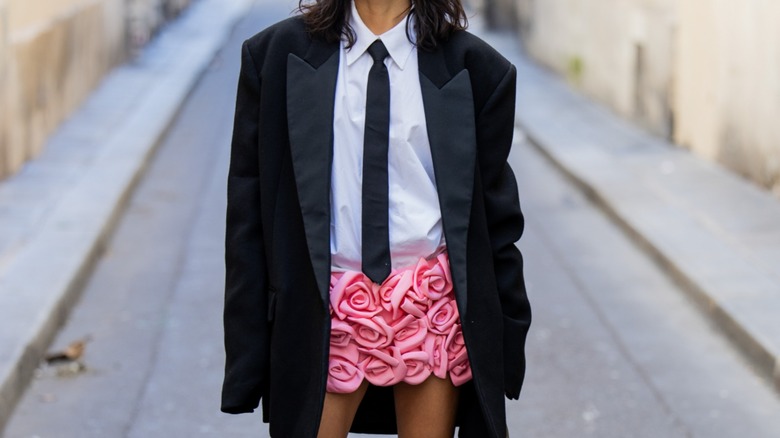 Christian Vierig/Getty Images
Pastels are typical for spring, but rather than pairing them with the typical feminine silhouettes, wear them with dark, masculine designs for a significant contrast. Items like blazers or trousers will turn heads when matched with items like flowy pastel pink tops or rose-accented pale bottoms.
Minimalist color pairings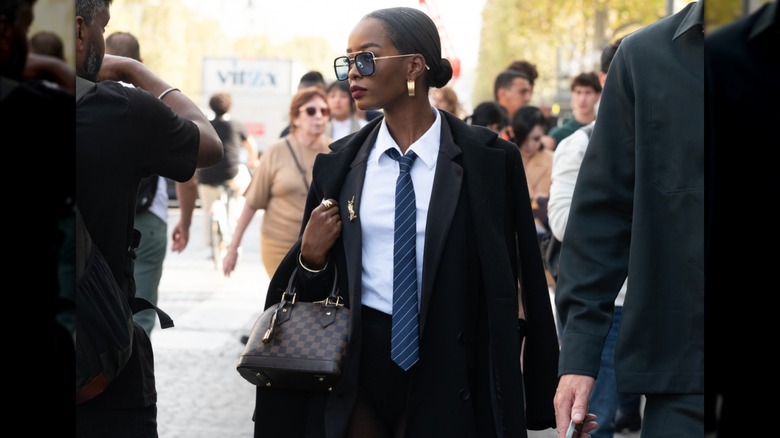 Claudio Lavenia/Getty Images
Those not accustomed to using vibrant colors in their wardrobe can still create contrast-color outfits in their own way. Thankfully, creating a color contrast look is easy; you need to play with dark and light tones. Black and white are the easiest colors to create a high-contrast look that still gives you a neutral, minimalist aesthetic. Throw in other neutral shades, like brown or navy, to add even more interest to your minimalist look.