We Tried Princess Diana's Favorite Red Nail Polish & It Screams Empowerment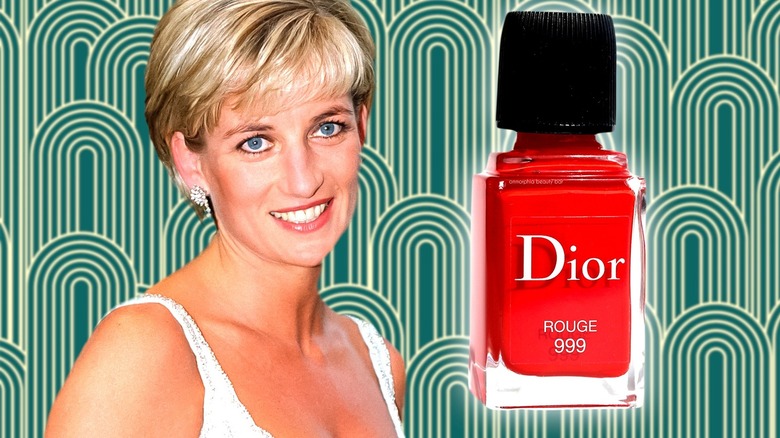 Static Media / Shutterstock
We may receive a commission on purchases made from links.
If you're a forever fan of the People's Princess, then you likely know she wasn't one to play by the rules. From her hands-on mothering style to her rebellious blue eyeliner, Princess Diana didn't always adhere to royal codes, and her bright, cherry-red nails were no exception. "I don't go by a rule book, because I lead from the heart, not the head, and albeit that's got me into trouble in my work, I understand that," she famously said in a 1995 interview with the BBC (via PBS).
Advertisement
The iconic nail lacquer she was so often seen wearing is none other than Dior Vernis in the shade Rouge 999, which retails on Amazon for $33. Naturally, we simply had to try Princess Di's favorite hue of red polish and experience the lush formula for ourselves. The opulent nail polish is described as "protective nail care" by Dior because of nourishing ingredients like peony and pistachio extracts. What's more, the bottle has been redesigned since Diana wore it to be more environmentally friendly with a 100% recycled plastic material cap. From the first brush stroke, we weren't surprised whatsoever to find that the late Princess Diana's go-to nail color is, indeed, fit for royalty.
First impression of Dior Vernis Rogue 999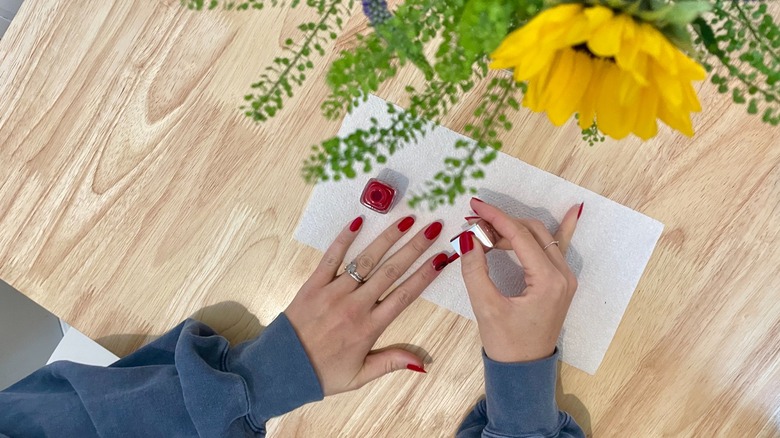 Hannah Darling Fenn / Static Media
We tried Dior's Rogue 999 at the dining room table in the morning sunlight but, in our eagerness, forgot to put down a paper towel, which meant a few drops of polish graced the wood surface of the table within seconds. Once that situation was addressed, though, we carefully applied the rich, creamy gel formula, which glided on with beautiful ease. The wide, ergonomic brush was an instant winner, making for a smooth and even first coat of fiery red lacquer.
Advertisement
The polish's consistency is decadent and thick enough that even a single application would suffice in a rush to get out the door. However, we opted for a second coat to get the full effect of the lavish formula -– once the first had fully dried, of course. The polish is well-pigmented, and we couldn't help but notice that the fumes weren't as strong and overwhelming as those from other bottles of nail lacquer. Rogue 999 is definitely a classic red, with no strong orange or blue undertones. We'd go so far as to say that these red nails are the ultimate power move.
A truly timeless red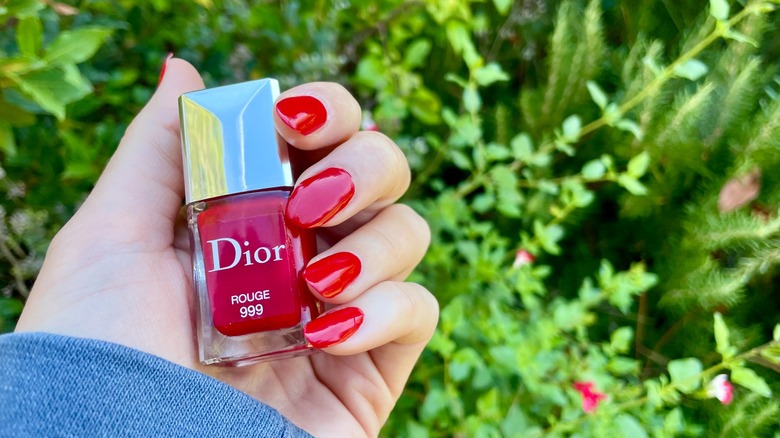 Hannah Darling Fenn / Static Media
As the second coat of the versatile, bright red polish dried — which was notably quick — we gleaned that a top coat seemed necessary. Rogue 999 has a shine to it, but it could have glistened a bit more. So, once the clear top coat set, this at-home manicure felt just about as close as you can get to the real deal in a salon. The Dior Vernis is, of course, more of an investment than drugstore nail polishes, but if you were to splurge on a bottle of the smooth gel formula, we suggest choosing a color you'd excitedly wear year-round. In fact, Dior Vernis comes in 24 shades, so there's undoubtedly one for everyone. If you do take the leap, though, prepare to be disappointed by other formulas.
Advertisement
All in all, we can confidently say Dior Vernis is a luxurious experience we highly recommend to any beauty devotee. If we had to describe the iconic Rogue 999 in one word, it would be "empowering." We can't help but think of the People's Princess each time we glance down at the lovely, vibrant, and full-of-life hue on our hands.