Water-Based Setting Powders Are Trending - A Beauty Chemist Explains To Us How They Work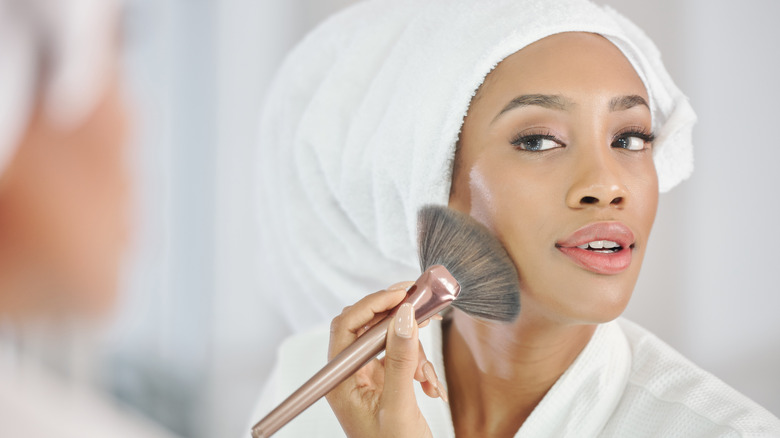 Dragonimages/Getty Images
Setting powders can be a bit of a necessary evil in a full-face makeup routine. Sure, they can extend the wear of your makeup and minimize the appearance of excess oil on your skin, but at what cost? Many setting powder formulas contain drying ingredients like talc and silica that can absorb your skin's natural oils to the point of looking and feeling dehydrated.
If you tend to keep an eye on TikTok beauty trends, you may have noticed a new type of setting product taking the makeup scene by storm: water-based setting powders. These groundbreaking powder formulas come in the form of "wet powder" — a concept that can be rather difficult to wrap your head around. To get to the bottom of this trend, we asked Nevada-based beauty chemist David Petrillo, the founder of skincare brand Perfect Image, for his exclusive breakdown of water-based setting powders, including their benefits, who should use them, and how to best apply them. 
Water-based setting powders vs. traditional setting powders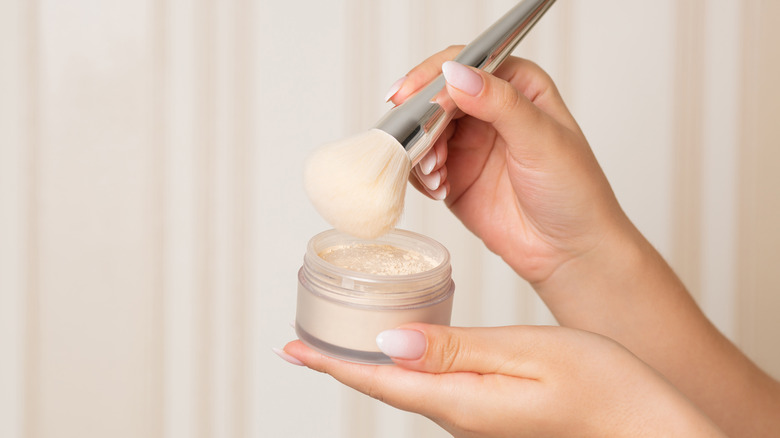 Pavlyukv/Getty Images
The most obvious difference between a traditional setting powder and a water-based setting powder is the latter's boosted hydration potential. The water in water-based setting powders infuses moisture into your skin — even while mattifying your makeup look — rather than pulling it out. This isn't the only difference between the two styles of powder, however. "Water-based setting powders tend to have a lightweight texture, which allows for comfortable wear throughout the day," David Petrillo exclusively told Glam. "They do not feel heavy or cakey on the skin, making them a popular choice for those who prefer a natural and breathable makeup look."
If you like your makeup to stay all day but prefer a dewier finish than most setting powders offer, a water-based setting powder may be exactly what you've been looking for. In fact, Petrillo added, "Some water-based setting powders offer a radiant finish, providing a subtle glow to the skin. This can help to create a luminous and healthy-looking complexion, enhancing the natural glow." 
Which skin types should use water-based setting powder?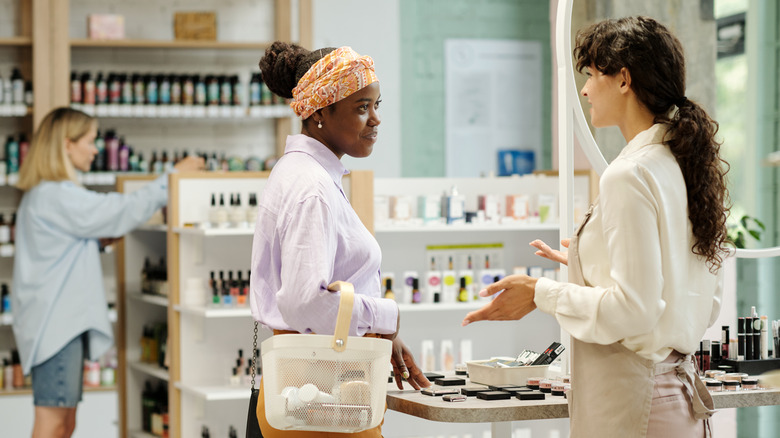 Shironosov/Getty Images
In addition to those seeking a glowing, luminescent finish to their makeup, individuals with certain skin types may especially benefit from switching to a water-based setting powder. First, of course, are those with dry skin. "If you have dry or dehydrated skin, you may find that water-based setting powders are more comfortable to use compared to other types of powders," David Petrillo exclusively told us. "They tend to be less drying and can help maintain the skin's moisture balance."
People with combination skin and oily skin can also benefit from a water-based formula. "These powders have a lightweight formula that helps absorb excess oil and control shine," Petrillo elaborated, "providing a matte finish that can help extend the wear of your makeup." Even those with sensitive skin could see an improvement by switching to a water-based powder. "Water-based setting powders are generally considered to be gentle on the skin," the expert continued, "making them a suitable choice for those with sensitive skin." He does warn, however, that those with sensitive skin should always check ingredient lists and perform a patch test before committing to new products.
As an added bonus, Petrillo told us that water-based setting powders and cream-based products are a match made in makeup heaven, meaning these powders work wonders on liquid foundation, for instance. "They help set and lock in the cream products without altering their texture or finish," he told us.
Expert water-based setting powder application tips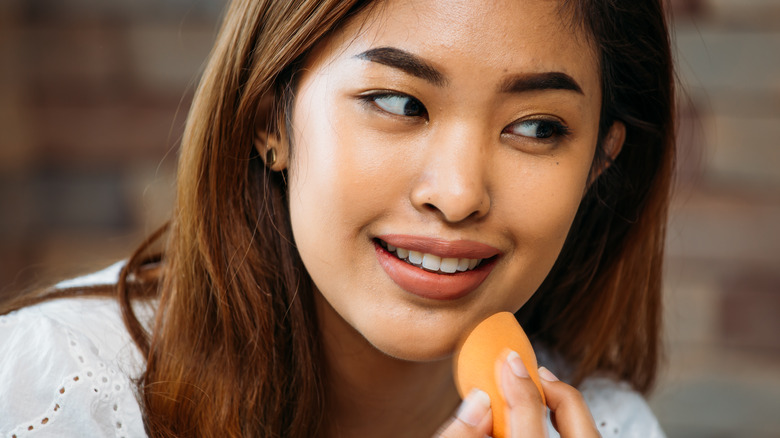 Twinsterphoto/Getty Images
Ready to try a new wet powder setting powder product for yourself? David Petrillo has some exclusive expert application tips for you. After you prepare your skin and apply your makeup, the beauty chemist recommends selecting a dense, fluffy brush, explaining, "This type of brush will help distribute the powder evenly and prevent it from settling into fine lines or pores." Next, tap off any extra powder before touching the brush to your face. Here, you should "begin from the center of your face and move outward," Petrillo explained, noting that you should "apply the powder in thin, even layers to build up coverage gradually."
"Pay extra attention to the T-zone and any other areas prone to oiliness," he added. "These areas tend to benefit the most from a water-based setting powder's oil-absorbing properties." As your final step, blend and set with a separate tool. "After applying the powder, use a clean brush or a makeup sponge to gently blend and set the powder into your skin," Petrillo added. Like with traditional setting powders, this will allow the powder to look "seamless," according to Petrillo, and help your makeup look cohesive and, well, set. Now, go forth and be both drop-dead gorgeous and hydrated like never before — and don't forget the occasional touch-up to keep your makeup on point.