'Micro Makeovers' Are Trending - Here's How To Change Up Your Look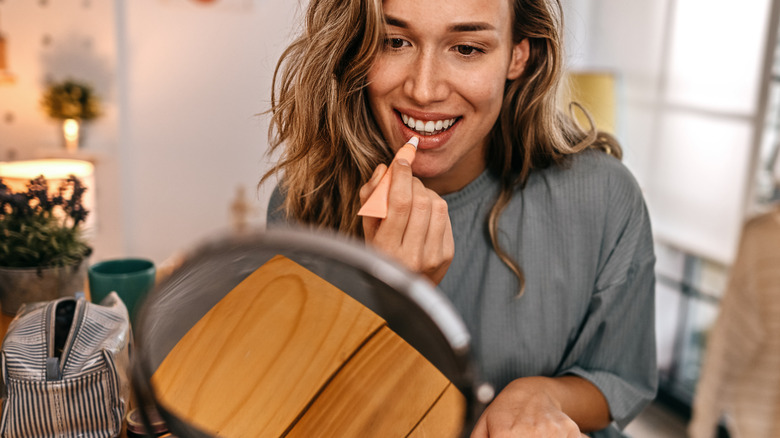 Mixetto/Getty Images
Makeovers are ideal when you want to start a new chapter in life and cue that new beginning by changing up your looks. But don't assume that to get the "makeover" effect, you'll need to color your hair, spend ridiculous amounts of money on hair and nail extensions, and wear more makeup. While those steps resemble the stereotypical "makeovers" you see in cliché movie scenes, less can be more in the real world. Thus, sometimes, there's no better makeover than learning to embrace a more natural, less embellished look.
"Now everyone seems to be trending back toward more natural, wearable nails," Eunice Park, Aprés Nail's research and development manager — also a manicurist — told PopSugar. And, according to Pinterest Predicts, the 2023 "micro makeover" trend is about — literally — approaching hair, makeup, and nails more minimally rather than attempting to achieve classic glam. Micro makeovers are perfect for anyone ready to experiment with more minimalist beauty, since minimalism can be a good thing.
Remove your hair extensions
hedgehog94/Shutterstock
Of course, luscious hair extensions can look beautiful and glamorous. However, they can be pricey and time-consuming, and they can prevent you from appreciating your genuine hair. So, if you want a micro makeover, consider ditching your extensions, learning to love your hair, and taking good care of your tresses at their natural length.
Chop your hair even shorter
After you remove your hair extensions — or if you never had them to begin with — why not cut your hair shorter to signal your readiness for a fresh start? For instance, chin bobs are everywhere for fall 2023, and you can't go wrong with such a sleek haircut. Try a pixie cut or a bold buzz cut if you want to rock something even shorter.
Ditch the false lashes
You don't need lashes for a glam makeup look, so 2023 is the perfect year to stop spending so much time and money on false lashes. Instead of relying on faux lashes to feel good about how your eyes look, try appreciating your natural eyelashes and enhancing them with mascara and subtle eye makeup.
Put less on your lips
It's tempting to go the extra mile with lip liner, lipstick, and gloss. However, there's no need to put so many products on your lips for them to look beautiful. Instead of using multiple products to make your lips look bolder or plumper, appreciate their natural look, and only use one product, such as gloss, lipstick, or lip balm.
Spend less on your nails
Nail trends come and go in the blink of an eye, so unless you're genuinely passionate about exploring every hot and glamorous nail trend, don't try to keep up with all the most expensive nail looks. Instead, consider letting your nails grow naturally, trying a shorter length, or exploring chic minimalist nail designs for your next manicure.
Revisit slim brows
Full and dramatic Lily Collins-inspired eyebrows may have taken over in the mid-2010s, but consider leaving your brows thin for a micro makeover in 2023. Why spend all that money on products and makeup to fill your thin eyebrows or groom fuller brows when slim brows appear sexy and sleek?