Does Kate Middleton Have Any Tattoos? Here's The Real Deal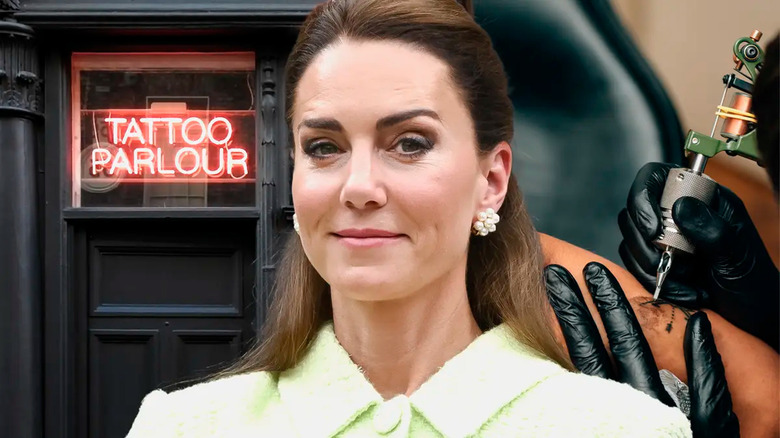 Static Media / Shutterstock
Kate Middleton, who we now know as Catherine, Princess of Wales, has become an icon in her own right since marrying into the royal family in 2011. But long before she started dating William, she had her own life free of scrutiny from the world at large. Due to this, many may wonder if she indulged in a tattoo or two during her less "proper" era. After all, her youthful style was undoubtedly daring and age-appropriate. Low-rise jeans and spaghetti-strap tank tops were among her staples, and she even wore a sheer dress that famously captured William's attention at a fashion show in 2002.
The world has loved watching Kate's metamorphosis from a fashionable young woman to a polished yet approachable royal. So, it's no wonder that she's one of the most popular members of the royal family, according to a 2023 survey by YouGov, behind only her husband, Prince William, and Princess Anne. In terms of style, however, she's arguably the one to beat. The dresses she wears at public events are known to sell out immediately, no matter the price point. Then, there's the fact that she isn't afraid to re-wear her favorite pieces and style them in new and exciting ways, resulting in a number of regal looks. Practices like this make it seem likely that she's hit a tattoo parlor in the past. 
Kate Middleton's tattoo history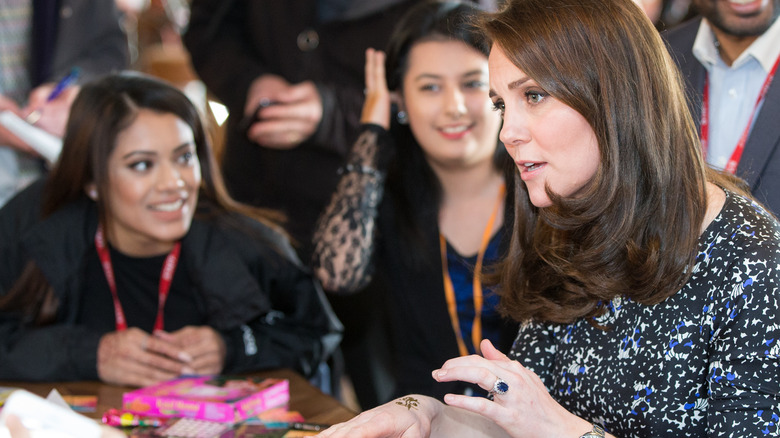 Wpa Pool/Getty Images
Sorry to disappoint those Kate Middleton fans with a wilder streak. The Princess of Wales does not have any tattoos (that we know of). She has had a little bit of fun with temporary ink, however. In 2018, she got a henna tattoo when she visited a local art district. Henna is semi-permanent, and the design undoubtedly washed off in days or weeks.
This reveal likely won't come as a surprise, as it's well-known that royals have to follow some strict style rules. For example, the ladies must wear hats when attending formal events, and nude pantyhose is not required but strongly encouraged for public appearances. Still, there might be hope for tattoo enthusiasts who want to see Kate all inked up. There is no hard and fast policy banning tattoos (at least that has been revealed to the public), as some working royals proudly sport their ink in public circles. So, maybe there's still hope for Kate!
These British royals have ink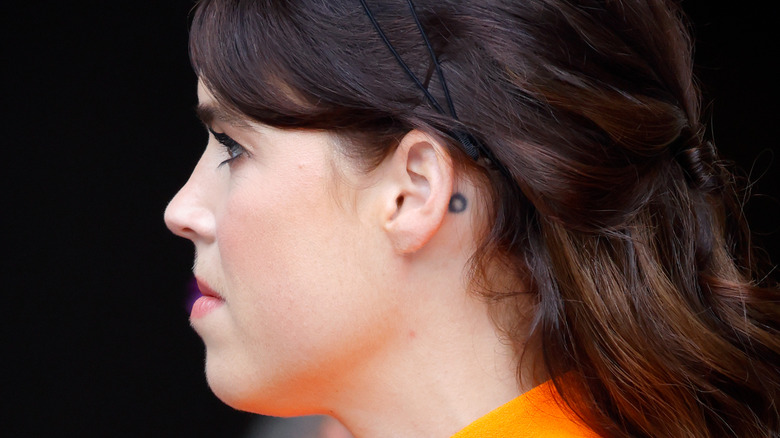 Max Mumby/indigo/Getty Images
Prince William's first cousin, Princess Eugenie, made some waves in 2022 when she attended the Queen's Jubilee with a tiny tattoo on full display. No one knows when Eugenie got the tattoo (and she isn't talking). Still, some think the circle behind her ear is a nod to the Sovereign's Orb. If this is the case, the circular ink may have been obtained in honor of her late grandmother, Queen Elizabeth II, who passed away not long after the tattoo's debut.
Royals are not known for showing off a ton of skin, so other tattoos may lurk somewhere on their persons. However, the only other British royal who publicly sports ink is Lady Amelia Windsor, who possesses multiple designs. She has a pair of wings or petals on her rib cage, a tiger on her left shoulder blade, and an additional tattoo on each wrist. She's pretty far down the line of succession, though, so it's fair to say she doesn't have to live with the same expectations as the future queen consort.