Sophisticated Flats Are Trending For Fall 2023 - How To Style Them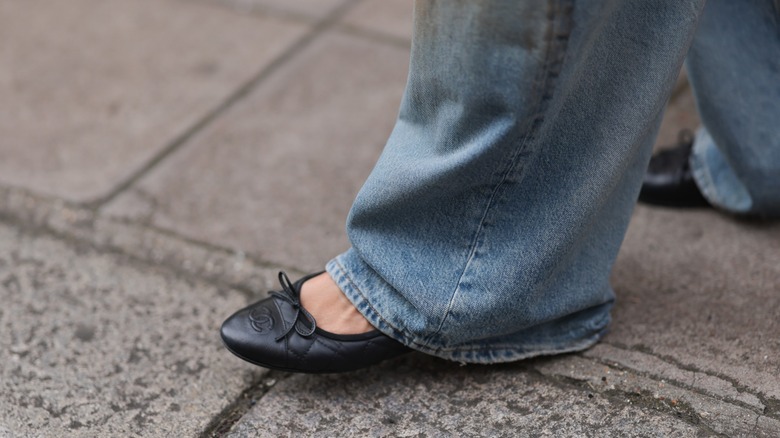 Jeremy Moeller/Getty Images
Fall is typically the season for boots, but flats have taken their place this year. With all the variations of flats available, it's easy to see why many are falling in love with this shoe again. Flats are a comfortable alternative to sneakers and boots that look more elegant and dressed up. And while many modern trends take flats to the next level, there's nothing quite like a classic polished flat to save the day. For the fall season, many are putting away their mesh flats in favor of sleek black slingback or ballet flats with a more subtle, refined touch. Apart from elevating your footwear, these sophisticated flats pair well with any outfit and don't require much thought.
Advertisement
To rock these sophisticated flats, you'll want to remember the type of look you're going for that day. If you're looking to dress up a casual everyday ensemble, for example, you may want to add your flats to a pair of jeans and a basic tee that'll look put together yet laidback. For formal attire, you'll want to opt for sleeker patent leather flats that shine while still holding to the quiet luxury trend. Overall, the sophisticated flat is more than a passing trend for the fall season and is a wise investment for those looking to expand their footwear options.
The preppy style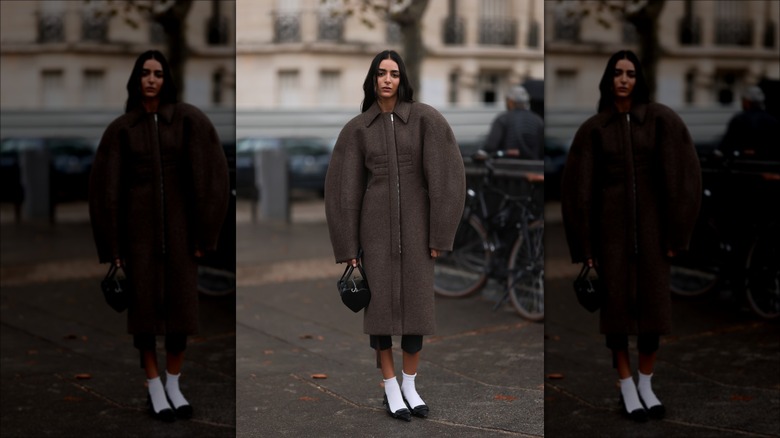 Jeremy Moeller/Getty Images
Like their loafer counterpart, a timeless black flat is perfect for creating a fall preppy ensemble. Pair your sleek flats with crisp white socks to create an almost school uniform-inspired 'fit. Finish the look with your favorite preppy-inspired items, such as long coats and mini dresses or skirts, and you'll have the perfect Blair Waldorf-inspired attire for the fall.
Advertisement
Mix in masculine designs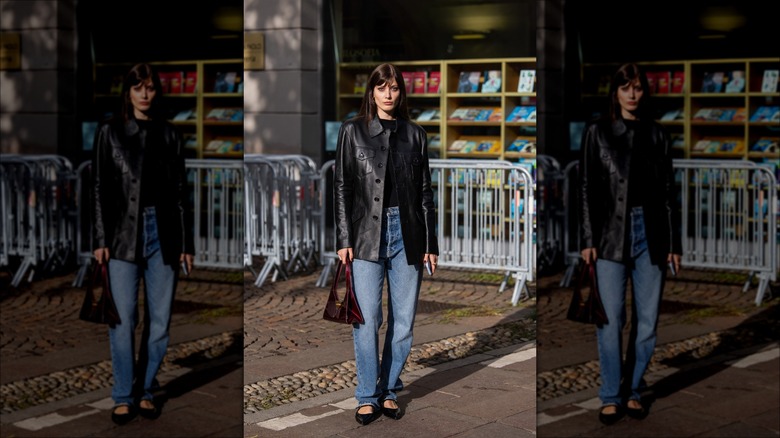 Christian Vierig/Getty Images
The flat, and its variations, is a simple yet soft shoe option. Ballet flats have a delicate design, making it easier to create head-to-toe feminine outfits. However, to create a more dynamic look, you'll want to mix masculine elements like leather materials or structured silhouettes for a contrasting outfit. These masculine style elements help add some edge to your feminine footwear and create a well-rounded look.
Advertisement
Maxi length bottoms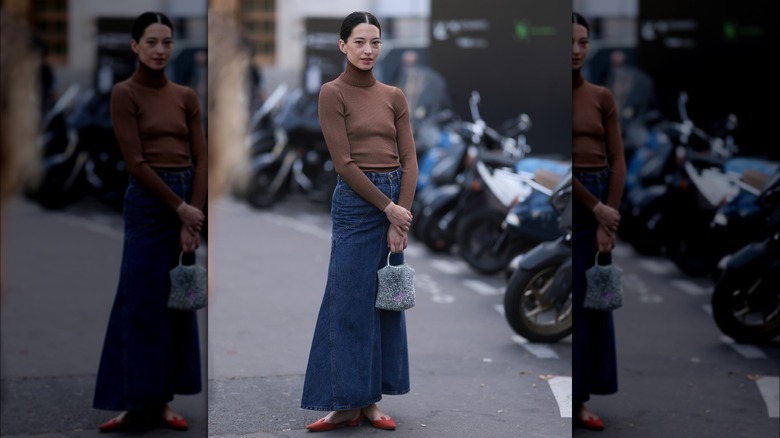 Jeremy Moeller/Getty Images
While flats don't offer additional height, they are still ideal footwear for longer hems. Denim maxi skirts, for instance, are classic fall bottoms that'll help create a retro '90s vibe to your ensembles. Instead of pulling out your heeled boots, embrace the extended length by reaching for these sleek, sophisticated flats. You can also opt for a bold color to create an exciting pop under your maxi bottom.
Advertisement
Formal 'fits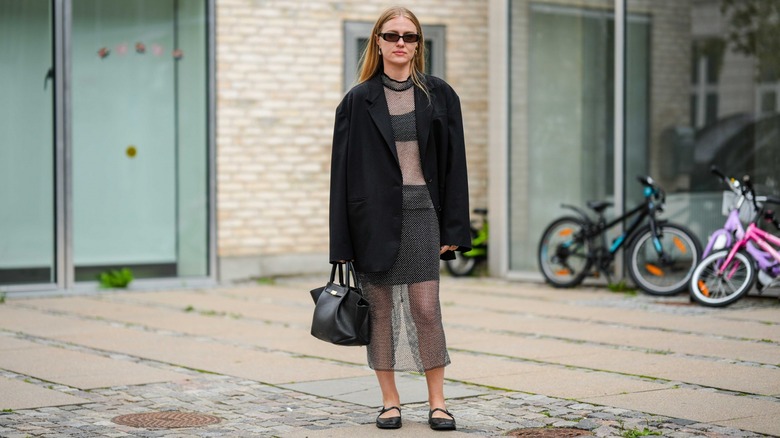 Edward Berthelot/Getty Images
Not all formalwear needs to include heels or heeled shoes to be considered appropriate. Even sophisticated flats can pull your outfit together and help you look elegant and chic. Stick with a neutral hue or one in the same tone as your ensemble to ensure everything looks cohesive. If you're on the petite side and want to rock flats to a dressier event, opt for a mini or cropped hemline that'll give the illusion of longer legs, even if you're wearing flats.
Advertisement
Casually elegant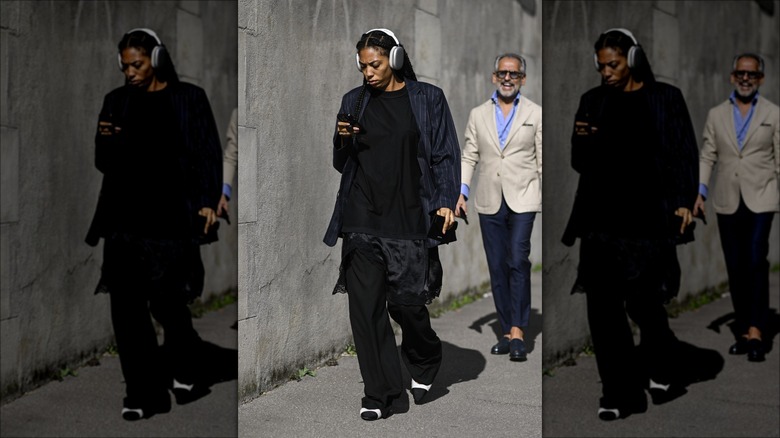 Daniel Zuchnik/Getty Images
Even on days you want to wear loose pants and an oversized shirt, a pair of flats will help your outfit look intentional and slightly more polished. Opting for minimal flats with a sleek material, like leather or patent leather, can still get you this elegant style, even if you're running errands. In other words, pair your flats with casual items to remain comfortable yet dressed up.
Advertisement
Everyday footwear
Although sophisticated flats can help you appear more polished, they're also great as comfortable shoes that you can throw on immediately. After all, they are versatile and fit any outfit, from dresses to jeans, making them the best solution for your styling struggles. Even if your intent isn't to look dressed up, sophisticated flats can blend in with any of your ensembles, making it an easy option when you don't know what to wear.
Advertisement