You Can Still Use Expired Old Navy Super Cash - This TikTok Shopping Hack Shows How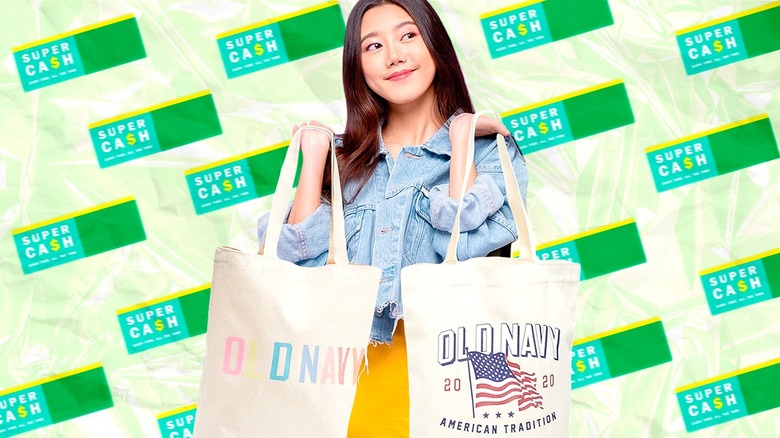 Static Media / Shutterstock
Old Navy has proven itself as a wardrobe staple with its casual, affordable clothes. But it's not just the clothes that keep shoppers hooked — it's the unbeatable sales and discounts too. One example: the brand's Super Cash rewards, which customers can earn and then redeem towards a future purchase. The only problem is that Super Cash is valid during a short window before it expires forever.
However, there's one way to still get some value out of your expired vouchers. TikToker Ginella Massa explained the hack in a viral video that has racked up over 100,000 likes to date. Massa first points out that you'll need an online Old Navy account and be signed up for the store's Navyist Rewards program to try the hack. Then, she says to log in to your account, go to the "My Account" page, click on "My Points & Rewards," and find the page to redeem new points. There, you'll find a link to convert your expired Super Cash to points using the code on the back of your coupon.
The video's comment section was flooded with people who've regrettably thrown out their Super Cash, unaware that it could still be worth something. As Massa suggested, hold on to the coupons, even if you're sure you won't use them. Once the expiration date has passed, you have 30 days to convert them to points.
How to earn Old Navy Super Cash
If you're new to Old Navy Super Cash, there are a few things to know about earning the coupons. First, Super Cash is only given to customers during specific periods. These periods are advertised so you'll know when to shop. Then, for every $25 you spend, you're eligible to receive $10 in Super Cash. If you shop in a store location during a "double earn" event, you can earn double the Super Cash amount. For example, spending between $25 and $49.99 will earn you $20 in Super Cash, while a purchase between $50 and $74.99 will result in a whopping $40 in Super Cash coupons.
The Old Navy vouchers can also be earned online, but rather than receiving a paper version, you'll simply receive an email containing your coupons within 24 hours of your order. Keep in mind that Super Cash isn't provided for the purchase of gift cards and doesn't include the cost of shipping or other fees. Moreover, you'll only find the program at Old Navy, not one of its sister brands (such as Gap or Banana Republic). Besides these few basic rules, Super Cash is easy to earn, whether you're buying a winter coat or beach day flip-flops.
What to do with your points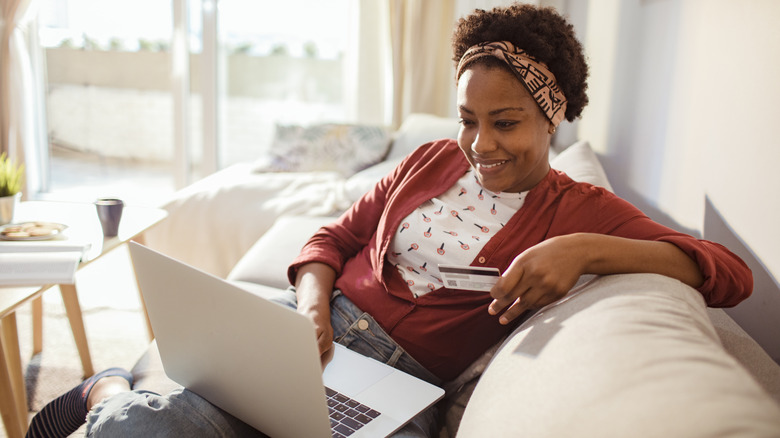 Vorda/Getty Images
Once you've earned your Super Cash and let it expire (oops), the TikTok hack will ensure your coupons don't go to waste. But once you have your points, how should you use them? The process is pretty simple: Old Navy rewards points can be applied to both online and in-store purchases. If you're shopping online, make sure you're logged in with your email address. For in-store shopping, enter your phone number at the cash register to access the points.
While Super Cash is only available at Old Navy, the points you earn from your expired vouchers can be redeemed at any Gap Inc. brand. In other words, use your account at Old Navy, Gap, Banana Republic, or Athleta to apply your points to your purchase.
There are a couple of drawbacks to using Old Navy rewards points though. Just like Super Cash, points don't have an indefinite lifespan, so the use-it-or-lose-it rule still applies. Make sure to redeem the points within 12 months or else they'll be removed from your account. Another issue with converting your Super Cash to points is that rewards points offer less value. If you receive $10 in Super Cash, you have the equivalent of $10 to spend. However, an expired $10 voucher only equates to 10 points (for reference, you'll need 100 points to receive a $1 discount). The takeaway: Spend your Super Cash while you can, but if you forget, stretch your savings a little longer with points.