The Obama Sisters' Most Outrageous Outfits That We'll Never Forget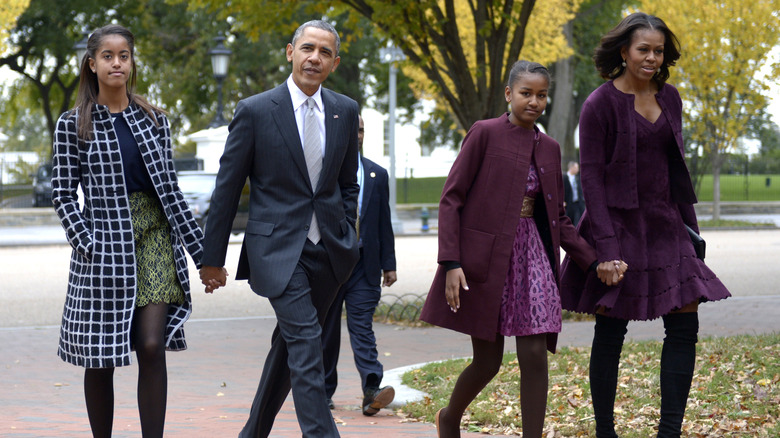 Pool/Getty Images
Malia and Sasha Obama quickly became America's darlings when their father, Barack, was elected to office in 2008. The sisters, who were 10 and 7 when former President Obama won the election, spent many of their formative years in view of the public, which means we got to watch them grow up and discover themselves — and their style sense. In their younger years, the girls were frequently pictured in pretty, conservative dresses at public events. As they got older, however, their styles diverged to complement their personalities, and it's now not uncommon to see them sporting casual, edgy, and expensive 'fits on the streets.
Advertisement
In fact, an insider close to the Obama family reportedly spilled that Barack and Michelle are less than happy with how their daughters have been handling their finances since their move to LA. "They eat at the most expensive restaurants most nights of the week, shop for designer clothes in Beverly Hills and West Hollywood, and drop thousands on spas and salons," the source told OK! Magazine in 2022. We like their new fashion habits, but it seems their threads may come with a hefty price tag.
But before they made their big move to the City of Angels, as with any public figures, the Obama sisters donned outfits that garnered attention — and not always for the best reasons. Even some outfits they wore when their father was in office got slammed. Whether the outfits were inappropriate for the occasion or flashy and distracting, there are a handful of outrageous outfits the Obama sisters have worn over the years that we will never forget. 
Advertisement
Were their State Dinner dresses inappropriately expensive?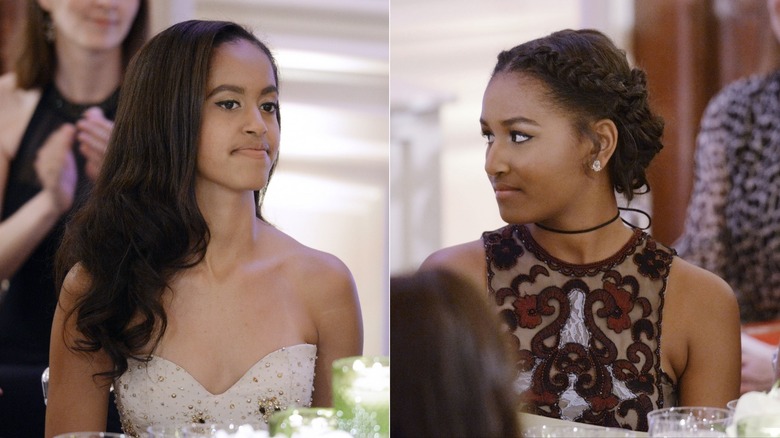 Pool/Getty & Pool/Getty Images
At the 2016 White House State Dinner, Sasha and Malia Obama got slammed for opting to wear Naeem Khan designer dresses. Although the dresses looked stunning on the sisters, they received some negative attention for costing almost $20,000 ... each. An online debate ensued, which was sparked by a now-deleted tweet by an ABC News anchor, who said they were "too expensive" for young girls. 
Advertisement
Malia's ironic T-shirt pick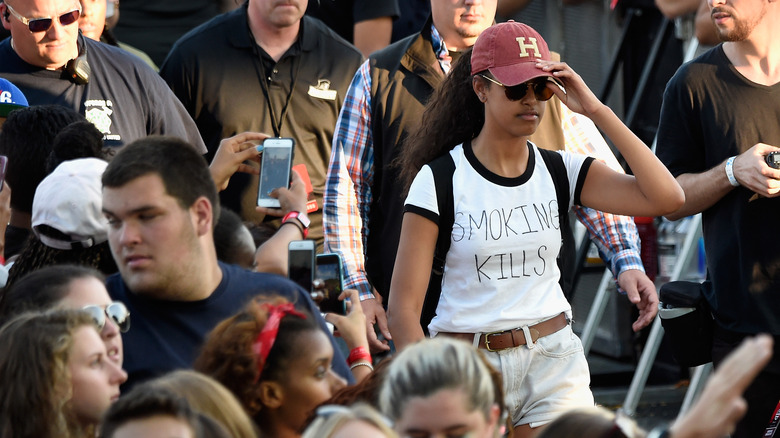 Kevin Mazur/Getty Images
In 2016, Malia Obama was caught on camera in this "Smoking Kills" graphic T-shirt. Maybe it's a tongue-in-cheek statement, but it's a confusing garment to don if you also smoke even the occasional cigarette, which she was photographed doing just weeks prior to wearing this outfit.
Advertisement
Their Thanksgiving outfits were bashed by a GOP staffer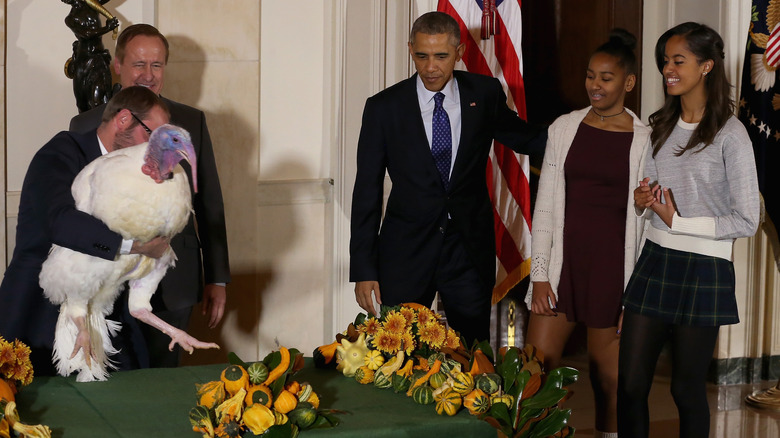 Mark Wilson/Getty Images
The Obama sisters' outfits from a Thanksgiving celebration in 2014 seem innocuous at first glance, but GOP staffer Elizabeth Lauten criticized the girls for their fashion choices. "Dress like you deserve respect, not a spot at a bar," she wrote (via NBC News). Although the outfits could have been a bit more polished, nobody agrees with the way Lauten went about it (or the words she used). She resigned from her position shortly after making the (since deleted) Facebook post.
Advertisement
The wind almost blew this dress up too high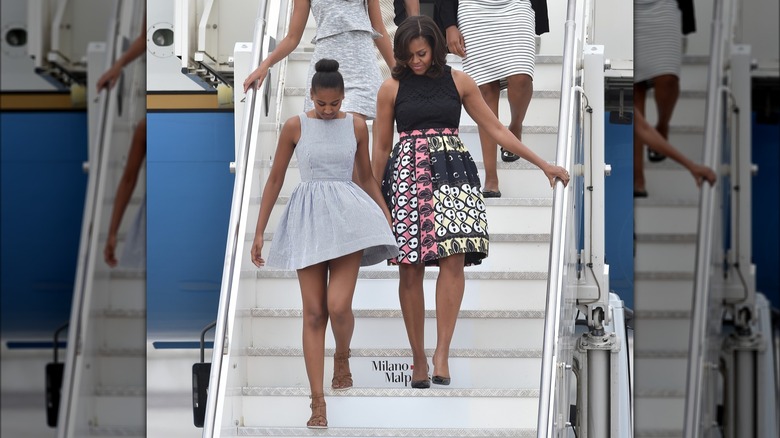 Jacopo M. Raule/Getty Images
We do love this cute babydoll-esque dress on young Sasha Obama that she wore in June 2015, but it may not have been the most flight-appropriate fashion choice, especially given that it almost flew up in the wind while she was deplaning. A note for future famous flight-takers: Opt for pants on the plane, and don a little dress once you touch down. 
Advertisement
Were these dresses appropriate for teatime with the Prime Minister?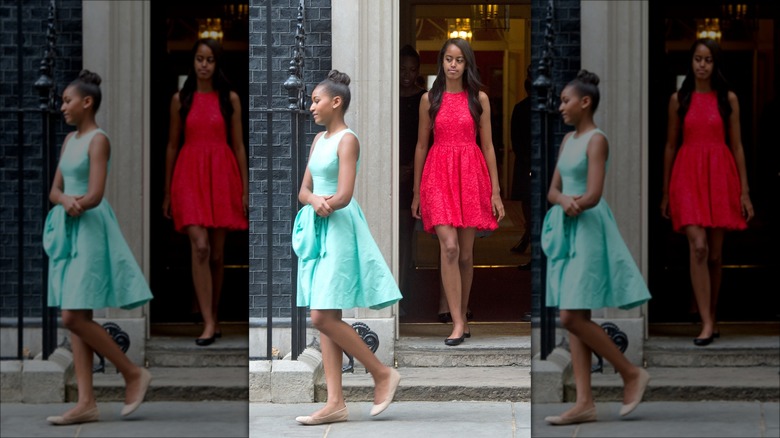 Zak Hussein/Getty Images
At first glance, these vibrant dresses are a cute choice for Sasha and Malia Obama — but did they fit the occasion? The Obama sisters were photographed in these dresses while having afternoon tea with British Prime Minister David Cameron and his wife, Samantha. For fancier high tea occasions, it's typically recommended you stick to a neutral color palette free of vibrant or flashy colors, so they may have been too overstated for a high-scale afternoon tea event. 
Advertisement
Little Sasha resembles an Easter egg in this family photo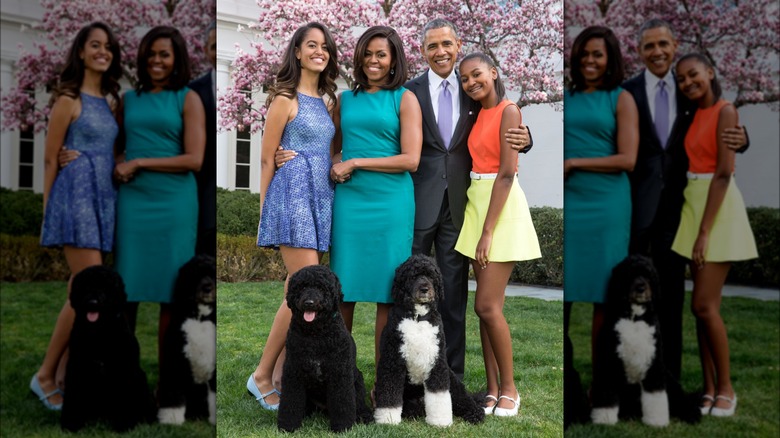 Handout/Getty Images
This 2015 Easter family portrait of the Obamas really captures their family togetherness, but we can't help but wonder why Sasha didn't stick to the family color scheme. While Malia, Michelle, and former President Obama chose to dress in varying shades of blue, Sasha donned a fluorescent orange and yellow ensemble that screams "Easter egg." The contrast-color outfit is cute but not exactly cohesive with this family photo. 
Advertisement
These printed tights took all the attention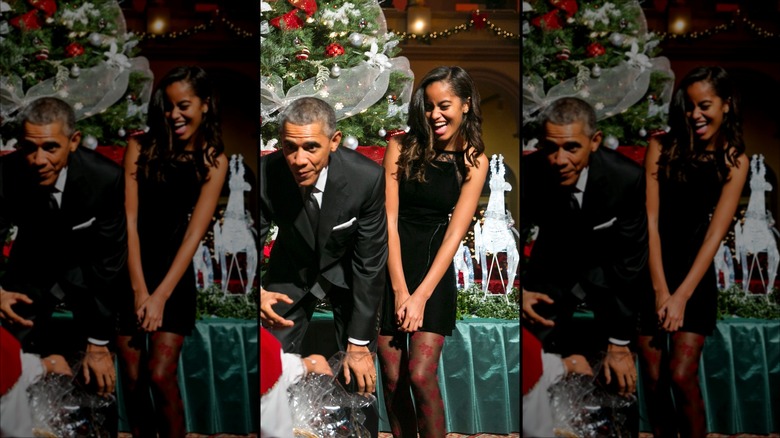 White House Pool (isp Pool Images)/Getty Images
White House Christmas celebrations are always a merry occasion, and the celebration the Obama family had in December 2014 was no different — with the exception of Malia's choice of tights. The velvet skater dress was a stunning choice for the then-teen, but the flashy floral-printed tights drew all the attention away from the cute and traditional dress. We may have chosen classy sheer tights instead and suggested adding pops of red via accessories. 
Advertisement