Katy Perry's Most Inappropriate Outfits That We'll Never Forget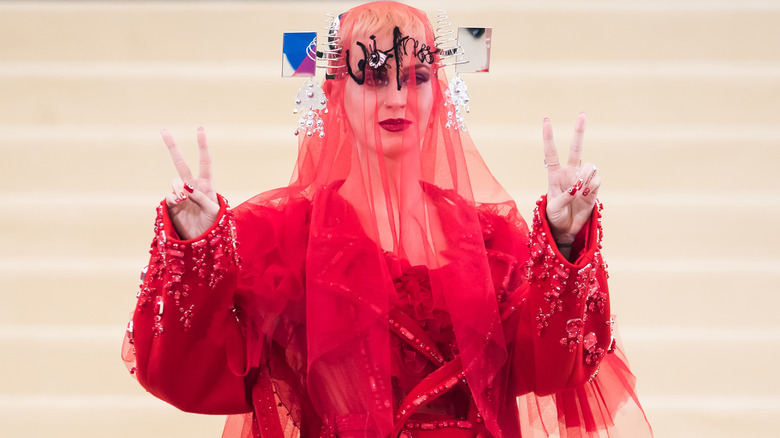 Gilbert Carrasquillo/Getty Images
It's easy to label Katy Perry as a fashionista after all the years she's spent in the Hollywood spotlight. Typically, her outfits have always been showstoppers that make headlines for the right reasons. People won't forget about the mint-green, cleavage-showing gown she wore to the 2013 Grammys any time soon or the cream-colored button-up dress covered in sparkling crystals she wore in her "Firework" music video.
Advertisement
Her fashion sense has always been on point ... for the most part. However, there have been occasional slip-ups every once in a while since she first rose to fame. Many of Perry's fashion faux pas moments have come down to wearing controversial 'fits that were offensive to certain viewers. But she's also been guilty of just missing the mark from a fashion point of view, whether live on stage or on the red carpet. For the wrong reasons, we'll certainly always remember these notorious Katy Perry outfits. 
Katy Perry's nightclub fit for her Jimmy Kimmel Live appearance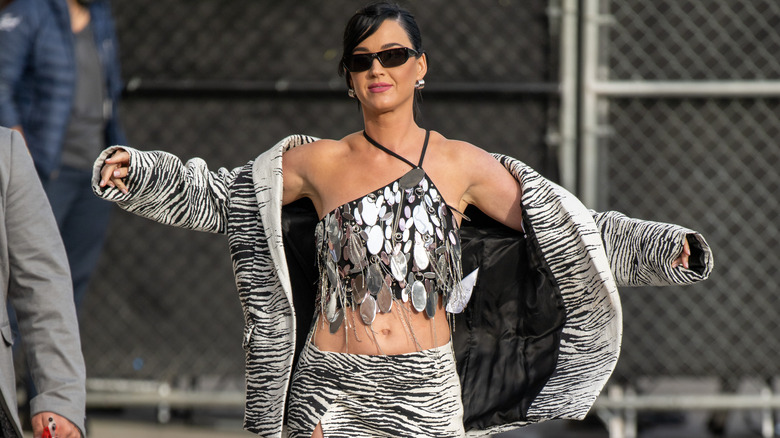 Rb/bauer-griffin/Getty Images
When Katy Perry arrived for her appearance on "Jimmy Kimmel Live" on February 16, 2023, her outfit was giving party girl nightclub vibes more than interview vibes. She wore a zebra-print miniskirt with a matching zebra-print coat. On top, she wore a crop top with an intricate string around her neck and tons of silver ovals dangling. 
Advertisement
Her Tiffany & Co. reopening toilet paper dress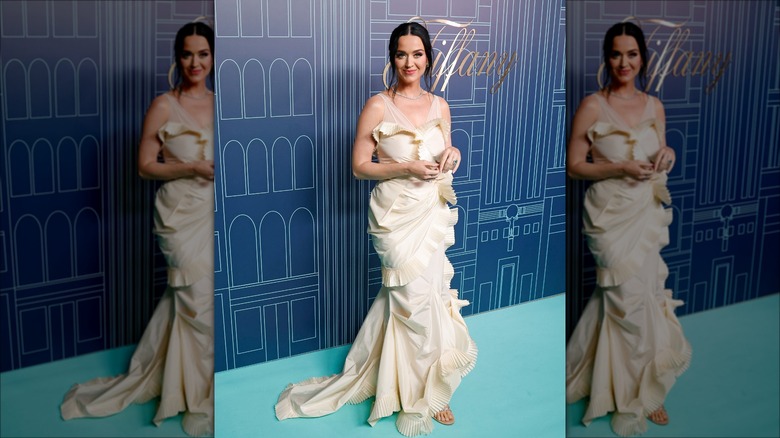 Taylor Hill/Getty Images
While attending the Tiffany & Co. Landmark store reopening on Fifth Avenue in New York City, Katy Perry wore a dress that resembled a roll of toilet paper. She still looked divine as always, but the dress itself wasn't doing her any favors. Perry has been spotted wearing some of the most fabulous dresses of all time at red carpet events throughout the course of her career. A dress that looks like a toilet paper roll isn't a dress that does her any justice.
Advertisement
Katy's geisha dress at the American Music Awards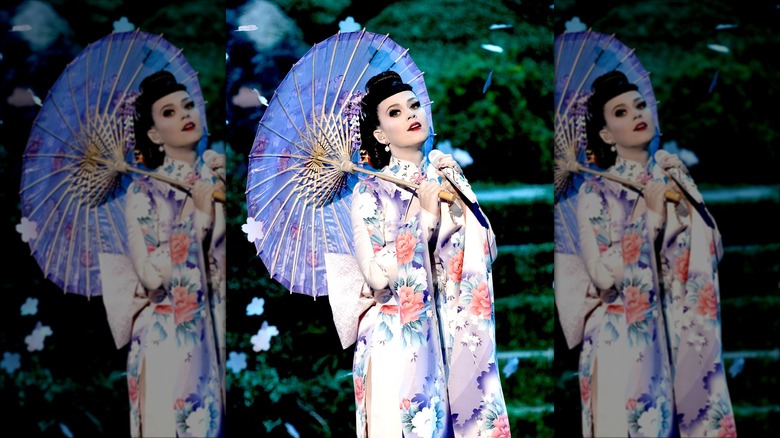 Kevin Winter/Getty Images
Katy Perry was slammed with cultural appropriation accusations after wearing a geisha dress on stage. The 2013 American Music Awards was meant to be a moment for her to perform a beautiful ballad called "Unconditionally." Her outfit of choice steered the public conversation in another direction. The song is all about loving someone without any restrictions or bounds, but the public was too busy focusing on the geisha dress she wore above anything else. According to NME, she later apologized.
Advertisement
Her low-cut dress on Sesame Street
Loads of parents were enraged by Katy Perry's dress of choice in a 2010 episode of "Sesame Street." She sang the song "Hot N Cold" with Elmo in a low-cut lime dress that showed an ample amount of cleavage. Although the dress wouldn't have brought in any backlash if Perry wore it anywhere else, the fact that she wore it on a kids' show created some controversy. Edited versions of the episode have been uploaded online to block out any view of her chest.
Advertisement
Her ill-fitting outfit for her 2023 interview on The View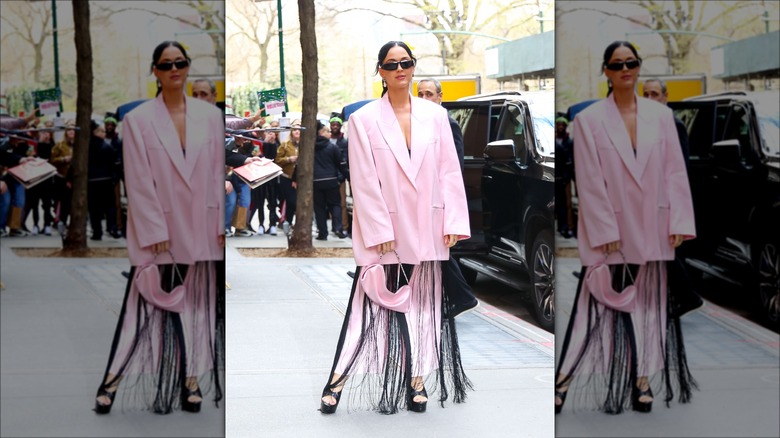 Jason Howard/bauer-griffin
Katy Perry's oversized pantsuit paired with a black fringe skirt made for a weirdly random combination during her 2023 interview with the ladies of "The View." Perry has never been the type to wear an ill-fitting outfit unless it was part of a costume, but she went that direction this time. It's unlikely that the awkwardness of this particular outfit will ever be forgotten.
Advertisement
Her spinning peppermint dress from the California Dreams Tour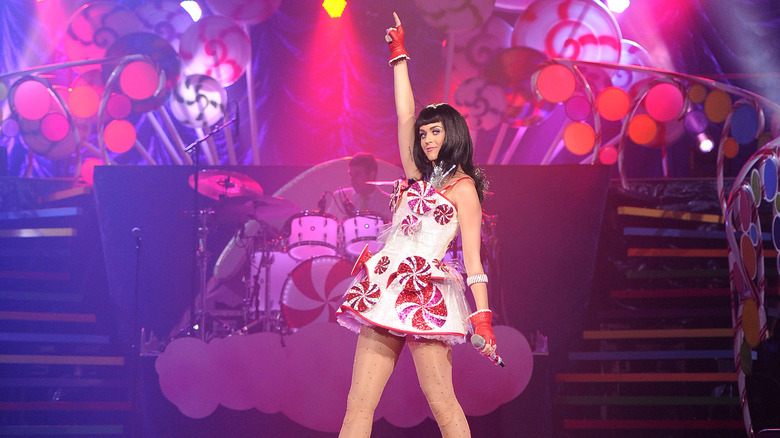 Kristian Dowling/Getty Images
During her "California Dreams Tour" in 2011, Katy Perry wore a dress covered in spinning peppermint-shaped candies. The dress ended up getting discontinued in 2012 for being way too hazardous. Perry herself dealt with locks of her hair getting twisted up while wearing it. As a safety measure, it's best this dress stays in the closet.
Advertisement
Katy's hand sanitizer costume during the pandemic
While trying to promote an upcoming episode of "American Idol," Katy Perry decided to put on a hand sanitizer costume. She did this when the pandemic was starting to become a huge factor across the globe as a way of keeping things lighthearted. Many people took offense to her costume because they were so concerned about where things were headed with COVID-19.
Advertisement
Her super eccentric dress at the royal coronation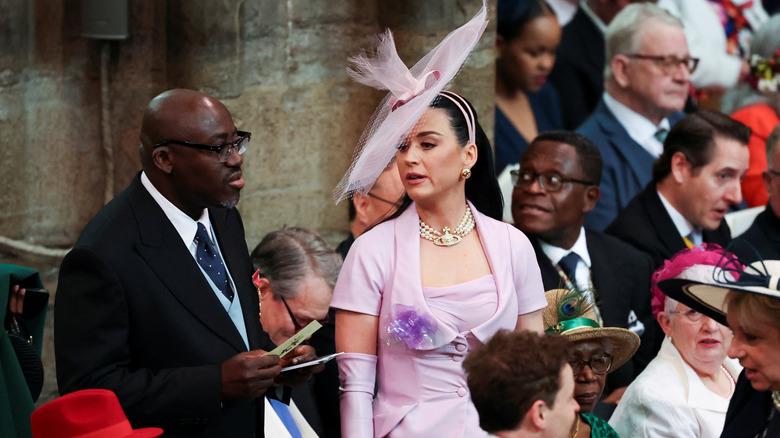 Wpa Pool/Getty Images
Katy Perry attended the coronation of King Charles III and Queen Camilla on May 6, 2023. Her outfit of choice was beyond eccentric even though everyone else there was wearing clothing in darker or more neutral colors. No one is denying that baby pink is a stunningly beautiful color, but there's a time and place for everything. In terms of accessories, her necklace of choice was breathtaking, but her hat was a bit outlandish and distracting.
Advertisement
Her Egyptian-themed outfit in the Dark Horse music video
Katy Perry caught some flak for dressing up in an Egyptian-themed outfit in her "Dark Horse" music video. Fans accused her of cultural appropriation, similar to what she dealt with after performing in a geisha dress. To make matters worse, the Muslim community collectively petitioned to have the music video removed for another reason linked to her clothing choices. In the video, a man wearing an Islamic necklace depicting the word "God" gets turned to sand.
Advertisement
Katy's 2017 Met Gala dress, created by an antisemitic designer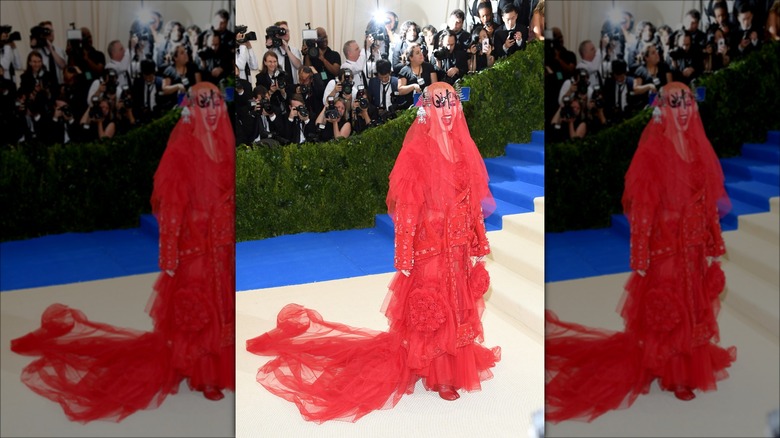 Karwai Tang/Getty Images
Katy Perry wore a dress created by a designer named John Galliano to the 2017 Met Gala. Back in 2011, he publicly announced his admiration of Hitler while bashing Asian and Jewish people. His tirade got him dropped from Dior, but Perry still chose to wear one of his designs a few short years later. The dress's connection to Galliano overshadowed what anyone might've thought about it aesthetically.
Advertisement
Her Ursula costume among regularly-dressed co-stars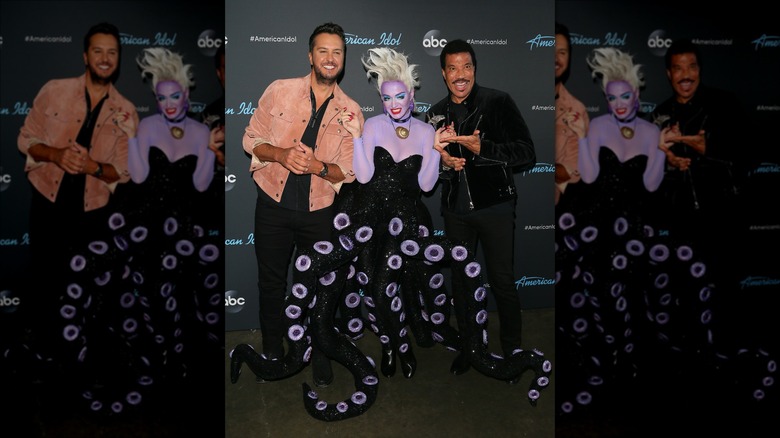 Jb Lacroix/Getty Images
In April 2019, a whopping six months before Halloween, Katy Perry showed up on the "American Idol" red carpet dressed like Ursula from "The Little Mermaid." The other judges on the panel were dressed in completely normal clothing, but Perry was on a different wavelength. Since costumes have been a fun and silly thing for Perry over the years, her choice to dress up like Ursula without any rhyme or reason isn't all that shocking.
Advertisement
Her burger costume at a Met Gala afterparty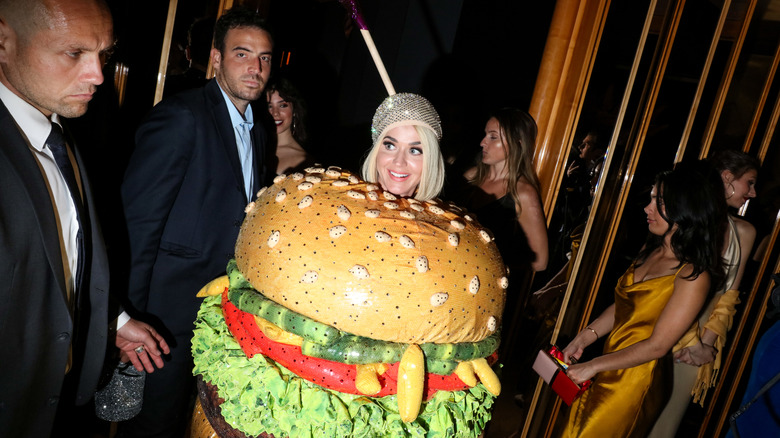 Rebecca Smeyne/Getty Images
Fashion designer Tom Ford opened up about his disappointment in Katy Perry for wearing a hamburger costume to a Met Gala afterparty in 2019. Since the Met Gala is typically thought of as a classy and chic event, her playful burger costume didn't exactly leave the best impression. Fortunately, this costume was reserved for the afterparty. Her dress at the actual event was much classier and more sophisticated.
Advertisement