We Tried Sofia Richie Grainge's Perfume Combo & It's The Ultimate It-Girl Scent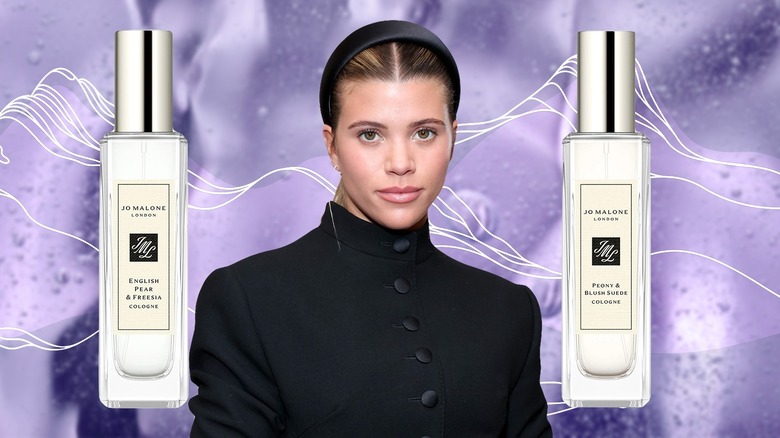 Static Media / Shutterstock / Getty
We may receive a commission on purchases made from links.
When the queen of quiet luxury reveals one of her favorite fragrance hacks, beauty lovers are quick to listen. Sofia Richie Grainge took to TikTok in June 2023 to give fans a glimpse of her going-out routine, sharing an irresistible scent pairing in the process — and we were hooked.
"Get ready with me to go down the street from my house on a cute little dinner date with my husband," Richie Grainge said in her video. Before modeling her sleek ensemble for the evening, the social media star reached for two Jo Malone colognes: English Pear & Freesia and Nectarine Blossom & Honey, which retail for $80 a bottle. After applying a spritz of each to her wrists, the tastemaker explained why she couldn't get enough of the floral perfume combination. "It is so summery and delicious," she explained. "[And] before I head out, I'm going to do one more little spritzy spritz so that we are smelling good tonight."
Naturally, we didn't hesitate to get our hands on Richie Grainge's favorite perfume combination from Jo Malone. After all, the British perfume house is a hit with celebrity clients like Kate Middleton and Meghan Markle. Considering her trendsetting reputation, it only makes sense that Richie Grainge would layer two of the line's colognes for an entirely new twist. Want to find out if this novel perfume pairing could be your next signature scent? We gave it a go to tell you if this it-girl fragrance hack is worth the money.
Getting acquainted with Sofia Richie Grainge's favorite fragrances
To assess their compatibility and performance as a team, we first gave each perfume its own test run. First up: English Pear & Freesia, released in 2010 to the delight of fragrance fans. We'll admit that pear isn't typically one of our favorite fruits in gourmand perfumes, but the juicy top note truly shines here. However, its true pear scent doesn't last long, and a spicy accord and featherlight florals swiftly take its place.
We weren't entirely sure how we felt about the fragrance until the base notes entered the equation. As it sinks into the skin, English Pear & Freesia hits its stride with a deliciously cool fragrance reminiscent of Derek Lam Rainy Day. We couldn't tear ourselves away from its woody, amber-tinged aroma, and we even picked up on some leathery scents.
Nectarine Blossom & Honey is a different story altogether. The sweet-smelling Jo Malone fragrance came to fruition in 2005 and showcases notes like peach, plum, and vetiver. The initial spray filled the air with syrupy sweetness and botanicals, resulting from its black currant and petitgrain top notes. From there, the namesake nectarine heart note steals the show, accentuated by acacia honey and black locust. It smelled far more tropical than we expected, and we were sure it must have contained guava or ripe mango. With our initial tests complete, we were ready to try Sofia Richie Grainge's scent combo.
Scent pairing Jo Malone English Pear & Nectarine Blossom
Following Sofia Richie Grainge's lead, we first sprayed Jo Malone English Pear & Freesia, followed by an equal distribution of Nectarine Blossom & Honey. The top notes aren't easy to pick apart initially, but the two scents bring out the best in each other as they settle. Both fragrances' hot and cold qualities combine to create an exciting composition. There's the watery, crisp profile of English Pear & Freesia interwoven with the rich, fruity essence of Nectarine & Honey, which evokes ripe fruit trees drenched in fresh rain.
Although Richie Grainge describes it as a summery fragrance, we could see ourselves wearing this alluring combination for spring. Alternatively, we'd consider rocking it on a blue fall or winter day to brighten the mood. The eclectic mixture is versatile enough to suit any occasion, so you can wear it from day to night, though you should reapply it for staying power .
Even though some aspects of the perfumes felt slightly muted against their solo performances, we ultimately preferred to wear them together. Not only do you get the best of both worlds by merging the two but you also get to flaunt a stunning signature scent that separates you from the crowd.