Colorful Loafers Are Trending For Fall 2023 - How To Wear Them Right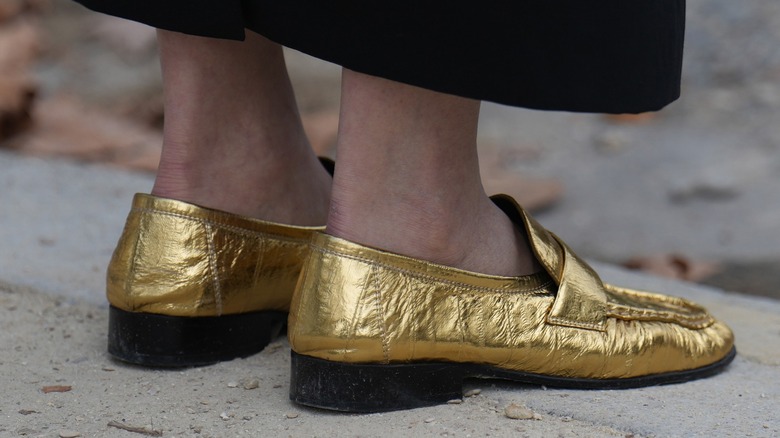 Edward Berthelot/Getty Images
If you're looking to build a preppy and academia-inspired wardrobe for the fall, you must have a pair of loafers on rotation. Loafers are chic shoes without the casual vibe of a sneaker that can easily dress up your fall 'fits. Often more comfortable than heels, a loafer can be the perfect alternative that doesn't sacrifice style. Just like any shoe, loafers come in all shapes and sizes. Many recent loafers have a platform height, thanks to popular options from Prada.
Although most loafers you find on social media are in the timeless patent black leather or suede, more vibrant varieties are looking to break the mold. Colorful loafers are slowly gaining popularity this fall thanks to their rich hues and the addition of this season's "it" color, red. Instead of just one-note outfits, this trend lets us add a pop of color to make our ensembles more dimensional and fun.
Bring Barbiecore to your shoes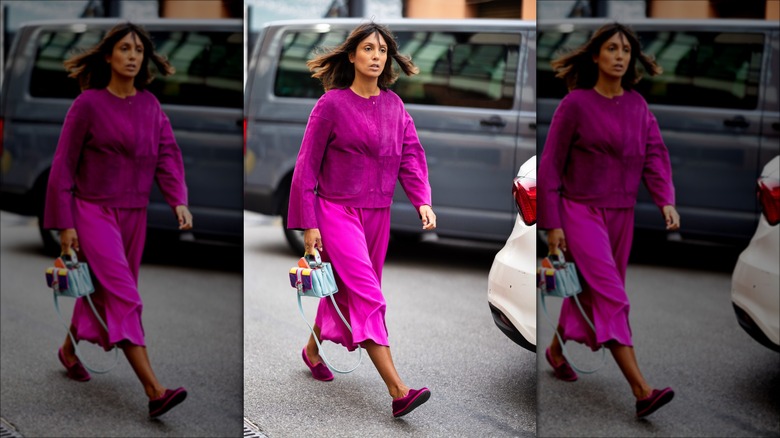 Valentina Frugiuele/Getty Images
Although it's been months since we were blessed with the "Barbie" movie and the nostalgic Barbiecore fashion movement, there's still space for it in our fall wardrobes. Channel your favorite fall Barbie with a vibrant pink loafer that brings some of that feminine energy into your elegantly preppy looks. Fusing the professional footwear that is the loafer with a color like pink can make for a memorable street-style look you can wear anywhere.
Add some energy with neon shades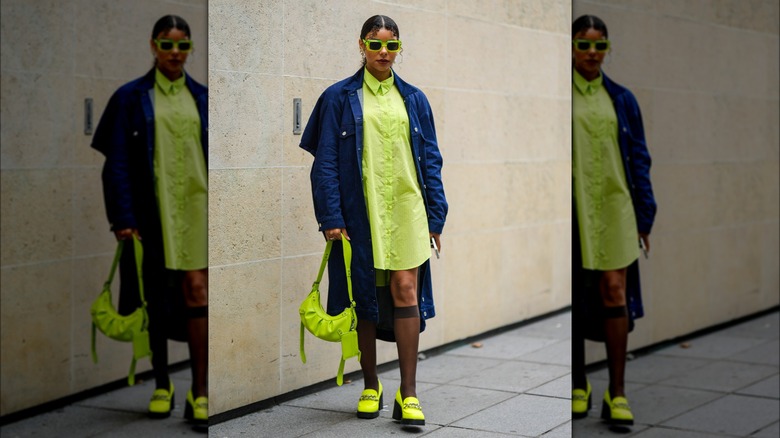 Edward Berthelot/Getty Images
Although neon shades are typically seen in the summer months to compliment tanned skin, that doesn't mean they can't create some light on a gloomy day. Neon loafers are the perfect contrast for concrete streets and rainy days, allowing you to stand out against a sea of neutrals and dark colors.
Don't forget fall's 'it' color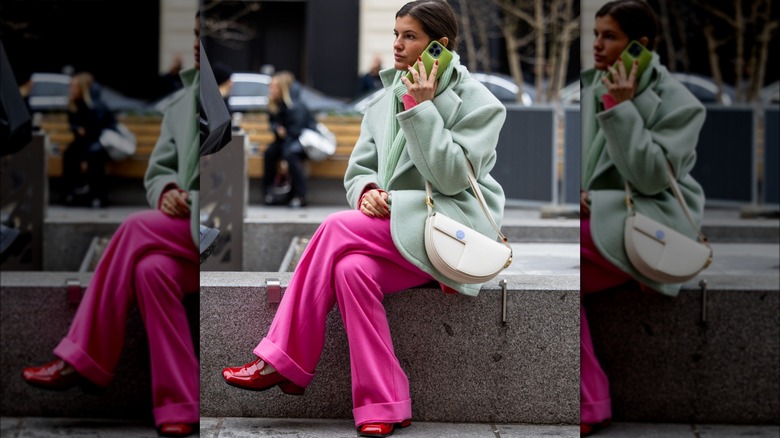 Christian Vierig/Getty Images
Undoubtedly, red has emerged as the "it" color of fall 2023. Red tones can inject a splash of color into your autumn closet, whether a bold scarlet or a black cherry. Capitalize on both trends by adding red loafers to your wardrobe. Although red is in vogue this season, it's a timeless hue that can work year-round.
Show off your personality with printed loafers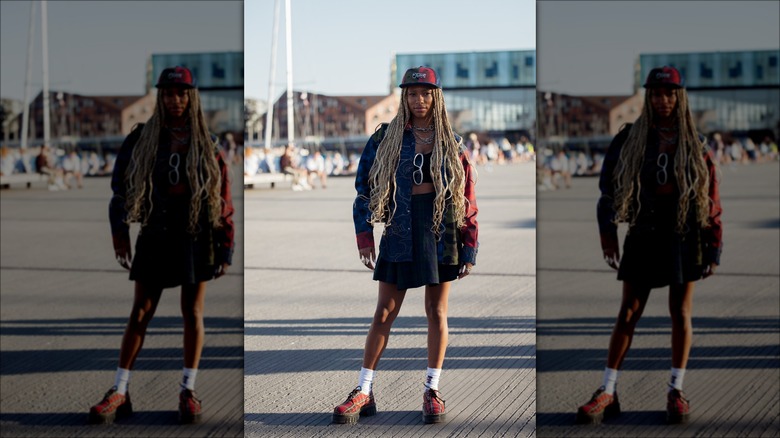 Raimonda Kulikauskiene/Getty Images
Although printed and patterned shoes aren't always the most long-lasting trend, they certainly add personality to your looks. If you want to dive deep into this maximalist fashion movement, opt for a printed loafer that brings character to your outfit without needing any other statement piece. Choose classic prints like plaid and stripes to maximize your loafers' staying power.
Pair with multi-colored 'fits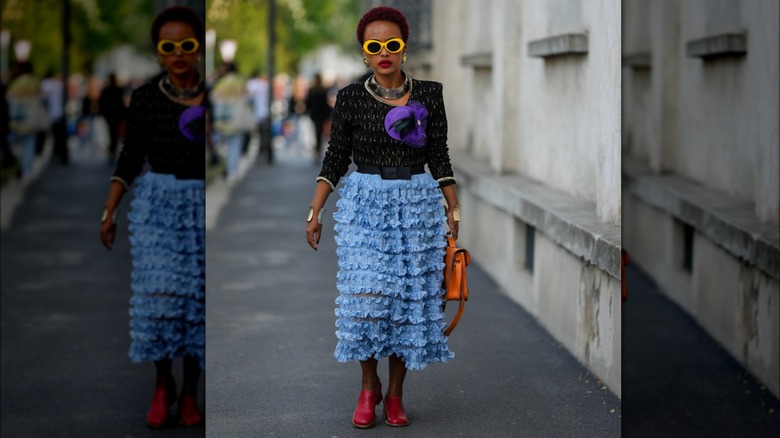 Edward Berthelot/Getty Images
Pulling off colorful loafers is all about styling them with the right pieces. If you're looking for a head-to-toe statement 'fit, opt for a bright fall look that will add some joy to those gloomy days. With your colorful loafers, go with a bright bottom or top matching your out-of-the-box footwear. If you want a more balanced look, use an accompanying neutral piece.
Go all in with color-blocked loafers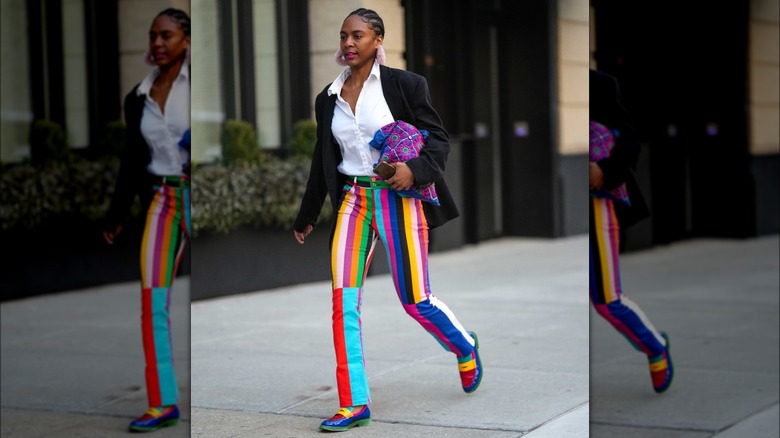 Edward Berthelot/Getty Images
Why choose one shade when you can have as many as you want? When selecting a colorful loafer, you can benefit from a color-blocked shoe that adds various hues to your look. You can then pick pieces that match shades from your loafers to create a cohesive outfit that stands out but is still fashionable.