Hot Pants Aren't Going Anywhere In 2024 - Our Tips To Style The Trend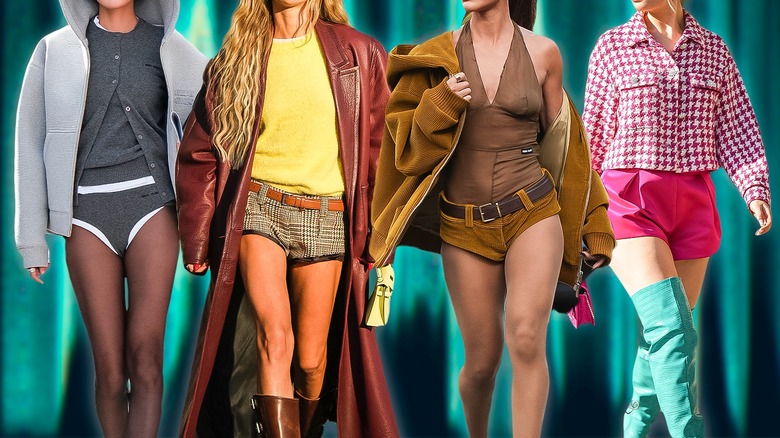 Static Media / Shutterstock / Getty
Like a bold, fashion-forward approach to daily style? Consider embracing a pair of teeny-tiny short shorts. Hot pants were already trending in warm-weather looks for summer 2023, and, far from falling by the wayside, it looks like these leg-baring shorts are continuing their reign into 2024. Varied iterations of hot pants are appearing on major runways, including a notable presence in Prada's Spring Summer 2024 Womenswear Show. Clips of the collection, shared on Prada's Instagram page, display tailored, architectural hot pants worn under fringe skirts or with tucked-in blouses.
Meanwhile, stars like Olivia Wilde are displaying hot pants' surprising adaptability. Wilde has been spotted cleverly transitioning her hot pants into autumn outfits, showing that there's no need to limit these garments to warm months. On Instagram, Wilde shows off the hot pants ensemble she wore to New York Fashion Week 2023, which she made season-appropriate with the addition of a crew-neck sweater and heavy coat.
For other fashionistas eager to embrace this continuing trend, take Wilde's example to heart and remember that hot pants can be styled for any season. From fall to spring, winter to summer, these saucy shorts are a gutsy and dynamic addition to any 2024 wardrobe. To get the most out of their versatility, consider the many ways to dress hot pants up or down for various settings and occasions.
Make hot pants elegant with a sharp blazer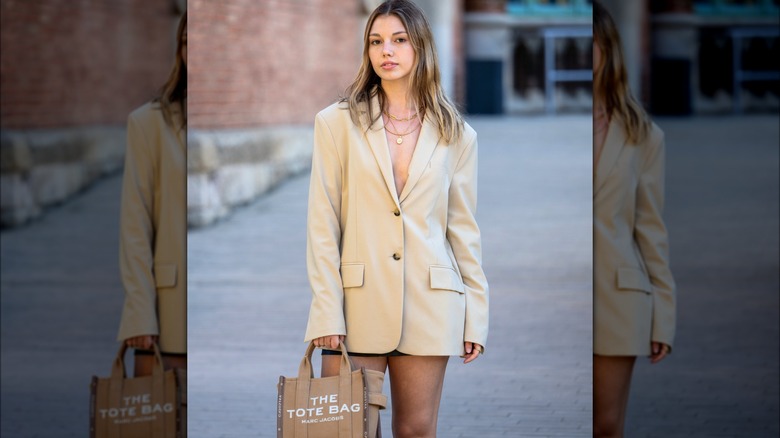 Christian Vierig/Getty Images
Blazers are timelessly sophisticated, but that doesn't mean they have to be totally formal. Add a bit of cheeky style to your favorite blazer by wearing it with a pair of hot pants. Whether you choose to finish the outfit with a modest button-up or a breezy camisole, the combo of a blazer with shorts creates a wonderful juxtaposition, resulting in a look that's fun yet classy. Since the hot pants are already impactful, complete the aesthetic with understated accessories like dainty, layered necklaces and neutral heels.
Create shape with a peplum top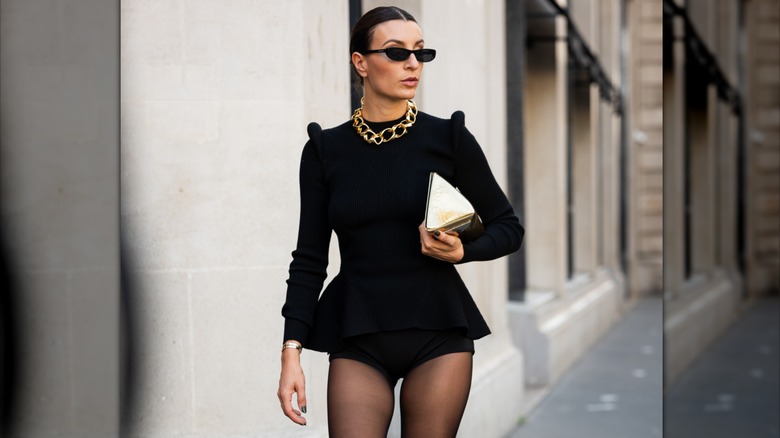 Claudio Lavenia/Getty Images
We're mildly obsessed with the duo of hot pants with a peplum top. Tiny shorts just tuck so perfectly beneath a peplum's flared hem, emphasizing the sudden and alluring transition to bare thigh. The effect is almost like wearing a microscopically short fit-and-flare dress, but without the risk that a rogue gust of wind will reveal your unmentionables. Long-sleeved and high-necked peplum shirts look particularly good in this pairing, providing a demure top to offset those audacious hot pants below.
Bring balance to a boxy blouse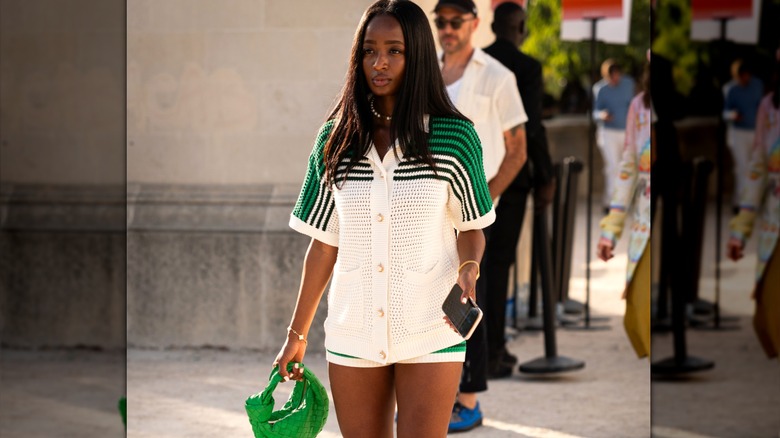 Claudio Lavenia/Getty Images
Boxy blouses may not be the most coy or form-fitting garments, but when worn with sassy little hot pants, the overall look serves a fun and flirty vibe. Coordinated sets make perfect sense together, but you can also use this as a chance to get mileage out of any neutral hot pants in your collection — think tiny brown cords, truncated denim, or teeny-weeny khaki shorts. These extra-versatile hot pants styles can be worn to elevate boxy and baggy blouses in any color and aesthetic, from open-knit resort wear to a retro bowling shirt.
Contrast short shorts with a long coat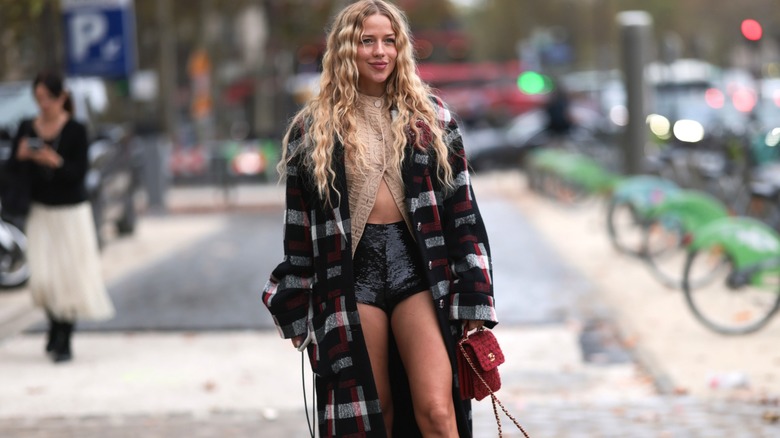 Jeremy Moeller/Getty Images
Cold weather, meet hot pants. Just like Olivia Wilde tossed on a warm jacket to make her hot pants autumn-ready, you can rock your shortest shorts through chilly temperatures by topping them with a long coat. The colder it gets, the more important it is to have thick material and a low hem on the coat, so you can wrap it cozily around your bare legs. A sweater and toasty accessories can also help. Think about finishing the look with winter-ready booties, a cute beanie, and your cutest gloves or scarf.
Class it up with tiny tweed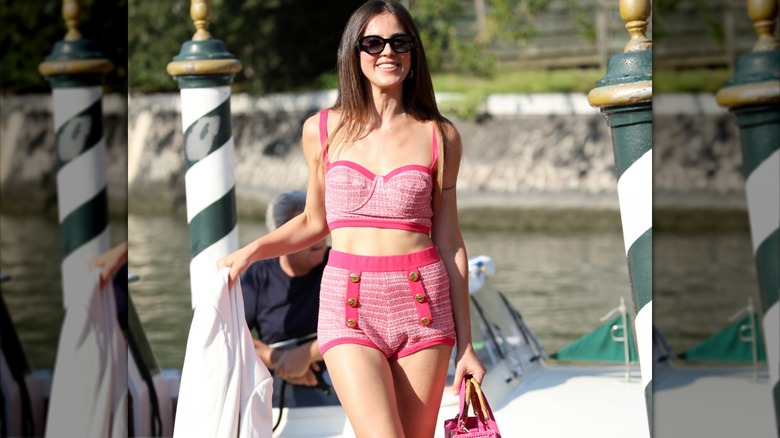 Daniele Venturelli/Getty Images
Tweed is ideal for preppy, stealth wealth looks, bringing an air of sophistication to any outfit. But if traditional tweed pieces feel a little stuffy for your style, why not add a playful edge by donning daring tweed garments like a pair of precious hot pants? The contrast of such a traditional fabric against such a flirty silhouette is endlessly fun and captivating. Soften the impact by selecting a neutral color palette or go extra bold by choosing tweed hot pants in a vibrant hue like yellow or Barbiecore pink.
Take a risk with itty-bitty co-ords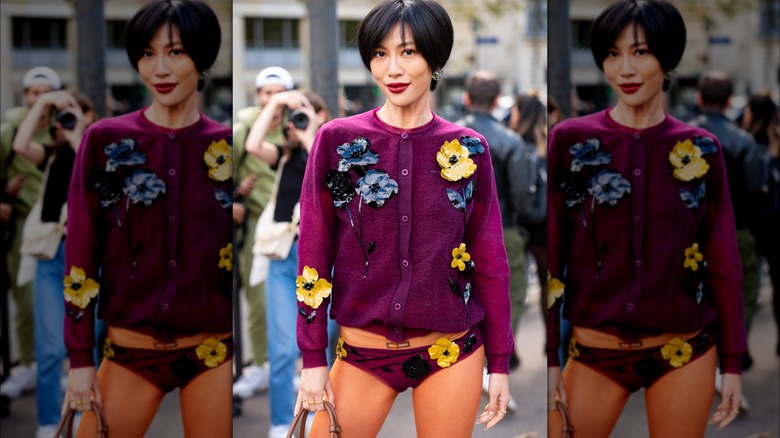 Claudio Lavenia/Getty Images
Want to turn up the volume on your hot pants look? Leave moderation in the dust with an in-your-face ensemble — for instance, a colorful matched set with super-tiny shorts that might as well be bikini bottoms. As Shakespeare might put it: Though they be but little, they are fierce. Why co-ords, though? Because a matching garment, like this identically floral cardigan, makes your hot pants look planned and intentional. Cohesive colors, fabrics, and finishes prove that you didn't just forget trousers — rather, you're consciously challenging fashion norms with a risky, boundary-pushing hot pants silhouette.