Tweed Is The Fall 2023 Trend You Need For A Preppy, Stealth Wealth Look - How To Style It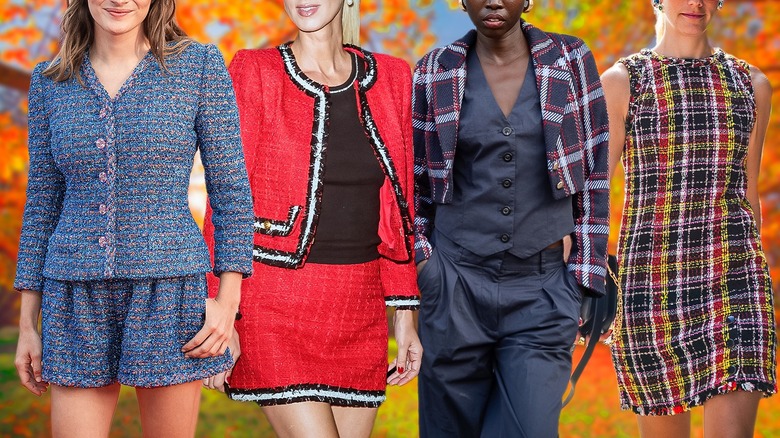 Static Media / Shutterstock / Getty
Preppy fashion is one of those aesthetics that never really goes out of style. Rather, it evolves, with outdated preppy fashion trends giving way to new, modern alternatives. At one moment, the wholesome and clean-cut vibe of preppy fashion might revolve around retro, varsity-style looks, while at another, it may be all about the quiet luxury of yacht fashion. Inspired by academia and old money, there are various ways to achieve the right effect. But for fall 2023, preppy fashion is embracing a spirit of stealth wealth.
Obvious affluence is easy enough — you can easily slap on a designer label or extravagant jewelry to communicate how well you're doing. But stealth wealth is all about subtlety. In other words, your preppy look doesn't need to go over the top. Instead of trying to flaunt your paycheck, you can simply imply success by choosing clothing in meaningful materials like tweed.
Tweed has been a favorite of royalty and aristocrats for nearly 200 years, lending this simple fabric an unshakable connotation of wealth, power, and refinement. Even today, you can spot royals like Kate Middleton regularly wearing the look. But you don't need an official title to mimic this posh finish. You can easily get in on the trend yourself, elevating your preppy ensembles by letting tweed do all the heavy lifting. With various ways to mold this time-honored fabric to your own personal aesthetic, tweed is your perfect shortcut to charming preppy style.
Modernize the look with brightly colored tweed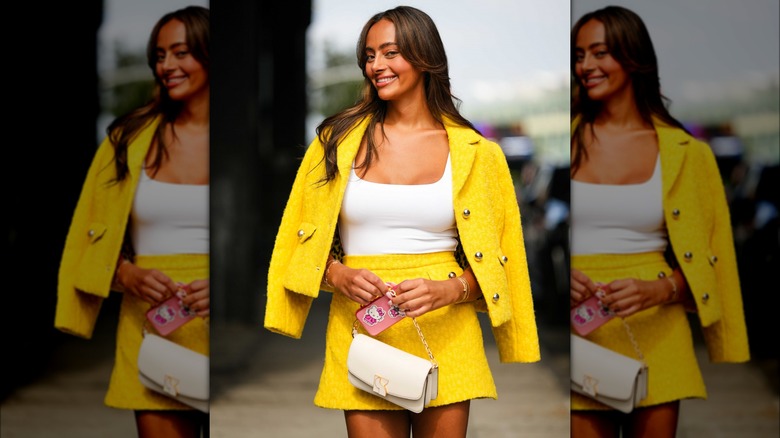 Edward Berthelot/Getty Images
Tweed may be an established upper-crust classic, but that doesn't mean it has to be stodgy. Give the look a contemporary twist by putting together your quintessential tweed ensembles in a bright color palette. Cheerful yellow, intense aquamarine, tart lime green, or vivid Barbiecore pink are all unexpected hues that will ensure you're serving cute "Clueless" vibes rather than an outdated or matronly mother-of-the-bride aesthetic.
Put a playful spin on separates with tweed short sets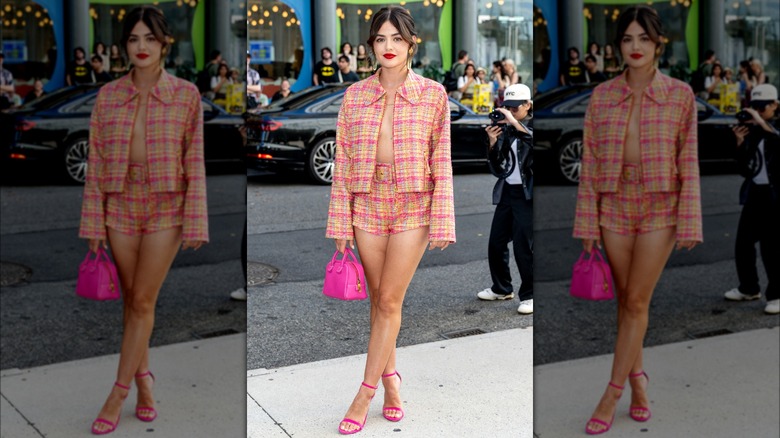 Gilbert Carrasquillo/Getty Images
Speaking of giving tweed a whimsical edge, why not use an unexpected silhouette to infuse this fabric with youthful spirit? Rather than the traditional skirt-and-jacket separates set, a pair of tweed shorts adds cheeky flair to your stealth wealth ensemble. Just remember to keep it flirty. Since tweed already has modest connotations, there's no need to play coy with long or baggy styles. Instead, we recommend tweed shorts with a fitted cut and high hem to show some leg and avoid slipping into frumpy territory.
Marry chic and flirty with a tweed minidress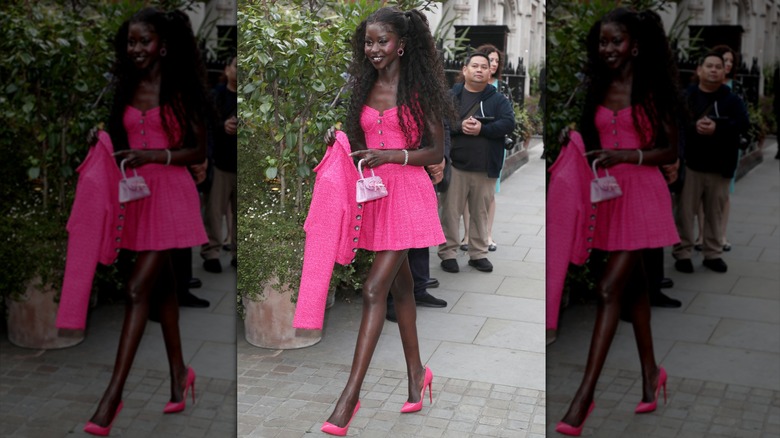 Neil Mockford/Getty Images
One of the easiest ways to get in on the tweed trend — and keep it feeling fresh instead of stuffy — is with an adorable tweed minidress. Whether you prefer a tight bodycon fit or a girly fit-and-flare style, the proportions of a minidress help balance demure tweed with tasteful expanses of bare skin. Plus, the thick weight of tweed helps keep the fall of your skirt in place, so you're less likely to run into any windswept Marilyn Monroe moments. In cooler weather, simply add a matching tweed jacket and a pair of tights to make the look winter-ready.
Pair tweed and leather for cool elegance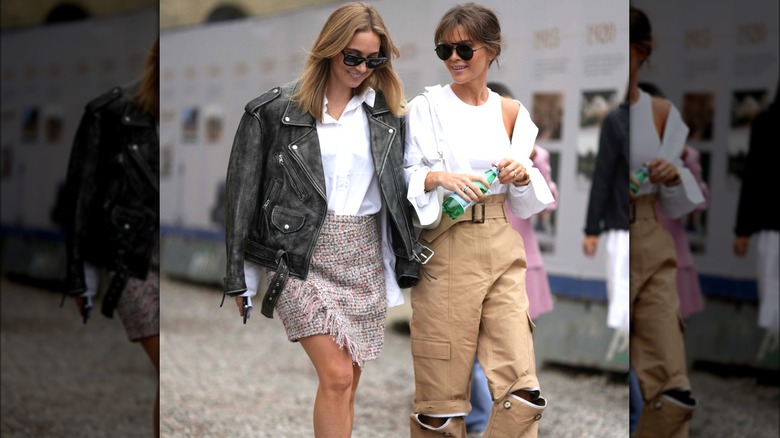 Edward Berthelot/Getty Images
Styled correctly, tweed separates can easily look sharp instead of twee. But if you don't want to risk being too matchy-matchy, skip the tweed blazer and choose a jacket with more contrast. For instance, a leather jacket pairs beautifully with the combo of a tweed skirt and a classic white blouse. Or try it slung casually over a tweed minidress. Encapsulating both the timeless refinement of tweed and the irresistible cool factor of leather, this well-rounded ensemble is a winner for almost any occasion.
Hint at stealth wealth with tweed accessories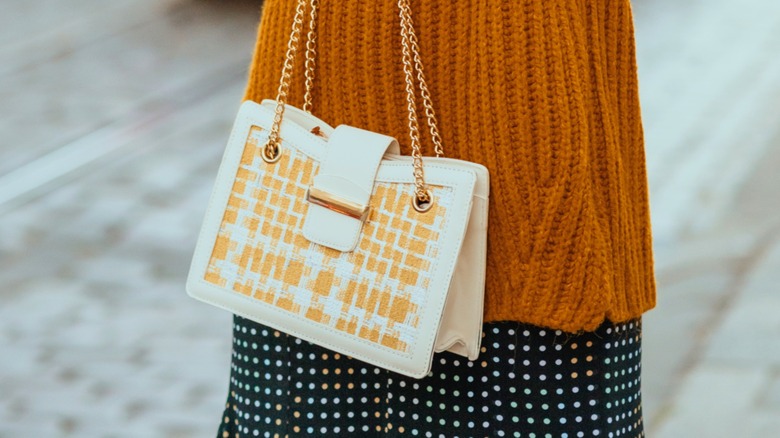 Victoria Chudinova/Shutterstock
Prada bags. Burberry scarves. Louboutin heels. The addition of quietly elevated accessories can instill your wardrobe with the stealth wealth vibe you're looking for. But you don't always have to drop a mint on designer brands to achieve the look. Choosing accessories in elegant materials like tweed instantly sneaks an upscale air into your outfit. For instance, a petite tweed handbag embodies restrained glamour. Pair it with tidy separates or wardrobe staples like an LBD to let the tweed's chic sensibility shine.
Add a tweed vest to evoke classic menswear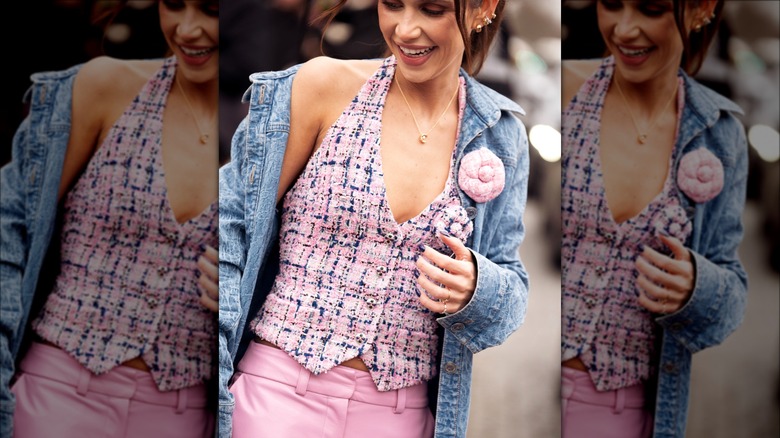 Raimonda Kulikauskiene/Getty Images
Long before it became a standard for skirt suits, tweed was a pillar of male fashion. This lingering vibe makes tweed the perfect material to play with menswear-inspired garments like vests. Practically speaking, the thickness of tweed provides an appealing structure to tailored pieces, preventing annoying wrinkles and folds. And aesthetic-wise, there's always something compelling about androgynous style. You can also use menswear as a lens to play around with looks like the light and dark academia fashion trends. Charming tweed blazer with elbow patches, anyone?
Tame tweed's texture with monochrome hues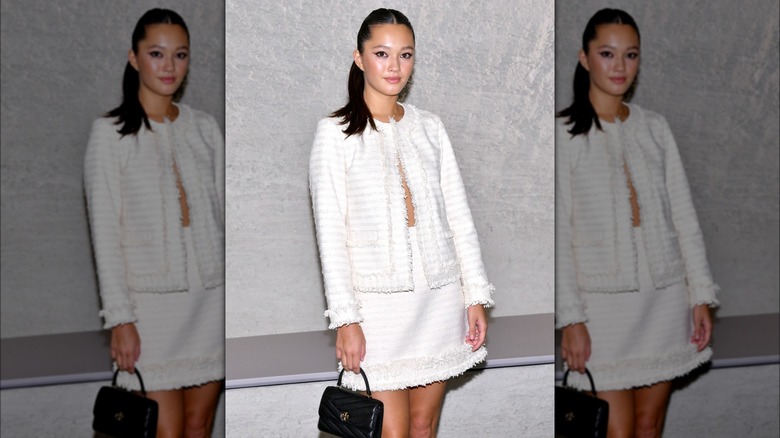 Craig Barritt/Getty Images
Tweed often goes hand in hand with plaid patterns and details like braided edging. But you can also let tweed's iconic texture shine on its own by taking a more restrained approach. Solid colors let tweed fabrics become a playground of light and shadow. Pristine white, in particular, freshens up tweed's vibe. But other neutrals like black, gray, and khaki are also ideal for turning your tweed separates into understated monochromatic ensembles.
Seek out tweed in non-traditional silhouettes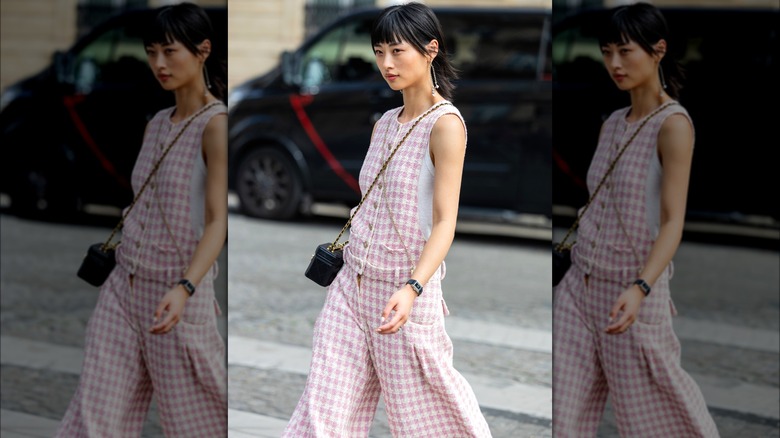 Christian Vierig/Getty Images
There are many ways to liven up tweed's impact with color or styling, but you can also choose to think completely outside the box by utilizing tweed in surprising wardrobe pieces. Instead of classic blazers or pleated skirts, why not embrace tweed overalls, rompers, or corset tops? The juxtaposition of staid tweed with creative silhouettes oozes personality. Plus, it's an easy way to ensure that your look stands out from the crowd. Depending on the piece, consider wearing your unique tweed garments with basics like a white top and simple accessories. That way, your tweed show-stopper can stand as the focal point it deserves to be.